Listen to some of our favourite new Irish releases from the week below!
modernlove., 'Shades of Blue'
Returning with a brand new single, modernlove. has already made quite a name for itself, not just in the Irish indie scene, but internationally. 'Shades of Blue' combines electronic intricacies with an anthemic rock-infused chorus, creating a track that draws influence from across the band's discography to great effect. It's a vulnerable earworm that further proves how thoroughly earned their success is.
Speaking on the track, modernlove. called it "a love song at heart that celebrates the small moments that you cherish with your partner and the freedom of fully embracing someone. It also reflects on the challenges of maintaining a relationship whilst on tour, having no money and making mistakes that leave you wondering if you're subconsciously not allowing yourself to be happy. Pretty deep. Sonically we wanted to capture that sense of feeling overwhelmed, that all-engulfing sound, so we brought in everything from our softer side and heavier side into one."
Advertisement
Oscar Blue, 'Second Nature'
Oscar Blue has been keeping himself busy over the last while. Recently signing to Pure Represents, announcing tour dates across the UK and Ireland, co-writing with Irish leading artists Lea Heart and Gavin James, and much more, the musician now offers up his latest single 'Second Nature'.
The indie-soaked offering brings an explosive chorus, showcasing the County Clare native's impeccable vocal runs and perfect use of falsetto. Described by the singer as an "uplifting message about the unexplained feeling of waiting to be with someone you love - whether a lover, a close friend, a family member," the track explores the connections we hare with those we love and that binding connection that evokes warmth, excitement and lets everything else become background noise.
Cian Ducrot, 'Victory'
Celebrating the release of his debut album, Ducrot is currently touring Ireland before moving to international dates. Victory, the artist's first LP is a long time coming for the musician and fans alike. The Cork-raised artist has spent the last number of months teasing and promoting singles from the release, going viral on TikTok with his insane full-choir flash mobs.
As the album comes into the world, with it comes a host of never before heard tracks, including title and opening track 'Victory'. The folk tune allows his Irish accent to shine, with lyrics that pack a punch. Opening with children giggling, the sentimental track builds to an anthemic chorus and back into a paired back second verse. It's clear Ducrot isn't messing around with secrecy or insincerity when he releases gut wrenching lyrics like: "Am I just the product of a boy who wasn't loved by his father?/Spent my life chasing praise, just to end up a monster/I got a note from my doctor, he said to not even bother/'Cause when you're messed up as a kid, you'll pass it on to your daughter."
Advertisement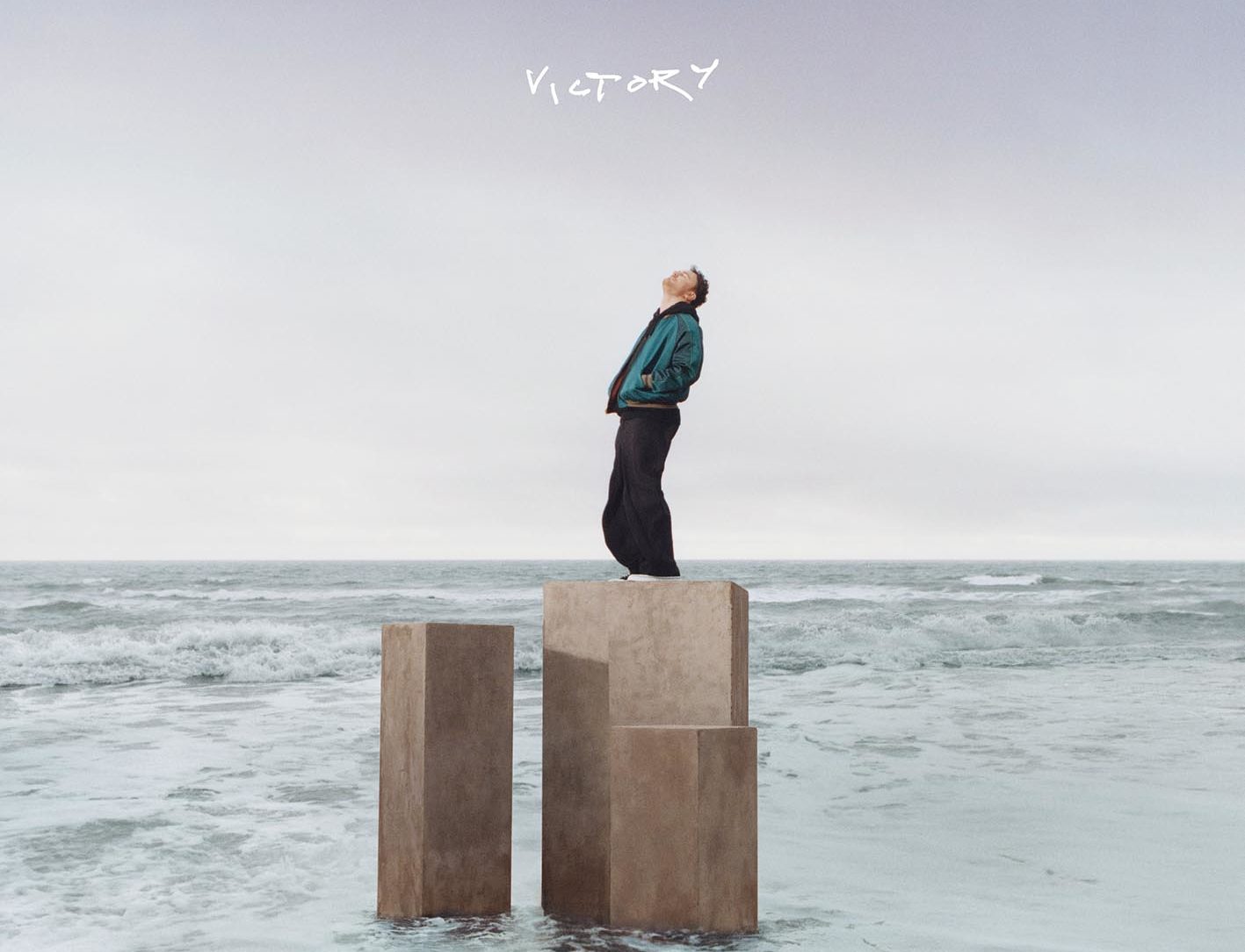 Orla Gartland, 'Kiss Ur Face Forever'
Dublin-born, London-based singer-songwriter/producer, Orla Gartland is back with her brand new single - 'Kiss Ur Face Forever'. In addition to her work with newly developed quartet, FIZZ, this new track marks her first solo release since her 2021 top 10 debut album Woman On The Internet. This upbeat, pop-punkish offering brings Gartland's infectious energy to the forefront, demonstrating the musician's insane vocal range and talent perfectly. Cynical yet soppy, this love song showcases a more electric side to Orla's musicality, living in the complexity of feelings towards the person you love.
The RTÉ Choice Music Prize 2021 shared more about the meaning behind the lyrics, saying: "This song is about being in love and split down the middle by it - on one side excited and energised, the other side cynical and withheld. I really love the erratic guitars and the urgency of the drums in this track - hearing the intro literally gets my heart rate up."
Fizzy Orange, 'By The Bay'
Advertisement
The newest track out of Dublin's fizziest sextet, 'By The Bay', is a groovy, summery tune with enough staying power to leave you humming the tune long after the song is done. All six members of Fizzy Orange live by Dublin Bay, and the song pays homage to it via gritty vocals and a bouncy tempo giving it a sentimental feeling. Clearly influenced by a Beach Boys-esque sound, felt in its 60's saturated drums and summery vintage vibe, the song hopes to emulate the feeling of living at the coast of Dublin City.
Coke Beats & Alris, 'Greatness' feat. SAVU
A new summer dance tune from the Irish DJ, the track is an international collaboration between Coke Beats, Danish producer Alris, Netherlands producer SAVU and Amsterdam-based singer/songwriter Romy Dya. Production perfection leads to a bruising breakdown that invites you to lose yourself in the bass and let yourself be lifted by the lyrics. As Coke Beats said about the song, "'Greatness' is about finding our inner strength and being the change we want to see around us. We have to overcome our fears and find the energy to move forward within ourselves, even when no one sees the greatness that each one of us has within."
Gender Chores, 'Dysphurious'
Queer punk band, Gender Chores, return with their latest single 'Dysphurious'. According to the Belfast-based band, the track is a song about band member Sam's early experiences of coming out as non-binary. It details: "not having a clear answer for people, feeling like you're constantly explaining yourself, fearing rejection and mockery, and realising that none of this affects the way you are objectified and sexualised as a somewhat femme-presenting person." The Cherym-adjacent rockers display an edgy, fast-paced sound on 'Dysphurious', teamed with exceptional instrumentation and lyrical depth.
Advertisement
McKowski, 'Return of Pygmy Pony'
A mix of Spanish and cowboy is what comes to mind when listening to McKowski's instrumental, 'Return of Pygmy Pony', and rightly so it seems. The track was originally featured in the 2022 indie film Quantum Cowboys - a rotoscoped time travel western starring Lily Gladstone and directed by Geoff Marslett. According to the artist, 'Return of Pygmy Pony' leads a "deathly waltz across a desolate soundscape somewhere in the Midwest." Featuring Tucson, Arizona's own Howe Gelb, the esteemed guitarist adds a little of the true grit of his homeland into its solemn flamenco soul; crowning an instrumental with an identifiably downbeat, Spaghetti Western and Tex/Mex character.
Forty Foot, 'Melty Brains'
Following singles 'Zeros', 'IDNA' and debut 'Drugs', Forty Foot have brought forth their latest soft-rock offering, titled 'Melty Brains'. Distortion-fuelled riffs, driving drum beats, energetic bass, and infectious vocal melodies delve into the darker side of the quartet, creating a Paramore/Killers/Evanescense like mosh-ready anthem. The track takes its name from a piece of Dublin slang used to describe "a situation where someone keeps telling you a really boring story."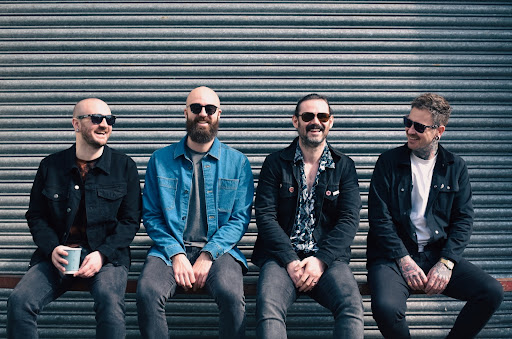 'Melty Brains' was recorded at Dublin's acclaimed Camden Recording Studios (previously host to artists including Hozier, Bryan Adams and 50 Cent), with the quartet opting for a one-take approach to complement their fuzzy '90s sound. Vocalist and rhythm guitarist, Sam Coffey, explained: "We all just got in the room and went for it. We had everything turned up so there's bleed on every track, I did my vocals in the control room so there's bleed from the monitors too. We wanted to capture how we play it live and channel that energy."
John Lynch, '1922'
Advertisement
Charming and witty, the title track from John Lynch's latest EP, '1922' is a historical tale from the point of view of the working class. It's a political satire that fits right at home within the rest of Lynch's discography, its catchy yet clever lyricism sure to stick. "Making this EP felt very much like it wrote and produced itself," Lynch said of the making of the record, calling it more "relaxed" than the process of creating his debut album City Stars (2021). "We kind of evolved the sound very much going back to the old tradition of storytelling through song."
Snow Patrol, 'Run (Demo)'
The Northern Irish rock band, Snow Patrol, was one of the most defining bands of the 2000s, and its breakout album Final Straw (2003) has withstood the test of time. Gathering four top 30 singles in the UK, including 'Run' in the top five, the record became a cornerstone in the post-Britpop movement. To celebrate 20 years since its release, the band has released an anniversary edition of the album this week, complete with bonus tracks, live performances and demos– including an original demo of 'Run'. Despite its demo nature meaning the track is a little rougher around the edges, the demo proves the track had the spark that lifted the band to prominence right from the beginning.
Sarah Crean, 'Death By Laundry'
The title track off her newest EP which was released on Wednesday, 'Death By Laundry' is a slice of indie perfection, an ethereal track that breathes new life into the genre. Sarah Crean is one of Dublin's most promising indie artists today, and her newest EP proves why. 'Death By Laundry' showcases her songwriting abilities, invoking a true crime theme and placing you right into the story as electronic instrumentals frame her clear, soft vocals. "So I ran to the desk, told the receptionist, and said/'This guy has a gun and he might use it'/Then she laughed and she said/'That's just Tom from across the hall, and he's no harm at all.'"
Advertisement
ADT featuring Emma Langford, 'Love Is Another Kind Of Knowing'
'Love Is Another Kind Of Knowing' sees the merging of two exceptional musical talents. Cork's ADT (Alan Daniel Tobin) of LOWmountain invited Limerick's Emma Langford to lend her musical stylings to this "haunting ode to a cherished companion lost but never forgotten," which resulted in a harmonious masterpiece - an absolute pleasure to the ear.
This sleepy, folk-driven quest for solace and redemption, lulls you into a false sense of safety, until you release how deeply emotive and overwhelming the combination of strings and delicately placed notes becomes. Langford's incredible talent adds an indescribable softness to the piece, making the hairs on your arm stand up as she sings through vocal run after vocal run. Of the collaboration, the Limerick musician said: "Alan and I were album-release-twins in 2021 and reached out to each other to support and celebrate our respective records at the time, and we've been in touch ever since. He asked me to add my voice and stylings to this track and I fell in love with the concept and the song itself. I was super excited to get involved. His work is gorgeous."
Samuel Blaney, 'Ember'
An artist from the West of Ireland, Samuel Blaney has emerged with an enchanting debut single. It's a quiet, stripped-back guitar tune that is breathtaking in its emotional heights. Blaney's vocals have an arresting vulnerability to them as he sings about love and yearning, the kind that stays with you long after the song is over. Released with a music video directed by Adam Prieto that complements the song's narrative and cements Blaney as an Irish songwriter to look out for.
Advertisement
Elaine Malone, 'Eat Out Of Your Hand'
The Cork singer-songwriter has put out her haunting new single ahead of her debut album 'Pyrrhic' which is due to release in September. A grungy piece of psych-rock, 'Eat Out Of Your Hand' is an unsettling yet hypnotic track that gets under your skin. Layers of multifaceted instrumentation are combined with Malone's quiet, yet powerful vocals, and it serves as an exciting introduction to the sound of her upcoming debut.
Louise Gaffney, 'Instant Unending'
The first release since her debut EP in 2021, 'Instant Unending' is a delicate, deep-reaching track that combines ambient roots with soft, layered indie vocals to create its intricate, velvety sound. It's as beautiful as it is haunting, and Gaffney's warped vocals weave in and out as deep bass and wispy guitar lines evoke a quiet stillness.
Padraig Jack, 'What Is Love'
Advertisement
An artist that hails from the Aran islands, Padraig Jack's sound is distinctly Irish. His latest track 'What is Love' combines layered, intricate guitar tracks with powerful vocals to create a booming rock song that sinks its claws into you. With a newly released lyric video, the single explores love as an unstoppable force and will be a great feature on his second album due next year.
Khakikid featuring Bricknasty, 'maradona'
As part of his brand new EP, sand bebé, Khakikid has released the infectious new track 'maradona' featuring fellow Irish musician, Bricknasty. The chilled beats and bouncy vocals blend perfectly to create a track you want to dance to. Lyrical genius and catchy melodies tee this track up to become an instant hit - already featuring on a number of highly esteemed Spotify playlists.
Amassing over ten million streams, this year alone, KhakiKid has played packed out shows at The Great Escape, Sea Sessions and a sold out show in Whelan's main room in Dublin. In November, the artist is set to play Pitchfork Festival's European dates including Paris and London, the next step in KhakiKid's incredible rise.
Belters Only, '4EVA'
Advertisement
Incredibly successful Irish DJ duo, Belters Only, is back with another track as they prepare to play a series of festivals this summer, including this weekend's Indiependence and Electric Picnic next month. '4EVA' is another club banger, an electronic track that doesn't just invite you to dance but demands it, as electrifying buildups and satisfying breakdowns combine in a track that will lift partiers and festivalgoers up.
NODEN, 'Just Won't Do'
London/Cork dance duo have created a track for house music enjoyers who want to groove. Sampling a testimony of the creators' love of house music while combining delicious disco samples creates a track that is vibrant and retro. A brass section over a modern house beat, "it's like a musical time machine, marrying the past with the present in a blissful union of funky basslines, irresistible grooves, and brass. A love letter to the unending vitality of disco, penned in the language of music."
Naimee Coleman, 'Love Will Tear Us Apart'
Despite Naimee Coleman's rich history in the music industry, the singer has released a limited amount on streaming platforms, so it's incredibly exciting to hear her cover of the well-known and loved Joy Division's 'Love Will Tear Us Apart', which dropped today. A stripped back approach to the iconic track, the track perfectly showcases Naimee's angelic vocals. The simple instrumentation works magnificently well, highlighting the deeply poignant lyrics of the '80s track.
Advertisement
Speaking about the new release, the singer said: "Sad songs have always been my favourite songs and 'Love Will Tear Us Apart' is such a heart-wrenching, honest and beautiful sad song. I've been performing it live over the last year at gigs and have seen how the song resonates with people".
S.A.N.D, 'Illusions'
The Kilkenny psychedelic dream pop four-piece has released a dreamy, intricate new track. Bouncy melodies with an impressively strong drum beat that nearly steals the show, 'Illusions' is a song that is many things at once. Originating in Ireland's southeast music scene, the band takes inspiration from Pink Floyd's complex theatricality to create a chilled-out yet energetic sound that is both classic and futuristic.
FIZZ, 'As Good As It Gets'
London-based quartet, FIZZ, have released the fourth single from their upcoming album The Secret To Life, releasing on September 15, via Decca Records. 'As Good As It Gets' is the band's most up-beat, pop-fuelled release yet - detailing the struggles of modern dating. The four-piece is made up of Dublin's Orla Gartland, plus British artists dodie, Greta Isaac, and Martin Luke Brown. Each of the friend's personality and style shines through individually in each offering we've received so far, and long may it last.
Advertisement
The drum-driven track fronted by Isaac and Gartland asks the question all people attempting to date in 2023 are asking - "is this as good as it gets?" The single joins the likes of the Barbie movie in highlighting the day to day misogyny women deal with under th patriarchy, featuring lyrics like: "Call me crazy if you wanna/Make my clothes a little tighter/Think I left my body/Years ago" and "I should be so lucky/If you'd only fuck me."
Brand New Friend, 'Stars Bleed'
The last single ahead of Brand New Friend's forthcoming album Grandstand, due to release on September 15 of this year, 'Stars Bleed' is a strong indie rock offering that takes as much from 'Terror Twilight'-era Pavement as it does from country artists like Skeeter Davis. Written in one go around a fire pit in the summertime, the song tells the story of independence and uncertainty, as indie riffs and electric guitars are accompanied by vocals that stand out.
About the creation of the track, lead vocalist Taylor Johnson recalled, "The very end of this song was recorded on our producer's (Danny Ball) iPhone. He literally asked me to go for a take on the acoustic guitar and didn't tell me he was recording it. I thought it was a joke at first, but he put it on the record and it sounds class, like you're in the room with me".
Myles McCormack featuring Laytha, 'The Changes'
Advertisement
Belfast songwriter Myles McCormack's newest track is an ethereal tune that evokes a sense of melancholy as it cycles through simple chord progressions while combining folk & electronica. It's psychedelic and melancholic, as McCormack sings about "simply stopping and enjoying the moment."
"Joyful day and the birds are singing/Glorious day and the bells are ringing/Come what may I'll be singing the changes"
Venomous Snakes, 'Balcony'
The debut single from multi-instrumentalist Déaglin Ó Faoláin's new project Venomous Snakes, 'Balcony' is a fiery yet undeniably vulnerable track. The Berlin-based Irish artist, fresh off of post-rock band A Scene From JAWS, went to Berlin in order to explore its no-rules attitude to making music. As a result, Venomous Snakes is undeniably rock n' roll, whilst still existing within a post-punk and indie rock world. The song uses a wintry Berlin balcony as a metaphor for his experiences with depression, as he criticizes the urban environment around him while it judges him right back.
Good Strangers - 'Egyptian Summer'
Advertisement
Upbeat vibes, contemplative lyrics and stunning intertwining vocals cradle the twinkling instrumentation of 'Egyptian Summer' from friends-turned-band, Good Strangers. The group poses the question: "Have you ever had a moment where you came to the realisation that a beautiful relationship was destined to end?" This emotional indie duet invites listeners to relive this known all too well moment as a bittersweet revelation. The band aim for the track to "show the tenderness and love of a relationship while simultaneously knowing there is a need for the skies to open to find true happiness or at least, a poignant distraction."
Comparable to the likes of Mumford & Sons and Of Monsters and Men, the first single from the group's highly anticipated debut EP, Adult Teenage Novels, leaves a promising taste in our mouths for what's to come. With incredible vocal chops coming from the group, Hot Press are certainly excited to hear what's next.
Listen to the playlist in full below.