Listen to some of our favourite new Irish releases of the week below!
Aoife Nessa Frances, 'Fantasy'
Irish singer-songwriter Aoife Nessa Frances has released her latest single 'Fantasy', as a follow-up to her latest LP, the acclaimed Protector. Accompanied by a psychedelic new music video, the track was recorded during the recording of Protector, finally seeing the light of day months later.
A serene, calming sound exudes from the piece, accompanied by whimsical harp flourishes and Frances' deep, mesmerising vocals. The beautiful slice of psych-folk accentuates her lyrical abilities. According to the artist, the lyrics were inspired by Frances' exploration into Tarot cards, especially the High Priestess card. The card depicts a woman sitting between two pillars symbolising her role as a mediator between different worlds. It proved to be a heavy inspiration for Frances, and she wrote the lyrics for 'Fantasy' as "a reflection of her essence and symbolism".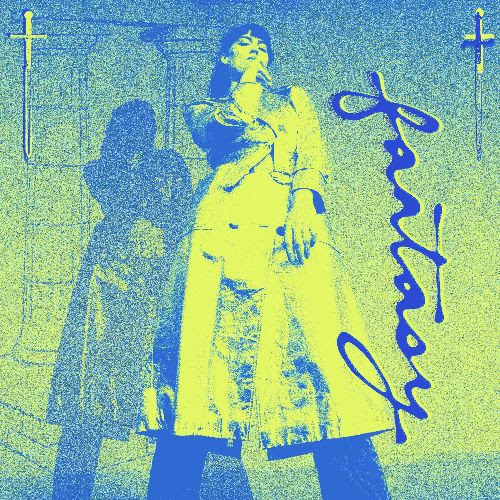 She elaborated further on the track's sound and meaning. "Writing 'Fantasy' took me on my own journey of self-discovery, connecting me to my own intuition," she explained. "Méabh McKenna's harp throughout the song acts like a flowing river, a constant presence that underscores the meaning. While 'Fantasy' was written during the same period as 'Protector,' I decided to keep it separate because it occupies a unique space for me."
Advertisement
David Keenan, 'An Irish Song'
Ahead of his National Concert Hall date on September 13, Dundalk native David Keenan has brought forth his latest poetry-steeped offering, 'An Irish Song'. With lyrics steeped in rhythmic shapes and forms, the Dundalk musician matches this with a musical rawness, serving a visceral and deeply emotive live approach. Still in his twenties Keenan's always refused to pander or conform to the expectations of others, releasing varied work, each more quirky and different than the last.
With his latest work, Keenan has taken a more Junior Brother approach to the way his Irish accent flows out through the music. Understated instrumentalism underscores the sometimes spoken lyrics, ripe with emotion and exposing vocal excellence on the belting choruses.
Speaking about the track, Keenan says: "'An Irish Song' looks at us as a people and how our historical, recent societal and individual traumas can blind us to our self worth and potential. At a time when external noise can be so detrimental to our internal dialogues it moves from a conversational tone to a universal message and serves as a call for empowerment, clarity and connection."
Advertisement
The track discussing modern day issues comes as the Irish artist has announced his plans to protest against the government's handling of the housing crisis. Keenan is offering up his birthday to the issue, asking other musicians and artists to join. To join Keenan in protest, meet the artist outside of Dáil Éireann, Dublin, 10am on August 30.
The Scratch, 'Trom II (A Slip In The Wind)'
The innovative Irish band The Scratch are back this week with the first single ahead of their newly announced album, 'Mind Yourself'. 'Trom II' is a haunting track that acts as a departure from the unique sound The Scratch have carved out for themselves. Deep vocals and subdued, delicate guitar lines evolve into a crashing third act, with an intricate bass line building to an emotional climax that, in true Scratch style, knocks you off of your feet.
Speaking about the single, Daniel Lang (cajón, percussion, lead vocals) explains: "myself, Jordo (guitar, lead vocals) and James McMorrow came back from the pub one night and started playing. It was one of those moments where somebody kicked things off and everyone fell into a groove behind it, we all just sat in it, enjoying a symbiotic moment together. Trom II is a cool song for us because we've never been in a live-in studio situation where everything's set up and ready to go. Working with the two James' (James Vincent McMorrow, Producer, and James Eager, Engineer), introduces a new element to our music. There has never been room for a song like this before with us – when it comes to The Scratch, it's a bit leftfield which makes it exciting, plus it feels like the right tune to introduce listeners to the many twists and turns this album takes."
Advertisement
Bless, 'Obsessed'
Taking inspiration from American trap music, Bless returns with his latest single 'Obsessed'. It's a brazen, infectious track that is both funny and introspective. Bless is at the forefront of the rising urban Irish hip-hop scene, and with a track like this, that's not surprising.
"Honestly, this song came from a place of deep reflection and inward thinking. It's only started to dawn on me now that having seven girlfriends is not an easy lifestyle to maintain... so I just had to deliver these feelings in song form for the people to digest."
Rob Dawson, 'In The First Place'
21-year-old Limerick singer-songwriter, Robert Dawson, is intent on going places with his guitar. Releasing his sophomore EP 21 today, the musician views this offering as a letter to himself from the past. Growing up in the foster care system, the artist notes that this experience has made life hard to navigate, with this EP becoming the story of that time. "It's about how a little perseverance can go a long way. I've written about every bit of the trials and tribulations of my life and I have put my whole heart into this EP. The songs tell a story about very important moments in my life that have shaped me as a person. This EP is incredible personal and I really hope it will connect with people. It's a very tough one for me to release into the world because once it's out there, it's out there. There's no going back."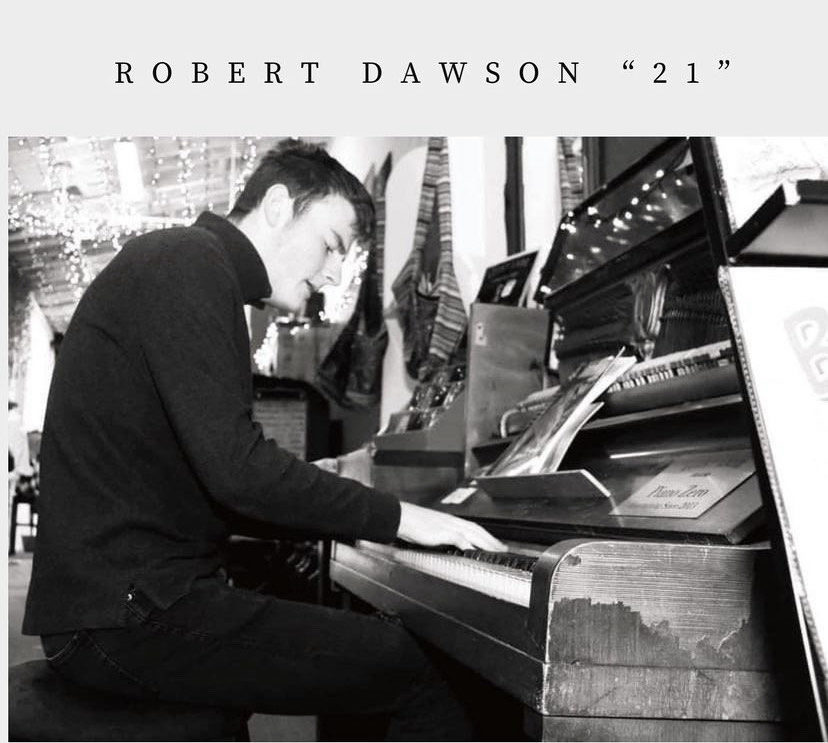 'In The First Place' is an incredibly emotional offering from the young Limerick man. Discussing the difficult themes of Dawson's experience of rape and sexual assault, the musician feels "it's not an easy song but it's a very important one." With delicate piano backing the soulful vocal produced by Rob builds to a stunning crescendo at the track's chorus. The expertly written lyrics discuss themes of denial and show the artist attempting to move on from one of the worst things a person can experience.
Advertisement
Both this track and the entirety of 21 will leave no dry eyes around the country as we marvel at the bravery of releasing such personal, important music.
VJ Jaxson, 'Changes'
Out of Tallaght, Dublin comes VJ Jaxson with his mesmerising new six-track sophomore EP Changes. He effortlessly explores themes of self-reflection and self-improvement, recognising that he wants to become a better version of himself. The EP's title track embodies that message, with its emphatic lyrical delivery driving those themes home. It's anthemic and catchy, and channels Jaxson's unique sound with its upbeat tempo and emotional core.
Kayleigh Noble, 'Say Your Grace'
R&B hooks and a catchy, sometimes even grungy soundscape make up Kayleigh Noble's first single out of her highly anticipated debut album. Having racked up international attention with her debut EP Hot Mess, Noble's debut record will undoubtedly cement her as one of the leading pop figures out of Dublin. 'Say Your Grace' is about the beginning of a relationship when it feels right, and the power of a good connection. She sings, "And now unlock the door, feeling like you've been here before."
Advertisement
shiv, 'Heavy Water (SHEE Remix)'
Dublin DJ-turned-songwriter shiv returns this week with a new remix from Killarney DJ SHEE, who has contributed his own considerable talent to her track originally released in May of this year. Adding plunging house beats to shiv's vocals while maintaining its emotional core, the DJ has lifted the song to new heights. shiv's gorgeous voice echo through the new remix alongside moving strings, creating a long-lasting, soaring soundscape that sticks. She has been busy after her return to Dublin from London, touring festivals all around Ireland including All Together Now and Kojaque's Softfest in West Cork. She is set to release more in the coming weeks, but this new remix is a gem.
Niamh Bury, 'Who Am I To Tell Him?
Irish rising folk star Niamh Bury has released her second single 'Who Am I To Tell Him?' following the success of her debut at the beginning of July. Released through Claddagh Records, the sleepy track swims through verses and choruses, steeped in layered vocals and delicately placed guitar. Bury's songs play like maps of conversations, with each an attempt to arrive at some kind of empathy, understanding and acceptance. The music is both rich yet spacious, giving the listener room to dance, dip or fly between verses.
The artist says of the new single: "'Who Am I To Tell Him?' is about not judging anyone by their outwardly-facing circumstances. We all ebb and flow through good and bad times, and things are not always as they seem from the outside. It's about having empathy, especially when the other person's perspective appears vastly different from your own."
Advertisement
DecPierce x RuthAnne, 'Honey'
Fresh from the launch of the new Irish dance label, 95 Records, DecPierce has released the label's second single - a cover of superstar Mariah Carey's 'Honey' with the Grammy Award Nominated RuthAnne. The track, perfect timing for late summer anthem, has also been realised just in the nick of time for Electric Picnic, where the duo will perform 'Honey' together on Saturday, September 2. RuthAnne's melodic vocal flows over Dec's incredible production, with powerful beats leading into epic breakdowns. Destined to make listeners dance along, the track boasts a catchy hook, with the essence of Mariah flowing through RuthAnne's voice.
Speaking about the release, the Block Rockin' Beats maestro said: "I got a wonderful chance this year to work with RuthAnne through a mutual friend of ours. We spent weeks bouncing ideas back and forth about a track we could do together. One afternoon she sent me a voice note on WhatsApp singing Mariah Carey's 'Honey' and it was honestly one of the greatest vocals I had ever heard!"
True Tides, 'Falling'
Advertisement
Cork band, True Tides, comprised of brothers Eoin and Cian and Conor McSweeney, have released their latest tune 'Falling'. The track discusses how we can mask our authentic selves to disguise our true feelings and vulnerabilities, according to the band. Energetic melodies and a strong chorus maintains the pop sensibilities that True Tides are known for, while bringing in a slightly more indie vibe through vocals. Reflecting darker themes of loneliness and heartbreak, the emotional core emphasises a sadness in the song.
Singer Cian explains: "In hindsight for me, the song has grown in meaning because I wrote it before I was diagnosed with Aspergers and ADHD. I have since learned that these structures we use to hide darkness and pain are commonplace with neurodivergent people as a way to fit in to societal norms. But this can be damaging because of the cognitive dissonance between the image that you present versus who you really are on the inside. With 'Falling' I was describing how I operated in the world & how difficult that was, but sometimes we find someone who loves us for who we truly are & allows us to drop the facade, to be genuine to ourselves by shining a light into those darker places in a loving way."
Jape, 'Lashing Through The Minutes'
The electro-rock band out of Dublin return with their second single from their upcoming album Endless Thread, 'Lashing Through the Minutes'. They combine both classic and contemporary influences to achieve a unique sound. The track has a certain 1970s flair mixed with elements of some of the most innovative modern production, and its lyrics are as introspective as they are catchy. Jape encourages listeners to find beauty in the small things, reminding listeners: "That photo from years ago when you looked good? Well, you look good today too, don't forget that."
New Rules, 'NOPE!'
Advertisement
English-Irish pop boy band New Rules have brought out their third single of the year, titled 'NOPE!'. The high energy pop tune adds layered vocals and harmonies to bassy beats, designed to make the track a toe-tapping ear worm! Detailing the difficulties of falling for someone who's constantly hot and cold with you, the track utilises expertly written lyrics to display a feeling of hopeful dissapointment, signed and sealed with a catchy hook.
Speaking about the track, the trio commented: "We wrote 'NOPE!' in Nashville on the hottest day of the year with no AC. We ordered pizza and frosés and stayed til 5am to finish it. It's probably the most fun we've ever had making a song and we think it sounds like that."
KETTAMA, 'Fly Away XTC'
The Galway producer KETTAMA has seen some remarkable successes since blasting onto the scene in 2018. His debut EP Bucklyn Bridge featuring the track B O D Y was the break he needed, and has since cemented his place in the house and electro scene. His newest album Fallen Angel released on Thursday, featuring the track 'Fly Away XTC'. It's yet another example of his signature hard-hitting house music, sure to take festival crowds by storm in the coming months as he hits the road.
Rob Harley, 'When It's Done'
Cork-based singer songwriter, Rob Harley, has released his much anticipated album Big Tree today, including a slew of fantastic tracks. One of our favourites, 'When It's Done', is a simplistic melody, putting Harley's vocal at the centre. The perfectly curated track places rhythmic drums and deep bass under layered vocals, slowly buidling to include twinkling guitar. The powerful lyrical number features introspective lyrics such as: "When it's calm and it's quiet/You think on/Don't think back."
Further on in the track, production adds a groovy element to the base - brigning the track from paired back simplicity to a track you'd tap your foot along to, with an addictive melody, and lyrics that keep you wanting more.
Advertisement
Reflecting on the album, Harley commented, "Big Tree is not just an album, but a musical journey that has spanned time and one of my life's milestones. This collection of songs carries the essence of collaboration and spontaneity, with some tracks taking shape in the studio itself. While not all of these compositions found their place in the album, they remain a testament to my artistic evolution."
Oscar Wilkins, 'Self Talk'
22-year-old Dublin rising artist Oscar Wilkins released his third single this week, a moody, RnB track with shimmering production. Wilkins' vocals are like if The Weeknd came out of Dublin, featuring an electronic twist. It explores themes of mental health and self-discovery: as Wilkins explains, it's "about self-reflection, trying to find out who you are and moving forward with your life, but I guess trying to say it in a straight-up way."
Polly Barrett, 'Sapling Be'
West Cork based songwriter Polly Barrett has released her second single of 2023, the uplifting and evocative 'Sapling Be'. Ethereal and rhythmic, 'Sapling Be' is the title track and second release from Polly Barrett's upcoming third album out October 6, 2023. After releasing two albums, Barrett took a break from music to focus on family. However, the experience of motherhood, surrounded by the beauty of living in the wilds of West Cork continued to inspire her. 'Sapling Be' continues the discussion of her journey through motherhood.
Advertisement
A therepeutic, dreamy base of bodhrán, cello, and bass guitar perfectly compliments the twinkling cello, and stunning looped soprano folk vocals. Mixed by Grammy Award Nominated producer Chris O'Brien and mastered by Richard Dowling at WAV Mastering, Limerick, the track tells a tale of love and growth entertwined with a power, symbolised excellently by the booming thud of the bodhrán.
Inspired by both her son and her love of nature Polly says: "The song is like a wish for my son that he grows strong and tall like a great oak tree, and with his roots firmly in the ground. That he never forgets his connection to nature."
Jessica Brett, 'Sleep at Night'
25-year-old singer Jessica Brett, hailing from Tipperary, has released the powerful club track 'Sleep at Night'. Following on from her previous single 'I'll Come Back Better' which gathered support from a range of different stations around Ireland, her new single 'Sleep at Night' produced by Alex O'Keeffe, mixed by Darren Heelis and mastered by Richard Dowling is an ode to empowerment through difficult times.
The club anthem features an infectious beat, slowly building under Brett's beautiful vocal. The rapturous track is perfect for a night out, bringing Anne Marie, Mabel and more to the mind. On the new track, Jessica commented: "I wrote this song about how I moved on after being in a toxic situation and having the self respect to remove yourself from the equation when your not being treated right."
Advertisement
Big Sleep, 'All Of The Pretty Things'
Inspired by the sounds of JJ Cale, Skinshape, and DOPE LEMON, 'All of the Pretty Things' is the perfect lazy Sunday afternoon track freshly released by Irish-Italian quartet, Big Sleep. Spring reverb aids in the chill feel exuding from the groovy riffs, along with soft bass, drum beats, and background vocals keeping a solid grounding. Most of all, the gritty indie-dripping vocals drawl allows for ultimate sleepy vibes.
According to the band: "All of the Pretty Things' needed a slower pace than the other tracks on this EP. We wanted to give this one space to breathe, we were focused on stripping it back to its core elements. We all have a deep love of contemplative songs that aren't in a rush. We admire artists like JJ Cale, Adrianne Lenker, and Bon Iver who do this really well with songs like 'Magnolia', 'Jonathan' and 'Bloodbank'. The idea came about just two weeks before we were set to go into the studio. We weren't planning on including it in the project but as soon as it was finished we all agreed it had to be part of the tracklist. Definitely one of our favourites that we've written so far."
kate phelan, 'board games'
Irish indie folk-pop artist, katie phelan, has returned for her first release of 2023, the endearing single 'board games'. With katie's distinctly captivating vocals at the forefront, this sickly-sweet, innocent track explores the light-hearted moments of falling in love where you might least expect it, yet cherish it the most. Witty lyricsm and paired back instrumentalism offers a pure basis for the artist's words and vocals to flow. Subtle guitar and keys crescendo at the track's chorus, with light drum beats introduced, building the track away from the sleepy opening.
Speaking about the track, Katie said: "'board games' is genuinely based on a party I went to
where I was playing Jenga. It's about all the little funny moments of falling in love and hoping they don't get boring or turn into something you look back on one day."
Advertisement
Darian June, 'Temporary Lover'
A glimmering pop song, Darian June lends her lovely, passionate vocals to her new track. 'Temporary Lover' is June's dive into the electro-pop world, as soaring synths and a driving bass line invites the listener to dance along. The Cork-born singer, songwriter and producer explores her frustration with modern romance, depicting her doomed attempts at finding a real connection. She was the winner of Red FM's A New Local Hero talent search competition earlier this year, and has established herself as a musician that has nowhere to go but up.
Jamie Welles, 'Poet (If I Was)'
Belfast-based singer-songwriter Jamie Welles has released the intensely adorable new track 'Poet (If I was)'. An almost spin on the Elton John track 'Your Song', Welles brings indie-country elements to the sickly-sweet tale of a man deeply in love. The whimsical folk ditty boasts an uplifting chorus, a spritely melody and romantic sentiment.
According to a press release from the artist, the genesis of the song traces back to Welles' desire to write a heartfelt ode for his first love. However, frustration ensued as the lyrics alluded him. The end result is an autobiographical narrative, portraying his longing to possess the gift of a talented poet, effortlessly weaving profound words to express his deepest emotions. Nonetheless, he chooses to embrace his reality and convey his message in its purest essence by simply declaring his love.
Advertisement
Cormac O Caoimh, 'There Is A World'
The Cork singer-songwriter returns with a single off of his upcoming record, one that explores themes of autism, parenthood and love. Set to play the upcoming Cork Folk Festival with Martin Leahy, Caoimh has a secure foothold in the scene, having released five albums since his emergence in 2007. 'There Is A World' is a fitting return to form: mixed by Frankenstein Bolts' Justin Cullen, it's a mellow indie track with a catchy chorus and a soaring soundscape.
Middler, 'Home Port (Preference Remix)'
Two Belfast artists come together on this new remix from Middler, featuring the producer Preference. Accompanied by another remix from Matheson, Preference remixed the post-punk band on a track that's dedicated to their South American drummer and his story during the pandemic. A techno whirlwind, it blends heavy bass with an upbeat tempo that's 100% club-ready.
Martellos, '95 (Strawberry Blonde)'
Advertisement
Hailing from Donegal and Mayo, Martellos are a promising electro-indie duo. Their new track '95 (Strawberry Blonde)' follows their previous single 'West', on an EP that tackles the ever-growing mental health crisis in the members' hometowns. It's a grounded, haunting and compassionate track that is clearly very personal to the band.
From singer/guitarist Lorcan Donnellan: "I wrote the song on the day of a family member's anniversary. My sister had texted me to just say spare a wee thought for her and I said I would write something down. The day of remembrance for this terrible, tragic loss brought into focus what is important. I wrote it all down without a tune in mind and put it to the music Kev had written that evening."
Pablo Kush, 'Hardcore Vibes'
Globetrotting Irish rapper and producer Pablo Kush has released his brand new single 'Hardcore Vibes'. Teaming up with artists Drumla and Madugo, Kush has produced a track that weaves together elements of electronica, dance and hip-hop, paying homage to the 1995 song by German group Dune.
Upbeat energy pulses through the track, with vibrant Dublin vibes flowing over exciting club beats. The whole tune feels refined and perfected, a testament to the professionalism and experience of Kush. Reflecting on the track, Pablo commented: "It was a completely new style to me, but it almost seemed normal at the same time, so it was just fun."
Advertisement
Joel Harkin, 'Is Iomaí Lá Sa Chill Orainn'
Alternative folk artist, Joel Harkin, claims his place as one of Ireland's up and coming trailblazers with 'Is Iomaí Lá Sa Chill Orainn'. Sitting at six minutes, the track feels like mere seconds, with the triumphant strings, glistening guitar, and sparse drum beats offering a perfect cocoon for Harkin's vocal, furthermore when Offaly artist, Aoife Wolf, is introduced to the mix.
'Is Iomaí Lá Sa Chill Orainn' is a remarkable ebb and flow, of an emotive, carefully-crafted narrative arc. Capturing all the hallmarks that made his 2020 debut album, Never Happy, fully worthy of a shortlist nod at the Northern Ireland Music Prize, the musician's latest offering showcases a lyrical maturity and stronger knowledge of his own musicality. The chaotic breakdown towards the end of the track adds an indescribable teenage angst to the track, showcasing Harkin's emotion and vocal talent excellently.
Speaking about 'Is Iomaí Lá Sa Chill Orainn' Harkin said: "The title directly translates to 'there are many days in the churchyard,' which doesn't mean much without the context. It's supposed to be like the Irish answer to carpe diem but instead of focusing on the positive of seize the day it's more like 'you only have finite time now, whereas you have loads of time in the grave.' I like it. It's like the looming abyss of death spurring you on to find meaning in your life and do something with your time. It doesn't always work, mind you."
Akrobat, 'Are You Listening'
Advertisement
Art-rock outfit, Akrobat, are Dublin's masters of musical shapeshifting, bringing nostalgia-fuelled pop-rock to the forefront in their latest single, 'Are You Listening'. Engineered, mixed and mastered by Rian Trench in The Meadow, the dripping-with-chaos second single from the group's forthcoming EP Zesty Terrestry explores how humans interact with AI, art, nature, and what it means to be creative in a rapidly changing world. It's a perfect opportunity to get on board with a band entering thrilling new territory.
An accompanying video showcases the hecticness of the track, with powerful synth and drums creating the perfect cocoon for the band's new lead vocalist Selen Korku. It's clear that the singer, like their songwriter, Shane Regan, draws from jazz, creating a cluster of very pleasing modern yet nostalgic sound.
Check out the playlist in full below!