It's Here! Paul Charles Remarkable Memoir Adventures in Wonderland is Launched on Pre-Order Today
Adventures in Wonderland tells the extraordinary story of a music-mad kid from Magherafelt, Co. Derry who went on to work, and become friends, with some of the biggest names in music. Praised by best-selling authors Joseph O'Connor as "a wonderfully enjoyable memoir" and John Connelly as "a very fine piece of work", it is available for pre-order now from the shop on hotpress.com.
Paul Charles' remarkable memoir Adventures in Wonderland is set for launch in the latter half of May. It is being published by Hot Press Books and is now available with special pre-publication gifts through the Hot Press shop, via hotpress.com...
A riveting memoir, it tells the story of how a music-mad youngster from Magherafelt in Co. Derry got caught up in the allure of rock 'n' roll, took to London in the heady days of the 1960s' music revolution – and went on to become one of the most influential music figures ever to come out of Ireland; and to work, and become friends, with many of his rock and roll idols.
You can avail of brilliant pre-order special gifts here.
"There are times when I have to stop and think – did all of that really happen to me?" Paul Charles says. "And the frightening answer is: yes, it did! There have been incredible highs and devastating lows along the way. I have tasted extraordinary success – and on more than one occasion feared for my life. It's been a proper rollercoaster ride. But I hope readers of Adventures in Wonderland will also recognise how much I have enjoyed being involved in so many different aspects of music – and working closely with artists of outstanding creative ability. It has been an incredible privilege – and wonderfully exciting. So far!"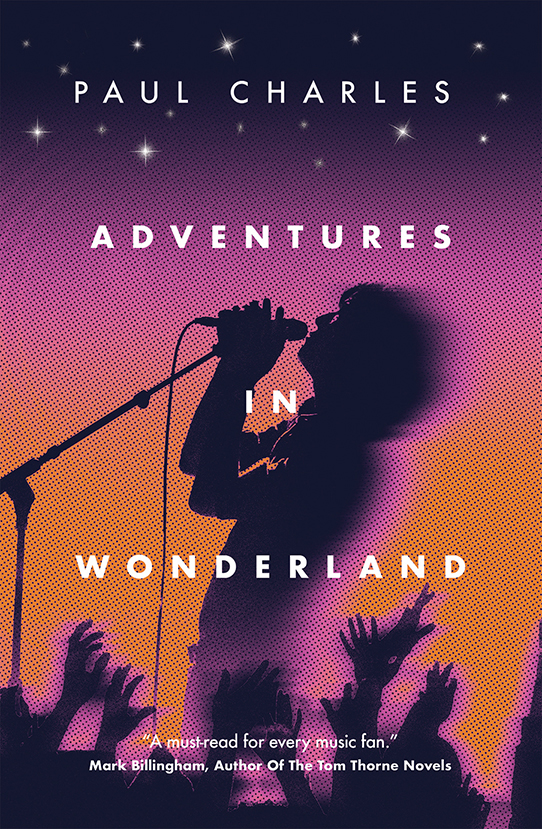 Irishman Paul Charles is one of the leading music agents on the planet. Over the past 40 years, he has worked with some of the biggest names in music, at different times managing the careers of Van Morrison, Ray Davies of The Kinks, Gerry Rafferty, The Waterboys and Dexys Midnight Runners, and launching Tanita Tikaram – the teenage star whose debut album sold almost 5 million copies – into the world.
In addition, he has been agent and confidante along the way to The Kinks, Robert Plant, Tom Waits, Crosby, Stills and Nash, Don McLean, Lonnie Donegan, Rory Gallagher, Marianne Faithfull, John Prine, Carly Simon, Jackson Browne, Elvis Costello, Nick Lowe, Christy Moore, Taj Mahal, Buzzcocks, The Undertones, Hothouse Flowers, The Blue Nile, Shakespears Sister, Ronnie Spector – and dozens more of modern music's brightest stars.
In his role with the Asgard agency, he has also promoted shows featuring many of the leading artists in the world, including The Police, U2, Van Morrison, Dire Straits, Carole King, Meatloaf, David Gilmour, BB King, Emmylou Harris and John Lee Hooker.
Paul has also been involved since the early days with Glastonbury Festival, with his artists topping the bill on more than one occasion before he was invited by Glastonbury founder Michael Eavis to take on the daunting – and inspiring – task of booking the Acoustic Stage at the festival every year, a role he has carried out for the past 30 years.
"When I had the crazy idea of running my own Festival," Glastonbury founder Michael Eavis says, "the first thing I needed was bands to play! I got a list of agents to phone from the 'white book' but had very little luck getting what I wanted. Fortunately though, I had one person who actually phoned me back with two of the top bands of the day that I wanted – that was Van Morrison and Jackson Browne. That's when the festival started to take off – and it was Paul Charles who helped me to make that happen."
Paul is also a successful crime writer and a songwriter, whose work has ended up on albums by Kendrick Lamar (in his K.Dot guise), Talib Kweli and Norah Jones – as well as on the four original albums released by the Northern Irish band he started out with, Fruupp, and with whom he enjoyed the kind of mad adventures which only bands that fall just short of the big time have the very dubious pleasure of experiencing!
All of these extraordinary escapades, as well as his encounters with The Beatles, The Rolling Stones, Police, U2 and more, are brought together brilliantly in his marvellous new book Adventures In Wonderland. A riveting memoir, it is the story of a music-mad kid from Magherafelt in Co. Derry, Northern Ireland
"A book defined by an abiding love of music, a deep affection for musicians – despite their occasional follies – and a clear-eyed view of the sometimes harsh realities of the music business," best-selling author John Connelly says of Adventures in Wonderland. "This may well be the best memoir of its kind yet to come out of Ireland. A very fine piece of work, and I enjoyed every minute of it."
Packed with jaw-dropping stories, including the time when he was almost burned alive along with his precious record collection, and pen pictures of the kind of stars we all want to know more about, Adventures In Wonderland is also one of the most complete insights into the world – and the business – of music that you will ever encounter. It is a must-read for every music fan – and for students of how the world of rock 'n' roll works alike.
"This is a unique and brilliant book that recounts the fascinating journey of a young man from Magherafelt in Co. Derry to the heady heights of rock 'n' roll, in a marvellously colourful way," Hot Press editor Niall Stokes says. "Throughout, Paul Charles offers penetrating insights into the music, the musicians and the stars who have entertained, inspired and influenced us all – while also making readers laugh out loud. We're really looking forward to seeing the reaction to Adventures in Wonderland. It's a book that should be read by anyone – and everyone – with an interest in music."
Best-selling author Joseph O'Connor says: "All music fans will relish this fascinating, revealing, wonderfully enjoyable memoir, which is itself the work of a lifelong fan. Full of anecdote, insight and heart."
Tom Thorne crime writer Mark Billingham says: "Adventures in Wonderland is a fabulously entertaining book from a writer who's been there and done it all! A must-read for every music fan."
Irish Times music critic Tony Clayton-Lea says: "From working with superstar rock stars and the créme de la créme of singer-songwriters to bringing The Clash to Ireland, The Undertones to the UK, and Van Morrison into the mystic, Paul Charles knows the music business inside out –- and Adventures In Wonderland spills the beans in fine style."
Powerfully honest, often hilarious, frequently touching, and with wonderfully evocative photos, Adventures in Wonderland is a thoroughly joyous trip that will inspire readers to fall in love with music – whether for the first time or, better still, all over again…
• Published by Hot Press Books, Adventures in Wonderland is now available on pre-order here. Adventures in Wonderland will be published in shops across Ireland and in the UK on Friday 19th May 2023