How Frederick Douglass Is Inspiring a New Generation of Young Black Creatives in Cork
As part of Douglass Week, several young creatives and mentors from the Cork Migrant Centre, and Hamilton actor Paul Oakley Stovall, joined forces with Hot Press for an evening of song, spoken word and discussion – inspired by the work of the iconic American slave-turned-abolitionist Frederick Douglass.
In the '70s and '80s, my Jamaican-Irish relative stood out from the other children in his staunchly white, working-class community on the northside of Cork City. He did not look like anyone else on his road or in his class – and in school, the Christian Brothers made sure to remind him of this.
When it came time to enter secondary school, he was told that he had failed to meet the requirements of the entrance exam, and as such, wouldn't be offered a place. Once enough of a fuss had been kicked up by our fiercely protective family, however, the truth came to light: he had achieved top marks.
Despite his exceptional intelligence, and the support and love of his family, this was the uphill battle he had to face while growing up in Cork City. He had no opportunities to find a community of people who could relate to his experiences – nor did he have access to the resources to express himself through art or other creative outlets, beyond his collection of worn-out Bob Marley LPs.
SYSTEMIC RACISM
That was over 40 years ago. Today, Cork is a remarkably different place – as evidenced by the impassioned young creatives and mentors from the Cork Migrant Centre (CMC), who participated in a recent evening of song, spoken word and discussion, moderated by Hot Press' Shamim Malekmian. The virtual event, which took place over Zoom on February 11, while also being live-streamed on the Hot Press Facebook page, was organised as part of Douglass Week – a collaborative event series, celebrating the renowned American abolitionist Frederick Douglass' time spent in Ireland between 1845 and 1846.
Advertisement
It's unlikely that even Douglass could have anticipated the kind of influence he would have on young Black people in Ireland, 176 years after he arrived on these shores – though you can imagine the famed orator would have probably got a kick out of Zoom webinars.
Following the publication of his deeply influential autobiography, Narrative of the Life of Frederick Douglass, an American Slave, in 1845, Douglass set off on a tour of Ireland, amidst fears for his life in the US – where slavery would not be abolished for another two decades. He originally intended to visit Ireland for four days, but ultimately spent four months delivering lectures on slavery in towns and cities across Ireland. His message resonated powerfully with the Irish public, while also coinciding with the devastation of the beginning of the Great Irish Famine. During this time, he struck up a friendship with the renowned Liberator, Daniel O'Connell, who famously dubbed the American abolitionist the 'Black O'Connell'.
Despite coming from entirely different backgrounds, both men were united in their common abhorrence of social injustice, and their passion for freedom. Their friendship embodied the central importance of solidarity in the struggle for liberation – one of the many invaluable lessons Douglass' legacy continues to teach us, so many years later.
Indeed, just as Douglass has continued to inspire the Black Lives Matter movement in the US – appearing on murals across the country, while activists quote his speeches, pointing to the inherent hypocrisy of America's claim to be the Land of the Free – his work, and his connection to Ireland, have also sparked a blaze of creativity in the young people involved in the Cork Migrant Centre.
Through their music, which was showcased during the virtual event, CMC mentors and tutors Raphael Olympio, Cliff Masheti and Outsider YP (who recently featured on Denise Chaila's Choice Music Prize-nominated mixtape Go Bravely) have tapped into the power of song as a tool in the fight against injustice.
Advertisement
"The pain never ends, the chains never end," Cliff sings on 'Running' – which samples Douglass' iconic 'What To The Slave Is The Fourth Of July?' speech, delivered six years after his trip to Ireland.
It's a celebration of more than 'art for art's sake'. Rather, it places these young creatives within a legacy of artists whose music speaks directly to the struggle, from Billie Holiday's 'Strange Fruit' to Vic Mensa's '16 Shots'. Olympio, Cliff and Outsider YP's music also plays a crucial role in bringing Douglass' message to a new generation, who are coming of age in a multicultural Ireland that must learn to face up to the realities of systemic racism.
Using Douglass as a source of inspiration, their songs acknowledge both past and present injustices, as well as their hopes for real change in the not-so-distant future, in tackling the racism that continues to plague our society – once again rearing its ugly head across social media in the wake of the fatal shooting of George Nkencho by Gardaí in December. Their music is also a reflection of the borderless nature of Black Lives Matter, as a fight against oppression around the world – inextricably linked to the #EndSARS protests in Nigeria, as much as the demonstrations that followed George Floyd's murder in Minneapolis.
As Frederick Douglass said in 1857, "if there is no struggle there is no progress. Those who profess to favour freedom and yet deprecate agitation are men who want crops without plowing up the ground; they want rain without thunder and lightning. They want the ocean without the awful roar of its many waters."
CONCEPT ALBUM
The evening also featured artwork by Elton Sibanda and a wonderful, moving spoken word piece, entitled 'Me and Frederick Douglass', by Friday Junior Osemwekhae. Junior's contribution was followed by an enlightening conversation with Paul Oakley Stovall, who played George Washington in the first national tour of the smash-hit musical Hamilton. Over lockdown last year, the American actor was inspired to create a series about Douglass' time in Ireland. He has since travelled to Ireland to research the project, and take part in Douglass Week.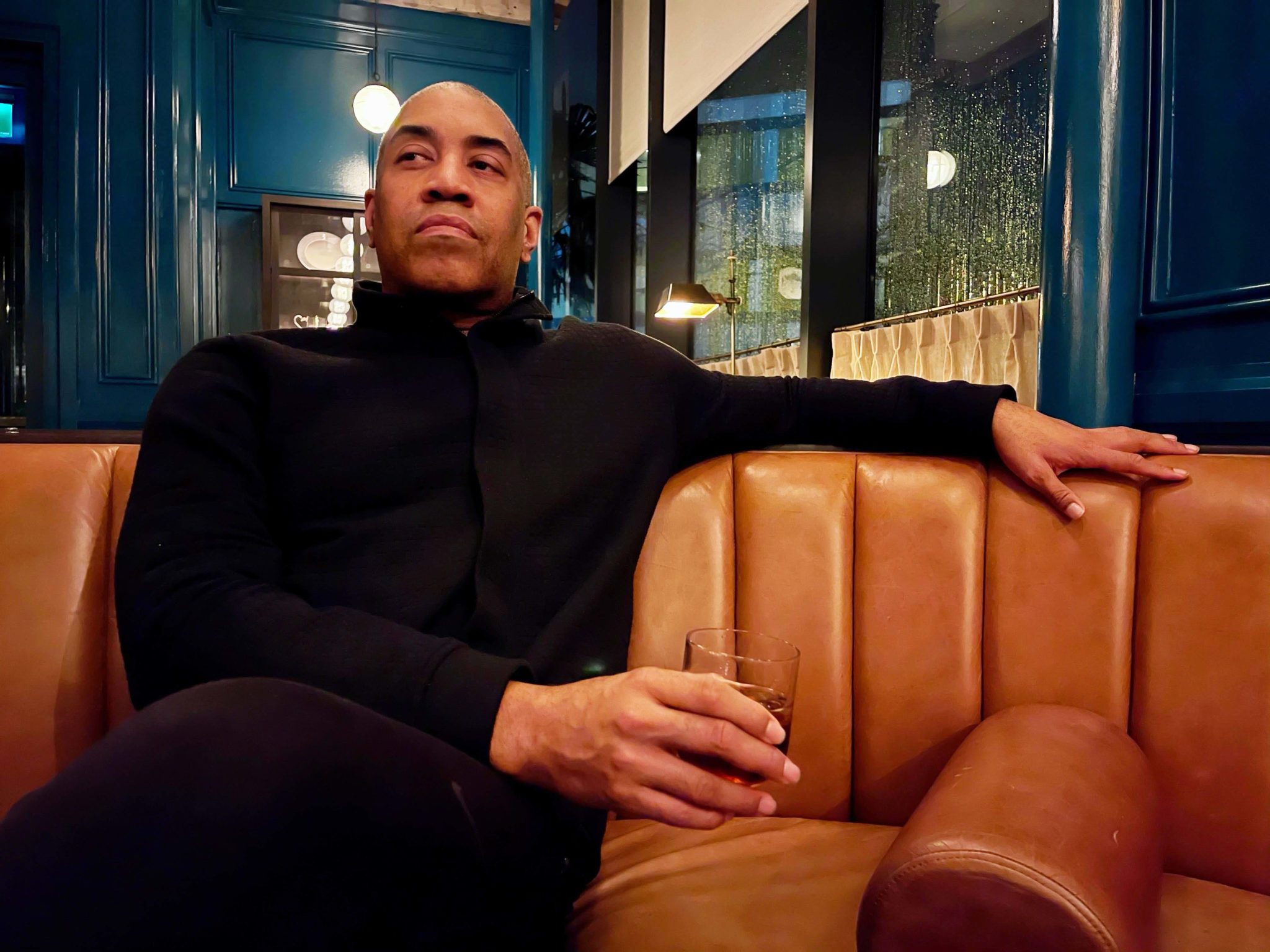 Advertisement
Paul revealed that he was taken aback by the high standard of music that featured as part of the virtual event – comparing the young black Irish artists' work to the songs in Hamilton.
"They're just as talented as anybody that's in the show, if not more so," he noted. "I know grace, and I know genius when I hear it. I also know that a lot of genius doesn't get heard, because it lacks the opportunity to get out there. That's why this is so important, and that's why I'm here to do whatever I can, to raise awareness for the incredible work they're doing."
Paul also discussed his plans to create a concept album about Frederick Douglass, involving some of the young creatives from CMC.
"I've already written four or five songs, and Sarah McCreedy has written some songs too," he said. "And now that I'm hearing this – I'm now realising that this is bigger than what I even thought it was.
"So we have to think bigger. That's what Frederick would do."
* * * * *
Excerpt  from 'Me and Frederick Douglass',
by Friday Junior Osemwekhae:
Advertisement
Hailed as the 'Black O'Connell,
After meeting your inspirational ally, Daniel O'Connell,
Who saw the same light we see at the end of the tunnel –
The light for basic human rights to balance the struggle.
But today, the light we want to capture with our iris:
A nation that truly considers everyone Irish.
A nation where all forms of discrimination will perish.
A nation that we both know, thanks to the kindred spirit, we will accomplish.
At last, we're walking towards a realm where dreams finally come to pass,
As a spiritual compass reconnects us all on the atlas.
Dún an doras on all those who do not recognise me and Mr Frederick Douglass.
* * * * *
Read more about Douglass Week in the new issue of Hot Press, out now:
RELATED
Lifestyle & Sports
26 Nov 21