Frederick Douglass Week: Celebrating the Legacy of the Anti-Slavery Campaigner with Young Creatives at the Cork Migrant Centre
As part of Douglass Week – an event which celebrates the extraordinary work of the black abolitionist leader Frederick Douglass, and his links with Ireland – Hot Press has joined forces with the Cork Migrant Centre for an evening of song, spoken word and discussions, kicking off on Zoom at 5pm on Thursday February 11th....
Who was Frederick Douglass?
Growing up in Ireland, Fionnuala O'Connell wouldn't have known: she never liked history books. More often than not, they failed to represent groups she could identify with, in particular women and people of colour.
"I never understood why everyone loved and talked about history so much," O'Connell says now, smiling. "When I was growing up, I only saw maybe actresses that looked like me. No one else looked like me."
Later, when the Black-Irish woman matured enough to look for people like herself in the white chapters of history, she discovered one Frederick Douglass. Born into slavery in Maryland, in the USA, in 1818, Douglass became the leader of the Abolitionist Movement, as well as a best-selling writer and a renowned orator.
"He supported the women's movement," Fionnuala says. "They used to call him names like 'Women's Rights Man' and he just took it, because he saw the bigger picture."
Advertisement
In 1845, Frederick Douglass travelled to the UK and Ireland where he became friends with the man they called The Liberator, Daniel O'Connell.
The extraordinary impact Douglass had in Ireland is now a cause for celebration among the country's Black youth and artists. Douglass Week, the brainchild of Tim Groenland, Caroline Schroeter and Sarah McCreedy of University College Cork (UCC), is taking place all this week. The aim is to commemorate the African-American freedom fighter and his mark on Irish liberty – and thereby to give young Black Irish people a direct connection to Irish history.
Fionnuala O'Connell, now a youth project worker, and a mentor at Cork Migrant Centre (CMC), has been involved in shaping the project. Other supporters include beloved, vivacious local radio DJ, Stevie Grainger (Stevie G); artists and pupils at Migrant Centre; and the Cork cultural and heritage centre, Nano Nagle Place.
The organisers have come together with Hot Press, to present an evening of song, spoken word and discussions, kicking off on Zoom at 5pm on Thursday February 11th.
Joe Kavanagh, Lord Mayor of Cork city, will open the gig with a speech and Hot Press will be moderating what promises to be a fascinating conversation.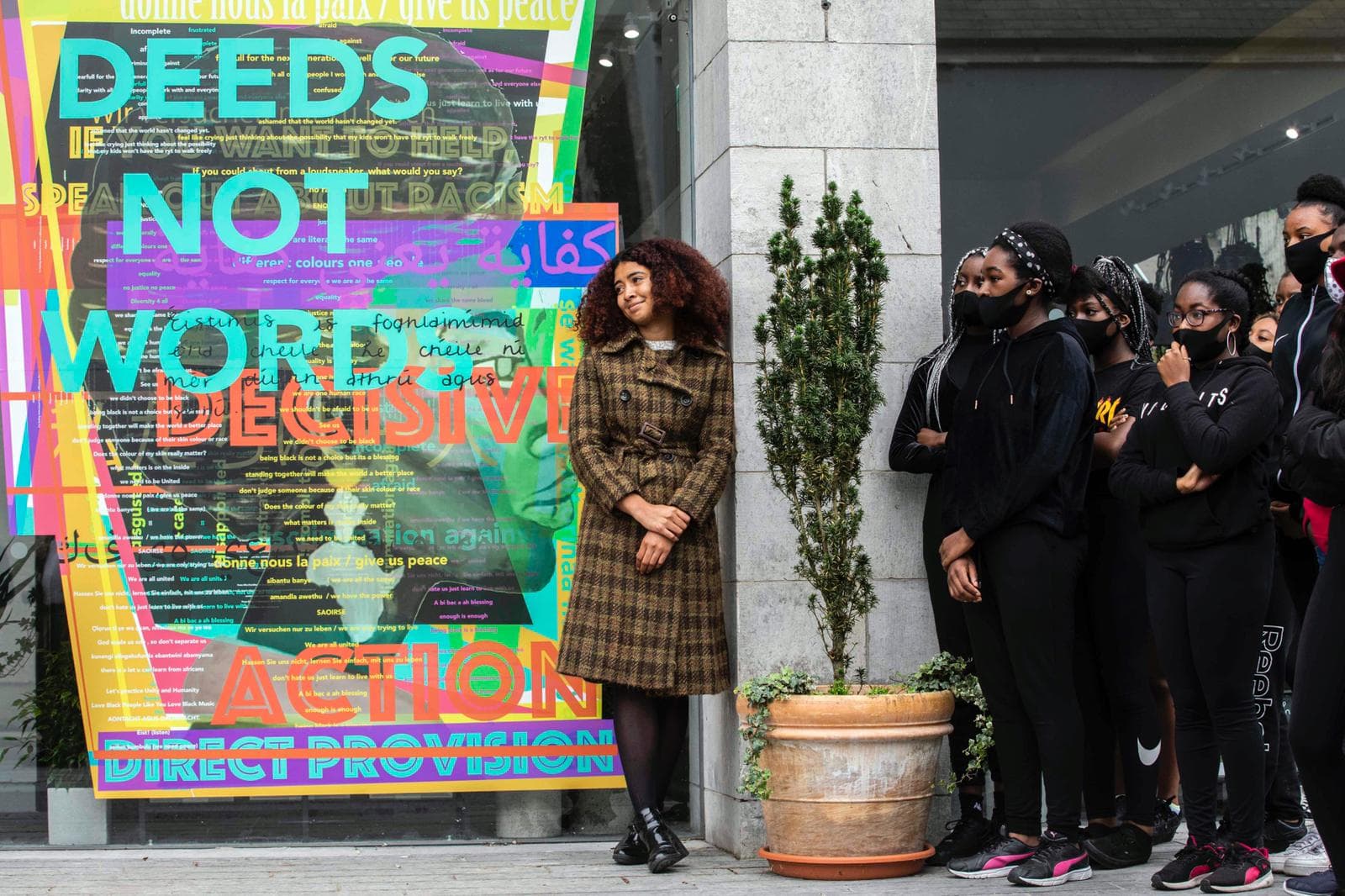 THE BLACK O'CONNELL
Advertisement
Although he was self-educated, there was no escaping Douglass' exceptional brilliance. Originally a slave, he made his break for freedom in 1838. He travelled to Massachusetts, where he befriended the abolitionist William Lloyd Garrison. Impressed by his unique skills as an orator, Garrison took him on as his protégé and hiring him as an abolitionist lecturer. It opened up a path for Douglass to enlighten and enthral crowds with his powerful and persuasive arguments about equality.
In 1845, he published a memoir – effectively his first of three autobiographies – entitled A Narrative of the Life of Frederick Douglass, an American Slave. It became an immediate bestseller, but the publicity ensured that his safety was threatened by bigots: the American Civil War, in which the drive to end slavery played a major role, was still 16 years away.
With the book a best-seller, Garrison advised Douglass to leave the country until the attention died down. In August 1845, Douglass, who was in his late 20s, made his way across the Atlantic.
Douglass is known to have admired British culture. Shakespeare and Dickens are said to have been his favourite writers, and he liked the fact that the United Kingdom had abolished slavery in the majority of its colonies since 1833.
In Ireland, however, nationalists held their British colonial supervisors in considerable contempt. When Douglass embarked on the Irish leg of his tour, he bonded with the Irish in a mutual spirit of resistance.
What he saw in Ireland opened Douglass's eyes to a broader understanding: slavery was not the only form of social injustice. Colonialism had left lasting scars in America as well as Ireland.
While he was here, Douglass met and befriended Daniel O'Connell, the Irish freedom fighter, agitator for Catholic Emancipation, and an avid abolitionist. In 1845, O'Connell and Douglass led a rally of thousands of freedom fighters in Dublin. The Irish man took to calling him the Black O'Connell. Douglass, in turn, wrote later that O'Connell "held Ireland in the grasp of his strong hand."
Advertisement
O'Connell's political vision left a lasting impression on Douglass, inspiring him into a more progressive form of resistance, activism and journalism.
When he travelled back to the States in 1847 – this time settling in New York – and founded an anti-slavery publication, he confided in a friend that he was, quote: "Sick and tired of arguing on the slaveholder's side."
MIGRANT KIDS MAKING ART
The team at UCC approached organisers at CMC about taking part in Douglass Week. "It felt like a natural kind of progression," says Fionnuala O'Connell.
The group has been organising workshops for migrant kids to let their creative juices flow since late 2017. This was an opportunity to teach them about Douglass as a role model and to help them honour his memory through art.
The workshops have gained considerable momentum. "Since 2019," Stevie G says, "we have been more of an arts group, doing everything from hip-hop, songwriting, singing to lots of visual arts. The kids have done high-profile events with the Glucksman, UCC, Cork Printmakers, Indie Cork Film Festival, and Cork Discovers, amongst others."
Last year, artwork they created was also displayed on the wall of Cork City Library.
Advertisement
Ugonna, a genial 16-year-old girl, has been involved in the CMC workshops since the age of 12.
Her mum took her to the opening of a new department at CMC in 2018. At the end of the ceremony, she signed up for dance classes. "And the rest is history," she laughs."During the programme, we were able to come up with different channels and different lyrics and to do some artwork."
Young boys and girls in Cork, from migrant backgrounds – including those who still live in Direct Provision Centres – develop their skills in different art forms and media, including hip-hop and spoken-word, both for the joy of creation and to contribute to community projects like Douglass Week.
"It's been a blast so far," Ugonna says.
SWIMMING AGAINST THE TIDE
For Ugonna, Frederick Douglass means swimming against the tide of conformity, being brave, noble and – if the light falls in the right way – transcendent.
"Frederick Douglass had two choices," she says. "He could either be a slave or he could use what he got from education and run with it and do something."
Advertisement
Douglass's pathbreaking way of escaping bondage inspires Ugonna to make bolder decisions in life.
"If I was in that situation, I don't think I would've been able to run with it," she confesses, "and because of that I need to re-evaluate the way I think. Because I would've known that slavery was wrong, but I wouldn't have tried to change things.
"But, now, I can use Frederick Douglass as a role model and try to follow into his footsteps."
Cliff Masheti, a tutor with CMC and a rising local artist, says he is most fascinated by Douglass's peaceful yet influential rebellion – fuelled by the power of his words rather than gunpowder.
"He defended himself without attacking back," Masheti says, "and for me, it shows the importance of self-control and clarity of mind."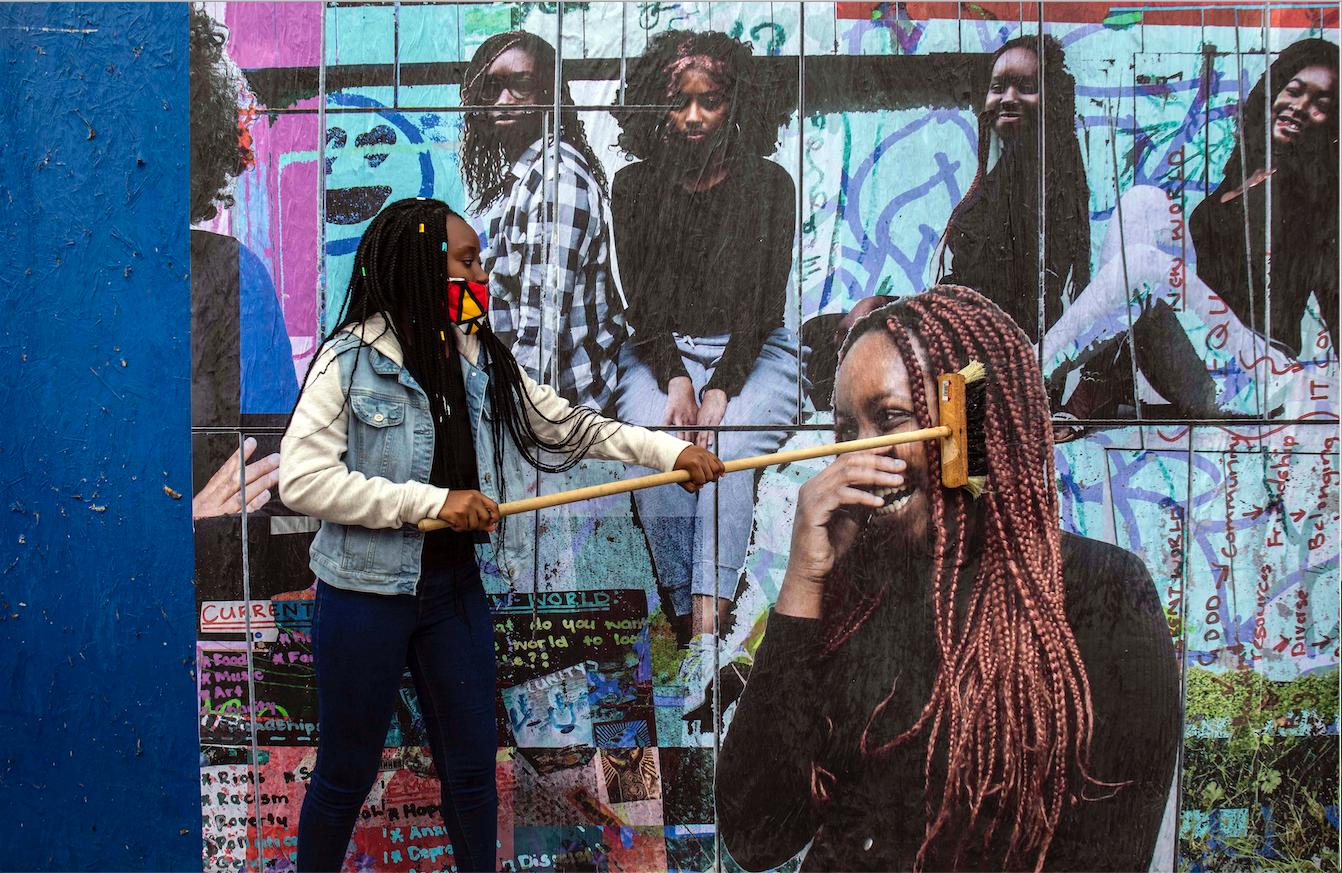 THE ONLY BLACK PEOPLE IN BALLINCOLLIG
Advertisement
For all the teachers involved, the chief motivating factor for getting involved in CMC youth workshops is to inspire younger people.
Raphael Olympio, another creative artist, and mentor at CMC, says no one encouraged him to follow his artistic dreams when he was younger.
"I never had even just a bit of encouragement," he remembers. "I felt isolated. I was doing music, and I would've loved to have a mentor to guide me and say, 'You know what, these are the best ways to write a song', or to contact me and do workshops with me," he says.
Another local artist and mentor, Friday Junior Osemwekhae, concurs. He wants to teach migrant kids because he never had a Black mentor growing up in Ballincollig, Cork. Growing up in Cork, he says, he was lonely, hyperconscious of his skin colour and of differences.
"When Ugonna said there that she's just 16," he observes, "it really pulled a string in my heart because it reminded me when I was 15, 16 and I moved to Ireland.
"We were the only Black people in Ballincollig back then. Raphael says he felt isolated. Well, we felt like individual islands within the area."
This Thursday, they all come together – migrant mentors and pupils alike – to celebrate history on their own terms. In their own, new, creative work – their own songs and spoken word – they will recall Douglass's infectious and far-reaching hunger for freedom, dignity and justice.
Advertisement
And we will see, and feel, what that means to a group of young artists in Cork, in 2021.
• Shamim Malekmian will be moderator for an evening of song, spoken word and discussions, organised by the Cork Migrant Centre, as part of Douglass Week, and kicking off on Zoom at 5pm on Thursday February 11th. Register for free here.