Mass Covid Testing Planned for Direct Provision Centre in Newbridge After Cases Confirmed
A letter sent to residents of the Eyre Powell Hotel has confirmed that the HSE plans to test everyone in the Direct Provision centre in Newbridge next week, following the emergence of an undisclosed number of cases there.
The HSE has informed residents that an undisclosed number of coronavirus cases have been confirmed in Eyre Powell Hotel, a Direct Provision Centre in Newbridge, Co Kildare.
In a letter sent to residents today, which Hot Press has seen, the health authority stated that it plans to test "everyone" at the centre, on Monday, February 8, as a result.
In order to avoid further cases, residents are asked to follow level-five restrictions and "report any symptoms you have to hotel management."
All residents are urged to co-operate with health authorities during Monday's mass testing drive.
Speaking to Hot Press, however, one resident of Eyre Powell Hotel complained that circumstances at the Centre mean that they continue to share rooms with up to three people, despite the fact that health authorities have repeatedly identified cases at the centre, throughout the pandemic.
Advertisement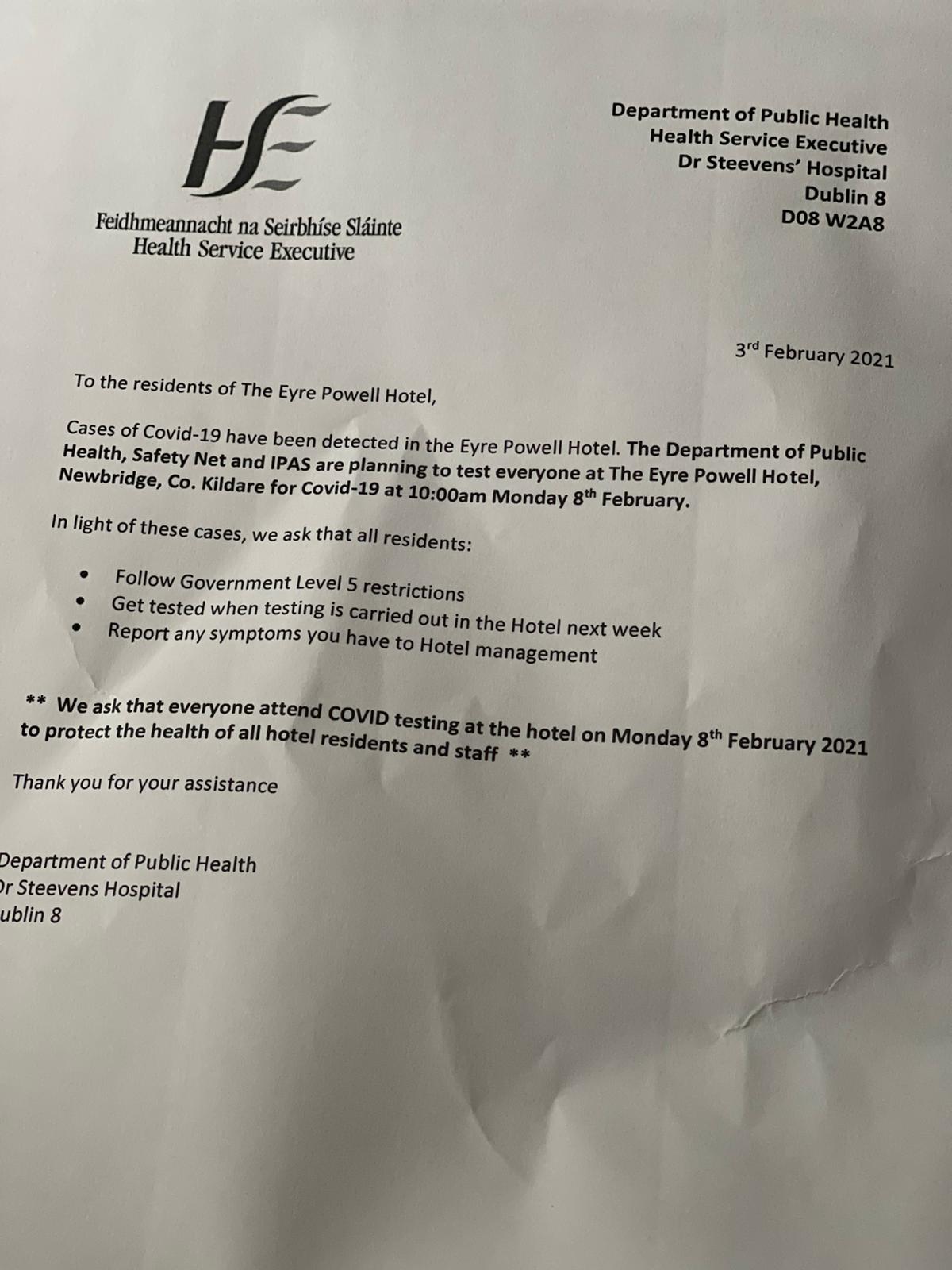 Another round of mass testing was carried out at the Kildare-based centre in recent weeks after some residents tested positive for the virus.
No further information was officially available. The HSE does not comment on coronavirus cases in Direct Provision centres to avoid breaching confidentiality and GDPR, a spokesperson explained to Hot Press.
VACCINATION PLANS
People who live in Direct Provision centres often work in the kind of crowded settings – including meat plants – that have repeatedly been centres of coronavirus outbreaks.
Earlier in the summer, Hot Press revealed that an outbreak of coronavirus at Eyre Powell Hotel was linked to a surge of cases in a Dog Food Plant in neighbouring Naas, where two of the residents worked.
In its provisional vaccine allocation plan, the Department of Health does not explicitly mention residents of Direct Provision centres, but it has placed "People 18-64 living or working in crowded settings" at number nine in its priority list of groups to vaccinate.
"The priority is to directly use vaccines to save lives and reduce serious illness," a spokesperson for the Department of Health told Hot Press. "Hence the focus on the over 65-year-old cohort in long term residential care facilities, and healthcare workers in frontline services often caring for the most vulnerable."
Advertisement
The vaccine allocation list is under ongoing review and may be updated "in light of new evidence," they said.
Minister for Health, Stephen Donnelly TD has said that the vaccine will be offered to every resident in Ireland by September.
An asylum seeker living at Clondalkin Towers in Dublin told Hot Press that asylum seekers who work as frontline workers had been offered the vaccine. The promise, the resident said, was made by their employers, however, and not by centre managers or Government authorities.
She said that the HSE should raise awareness about the importance of vaccination – and crucially the safety of the vaccine – in different languages to ensure that residents don't fall for misinformation and conspiracy theories online. Otherwise, more cases can be expected, given the personal proximity which prevails in most Direct Provision centres.
"A lot of conspiracy theories are sent to our WhatsApp groups," the resident said.