When Max Mauro, a sociologist at Solent University in Southampton, heard the news that George Nkencho had been shot dead by police in Dublin, it hit him hard. Max spent four years in Ireland examining the issues of youth, sport, migration and culture. One of the teams he focussed on was Insaka FC – the club with which George played at the time. Here – as local members of the Black community demand a fully independent inquiry into the killing of George – he talks about his experiences in Dublin's often disadvantaged North-West. Main pic: An Insaka player wears a Toyosi Shitta-Bey t-shirt (courtesy Max Mauro).
When Max Mauro heard about George Nkencho's tragic death, he felt a wave of familiar sadness. Max – a Sociologist at the School of Business, Law and Communication, at Solent University in Southampton, UK – knew exactly who the reports were talking about.
"George was someone who was quiet and shy," Max told me, during a video interview. "I wouldn't describe him as the most talkative, but he was someone that had probably a lot going on within himself."
Max Mauro's familiarity with George Nkencho dates back to the years he spent as a PhD student in Dublin Institute of Technology (DIT) – now Technological University Dublin.
Max lived in Ireland between 2008 and 2012 working on his thesis. The subject matter took him to parts of North Dublin, where young immigrant kids seemed to find a sense of autonomy – and of belonging – on abandoned Council football pitches.
*****************
Advertisement
While he spent the first three years of his life in Switzerland, Max is Italian, so he understands well, the historic importance of football in the lives of young men. In his thesis, he was aiming to explore issues of identity and belonging, and the often-redemptive role that football can play in shaping them in immigrant communities.
Max homed in on two teams, Mountview FC and Insaka FC. Both featured predominantly Black players. George Nkencho lined out for Insaka. The word Insaka means a place to gather in Bemba, one of the several languages spoken in Zambia.
Ken McCue, of Sport Against Racism Ireland (SARI), was the driving force behind the idea of integrating Black kids into the community through football. The hope, too, was that some of the young players might go on to claim a place among Ireland's future football stars.
In 2019, Max Mauro published his research in the form of a book, entitled Youth Sport, Migration and Culture: Two Football Teams and the Changing Face of Ireland.
"This book is dedicated to all the young people, then teenagers and now young adults, I met during this research," Mauro wrote in the opening pages of the book. "The future is yours, make this world a better place."
If only…
*********************
Advertisement
Toyosi Shitta-Bey started out with Insaka FC. Max had met and spoken to Toyosi, in the course of his research. In 2010, at the age of just 16, the young boy was the victim of a racially-motivated attack. He died, in Connolly Hospital, Blanchardstown, of stab wounds. George Nkencho was a year older than Toyosi, but they were close friends. Friends observed that George was devastated by the murder of Toyosi. A game of football was arranged in November last year, to mark the 10th Anniversary of his brutal, utterly senseless killing. If the coronavirus pandemic hadn't had such a chilling effect, it would have been an important occasion, around which the position of young black men in Irish society might have been addressed afresh. But fate took a different course.
Now a second tragedy has befallen this group of young Black men.
As anyone who has been following the news here in Ireland will know, Toyosi's friend from back in the day, George Nkencho, was shot by Gardaí six times on December 30, 2020, following a standoff with members of the force. He died at the scene. A post mortem report released by Garda Síochána Ombudsman's Commission (GSOC) revealed that five bullets had pierced through his torso and one passed into his arm. George was 27 years of age.
GSOC are investigating the circumstances of the shooting of George Nkencho. Local members of the black community are not satisfied by this, however, and – amid ongoing protests outside Blanchardstown Garda Station – are calling for a fully independent inquiry into what happened that cost George his life.
******************
The circumstances of the shooting have been widely shared. So too have lies and exaggerations, that have spiralled out of control on social media. What we can say for sure is this.
George had gone into a local Eurospar. Whatever was agitating him at the time, he punched the shopkeeper in the face. George was a big, strong man. The shopkeeper was badly hurt and had to be taken to hospital. There was a fear that bones had been broken.
Advertisement
The Gardaí were called, and when they arrived, George threatened unarmed members of the force with a knife. Believing that he was a danger to them, and to others, the Gardaí present decided to call in the armed unit. None of that seems to be in dispute.
There are videos which show the Gardaí following George Nkencho as he walks through the suburban area.
In fact, George was heading back to his family home, but he was carrying a knife and had been accused of assault. They couldn't let him walk free. There are different accounts of what happened when he arrived at the house at Manorfield Drive in Clonee. His sister says that she had warned the Gardaí that her brother was grappling with mental health difficulties.
Either way, he was shot six times by the armed Gardaí from the Armed Support Unit. Like Toyosi Shitta-Bey, he too was formally pronounced dead in Connolly Hospital.
On December 31, we ran an article on hotpress.com in which his friend Israel Ibanu recalled Nkencho's adolescent dreams of becoming a professional football player. We wanted to give a voice to the anger and hurt that was being felt among the local Black youth, and to provide a deeper understanding of what it was like for immigrant boys like Nkencho and Shitta-Bey, growing up in Blanchardstown.
Shortly afterwards, memes claiming he was a dangerous criminal with 32 previous convictions were circulated online.
Innocent people around Ireland, and further afield, might have been inclined to believe it and shrugged: this is what happens. In truth, however, this was an outrageous, racist slur.
Advertisement
An Garda Síochána were slow to respond and the lies flourished. They later released a statement debunking this as disinformation. They confirmed that George Nkencho had no previous convictions of any kind.
******************
Max Mauro came to Ireland for a reason. He saw that the country's multicultural journey had just started to mature at the time, making the immigrant scene here a fertile ground for sociological research.
"At the time," he recalls, "there was a lot of interest in Ireland about issues of migration. We're talking between the 2000s to 2010. There were more people researching migration in Ireland because it was a new phenomenon.
"I was always fascinated by issues of identity and sports in Ireland with the Gaelic games and different sports attached to different types of people."
The foundation of Gaelic Athletic Association (GAA), for example, Mauro says, was to distinguish Irish games from those originating from Britain, like soccer or rugby. GAA games have since been woven into the fabric not merely of what it means to be Irish, but also – the nationalist assumption runs – free from all the residues of British imperialism. As a global game, football is different – and more immediately appealing to immigrant youths in suburban Dublin.
In two chapters of his book, Max Mauro describes the unexpected joys, heartbreaks, identity crises and football triumphs of the Blanch boys playing for Insaka FC.
Advertisement
He recalls receiving a text from Ken McCue about Shitta-Bey's murder and attending vigils held in his memory. But more importantly, he recalls its subsequent and telling impact on his teammates.
There is a sense in which Shitta-Bey's death marked the loss of innocence for Black boys in Blanchardstown. In many ways, the incident dampened their enthusiasm on the pitch. It also disillusioned some of them at least about Ireland.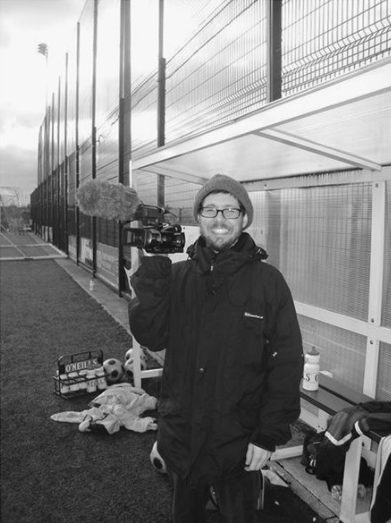 Max Mauro notes that after Toyosi's death, some of the players began to behave differently. Out of character, one boy burst into tears following a minor argument with his coach.
Mauro shot a video of the Ronnie Bradshaw Under 18 Cup final, which Insaka FC won, beating a team of all-Irish teens 3-0. Emotions ran high: they saw the cup win as a tribute to their lost friend, Shitta-Bey.
In the video, one Black boy wearing a T-shirt emblazoned with a photo of his fallen friend and the dates of his birth and death, cries, "This is for you, Toy, this is for you."
James Igwilo, a Nigerian-born professional football player and Insaka FC manager at the time, remembers the shock that followed Toyosi's death in the local community of Black kids.
Advertisement
"His death impacted most of them big time," Igwilo says. "I would say particularly George."
Ireland, he observes, seemed to take Shitta-Bey's death 'for granted'. What happened didn't ring loud enough alarm bells about the ever-present shadow of racism that Blanch boys lived under.
******************
Igwilo is currently in Nigeria, setting up the third.edition of the Glentoran-Insaka academy, a venture which links the famous club in East Belfast with a strongly anti-racism ethic.
"Without Glentoran, Insaka FC never would have happened," Ken McCue says. "The FAI tried to close us down and we were ignored by clubs in Dublin. It was Seamus Heaney who told me not to forget that the first cousin of racism is sectarianism. That prompted me to engage with Glentoran, who had years of experience of creating 'shared space' through their football academy."
That important work continues. Meanwhile, Igwilo says he avoids reading news about Nkencho's death because he finds it too surreal and difficult to comprehend.
"I still can't believe it," he says poignantly. "For me, it's like I'm in a film, and this isn't real."
Advertisement
Igwilo describes Nkencho as a disciplined player who never lost his cool, even in the face of racial abuse.
"George was the coolest boy ever," he recalls. "Really. Between all my boys then, George was the coolest. I didn't see this coming,
"I can't believe it," he repeats.
Max Mauro agrees. In his book, he recalls a game during which a White man from behind the fences of the football pitch starts shouting "fucking N*****s" at the teenage boys on the other side. Many were angry. But when provocations like this happened, Nkencho typically remained calm.
"You could not easily anger him," Max says. "Others, they were easily driven by their emotions, if they had some form of confrontation, but I don't remember George having that kind of reaction on the pitch."
Mauro wonders if he was just as hurt as the other teenage boys, but always mustered the strength to internalise his feelings.
"From spending time with them," he reflects, "especially with boys who had darker skins, they had learned to project this kind of masculinity and hide their fragilities."
Advertisement
Hiding vulnerability is part of the culture in most African communities, according to Ejiro Ogbevoen, a Nigerian-born therapist living in Dublin – who speculates that it is part of Black history that people of colour had to remain proud and defiant in the face of systemic racial abuse.
Perhaps, however, what happened to George Nkencho went deeper still. His family have said that he suffered ongoing mental health issues. It is understood that he was waiting to hear back from the HSE to receive mental health support. That this did not come in time stands as a further indictment of the way the system works in Ireland.
******************
Most Blanch boys playing for Insaka came to Ireland as minors, and lived under the asylum scheme with their parents.
During the summer, Black boys still showed up at the pitch to kick a ball, listen to hip-hop and simply hang out. Hip-hop played a central role in the lives of Blanch boys, listening to the likes of Lil' Wayne. George Nkencho also rapped using the nickname Young G.
Max remembers a game that was played beside Mosney Direct Provision Centre, Ireland's largest accommodation centre for people seeking asylum. Before heading to Mosney to play, a few boys told Mauro that they had lived there or knew people who had.
The kids frequently experienced racial abuse on the pitch when the referee's back was turned, says Mauro. Opposing teams knew that racial slurs would upset Black players and used it as a strategy. But complaining to the referee was pointless.
Advertisement
"That was really difficult for these teenage boys," Max says.
When he was younger and playing football in Germany, James Igwilo experienced racism often. He decided that, as a form of self-preservation, it was best to say nothing. He always told the Insaka kids to ignore racists.
His mantra was: when they say 'fucking Black' ignore them. It's fine. If they feel you don't care, they won't say it again. If you can't control your anger, forget football. His advice frustrated his young players who felt they should be ready to fight back.
Does Igwilo regret the advice now?
"I still think it's a good advice," he says. "I wanted these kids to follow into my footsteps. When you react, it will affect you: when you don't ignore something you feel it more, do you understand?"
Igwilo says he hoped that what happened on the football pitch might turn stereotypes about Black people on their heads. Before sending the kids to the pitch, he would explain: "We already have the bad names so we should try to clean it."
"I said that because I wanted to send this message," he recalls, "to correct impressions about Black people. I wanted to use football as an avenue to send a message across, so the kids could integrate into society."
Advertisement
Mauro remembers that on occasion Insaka players decided that they'd had enough. Of course, the same is true of White teenagers: kids who are going through rapid physical and psychological changes can often give up the ghost in their teens, or decide to concentrate on music or chasing girls. Max remembers one boy who left shortly after complaining that coaches only shouted at Black kids like himself.
Israel Ibanu, who played alongside Nkencho and knew him since childhood, says there was nothing in it: talking loudly to someone younger than you is part of the Black culture.
"Our coaches were Black," he remembers. "In African community, when an older person gives out to you, it's never anything: the coaches were older, and this is how they were brought up."
******************
Insaka also had some Eastern European players, who were struggling to fit-in, in Ireland. But to their Black teammates, they were still White kids who could freely travel in Europe.
Two Romanian players invited Max to their homes where he listened to a hip-hop song they'd written and performed on YouTube. The song was about Romania and how, as they put it, "shite" it can be, especially if you're poor. The song was in Romanian. Mauro asked why.
"If you're Romanian, speak Romanian," one boy said. "If you don't have the right accent when speaking English people will pick at you."
Advertisement
Some Insaka players took the whole adventure very seriously indeed: so much so that they left, complaining that their teammates weren't disciplined enough. However, Ibanu thinks that the kids quit because they lost hope in the idea of becoming a professional footballer in Ireland. He says he never saw a scouting agent come to any of their games to pick them for a trial.
Nkencho was one of the last people to lose hope, however.
When certain groups began insisting that he was a convicted criminal online, I typed his name into a search engine hoping to fact-check the claims.
Besides the news of his controversial death, one page stood out. It was titled "Ireland's Future Football Star George Nkencho". Nkencho had written about his football ambitions on the webpage at the age of 20, listing his nationality as Nigerian.
"I play with passion," he wrote, "I give all plus 100 per cent when on the pitch."
******************
The slurs about George Nchenko still rankle. There is no getting away from the fact that he had got himself into a difficult situation. Nor do his friends deny that he had been aggressive in the Eurospar. But they knew him as a fundamentally good person and friend.
Advertisement
Ibanu insists now that the Gardaí must identify those who circulated misinformation about George. He says that he – and others in the Black community – were deeply hurt to see how quickly some people jumped on the bandwagon of hate.
"I'm not saying they should lose their jobs," he says about those who set out to destroy George's name and reputation. "But at least they should be temporarily suspended from their jobs."
The last time Ibanu saw Nkencho was some time ago, at the Spire in Dublin city centre. Ibanu was on his way to get a haircut. Nkencho had asked about mutual friends and seemed fine. They chatted for a while, until Ibanu had to leave, "Okay, I let you go," Nkencho said.
"Then we shook hands, and that was it."
Another friend who'd seen him in recent months had told Ibanu that Nkencho seemed out of shape.
"He always kept fit, so I was surprised, but yea, my friend said he had gained some weight, he'd gotten big, and that's probably because he stopped playing."
Neither Ibanu nor Igwilo knows exactly when Nkencho gave up on his football dreams. However, Mauro says many of the players he had followed for his research ended up leaving Ireland for the UK or other places in Europe.
Advertisement
Ibanu says that lack of opportunity and disillusionment played a big part in the exodus.
"I feel like a lot of guys thought it was very difficult to get somewhere in life here, I think with everything that happened – like what happened to Toyosi Shitta-Bey – that kind of changed everyone's mindset," he says.
Black people do not make up the successful portion of Irish society, Ibanu says, which is another motivating factor for people to try their luck elsewhere.
"In the UK, for example, even though there is racism, you see Black people are in high places," he says. `"You would walk into an office, and the CEO is Black; here you see Black people suffering and waiting for a little miracle."
Nevertheless, Mauro's study suggests that Blanch boys' loyalties to Ireland had waned a long time ago. It is best reflected in a conversation, which became a heated argument, between the African members of Insaka, as documented by Mauro.
Ken McCue started the discussion, asking a player from Congo if he would choose to play for the Irish national football team. The boy replies that he would prefer to represent Congo instead. A Nigerian player advises him against it, saying he would choose Ireland over Nigeria.
"I would play for Ireland, fuck you and your country," the Nigerian boy says.
Advertisement
The player from Congo scoffs that, here in Ireland, "They are racist, they don't want Black people like you."
Another boy agrees: Ireland won't put on Black players, he says.
"They would if you're good enough," the Nigerian player insists. And there is clearly an element of truth in that. After all, Paul McGrath, Ireland's best-loved footballer of all-time is Black.
Back then, Max told the boys that Noe Baba – who was born in Cameroon, moved to Ireland and played for Castlebar Celtic – had recently been named captain of the Ireland Under-15s team (he went on to be signed by Fulham in 2012 and is now playing with Fortuna FC in the German third tier). But for the most part, the boys from the Blanch assumed that the door wouldn't be open.
Mauro tellingly notes that none of the boys involved in the conversation had an Irish passport to qualify for the national football team.
******************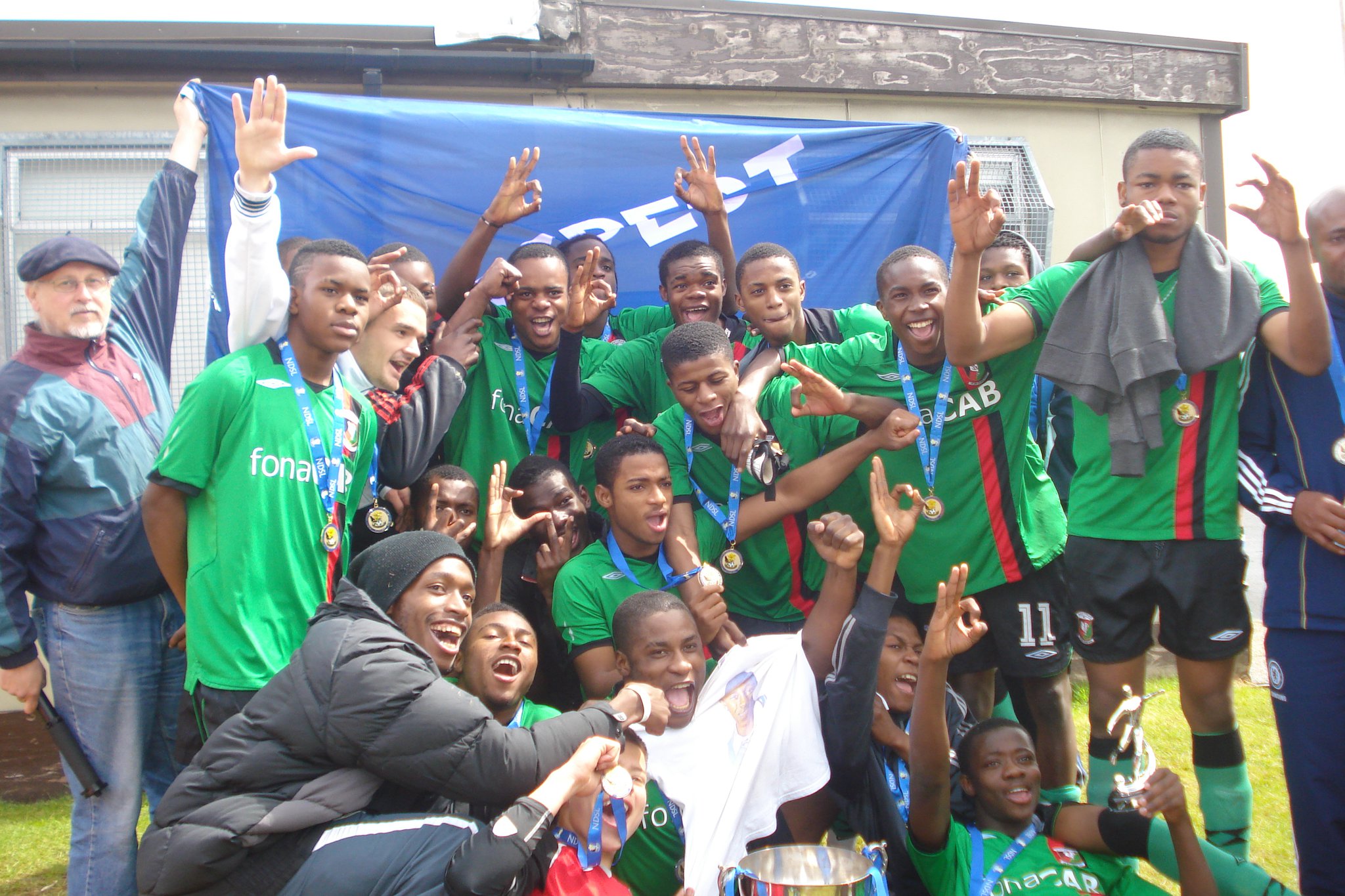 Advertisement
"I am a player who is always willing to learn more," George Nkencho (on the right of the picture above) had written, "and give all that I have. I want to gain more experience I am determined to accomplish this. I am more than self-driven; I am well-mannered and very disciplined. I respect every aspect of the game."
Reading those simple words now, it is hard to resist a feeling of despair. But resist we must.
The number of teenage Black kids in Ireland, like George Nkencho a decade ago, is far higher now than when Max Mauro was here. The clear lesson of Max's book is that they must be treated with respect. They must be encouraged to feel that this is their home. And to believe that they will be given every opportunity to fulfil their potential here in Ireland.
Meanwhile, people are waiting anxiously for the results of the investigation into the shooting of George Nkencho...
• Youth Sport, Migration and Culture: Two Football Teams and the Changing Face of Ireland is available here.