Inni-K on Live at the Local, RETURNS: "I've played all over the world so to come back to my hometown was really special"
Singer-songwriter Inni-K speaks to Hot Press about the Richard Lennon-directed concert film Live at the Local: RETURNS, collaborating with Eimear and Shane Hennessy, her musical influences and how it feels to be nominated at the RTÉ Radio 1 Folk Awards.
This Thursday, November 10th at 7pm will see the premiere of the concert film Live at the Local: RETURNS by CS Promotions and Darn Skippy Productions on the Hot Press YouTube channel.
Featuring performances and collaborations from singer-songwriters Eimear and Inni-K, and virtuoso guitarist Shane Hennessy, the visual project aims to portray the intimate atmosphere of a traditional Irish session.
Dublin-based singer, multi-instrumentalist and songwriter Eithne Ní Chatháin aka Inni-K is frequently referred to as one of the most acclaimed voices in the revival of traditional and folk music and one of the exceptional musicians on the line-up.
Her third album Iníon, which was released in February 2022, has recently been shortlisted at the RTÉ Radio 1 Folk Awards for Best Folk Album and Best Traditional Folk Track with 'Éamonn an Chnoic'.
In conversation with Hot Press, the singer reflects on the magical performance at Kilcock's The Gregory Tavern in Co. Kildare...
Advertisement
What did you enjoy most about filming Live at the Local: RETURNS?
It was really nice to work with the other two musicians, with Shane and Eimear. The fact that we got the chance to spend a day collaborating together and then to perform the songs in Kilcock where I'm actually from was special.
We wrote three songs, one song each. We all contributed to each other's ideas. One person led each song and the rest of them joined in and played, and also offered words and arrangements. My song was a melody I'd written already so we came up with some lyrics. The lyrics might stay, or they might change, but it was really nice to work on this piece of music that I had kind of half-made.
Did you find the collaboration process challenging?
I find it challenging to write words with people in general, because it's usually such a solo pursuit for me. I don't usually write with people. Eimear especially is very good at drawing lyrics out, because she works with people in songwriting workshops. It was fun to work with her, but challenging because it takes me a long time to let words stew in my head. It can take me a long time to write a song.
Advertisement
It was cool, though. Shane is such a virtuoso guitarist, and Eimear on piano – they could play so immediately with what I had.
What was it like to return home for such an intimate gig?
I've played all over the world so to come back to my hometown was really special. It was nice to play in Kilcock and to see that there's a music scene happening there that wasn't really there when I was growing up. It was a Monday night, not a very big night, but it was lovely to have a good crowd there.
It was really only in recent years that I realised how many great musicians are from Co. Kildare.
How would you describe the energy on the night?
Advertisement
It was exciting because we were playing brand new songs. It was the first time we'd ever tried them, but because there's three of us we were able to help each other out. The film shows a nice mix of what we'd usually share individually and then there are our collaborative songs.
There was a lovely buzz in the room. The crew who organised the concert set up the room really nicely, so it was a very cozy and lovely setting for the music. It was a really intimate experience because there were people behind us, in front of us and surrounding us.
Which artists inspire your music?
So many! It's always like picking too few people out of way too much music. I listened to a lot of traditional music in sessions growing up, so local people that were playing music, and traditional singers from records and in person have inspired me. Then later, when I got a bit older, people like Joni Mitchell, Feist, Björk, any interesting vocalists... I also quite like African and Indian music, so I have quite varied taste.
In my own band, I have fantastic jazz players and classical players, so there's quite a mix going on.
Advertisement
How do you feel about being nominated at the RTÉ Radio 1 Folk Awards?
That was a nice, huge gift today. I'm really happy – such a lovely surprise. Towards the end of a busy year to get news like that is very nice.
What's next for you?
I have a gig in Dublin on the 9th of December at The Space Between, which is a lovely space in Dublin city centre that's not usually a gig venue but it's going to be an interesting space for a concert. My band is going to play a solo set each and then we all play the new album together in the second half.
I'm also playing in Co. Kerry in two weeks' time and then next year, I plan to go tour the album more. I've no set dates yet but I'll be touring and working on new material. I'm hoping to tour more abroad as well.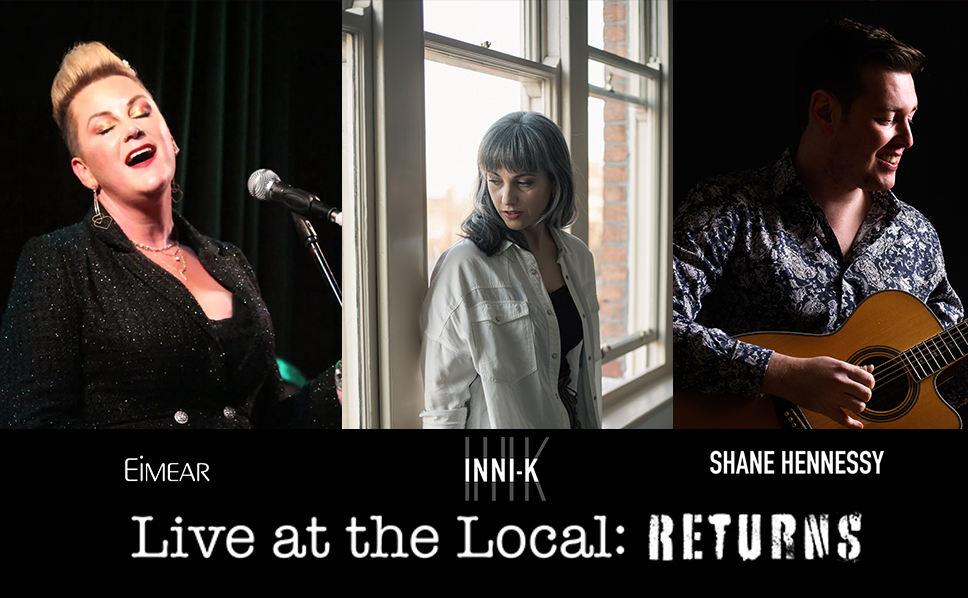 -- Live at the Local: RETURNS, featuring Eimear, Inni-K and Shane Hennessy, was recorded at The Gregory Tavern, Kilcock, Co. Kildare on Monday the 10th of October, 2022. The film was directed and co-produced by Richard Lennon (Darn Skippy Productions), co-produced and promoted by Tony Sourke (CS Promotions) and executive produced by Roseanne Lynch (Darn Skippy Productions).
Advertisement
The project was supported by Kildare County Council and funded by the Department of Tourism, Culture, Arts, Gaeltacht, Sport and Media's Local Live Performance Programming Scheme.
Read the interview with Richard Lennon, director of Live at the Local: RETURNS, here.
Watch Live at the Local: RETURNS on the Hot Press YouTube channel – going live at 7pm on Thursday, November 10th.
Get tickets for Inni-K at The Space Between on December, 9th at 8:15pm here.