Eimear on Live at the Local, RETURNS: "Finding new ways to explore creativity is something that's really high on my list"
Singer-songwriter Eimear speaks to Hot Press about the Richard Lennon-directed concert film Live at the Local: RETURNS, as well as teaching young adults in Zimbabwe who live with HIV, touring with Jack L and Mary Coughlan, and what sets Irish audiences apart.
CS Promotions and Darn Skippy Productions' latest endeavour Live at the Local: RETURNS takes viewers on a journey to Kilcock's The Gregory Tavern in Co. Kildare. Featuring performances and collaborations from singer-songwriters Eimear and Inni-K, and virtuoso guitarist Shane Hennessy, the concert film premieres on the Hot Press YouTube channel on Thursday, November 10th at 7pm.
Powerhouse vocalist and Kilcock resident Eimear Crehan, who goes by the stage name Eimear, has jumped on a WhatsApp call in Zimbabwe to answer some of our burning questions...
You've toured with your sophomore album Quiver in 2022. What convinced you to join the line-up for Live at the Local, RETURNS?
Finding new ways to explore creativity is something that's really high on my list. I haven't done much collaboration before, apart from with my own band Fox.E and the Good Hands, so the opportunity to collaborate with other artists was super interesting to me. I thought it was a very innovative project.
We each performed a couple of our own songs, as well as the three collaboration ones. It was a total pleasure to hear the song I brought in with Shane and Eithne [Inni-K], because it was really special to me. Getting to play with Shane Hennessy was absolutely amazing, too, because I just really admire him as a musician. And Eithne's track was just so different!
Advertisement
What was it like to play in your hometown Kilcock in Co. Kildare?
I run the SpeakUp SingOut music school in Kilcock and I'm very involved in the community and people are really supportive. I'm really lucky and blessed, because they come to a lot of my shows, so it was absolutely lovely to be able to play in Gregory's.
I had a lot of my choir members come along. They know all of my music and my songs so they were singing along to everything, which was gorgeous.
There's an awful lot of Celtic fusion coming out of Kildare at the moment. It's beautiful to hear Irish folk music in whatever way it's being interpreted, whether that's as singer-songwriter, or blues, or soul, or folk. It's just really nice to have that authenticity and that Irish feel behind everything.
You work as a vocal and creativity coach, in addition to writing and performing your own music.
Advertisement
My background is in youth and community work, and music. I did a degree in Music, and then I did a master's in Youth and Community Work. I combined those things and opened my music school that has a personal development focus, so it's music education with a difference. We're focused on the belief that everybody is fundamentally creative, and that everybody has a right to have access to the arts.
You've just spent the last week in Zimbabwe with the organisation Beyond Stigma, working with young people aged 18-24, who are living with HIV. What was that experience like?
It's amazing work. We teach them about self-stigma and shame, how to use music as a method of deepening your inquiry into yourself and how to use music to help heal and to help process emotions. We use a process of inquiry called The Work of Byron Katie, so that they can then go on and train other young people in the community.
How has it affected you personally?
It's hard to put into words right now, because it has just finished, but it was extraordinary. It's so humbling. The young people that we work with have experienced things that we can't even imagine, and yet they are singing their hearts out. They're so open and so grateful and so full of humility and joy.
Advertisement
Your sound has been described as soulful and spellbinding, combining soul with the storytelling aspect of folk. Who inspires your music?
I've been touring and gigging with Jack L and Mary Coughlan for the past couple of years. I really love both of them as artists and I learn a lot from them about that long stay in the Irish music scene. Another Irish artist that I really admire is Wallis Bird. She's been quite influential. I also love big soul singers, all the greats like Nina Simone, Billie Holiday and Aretha Franklin. I love funk and I sang with a funk band, Fox.E and the Good Hands, for years.
My music at the minute is much more soul and folk and storytelling, and I seem to have settled into a place in myself that allows me to sing from a new place, and I'm really enjoying it.
What sets Irish audiences apart?
It's the banter, isn't it? It's the telling stories and the freedom to tell the stories and how that really adds to the song. During a gig, it's really nice to tell a little bit about the history of the song. You'll see it in the footage, when Shane talks about his music… It's so nice to hear him explaining the songs, and the same with Eithne. I think that the film will show that authenticity and connection to the story, and how storytelling is such an important part of music.
Advertisement
Most of my stories are about life and love and loss and heartbreak and joy. A lot of my stuff is about connection. I take my own personal experiences and seem to be able to translate them into something that's universal for other people, but pretty much everything I write is true.
What's next for you?
My next gig is at 3Arena, supporting Jack L on the 25th of November. It'll be the biggest thing I've ever done as a solo artist. I am really excited, because I know hundreds of people that are going and I know the audience is going to be so full of love.
I'm also doing some local shows for Christmas and I'm organising my tour for next year, starting in March. I'm hoping to play a few shows in Manchester or Liverpool, and Leeds, and I'm going to America in April to play some shows in New York.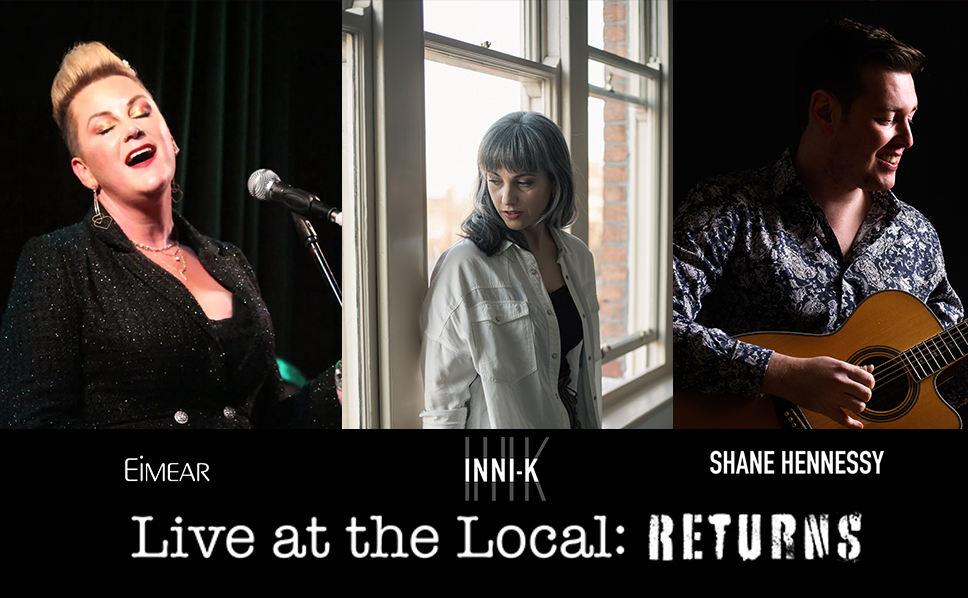 -- Live at the Local: RETURNS, featuring Eimear, Inni-K and Shane Hennessy, was recorded at The Gregory Tavern, Kilcock, Co. Kildare on Monday the 10th of October, 2022. The film was directed and co-produced by Richard Lennon (Darn Skippy Productions), co-produced and promoted by Tony Sourke (CS Promotions) and executive produced by Roseanne Lynch (Darn Skippy Productions).
The project was supported by Kildare County Council and funded by the Department of Tourism, Culture, Arts, Gaeltacht, Sport and Media's Local Live Performance Programming Scheme.
Advertisement
Read the interview with Richard Lennon, director of Live at the Local: RETURNS, here.
Watch Live at the Local: RETURNS on the Hot Press YouTube channel – going live at 7pm on Thursday, November 10th.
Get tickets for Jack L at 3Arena Dublin, with support from Eimear, on November 25th at 6:30pm here.