Emerald Fennell on Saltburn: Barry Keoghan is "so compelling, beautiful, strange and interesting"
Acclaimed writer-director Emerald Fennell on her compelling new movie Saltburn, which stars Barry Keoghan as a scholarship kid at Oxford, who has to deal with the machinations of a vampiric upper class family.
"I always want to make things that make people stop and go, 'What the fuck just happened?' And whenever I watch Barry Keoghan, I stop and go, 'What the fuck just happened?'"
So says writer-director Emerald Fennell about Barry Keoghan, who stars in Fennell's sumptuous, sexy, twisted psychosexual drama, Saltburn. Like a blend of Brideshead Revisited and The Talented Mr. Ripley and the luxe-candyfloss style of Sofia Coppola's Marie Antoinette, but set in the early 2000s, Saltburn is a wickedly fun exploration of power and class, played out in a bougie country mansion.
Keoghan plays Oliver Quick, a scholarship kid at Oxford with a tragic backstory of poverty and neglect, who doesn't fit in with the posh and privileged toffs who surround him. But when he does a favour for the charming Felix Catton (Jacob Elordi, soon to be seen playing Elvis in Coppola's Priscilla), Oliver finds himself adopted as Felix's pet, and invited to spend the summer at his ancestral pile, Saltburn. It's sprawling mansion filled with luxury, grandeur, and Felix's family, including his fabulously passive-aggressive mother (Rosamund Pike), eccentric father (Richard E. Grant), and beautiful and spiky sister (Alison Oliver).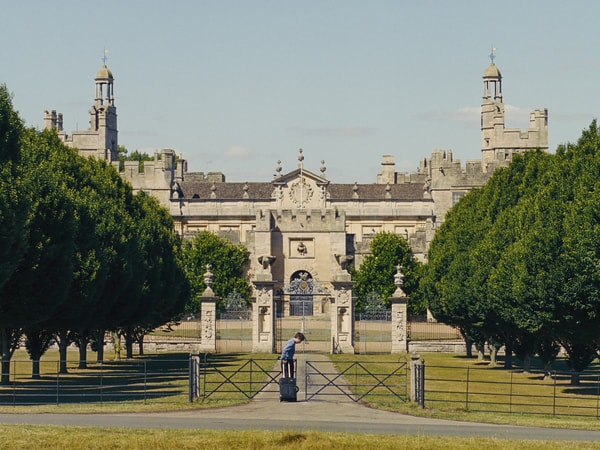 Taking place over the course of a summer, Saltburn is a deliciously dark exploration of ambition, power, class, sex and trauma, told with the dark humour and razorsharp observation Fennell previously brought to her Oscar-winning Promising Young Woman.
Advertisement
While that movie saw Fennell subvert the idea of a rape-revenge film, in Saltburn, she plays with the idea of the traditional Gothic story of a country manor, and period romances like Pride And Prejudice, where luxurious properties often play a role in creating love.
"I knew I wanted the film to start film with a young man, saying insistently, 'I wasn't in love with him'," says Fennell. "Then you're immediately like, 'Well, if that's your opening gambit, I don't believe you!' (laughs) But starting there gave us so much room to play. I love to take a really specific genre, because the more familiar it is, the the more you can play with it and make it uncanny and a bit destabilising.
"I've always loved that kind of Gothic, British, 'something happened in the country house once' story you see in Brideshead Revisited, Atonement and Rebecca. These kind of country house tales are so fixed in our imagination that it felt like a great, exciting place to explore new things."
Fennell, the daughter of renowned jewellery designer Theo Fennell, grew up in Chelsea and was privately educated before herself attending Oxford, and once joked that playing Queen Camilla on The Crown as a "chain smoking posho" was "not a stretch for her". She brings her awareness of privileged wealth to the portrayal of Felix's family, constantly skewering not only the characters, but also playing with the gaze that outsiders like Oliver and we, the audience, bring to their world; a mix of disdain for the unearned privilege, and inevitably, some envy.
"It is absolutely that thing of Elizabeth Bennett falling for Darcy when she sees his house," says Fennell. "Has there ever been a more relatable character? This film is absolutely about all that. It's about how difficult it is to be impervious to the things that we know shouldn't mean anything to us. It's about how impossible it is to remain unmoved by physical beauty and all the ridiculous trappings of glamour, nice clothes and all that. We are all so easily seduced.
"Hopefully the thing that is timely about this film, even though it is set in the recent past, is that we have never known better or been more seduced. We've never spent more time looking at other people's lives and comparing our lives to theirs. During Covid, I was sitting there online just watching, watching, watching. All of us are on social media looking at influencers and people we don't know – yet I know everything about them."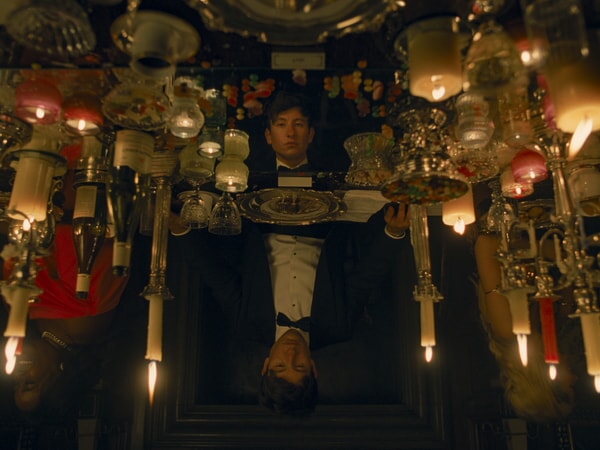 Advertisement
It's a theme Fennell elaborates on.
"I know where their where children go to school," she continues. "I know who they're sleeping with. I know what their body looks like. I know what that bedroom looks like. I know everything, yet they don't know I exist. And I became fascinated by those two colliding forces – the awareness of other people's lifestyles and the feelings they evoke in us, and these parasocial relationships.
"I was thinking about what's the space between those two things? How do you become somebody in that narrative? How do you, the person watching it outside, become a crucial ingredient in that person's life? It felt to me like this classic British genre has all these aspects that are such a part of modern parasocial relationships: How do you get in? How do you become someone? How do you build yourself up?"
Desire and disgust can often be powerfully linked, as we judge our own desires and even those who we desire, and these forces are at play throughout Saltburn. The Catton family have an almost vampiric quality, feeding off Oliver's tragic backstory and using him for entertainment, while he recognises their ignorance and hypocrisy, but can't help but want to be part of their world.
"Looking at the work of Harold Pinter and The Servant, which is one of my favourite films," says Fennell. "It's all about the examination of class and sex. Also, how the power dynamic of the class system is repulsive and alluring. I mean, any desire that is all-consuming requires an element of revulsion. It requires an element of self-loathing. I'm not talking about healthy impulses, but people that grip us in a way that is dangerous, are usually people we feel we mustn't be attracted to, for whatever reason. And it's nothing to do with gender, but about our ideas of who we should be and should want, and the people that threaten that.
There's the moment where we first see Felix, and he's in the middle of everything, girls already clustered around, and we as an audience think 'This guy is going to be the biggest prick in the world', and we immediately don't like him. But then the moment we are closer in proximity to him, and he looks up with his eyebrow piercing and turns on the charm, you'd do anything. Everything else gets swept aside – all of the cringe, all of the embarrassment, all of the injustice, it fades away. We're social creatures and we cannot help but want to fit in."
Felix proves irresistible not just because of his good looks, but because of his utterly disarming way of connecting with Oliver – a form of communication we later see has been learned from his family. Rosamund Pike is scene-stealing as Felix's mother, a woman who dotes and fawns on whoever is in front of her – before verbally eviscerating them the moment they leave the room. Fennell says that the Catton's passive-aggressive communication style is something she's observed among British upper class social circles, and finds endlessly fascinating.
Advertisement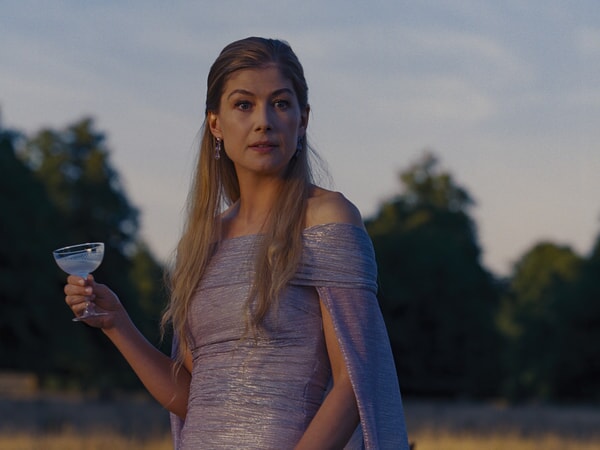 "It's the concept of weaponised charm," she explains, with the attentive analysis of an anthropologist. "It's a performed intimacy with very practised tactility – there's arm touching, gathering in, eye contact, active listening, all the tricks. It's disarming – and the idea of someone being disarming is it literally means taking somebody's weapons away. That's what everyone in the film does. They give the feeling of somebody else having access to them.
"They make somebody feel like the most important person in the world – until they get bored, which is really fast. It's that thing of how capricious, how easily bored, how much of a saviour complex impacts each interaction. I think that happens in every interaction, including this one between you and me.
"We're all trying to work out who's got the power. It's the essence of all comedy – who's the straight man and who's the stooge? And any kind of any sexual interaction, of course, is about power too. I find that question so interesting, thinkingwhat do we have at our disposal to make sure we're the person who's got the most power?"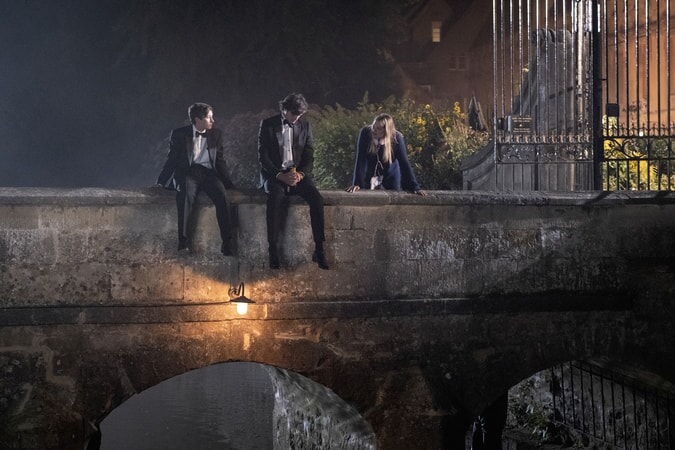 All the performances are exceptional, from Elordi and Pike to Carey Mulligan as an unfortunate family friend, but Keoghan's turn as Oliver is a work of complex, bubbling genius.
"He's so compelling, beautiful, strange and interesting," enthuses Fennell. "The moment I met him, he sat down and said, 'I am Oliver.' And I was like, 'Okay, we can get into this.' He always wants to go there, and that's why he's a once-a-lifetime performer really, because he's extraordinary."
Advertisement
Saltburn is in cinemas now.