The line-up for next Thursday also includes top homegrown talent like Celaviedmai and Reggie B.
Hot Press has joined forces with Monster Energy to present a groundbreaking new show: Monster Sessions, aiming to celebrate our flourishing rap and drill scene.
With talents like A92, Offica, Sello and more flying the flag on the global stage, we've asked rising talents TraviS x Elzzz to perform at The Workman's Club next week following the release of their chart-topping Full Circle mixtape and ahead of their upcoming Longitude slot.
Taking place on Thursday, June 15, the Monster Sessions will also feature fellow forces on the Irish scene, Celaviedmai and Reggie B, followed by some unmissable, high-energy DJ sets – all of which can be perfectly paired with a Monster cocktail on the night.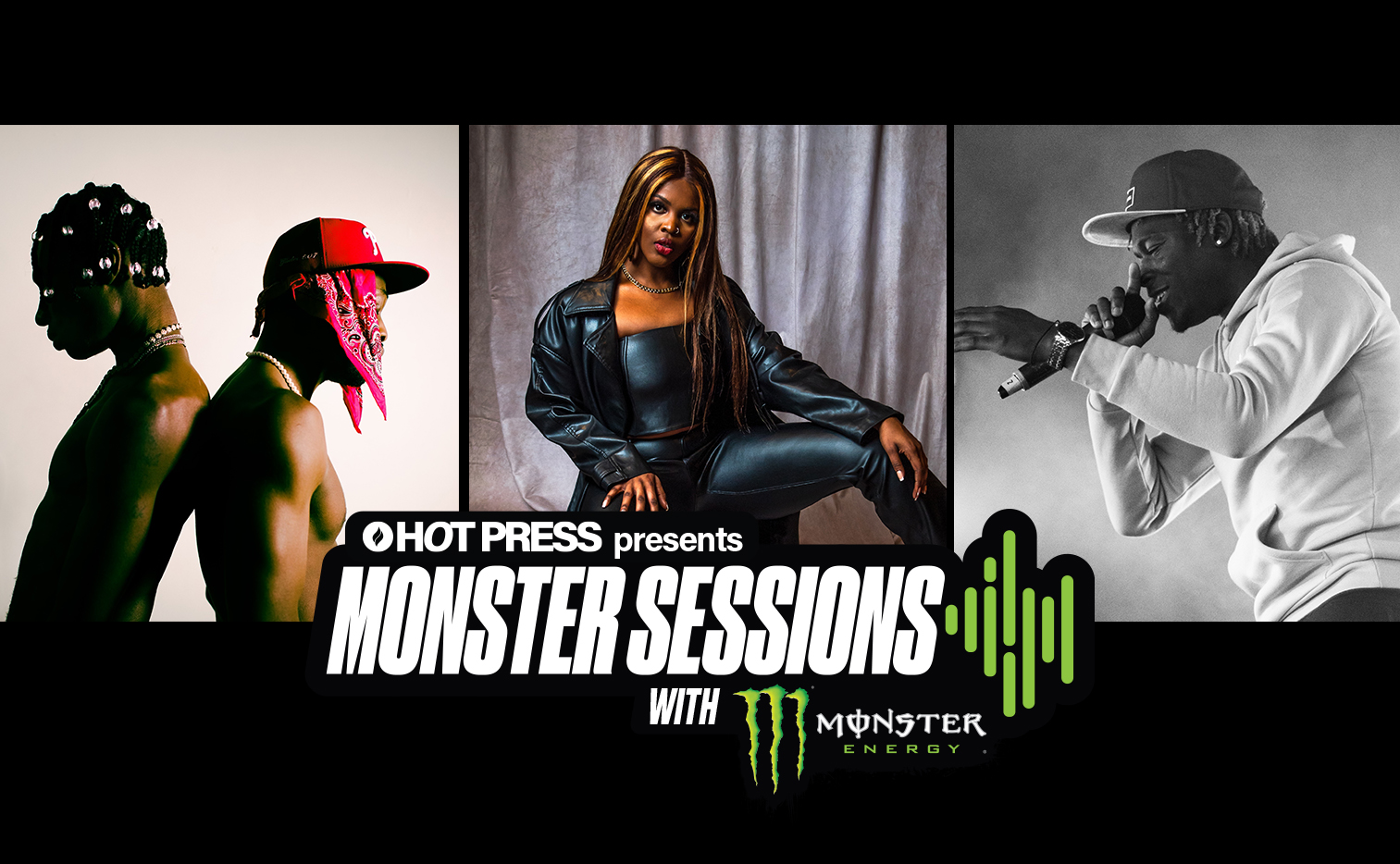 Monster Energy has long been associated with cutting-edge music scenes around the world – powering musicians and performers on massive festival stages and underground venues alike, and making their own mark on the industry with the hugely popular Monster Energy Outbreak Tour in North America.
Advertisement
On these shores and far beyond, recent years have seen drill make the unprecedented leap from the streets to the charts – and bypassing all the traditional industry avenues to get there. Nowhere has the success of the rap subgenre been more remarkable than in Ireland, with acts from right across the country clocking up millions of streams and views, by doing things their own way.
After being tipped as one of Hot Press's 'Hot For 2023' acts earlier this year, TraviS & Elzzz cemented their status at the forefront of the scene with the highest-charting rap release in the Irish Albums Chart to date – overtaking some of the most prestigious names in international music to score the No.2 spot with their debut eight-track tape, Full Circle.
The Liam Harris-produced mixtape narrates the tale of the underdog, epitomising everything the duo stands for while also creating space for the rest of their Gliders crew.
More recently, the Dublin-based duo – who are also co-founders of the multifaceted creative community Gliders – teamed up with Confamm Charlito on the irresistible 'Low Key Hating', which once again finds them primed for world domination. Last week, Elzzz dropped a solo track 'What's G?', while the pair also dropped a new single 'HEY U!'.
They're teasing an "unreleased song with a surprise artist", which they'll give a live debut at Monster Sessions next Thursday. "We haven't worked with Celaviedmai before," they added, "But TraviS x Elzzz have a song with Reggie B called 'Lowkey Hating'. We'll be working together again for sure in the future."
What's different about an event like Monster Sessions, in comparison to their upcoming Longitude set?
Advertisement
"It's more intimate and we can throw people off the stage," TraviS laughs, before delving into the popularity of drill ."It's spilled over to Ireland from the main countries but drill artists in this nation are insanely hungry so they're putting out more of their work which then makes noise. Some are consistent so it allows them to generate a buzz around them quicker. It's also the genre that relates a lot to the growing young culture in Ireland. Everyone wants to listen to rap now."
Each Monster Sessions performer showcases a unique side of the phenomenal scene in Ireland – as well as their own potential for major international success.
Seeing all three perform under the one roof is a surefire explosive gig. Monster Sessions will undoubtedly mark a historic night for Irish rap and drill.
For your chance to secure complimentary tickets on June 15, fill out the form below: