Monster Sessions - Celaviedmai: "This is going to be a high-energy show, expect a lot of dancing and sweating!"
The June 15th line-up also includes top homegrown talent like TraviS x Elzzz and Reggie B.
Rap and drill artists are flying the flag for Ireland on the global stage, with the upcoming, eagerly awaited Monster Sessions seeing Hot Press and Monster Energy team up to curate three high-energy acts for a night of impeccable talent.
Ahead of her scheduled set at the upcoming, eagerly awaited Monster Sessions next Thursday (June 15th) at the Workman's Club, Celaviedmai is buzzing to play her part on the evening, slotting in beside drill acts with an arsenal of hard-hitting beats: Reggie B and Gliders duo TraviS x Elzzz.
The trifecta of dynamic performances will followed by some unmissable, high-energy DJ sets – all of which can be perfectly paired with a Monster cocktail on the night.
Monster Energy has earned a reputation for nurturing cutting-edge music scenes around the world – powering musicians and performers on massive festival stages and underground venues alike, and making their own mark on the industry with the hugely popular Monster Energy Outbreak Tour in North America.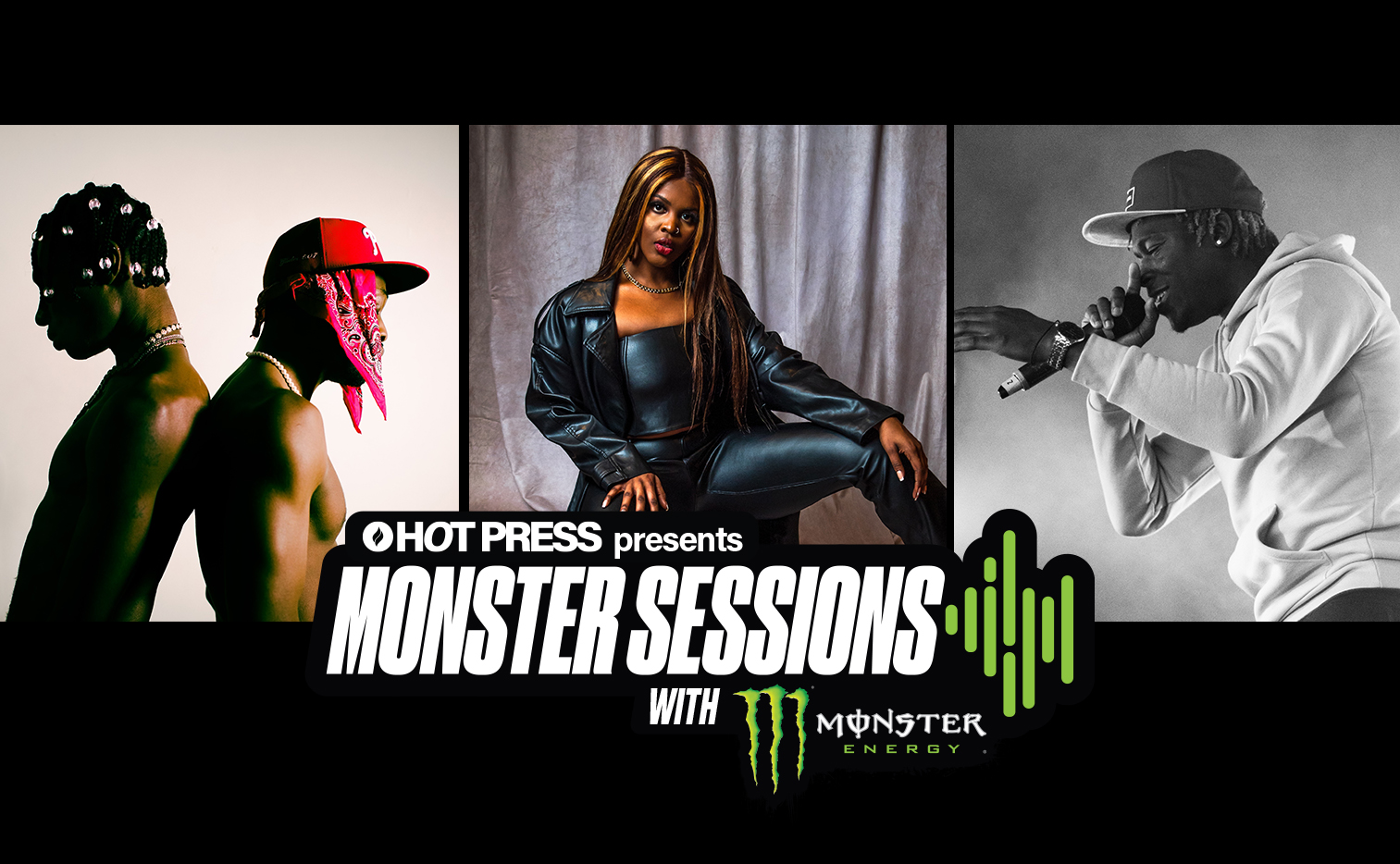 Advertisement
Galway will also be represented at the Monster Sessions by the one-and-only Celaviedmai – who has established herself as one of the country's brightest stars, thanks to a string of brilliantly eclectic, hard-hitting releases. The rising star showcased some impressive growth as on artist on her debut EP, Both Sides Of The Story, last year, having been named One To Watch by tastemakers at home and abroad.
In 2022, Mai celebrated the release of the explosive, trap Gaeilge banger 'New Celtic Flow' with Blue Niall and delivered a standout performance at St. Patrick's Festival's Mo Cultivation event. Celaviedmai also opened for UK duo Nova Twins in Dublin's iconic venue Whelan's and had her Ireland in Music performance (filmed at Kilbaron Castle in Donegal) premiered as part of the SEODA 2022 programme. Coming in as part of a Monster Energy event, how does she approach a gig like this?
"I always have to factor in how much time I have and the vibe of the overall event. I'm quite a versatile artist - I have a lot of genres when it comes to performing and releasing music," she smiles. "Depending on the theme of the day, that's what I can stick to. Reggie B and TraviS x Elzzz are drill-based, which means they'll be bringing high-energy and I've got to match that! I've watched the lads perform before. Reggie B and I played a gig at the National Concert Hall before, but have yet to get in the studio together. I love all three artists - they're really cool!
"I can't tell how or when or why the drill took over in Ireland, but people love the pace of it - especially after lockdowns," the rapper continues, shaking her head ."Everyone needed to get hyped. That's what helped drill get to the current point. Because I'm quite different, it helps because I can stand out from the crowd. My performances are still very high energy, depending on the song, but Monster Energy is the brand so it's bound to be fast-paced. People can expect a lot of dancing, sweating, movement on the night. I want everyone to expect the unexpected. For those who don't know me, what I do next may take them off-guard. My sets are a journey, it gets intense."
We've been waiting to hear more from Celaviedmai, what can we expect in the future? The Galway act recently teamed up with Zapho on 'Pay the Piper'.
Advertisement
"I've got loads of new tunes ready to go! My music is chaotic in itself, and the music coming out next will match that," she laughs. "I'm hoping to embrace that part of me more."
TraviS x Elzzz and Reggie B will join Celaviedmai on June 15th, don't miss this rare chance to catch all three under the one roof.
After being tipped as one of Hot Press's 'Hot For 2023' acts earlier this year, TraviS & Elzzz cemented their status at the forefront of the scene with the highest-charting rap release in the Irish Albums Chart to date – overtaking some of the most prestigious names in international music to score the No.2 spot with their debut eight-track tape, Full Circle.
One of the scene's most promising artists, Dublin's own Reggie B first began making waves in 2018, with his now-legendary 'New Eire Flow' freestyle. He's since released his debut project O2P, and collaborated with the likes of Selló, Offica, New Machine, Chuks, Dbo, Alicia Raye, Smilez Cubez, YZ and more. Earlier this year, he returned with with the acclaimed 'Million Ways'.
All three artists are gearing up for world domination; it's gearing up to be a historic night for Irish rap and drill.
For your chance to secure complimentary tickets to Monster Sessions on June 15, fill out the form below:
Advertisement