Tickets for the Waterford singer-songwriter's Waterford, Dublin and Cork shows are on sale now
Ahead of his eagerly anticipated headliner at The Workman's Cellar in Dublin this Sunday, March 26, Tadhg Williams has announced that he'll be joined on the night by support acts Dave Lofts and Cilian Jacob.
The Dublin show is part of the acclaimed Waterford singer-songwriter's Non-League Diva Tour – which also features a hometown show at the Theatre Royal, Waterford (Saturday, March 25) and Coughlan's, Cork (Sunday, April 16).
Originally hailing form Wicklow, and now based in Waterford, Dave Lofts has been steadily building up an impressive reputation on the live circuit. After spending years developing his craft as a solo artist, he's come together with local band SAND to prepare for the release of his debut album later this year. A rehearsal video of Dave and SAND performing his song 'Walk Out' together has already garnered over 40,000 streams on YouTube.
Cilian Jacob, meanwhile, rose to prominence as an actor in Waterford, having performed in numerous plays locally and across the country. He's also honed his craft as a remarkable songwriter and folk artist, playing in sessions and clubs over the past number of years, and drawing influence from the likes of John Martyn and Bob Dylan. This will be Cilian's first Dublin appearance as a musical artist.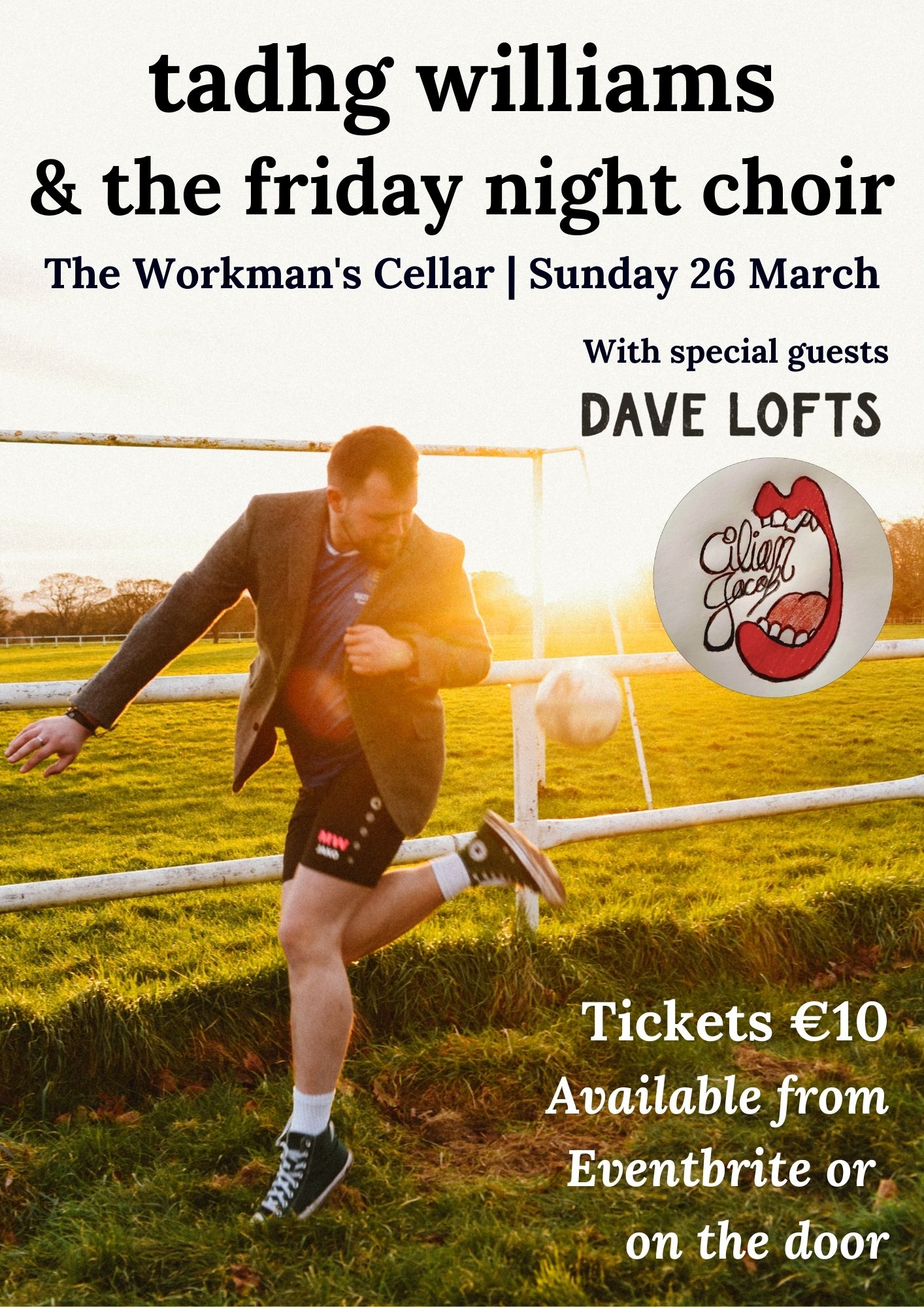 Tadhg will also be joined on the tour by his newly formed band, The Friday Night Choir – featuring Gemma Cox, Ryan O'Neill (Blueberry Rouge), Mossy Ryans (Binmen) and Pete O'Hanlon (The Strypes). Following the gigs, the band are set to head into the studio to record the artist's eagerly anticipated debut album.
Advertisement
His Waterford show will be a special triple headliner, with Tadhg performing alongside deafMONKEY and Birds of  Burden. The Cork gig, meanwhile, will be a double headliner with Cork-based BRIARS.
Following his lauded 2021 singles 'The Summer Song' and 'The Hope Song', you can expect Tadhg's debut album to further cement his reputation as one of the most compelling lyricists and promising singer-songwriters in the country.
Tickets for the full tour are available now here.