Inhaler: "We're so proud of Cuts & Bruises. It's special to the fans, and that love will help stick whatever landing it gets"
From school friends to future festival headliners in the (roughly) ten years of performing as a band, Inhaler are back in the saddle this year for the release of their second record, Cuts & Bruises. The four-piece discuss the insane time pressure of their second album, Other Voices, playing the historic Olympia Theatre, supporting the stars, gig safety and more.
Speaking to laidback quartet Inhaler in December 2022, you'd hardly know about this week's particularly jam-packed schedule. The following day, the affable band will perform the first of two nights at Dublin's beloved Olympia Theatre (which I'm told saw the crowd belt out choruses loud enough to shake the walls) and a stint at St James' Church in Dingle before Christmas beckons. Not bad for their final gigs of the year.
During our second meeting in February, this time in person, I asked how they felt about a split Hot Press cover with Westmeath indie-pop outfit The Academic. They react with immediate warmth.
"It's such a full circle moment because they were kind of the first band to take us on," drummer Ryan smiles. "We supported them in 2018 and played our first UK show with them as well. We're both putting out our second albums, getting a Hot Press cover; it's really nice."
Advertisement
"Who has the bigger font?" frontman Eli jokes. That's a question for our design team.
"I like the idea of splitting with the lads," Ryan says, democratically. Gerry Cinnamon and The 1975 managed their dual Hot Press covers without any fights breaking out.
"Did you see The 1975's Dublin show the other night?" Rob asks me. I did, all wacky 140 minutes.
"What kind of meat does Matty Healy eat on stage?" the bassist replies. Regular old raw steak. "That's a bit grim," Ryan shakes his head. "Maybe it's secretly a cake or something?
"It has to be vegan meat," Eli says. "Was there blood on his face?" Rob enquiries. I respond in the negative, but he was shirtless with orchestral music playing. We're all stumped.
I change the subject to the significantly less gory Other Voices. Having performed before Christmas, their episode is set to air on RTÉ this month (Tuesday, February 23rd).
"We did Other Voices the first time ages ago in Ballina, not Dingle, and we met the mayor," Eli recalls of their last jaunt. "He was self-proclaimed!" he laughs, "But we had a good time. Inhaler were very unknown at the time, but he was a sailor just drinking in this local bar. We got talking to him for ages, I'd be excited to meet him again in Kerry."
Advertisement
Inhaler's double date at the historic Olympia Theatre arrived prior to their 2023 tour across the US and UK, as well as further support slots for Arctic Monkeys in North America - they were invited back, which is some compliment - Sam Fender at St James' Park and Harry Styles at Slane Castle this summer. They've come a long way since I saw them on the bill before The Academic and Whenyoung back at Vicar Street in December 2018.
"I wouldn't have gone to see us four years ago," Rob quips, shaking his head. "My mum and dad went to that gig and didn't think anything of it," Ryan jokes.
"The last Irish gig we did before the Olympia Theatre was Fairview Park in June, and that was like first real show we did here in two years," Ryan explains. "We played more in America than Ireland recently, which is mad. They give you a lot more interesting gifts in the States. Irish people have got this 'show us what you got' attitude but are receptive. There's Irish ancestry dating back to the 1860s, so there's a kinship in New York and Chicago."
"It's a bit like they're coming to support a football team," 23-year-old Eli grins. "We had an extensive collection of cowboy hats last time we toured America. Just because, for some reason, it was the thing to do. By the end of the tour we just had this massive pile of them at the back of the bus. We gave them to our driver because they couldn't come on the plane!"
"We had a song called 'Who's Your Money On?' and in the first chorus, these people just started shooting this fake money with our faces onto it into the air," Ryan laughs. "It was only after the gig that our tour manager showed us the Inhaler-brand dollar bills."
Advertisement
"Yeah, he was running around picking it all up because he thought it was real," Eli adds, with a grin. "He was going, 'Lads! Lads! We're rich!" in his Scouse accent."
"Fun and travel don't tend to go well with us," Rob informs me. "We lost all our bags."
"And an appendix," Josh grins. "When we were in America I had to have surgery," Rob explains. I bring up the Instagram photo at Rolling Stone HQ, minus the bassist.
"We missed a good opportunity. If it was April 1st, we could have said I was gone from the band," he smiles. "It would have been funny to pretend to kick someone out."
Latest single 'If You're Gonna Break My Heart' was inspired by travelling the highways of America, listening to the country's songwriting greats - Bruce Springsteen, Bob Dylan and The Band, among others.
Advertisement
"It's the permanence of the songs," Eli says when I ask about relevance. "Bob Dylan will be remembered like The Beatles because of his lyrics. They're great songs, and our band always try to keep that as our North Star. We don't want to get caught up in what our sound is."
Do they miss the down-to-earth element of Ireland among all the travelling?
"We miss being surrounded by the Irish accent the most, honestly," Ryan responds. "If you go away for a few months and go home, you walk around town and hear people saying the most outrageous things. That's when it really feels like home."
"It's all about going to the Centra deli for a chicken fillet roll," Rob interjects.
"All your mates are still talking about what's going on at home in the group chats," the frontman adds. "I have a news app on my phone that just gives me Irish headlines. I'll be in Japan reading about some new apartment blocks getting built in Dun Laoghaire! We try not to lose touch with our Dublin selves as much as we can."
Inhaler are asked a lot about the jaw-dropping acts they've supported over the last few years.
"Alex Turner is actually way cooler in real life," Eli shakes his head with a grin, when I give in to curiosity and ask about the Sheffield rock star. "He's like the exact same person on stage as he is off stage. It's amazing. He's method acting if that's put on!"
Advertisement
They may feel like kids around veteran rockers Arctic Monkeys, but are they ready to step into the shoes of a more experienced band taking younger ones under their wing?
"I wouldn't say mentors, but I definitely feel old already," Rob answers. "We're doing tours where it's people younger than us."
"It would be crazy to hear a band say they started because of us. Hopefully! That would make us feel old," Josh smiles. They keep plenty of tabs on other Dublin outfits.
"Obviously we're big fans of Fontaines D.C.," Eli emphasises. "We've gone to see their shows whenever we can. They're a really unique, special band that have come out of Dublin in the last few decades. We can relate to Skinty Fia a lot because we did the same thing in terms of leaving Dublin. I haven't heard an album that captures modern Irish self-identity like theirs."
Is there a band they couldn't collaborate with in the studio due to sheer mayhem?
Advertisement
"DMAs," Eli says, referencing the Aussie rock trio. "We went to their gig in The Academy and went backstage to meet them after and just played trad music with them for like two hours. They were like, 'Let's get in the studio' and we said, 'That sounds like a great idea but it would probably be a mess!' They're fantastic, though."
Inhaler are keeping their expectations of interacting with Harry Styles at Slane realistic.
"We struggle to process that we get to do all of these things," Ryan answers, honestly. "The only time we get to grapple with it is when you get off stage and you think, 'Wow, did we just do that?' We're only supporting Harry for that one show and we don't expect to meet him. He presumably doesn't want to speak too much in case he damages his voice and it's a big gig, so we're cool with that. We're just delighted to have some of our family and friends come and share that moment with us. That's the most important thing. And that they listen."
Inhaler's July 2021 debut album It Won't Always Be Like This climbed to the top spot in both the UK and Ireland upon its release. February 17th marks the release of their second long-player, Cuts & Bruises, which they started work on almost instantly after completing their first record with producer Anthony Genn.
Album opener 'Just To Keep You Satisfied' dates back to 2020, while 'Dublin in Ecstacy' is a track forged while the band were in their teens. The riff-driven former is a standout.
"That took the longest to get right for the album," Ryan concedes. "Eli immediately went away and started working on new stuff. There were loads of discussions about how that song should sound. It became a bit of a 'Cheer Up, Baby' situation where we ended up just recording it as similar as possible to the original. It kept proving itself to be the best."
"We wrote something like 40 different pieces of music, so there was a lot of trial and error," the drummer adds. "We're behind every song that made the final product. You're curious about what the public thinks, but once it's out there, it's no longer your song. We enjoyed making it so we try not to let critics taint your view. It's special to us and the fans."
Advertisement
Anthony Genn, a former member of Longpig, Pulp and The Hours, returned as Inhaler's right-hand studio man for Cuts & Bruises. The last time the band chatted to Hot Press, Eli described him as the "most charismatic man I've ever met".
"He's hard on us out of love, do you know what I mean?" Eli smiles, good-naturedly. "We did need to hear harsh criticism at that time. He wasn't shittin' in our cereal, sort of thing. He was just as on board as we were. We actually really needed him for this record, because we were under so much time pressure. He dedicates his life and soul to whatever he does."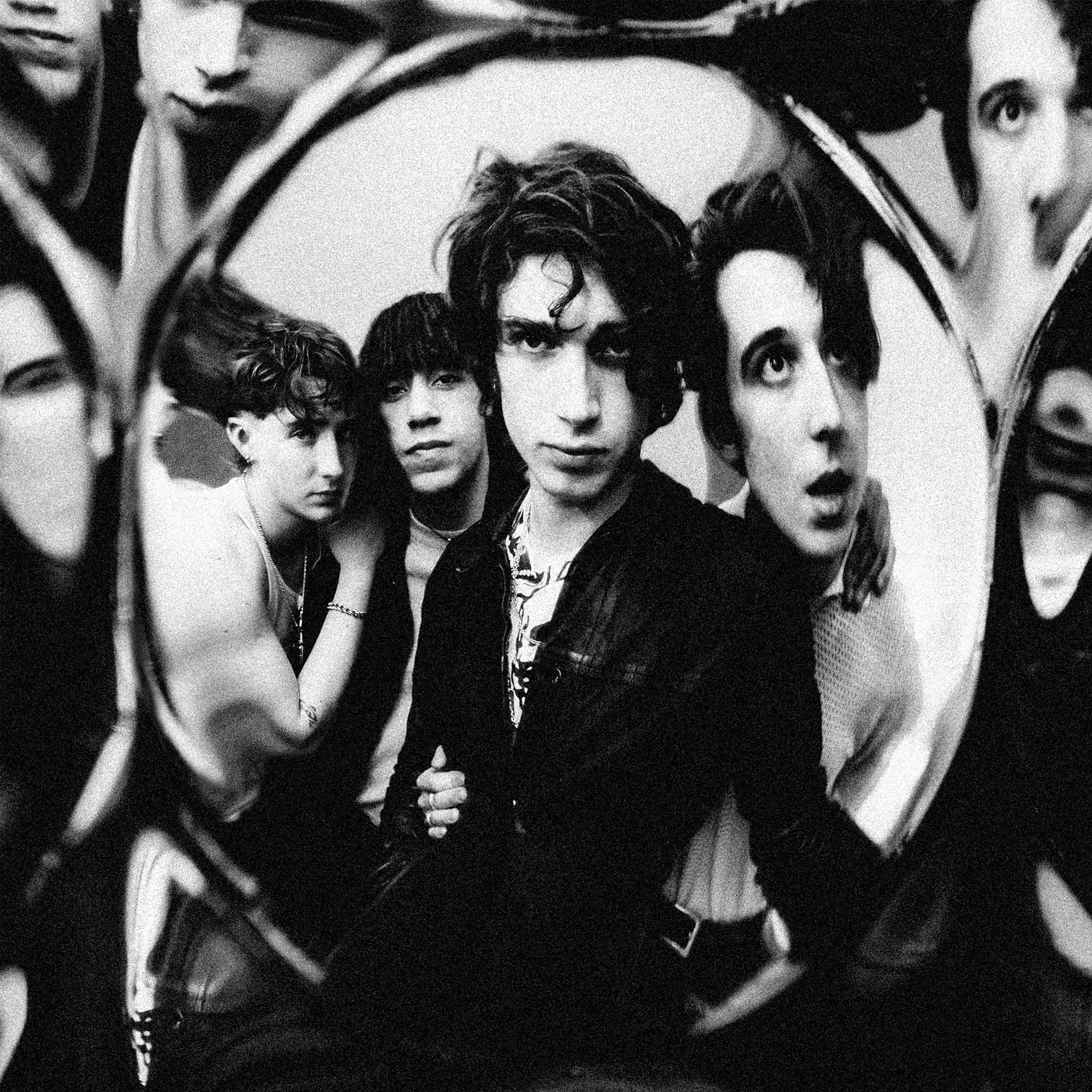 I can't stop myself from asking about some of the intense TikTok edits of the band members.
"It's pretty funny when your mates put them into the group chats," Eli laughs. "I don't actively look for them. I'd judge myself for that!"
"Our fans are hilarious," Rob agrees. "They put up a strategy the other day for a song we have called 'Valentine'. I don't want to expose it. All I'll say is that whenever they put up something, I always 'like' the posts to make them think it's going to happen (laughs). They like getting trolled. Even Miguel [Ruiz, Hot Press photographer] was saying that the fans draw his photos of us and tag him, and they're great. We're proud of them for tagging."
It still must be surreal to see fan art while scrolling through Instagram.
Advertisement
"It's mental," Ryan nods. "Especially if the drawing is really, really good and they've invested loads of time into it. You're a bit flabbergasted by the whole thing."
"Eli's always drawing us," Josh says. "He's our biggest fan."
"I do that in my spare time," Eli notes, sarcastically. "Free of charge. The music comes after."
How would they cope with being at the centre of fan fiction, much like that of Hozier and the strange online "Pagan God of Bogs" trope he's been subjected to.
"We've been lucky to swerve the fan fiction," Ryan says. (He's wrong, they haven't.) "You just haven't been looking hard enough," Rob smiles.
Is the perception fans have of you as individuals accurate?
"No," they all respond, without missing a beat.
Advertisement
"It's the same with every musician, but people don't realise how normal we are," Rob tells me. "Who wants to be normal?" Eli grins. "People probably expect us to act a certain way."
"Sorry to disappoint!" Ryan quips. A cover headline is born.
"It works in our favour. People see that we're chill lads and they're able to have a conversation with us," Ryan continues. "We're not trying to fake anything."
"It does get hard sometimes, the always having to be 'on' when we meet fans, but the only really tough time is when you're getting off a bus in the morning before a show," Josh informs me. "You're stinky, you're crusty and trying to get in for a shower."
"Your smile doesn't work yet," Eli says. "The torment of it. You want them to have a great time and remember it but at the same time, it's like, 'Please don't get closer than a metre to us or you'll die'..." Eli trails off, to laughter from his bandmates.
Advertisement
"If people are respectful to us anyway, even in our foul state, we're going to be happy to see them," Ryan comments, seemingly forever positive. "It's only when they're rude that it feels hard to navigate. It doesn't happen to us often."
Given the current age of their fanbase, there's an undeniable vulnerability at gigs. Is it fair to put the onus on a band to make their shows safe, or venue security?
"I don't think it's unfair," Josh replies. "At the end of the day you're playing a show, and you want to be responsible. You share that with venues, and make people aware in crowds that if they see something happening, they have to bring attention to it."
"Even just to help the people around you," Eli says. "Obviously it's our show, so some people would definitely say that it's our responsibility, but we can only see above people's shoulders. When an artist goes on stage, they're in one mode and I don't think you can always expect them to be looking out for that kind of stuff. But we recently have made more of an effort to ask for advice from Safe Gigs for Women. Bands should always make sure that you do as much as you can, but you can't keep an eye on everyone. That's the tragedy of it."
"We want our gigs to be a safe haven," Ryan affirms. "Everyone's welcome to come to our shows, unless they're going to ruin it for others. These days it feels like music, especially live music, is the only place for escapism. Like you said, it's an intense pressure."
Advertisement
"Nobody wants to hear that something negative is going on at your gig," Eli says, seriously. "It's the worst feeling in the world. You try to bring joy to people and then some idiot has to go and mess it up. That's frustrating, but we have to do our part."
Back to the album. Given the injection of anthemic pop to Inhaler's indie-rock foundations, do they feel their second record can reach the same chart heights as the first? Does it matter?
"You'd be a little disappointed if it didn't, but Cuts & Bruises is something we're very proud of collectively as a band," Eli replies. "Our love for it will help stick whatever landing the album gets. It's better than making something you didn't connect with. That's the main thing Inhaler care about. We want listeners to feel our joy from it."
With a huge year kicking off, they'll have to make sure their heads don't inflate by 2024.
"We're from Ireland so it's impossible to have an ego," Rob jokes. "That's why we're leaving!" Eli jumps in. They'll always come back in the end, though.
Listen to Cuts & Bruises below, out now via Polydor.
Advertisement
The new issue of Hot Press is out now, starring The Academic and Inhaler.