Listen to some of our favourite new Irish releases of the week!
Monjola, 'AM I TOO MUCH'
The Chamomile Records co-founder is back with his first single of 2023, following last year's infectious bangers 'Mama Always Says', 'Big Fat Liar' and 'Extrovert' - as well as his stint supporting Kid Cudi. The Dublin alternative R&B artist, now based in London, sounds lovestruck on the new single.
"You said that I need space, I told you that I can't relate / Did I come on way too strong? Were my messages way too long?" he asks. "I wanna hit you up but I can't / 'Cause my ego's in my head but you're the only one I'm thinking of...". The musician is trying to put his pride aside, but can't get someone out of his mind. Sparkling, joyous beats underlay his smooth voice, echoing the groovy vocal sounds of Sampa the Great with the addictive, synth-laden beats of Anderson Paak. He's surely got some big moves in the mix for us coming down the pipeline...
Grian Chatten, 'All Of The People'
Arguably the best track from the entire album (in our view), the Fontaines D.C. frontman's fourth single from his debut solo record Chaos For The Fly is beautiful in simplicity, but has hidden depths beyond measure. Co-produced alongside the band's longstanding producer Dan Carey, 'All Of The People' is a misanthropic exercise in catharsis which sees Chatten wrestling with his own faith in humanity. The piano-driven song arrives alongside a moving Sam Taylor-directed video. "You think that you love me, well you don't...Don't let anyone tell you that they wanna be your friend / They just wanna get close enough to take the final shot / They would celebrate the things that make you who you're not," he muses, as haunting strings and poignant piano chords support his monologue. It's about loneliness, self-doubt and human connection.
Advertisement
"All of the people is the stiff collar tight-fisted hand to the grindstone written where all is blue and everyone is a liar," Grian notes. "It is a line of chalk scratched around the world."
Jafaris, 'Breaking Bread'
The Dublin genre-blending sensation's first single of 2023 is an explosive, vibrant track that aims to unify. Armed with hard-hitting beats that foray into rock edges before moving back towards trap, hip-hop and drill, the multi-hyphenate artist injects confidence in himself and perspective on the things that really matter. "Stretchin' the success, make it elastic...winner's mentality is automatic / Invested in facts, not capping bout waps, not bragging bout shit that the whole block has," he spits. The colourful, vibrant visuals reflect his playful attitude towards the craft, emphasising his knack for combining movement, visuals and sounds to form a solid brand as an artist. The Dubliner has been off the radar as a solo artist on and off since his 2020 EP I Love You But...I'm In A Bad Mood, collaborating recently with Sweetlemondae, danzi, whoisdays and Fortune Igiebor - but 'Breaking Bread' is a fast-paced banger bound to grab attention.
Kean Kavanagh, 'Feel It Coming'
The Portlaoise musician and producer is back, sharing the new single from his upcoming EP Wrestling Music. The project is due to arrive on July 28th via his own label, Soft Boy Records, and will be celebrated with headline shows in Dublin and London. The jubilant psych rock anthem gives us a taste of indie euphoria at its most socially anxious, reminiscent of Black Keys 'Gold On The Ceiling'. His potential and versatility can't be understated, we're beyond buzzed to hear the finished Wrestling Music when the Soft Boy Records co-founder and A&R is ready to share it.
"Feel It Coming is an anthem for moments of social dread and the blissful relief of leaving the party," Kean explains. Featuring swirling guitar riffs, a steady drum beat and soaring textured vocals underneath Kavanagh's lofi rock vocals. "Tell me how I'm gonna sneak out quiet..." he asks, as if staring around the room looking for exits amidst the smoke and haze of the afterparty.
Advertisement
ØXN, 'Love Henry'
Experimental doom folk outfit ØXN (pronounced 'oxen') features hugely respected musicians Radie Peat (Lankum), John 'Spud' Murphy (Percolator, Lankum production), Katie Kim and Eleanor Myler (Percolator), who combine to form otherworldly sonic textures exploring love, loss, longing, ritual and revenge. 'Love Henry' marks their debut single as a group, released via the legendary Claddagh Records, who have announced ØXN as their first new signing to the label in 18 years. During Covid, the quartet delivered an unforgettable live performance from a Martello tower in Dublin in conjunction with visual artist and Lankum collaborator, Vicky Langan.
'Love Henry' sees ØXN tell this murderous tale with a growing sense of dread that will immerse listeners in the band's world of dissonance and experimentation. Layering the harmonious vocal melodies with accordion, mellotron, keyboard, drums, bass and synthesisers, the story of Henry Lee's demise at the hands of his spurned lover is carefully told. The likes of Bob Dylan to Nick Cave and PJ Harvey have all been inspired by the tale, but it has never been woven with more tension than in this devastating ØXN version.
49th & Main, 'Waster'
Taken from their new EP B.O.A.T.S, out today, the Kilkenny duo sound more polished than ever over the course of nine catchy tracks. 'Waster' starts with a simple indie guitar chord with pop-fuelled beat, crafted expertly by Ben O'Sullivan and performed with Paddy King's flair. "Yeah I'm a waster, that's what you say / A so-called waster / Got no plans made / Can't hold a meal day down some days / Like a job that I hate / Cause I'm a waster," Paddy King sings on the opening verse, before the groovy synths and beats build for a more solid melodic foundation. Layered, charismatic vocals and an easygoing air of summer anticipation allow their tracks to stand out from the busy crowd of indie-pop and dance artists during this time of the year. They have a way of capturing the feeling of being confused about your future path in college, but trying to have a good time regardless. To celebrate the EP, the pair are hosting an actual free boat party with afters on Wednesday, July 5th.
Advertisement
Jeorge II, 'Man of the Year'
He's already gifted us with a six-track EP earlier this year with LukeFly, but Irish rapper Jeorge II is back with a new collaborator: Galway producer Diem. Their first joint effort lands today in the from of 'Man of the Year', the lead single from a new project coming out later in 2023. The song addresses the drive and determination needed to
get to the top of your game and also functions as a vehicle for Jeorge to look back on his journey and chase his dreams: "Just give me your ear / If you get what I'm saying then take it and you can be too." There's a sense of excited urgency with every note, but the song primarily runs around Jeorge's earworms and natural flow.
"I think It's great when music can make someone inspired to do something, whether its go and run a marathon, go that extra mile in the gym or go out and record a full album and that's what I wanted for this release, I wanted a song that would charge people," Jeorge explains.
The Swell Season, 'The Answer is Yes'
Oscar-winning Once duo Markéta Irglová and Glen Hansard have released music together for the first time in 10 years - under the name The Swell Season. 'The Answer Is Yes' was recorded at Masterkey Studios in Iceland and produced by Sturla Mio Thorisson. The track explores marriage and committing to love. The chorus chants of YES reminded Markéta of a person saying "yes" during a marriage proposal, or while standing at the altar.
"I imagined being able to take the energy and enthusiasm of the easiest yes any of us have ever given and bringing it into other, less important yeses of our lives. For anything worth doing is worth doing fully, and no yes should ever be said with half a heart," Irglová notes. "I wanted to write a beautiful duet for us to sing together each night. Something that felt right for the time and place; deeply personal and yet widely universal. Something that summarised our journey through the past 20 years, paying tribute to all that once was and celebrating all that now is." Hansard added: "We came together and as we're working through old songs, the chances for new songs became almost inevitable."
Advertisement
Damien Dempsey, 'Hope Calling'
The Dubliner's new single marks the first track from Dempsey's forthcoming studio album. Drawing influence from the likes of Bob Marley, Christy Moore, Luke Kelly and Shane MacGowan, the chart-topping singer songwriter has crafted a unique, soulful sound, centred around his powerful voice. Catch him perform two sold out shows in the Iveagh Gardens on July 7th and 8th. Damien's second album Seize The Day went on to top the album charts in 2023, twenty years after release following a reissue on vinyl, and his Tales from the Holywell show in The Abbey Theatre was critically lauded. Starting with a simple acoustic guitar melody, 'Hope Calling' has his usual ability to become totally vulnerable in narration, while drilling a singalong chorus into a welcoming, receptive listener. His timeless voice hasn't lost any of its vigour as he delivers 100% of his energy into the uplifting folk tune with an almost country/rock element.
"Are you listening? You have to hear with your hearts," he declares. "I believe we must always carry hope in our hearts, hope lives in dreams and imagination and visualisation, and without it we would never solve or create anything," Damien says. "Keep it safe in your heart, always I wouldn't be doing what I'm doing without hope, it helps us along through life like music does."
1000 Beasts and Zeenie Summers, 'Sun Valley Drive'
Cork multi-instrumentalist and über talented producer Cian Sweeney has shared the fifth single from his upcoming sophomore album. 'Sun Valley Drive' is a bilingual track combining both English and Yoruba, featuring the vocals of Zeenie Summers, Sà.Rù.Mí, an Irish/Nigerian artist. Fusing the eclectic, summer vibes of Jungle, Fatoumata Diawara, Fela Kuti and L'Imperatrice; the indie-soul track is infused with lively drums, captivating group vocals, and an irresistible hook. The upcoming album (due to land this winter) features collaborations with artists like Jafaris, Malaki, Rosie P, Tomike, DeCarterat, Paco Versailles, Rachel Mae Hannon and more.
"This was the very first track from this upcoming album that I finished," 1000 Beasts explains. "It was a beautiful early summer day in 2022 and I took a trip up to write some music with Zeenie in Galway. She was such a bundle of joy to work with and it was incredibly inspiring watching her pull detailed melodies and lyrics from out of apparent thin air." Zeenie adds: "I normally would not easily come up with lyrics to a beat. When I receive music, the beat flows through with the melody and the groove. But when I heard Sun Valley Drive, the scenario just wrote itself. It's basically an allegory about self-liberation framed within a conversation between two lovers now finally parting ways."
Rachael Lavelle, 'Let Me Unlock Your Full Potential'
Advertisement
The Dublin composer and singer-songwriter has unveiled her first track in four years, with an incredible video directed by Bob Gallagher. The director was inspired by Lavelle's notion of potential energy waiting to be unlocked by the 'other', using archery as the primary visual theme and co-starring actor John Doran. The swirling alternative track was co-produced by Lavelle and Ryan Hargadon, mixed by Alex Borwick. Merging classical and contemporary influences, Rachael's hypnotic live performances blend electronic soundscapes with spoken word and acrobatic vocals. It's easy to see why her ethereal, arresting voice has appeared on the work of Villagers' Fever Dreams album, plus on tour with Anna B Savage.
"The title is taken from an ad that found me as I searched for the answers to getting 'unstuck,'" Lavelle explained. "At the time I wished for nothing more than someone to come along and show me the way, but this song reminds me of the need to trust oneself. It is a song about getting out of your own way, taking responsibility, setting the wheels in motion and unlocking your own potential"
Mick Flannery, 'Goodtime Charlie'
The Cork man's new tune marks the first song to come since his 2021 duet album In The Game with Susan O'Neill, which ended up as the biggest 2021 independent selling record in Ireland that year. 'Goodtime Charlie' embodies an infectious melody and upbeat tempo in an effort, penned "to help us grumpy mother f***ers let go". It's essentially about landing on your own two feet and tuning out the negative voices in your life and in your own mind. Mick reunited with Irish filmmaker Christopher Luke for the accompanying video, filmed in West Cork, Ireland between the legendary venue Connolly's of Leap and The West Cork Distillery and starring Eamonn Flannery, Mick's younger brother.
"For a while I had a barter system going with a Jiu Jitsu black belt," Flannery notes. "I would tutor him on songwriting for a while and then he'd beat the shit out of me. It was a good deal. At some point he played me a blues song that he liked and it used a C chord in the key of E major. I hadn't encountered the change before, or at least it seemed new to me, so I thought to try and use it. This song is the result. Not a very serious song, about a gambler who is liable to do anything at any time, as long as it's a goodtime."
Kingfishr, 'Headlands'
Advertisement
The Limerick folk-pop trio (Edmond Keogh, Eoghan McGrath and Eoin Fitzgibbon) are set to support Bruce Springsteen in London's Hyde Park, no less, and have dropped a new tune to keep us excited. Having released 'Anyway' and 'Heart in the Water' this year, 'Headlands' progresses their brand of acoustic melodies mingles with booming pop choruses, tapping into a sound that's sure to be a stomper when played live. "Wheels turning all the time / Sundays hanging on the vine / Picking out the storms / Turning on the headlands / Tales as old as time / Standing, staring down the rain / Roaring, storming down the lane / Well I don't the time, and you don't have the patients / They're buried in the headlands," the first verse plays, before a groundswell of instrumental noise comes together for a rounded out, full chorus that gets immediately stuck in your head. The band recently opened for George Ezra on his UK and Ireland tour as special guests at 3Olympia Threatre and performed at Dermot Kennedy's recent Marlay Park and Thomond Park gigs.
Rónán Ó Snodaigh and Myles O'Reilly, 'Níl Aon Easpa Orm'
The multi-talented musicians announced their second album The Beautiful Road with a beautiful video for the new single this week. The follow up to 2020 debut Tá Go Maith will be released on July 27th through Claddagh Records; described as "a soulful blend of folk, traditional, and ambient crossover. 'Níl Aon Easpa Orm' is accompanied by an enchanting video created by Myles, assisted by artificial intelligence. To create the film, Rónán (of Kíla fame), Myles, and dancer Mufutau Yusuf, ventured to the sacred hills of Loughcrew, Co. Meath, a location adorned with ancient Neolithic and megalithic burial tombs and monuments.
Rónán notes. "I believe it's crucial for people to visit these places and establish a deeper connection with the spirits of the land. Such experiences can ground them and alleviate their uncertainties. This discussion transcends superficial differences like skin colour or tribal affiliations—it is a deeply meaningful endeavour."
Caoi de Barra, 'Treehouse'
The Berlin-based Irish singer-songwriter has announced a 14-date tour across Ireland this summer with her new single. Caoi initially carved out her own career in the music industry after leaving her mark as a member of the acclaimed alternative-pop trio Wyvern Lingo. The single is a compelling, disillusioned-summer-bop, where the Irish housing crisis leaves de Barra feeling trapped in a perpetual state of adolescence, and the concept of being a self-sufficient artist seems as lofty as building a dwelling up a tree. Opening with strings and a soulful beat that doesn't overtake her bluesy vocals, Caoi asks herself "Is this how it unfurls? / Trying to chase away the daylight, 'cause something just doesn't feel right / Who am I to speak, I don't wanna be so far away from family." She's trying to race around the sun, but can't find where she belongs. Speaking about 'Treehouse', De Barra said: "It's really letting my petulant inner child do the problem solving."
Advertisement
7th Obi, 'untameable'
The Irish-Nigerian hip hop artist has been around the scene for years, but 2023 is seeing him show a new side to his artistry - recently dropping 'GOOD GIRLS GONE BAD', 'heartrender' and 'replace me'. New offering 'untameable' plays around with alternative R&B grooves and warped vocals for dramatic, captivating results. There's a definite dark undercurrent to the hard-hitting beat, as he describes his playboy ways. "Don't bring me to your father's house / I know what you're used to, baby / I could play that role for the night, but I'd be right back to me...proceed with caution / I'm unbreakable." Expect a late night DM and not much else, basically. 7th Obi has already carved out a unique career playing around the boundaries of subgenres, and bringing a cutting-edge approach to these shores – as evidenced by his 2018's Taxi Club and 2021's 'Love & Goodluck'.
Fräulein, 'Three'
The Northern Irish/Dutch duo (Antrim's Joni Samuels and the Netherlands' Karsten van der Tol) have released their second EP 'Pedestal' today via Submarine Cat Records. 'Pedestal' is the band's follow up to their debut EP 'A Small Taste', which heard the London-based pair solidify their early sound: cathartic 90's flavoured alt rock influenced by the likes of The Breeders, PJ Harvey and Big Thief, whilst incorporating cavernous grooves and sharply observational lyrics. 'Three' starts off with a steady drum beat while Joni concedes: "Don't exist unless you see me...I hope you rub off on me" amongst thrashing electric guitar riffs that throw us back in time. Cut over three days with producer Ali Chant (Yard Act, Sorry, Soccer Mommy), the 'Pedestal' EP doubles down on the themes from their debut, maintaining their infectious, raw live sound but with added confidence.
Cooks But We're Chefs, 'Secret Chord'
Advertisement
The genre-melding seven-piece band have shared their first single of the year, focusing on their hip-hop, jazz, dance and soul roots for an up-tempo gem. Síofra Nolan's honey-toned vocals pair beautifully with Jesse Russell and Methembe Thabani Mafu's raps, while their bandmates (Dan Coyne, Luke O'Dwyer, Dan Kearns and Dougie Sealy - who makes their colourful artwork) create magic around them. This one demands to be heard live, especially the brass segments two minutes in. Inspired by old school garage and house, the track was penned during the cusp of festivals and clubs being re-opened in Ireland and the UK. "Its lyrics capture the excitement that was present at this time, and also the anticipation of performing late night slots at festivals," the funk-inspired band describe. Their 2020 Sports Day captured their artistic chemistry, but 'Secret Chord' feels like a bottled spark between them. Their camaraderie can be felt with every note and collaborative key change, like a late night passing of the mic between friends.
Amy-Rose, 'Devil in disguise'
The Limerick alternative artist is feeling vengeful on her dark-pop new single, pulsating with brooding synths and wispy vocals. The 22-year-old is currently studying a joint major in Music and English at University College Cork, balancing single releases with assignments. Amy Rose stayed true to her roots in the making of this track, which was recorded and produced at Studio68 in Limerick city. The combination of rhythmic guitars, a blend of trap drums and 808s with her strong vocals make it perfect for late night driving, appeasing yourself for a short while by wallowing in a time when someone stabbed you in the back.
"Get off your high horse, come back to earth / The only way you're even here is in a hearse / You have been found guilty, you can drop the act / The only one you're fooling here is yourself...I like the taste, but revenge is bittersweet / It's over in an instant, gotta lick poison off my teeth / The angel lost her wings, guess I'm the devil now / The devil in disguise."
Seba Safe, 'Rainy'
Galway singer-songwriter Micheal D'Alton (aka Seba Safe) is back with his new EP Rainy today, accompanied by a video for the title track. The 'Rainy' EP was recorded in Duncan Mills (Florence and The Machine, Jake Bugg and Jamie Callum) studio in London Fields last summer. D'Alton describes the project as a personal reflection of a time where the world was in lockdown. Themes of mental health, personal growth, friendships falling apart, immigration and love across five tracks, Seba Safe unlocks an even deeper layer of honesty than ever before. 'Rainy' itself blends pop, indie and folk - much like his debut EP Map Runner - and effortlessly showcases why Nettwerk Records snapped him up for a global deal. Catch his upcoming headline show in Whelan's on 22nd July, and UK dates immediately afterwards. There's a jangly, feel good aura to the track. "I'm trying to relocate most of my mind...I want it all / All of the time."
"Rainy is a song about simple and selfish wants," Seba Safe offers. "In it, I talk about confidence, nostalgia, sex, relationships and progression as a person and artist."
Advertisement
Saoirse Miller, 'Resurrection'
The Dublin performer and TCD music alum has dropped her first release of the year, following 2022's 'Fairy Fort', 'Train Tracks Look Like Heaven' and 'Birds'. Embracing a more electronic-leaning sound, the flickering beat on new single 'Resurrection' was produced by Cheesmore and the mix/master was undertaken by Karl Barnes. "Running to find you, I don't have no direction," she starts, softly. "Just my own reflection / Hiding from see through / I'm scared of my own reflection / There's a disconnection." Sounding soulful, she fuses indie with electro-pop while Cheesmore's beat grows to new heights, curating an ambient, cinematic atmosphere. Her angelic voice seamlessly delivers an otherworldly experience on the confessional chorus, feeling a sense of yearning and frustration. There's a certain spirital, ghostly quality to her mix of electronics with acoustic. "Ceremonious with nothing that I have but my faith in you."
Mide Houlihan, 'Truth Be Told'
The West Cork singer-songwriter has unveiled an upbeat tune, gleaming with elements of folk, pop and indie. Having shared her Coloured In album all the way back in 2015, her last single was 'Non-Believers' two years ago. Kickstarting with warm piano chords and a light acoustic strumming, Houlihan is introspective as she reflects on gratitude and kindness. "I look back on my memories / All the beautiful things I've seen / All the things I've had at my feet / How did they come to be?" she asks. "So I've had days filled with lonely complaints / Many days put to so much waste / Where I can't handle what I'm faced with and can't see what's in front of me." Mide feels the need to take stock, and not dwell too much on hardships that often pale compared to the burdens of others. Background harmonies and twinkling piano add to the conversational storytelling she does so well.
Adore, 'Postcards'
The Galway pop art punksters have shared their scuzzy debut single today. It's available on a 7" lathe cut single with Stay Free Old Strangers on the flip side. Their first ever recorded material captures their thrilling live sound by Mike O'Dowd from Lakeland Studios in Athlone, who also worked with Galway legends Turnstiles. A melodic romp through surf rock to Britpop, 'Postcard' brilliantly takes stock of their cool intensity. The newcomers' lineup features Lara Minchin on guitar and vocals, Lachlann Ó Fionnáin on bass and vocals, and Naoise Jordan Cavanagh on drums. The rock solid rhythm references bands such as The Breeders, Elastica and Yeah Yeah Yeahs while adding their own experimental tones.
Advertisement
Lyrically Postcards is about parasocial relationships in the 21st century. "There was a lot going on in the news at the time we wrote it about a Hollywood court case, and we'd always see people in Instagram comments who would really believe they had a personal connection to the people in said case," Lachlann recalls. "A lot of them were simply identifying with the personal stories, but there were some that were more intense. When you're handed very intimate details about someone's life, you can feel that personal connection very easily, because usually to know those types of details you'd need to know them very well, however some people slip too far down the road."
Galia Arad, 'Does She Know'
The Dublin-based musician, who just became an Irish citizen, has returned with her first single of the year. The brooding 'Does She Know' comes from the perspective of a woman still in love with a past partner, addressing his new lover. The sultry vocals of the Indiana-born artist sound ethereal and graceful as she tells the story of still feeling ownership over a past lover. "When you hold her close in the night / Does she know that you're mine?" Arad asks in the chorus, over delicate strings, strong drums and dramatic background flourishes. Written and produced in her Stoneybatter home, 'Does She Know' was mixed remotely with Brooklyn based engineer/musician Aaron Di Piazza, mastered by Ruadhri Cushnan (Ed Sheeran, Mumford and Sons, Shawn Mendes). Her silky vocals were recorded in Camden Recording Studios, following previous offerings 'Lion's Den' and 'Love Past Him'.
Kellie Lewis, 'Reverie'
The Voice of Ireland runner-up sounds stunning on the new 'lullaby meets anthem' single 'Reverie'. The Irish alt-pop musician taps into the cinematic nature and sonics of Kate Bush, Stevie Nicks, Dolores O'Riordan and Florence and The Machine on the track. A Disney princess piano melody starts us off, before her crystal clear voice takes the listener on a journey, complete with dramatic sound effects and strings. "It has taken so much time, in the end it will feel like home...In spite of all the fame, the reverie remains."
Advertisement
"If you have a dream, no matter what it is, never ever give up on it," Lewis says of the single. "If you are lucky enough to know what your life purpose is, strive to achieve that every day and bring that into existence. Persevere and believe in yourself; find the beauty in your mistakes and learn the lessons that need to be learned. When the going gets tough, get tougher. When it feels like it's time to give up, to say ''goodbye'' to your dream, remember Rome and the unfathomable length of time it took to create the sheer beauty of it all. The beauty is in the journey, always."
Boy M5, 'Bob'
The Northern Irish trio are all about their earworms and explosive live shows, gifting us a new single ahead of their Stendhal Festival appearance. With its catchy guitar riffs and infectious beat, 'Bob' is all feel-good energy and a refusal to take themselves too seriously. Born out of a joke among bandmates, 'Bob' celebrates life's simple pleasures, from never having a terrible song stuck in your head to always having phone signal and never having to wear matching socks. "Sit back, relax, and let 'Bob' take you on a journey of everyday joys that we often take for granted," Boy M5 remarked. "Who knows, you might just find yourself humming along to this catchy tune for days to come."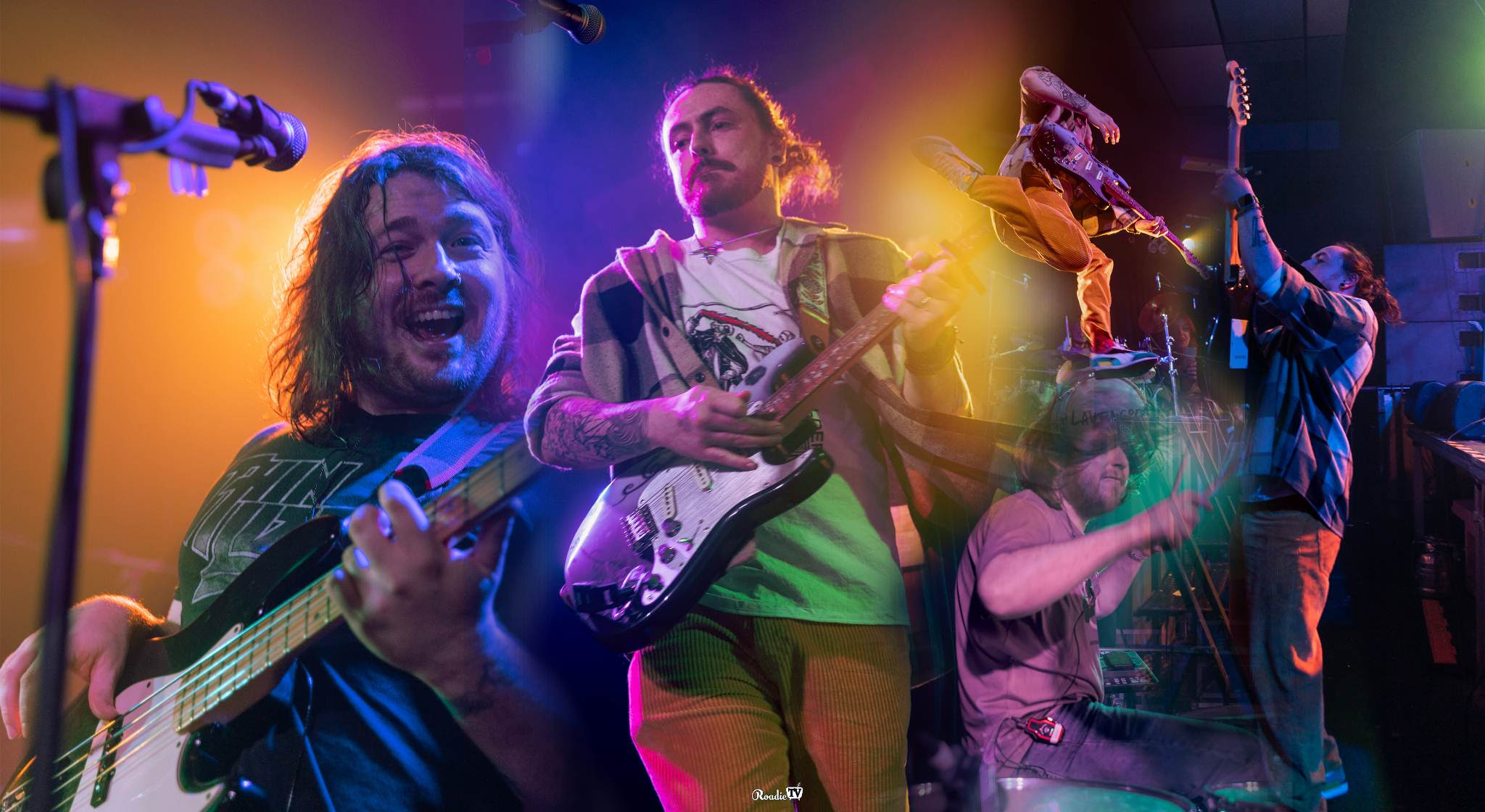 Ard Ó, 'Sensory Seeker'
Irish, London based alternative artist Ard Ó (Stephen Keating) released 'Delta' last year, but 'Sensory Seeker' is a testament to his growth. "You have been wandering again out in the open light," he croons. "You found yourself thinking of how you were happier back when everything was so simple, right / Sensory seeker, why the long face again, my friend?" The electrifying tune which tells the tale of a person who is battling with mental health struggles and their journey of reaching their goal of contentment. With vocals echoing Alex Turner, ferocious guitar riffs and indie-rock melodies that refuse to leave your head, Ard Ó has tapped into something special. Stay tuned for his debut EP.
"[The single] is a story where you create this false end goal or grass is greener scenario and once you have reached that goal or crossed that bridge you find that you are no different to how you felt in the first place," Stephen muses. "The song highlights this struggle of coming to the realisation that this end goal of contentedness won't automatically come from completing a certain task or journey and that it is a lot more complicated than that."
Advertisement
The Valmonts, 'Love Overdose'
The Irish indie-rock quartet follow on from 'Me & Myself Again' with 'Love Overdose', dripping with influences ranging from INXS to New Radicals and Blossoms. The Valmonts have curated a sound that is embraces the past and present, while exploring every crevice of the exciting rock genre. Their third single blends hooky indie riffs and vibrant synths with infectious chorus lines and pulsating drum beats, resulting in a track that's sure to set alight indie-dancefloors across both sides of the Irish sea. The energetic single traces the experience of feeling overly infatuated with someone and the emotional intensity that can typically bring (both positive and negative).
"Love Overdose looks through the lens of a spiralling relationship with an on-and-off again dynamic," The Valmonts state. "The longing compulsion they experience for one another takes them on a rollercoaster of love, hate, and deception. It mirrors the importance of moving on and the self-entrapment being hung up on someone can cause."
The Burma, 'The Hard Ground'
The up-and-coming indie rock three-piece have released the second single from the Irish trio's upcoming sophomore album, due later this year. Following on from their Homegrown Top 20 Hit '23', 'The Hard Ground' is all about looking back in time towards the indie bands that made them who they are. After a busy 2022 saw the band's debut album become the third best-selling Independent Irish Album the week of its release - The Burma are currently making their way through the Summer festival circuit while also gearing up for a 2023 headline tour, including their first UK shows starting in August this year. The gritty production and guitar lines echo The Strokes, who in turn inspired Arctic Monkeys.
"This song is a bit of a standalone track on our new album," the band tell Hot Press. "It's the first time we've written a song that showcases our early influences as much as this one. We didn't shy away from them where we might have in the past. This single also features elements of one of the very first songs we wrote 10 years ago."
Jet Fuel Chemistry, 'Wirehead'
Advertisement
Having formed in 2020, the metalhead band combine differing styles of rock and metal from both sides of the Atlantic. Jet Fuel's self-produced EP 'Sign of the Times' debuted in August 2020 and featured on official Spotify editorial playlists 'All New Rock' and 'The Pit' - later racking up over a quarter of a million streams. Jet Fuel's new era of music promises to be darker and more aggressive than ever, and 'Wirehead' is the first taster, bleeding with elements of Bring Me The Horizon, Enter Shikari and Nothing But Thieves. "Can I feel alive in the right now?" they ask. "Won't you lie down and tell me the truth." Their energy is magnetic, creating a buzz for their live performances.
"Wirehead is an anthemic metalcore song serving as a gateway to Jet Fuel Chemistry's visceral new sound," the outfit comment. "The lyrics touch on humanity's increasingly toxic relationship with technology and simulated pleasure."
Bless, 'City Lights'
Releasing today alongside 'ME&YOU', the compelling 'City Lights' lands after 2023's 'HMU', 'TWD4L' and 'HERE 4 U'. Focusing on a lover who hasn't painted an accurate picture of him, the Irish rapper has already climbed the ladder in Cavan before winning over any doubters in Dublin. Locked in with his friend, engineer and collaborator KxngBari, they have no intention of taking their foot off the pedal. With their label 'The Spider and The Crown' they intend to take over, and 'City Lights' is a banger to watch out for. "Spent years trying to hold me down, now you want me turn you up?" he questions, before a radio-ready dance beat kicks in with power. Showing off his vocal chops, quickfire flow and genre fluidity, the single is a strong statement of his natural, raw talent and charisma. The track describes someone who brought out the worst in him, and the mind games that led to their relationship's ultimate demise.
Alfi, 'Jubilee'
Advertisement
Following the release of 'The Whistling Thief' last year, Irish three-piece Alfi have returned with news of their upcoming debut album. Out on July 21, Say Old Man will feature their 2022 single alongside a version of 'Jubilee' - out today. American folk icon Jean Ritchie included 'Jubilee' on her 1952 first studio album, Singing The Traditional Songs Of Her Kentucky Mountain Family. The beautiful new version places emphasis on instrumental warmth and harmonious vocal collaboration. "If I had me a needle and thread / As fine as I could sew / Sew my true love to my side / Down this creek I'd go."
Fiachra Meek, Ryan McAuley and Alannah Thornburgh have built up a notable following through their lauded live shows, as well as a string of well-received releases that blur the boundaries between traditional Irish and Appalachian music. 2019 saw them release their Wolves In The Woods EP, while forthcoming LP Say Old Man was recorded and mixed in Analogue Catalogue Studio near Newry by Julie McLarnon.
David San Clair, 'Drive'
The musician released his Anything Goes EP last year, but 'Drive' is just as sprightly and fun-filled. The Louth native is best known to electrify the stage of any venue he has stepped foot in, combining facets of folk, traditional, rock, funk, jazz and bluegrass to forge an oscillating sound. "The Six O'Clock news comes on and it gives me the chills," he sings. "In the middle of a dark, derelict and unpaid two-room." Adding brass sections and fast-paced acoustic guitar and recreating the ambience of a live jazz club in the track itself, David's natural ability to grab an audience and refuse to let go is never-changing. From releasing his debut single 'Promises' in 2019, to bringing out his first EP, San Clair has come into his own. 'Drive' is a downcast, rollercoaster tune of intent from the talent.
Listen to the playlist in full below.