Listen to some of our favourite new Irish releases from the final week of May below!
CMAT, 'Have Fun!'
Following recent banger 'Whatever's Inconvenient' (which remains stuck permanently in our heads - no complaints, though), Dublin singer-songwriter CMAT returns with the new single from her forthcoming second album. 'Have Fun!' will appear on CMAT's new album Crazymad, For Me, out on October 13th via AWAL. The potential concept album apparently alludes to time travel and future selves, but using self-deprecating humour to poke at her previous relationships, the cost of living crisis, among other things. "I gave you all I had 'cause I believed in this, huh / Silly bitch, you should have spent it on yourself," CMAT (Ciara Mary-Alice Thompson) sings on the infectiously playful track, which tries to let go of a past partner. "Always pecking like a hen that isn't fed, that isn't fed," with string sections adding vamp to her trademark country-pop elements.
Grian Chatten, 'Last Time Every Time Forever'
The Fontaines D.C. frontman is set to drop his forthcoming solo debut album Chaos For The Fly on June 30th via Partisan Records. The vocalist worked with the band's long-standing producer Dan Carey on the record, with the third track from the project out today. It marks another evocative introduction to Grian's solo record, all dark poetry and kitchen sink drama locked within a melody-rich leftfield pop song. Painting his usual visceral landscapes, 'Last Time Every Time Forever' follows the recent release of 'The Score' and 'Fairlies' but maintains the more pared back instrumentation than the rockers' noise. "All my words, they fail me / And I have seen it all, and I have no doubt that a lonely thing / You surely are / Ccould be a fixture made in a face-town bar where they go out of their way to be hurtful now / And you can see the world written in their brow".
"'Last Time Every Time Forever' is a weak knee'd 99th lap around a hellscape town of your own making," Chatten remarks. "It's haunted by seagulls and hoarse-throated slot machines from the 1980s and it breaks its own promise on every listen."
Advertisement
49th & Main, 'Icy'
Kilkenny duo 49th & Main (Ben O'Sullivan and Paddy King) have announced details of their new B.O.A.T.S. mixtape with 'Icy', following recent singles 'Crash and Burn' and 'Said Nothing'. The new release is set to come out on June 30 via Counter Records. 'Icy' is a potent dose of their usual addictive indie-pop, dance melodies - with slick production and a beat you can't escape.
"'Icy' is about how sometimes relationships can feel like the other person has been cold, but reality it's just external factors and the inability to know fully someone else's perspective," the pair explain. "B.O.A.T.S., based on a true story, the story being ours so far. The idea behind the title is to represent the two of us in an 'alien' environment. It encompasses how we're feeling in this industry at this stage, still wrestling with the idea that we belong here and are meant to feel at home beside other great artists."
Winnie Ama, 'Get on You'
After 2022 efforts 'Don't Worry', 'Awe of You' and 'Here I Go', the Belfast-based neo-soul artist returns with smooth banger 'Get on You'. Having reached No.7 in the UK Urban Club Charts via her appearance on 'I Swear', the hit song from Francis Groove, Ama started infusing electronics into her funk-driven, jazz sound. Dripping with Nina Simone power and Patrice Rushen's melodies, Ama's honey-toned vocals, conscious lyrics and R&B sonics fuse effortlessly with dance, house and pop rhythms. Winnie's distinctive sound is inspired by Ella Fitzgerald, Stevie Wonder and Amy Winehouse, but remaining gloriously her own. 'Get on You' is reminiscent of Pharrell's 'Get Lucky', SG Lewis' recent dance anthems and NAO's angelic voice.
Advertisement
Kettama, 'Feeling Emotions'
Sampling Mariah Carey's 1991 classic 'Emotions' is a genius move, but pairing it with hard-hitting beats is even better. Galway-born producer KETTAMA burst onto the house and electro scene in recent years, with the release of his 2018 EP Bucklyn Bridge, and is bringing G-Town Records (alongside fellow DJ Shampain) to the Galway International Arts Festival this year for an electronic takeover. Earlier this week, KETTAMA was added to the Forbidden Fruit Festival lineup, taking place at the Royal Hospital Kilmainham this weekend (June Bank Holiday). Building up anticipation with 'Feeling Emotions', which lands after this year's G-Town 004 EP, it'll get you racing to the dance tent ASAP.
Seba Safe, 'I Wonder'
Having already released compelling singles 'Oblivion', 'Afterlife' and 'On My Way', the blissful 'I Wonder' shows progression on the rising Irish artist's journey. "What the hell is wrong with people, what in the hell is wrong with me?" Seba Safe opens on the inquisitive new single. "Up or down, I can't sit still / Pick a point then keep on choosing moving is a fickle skill / Stick three skins and make a moment / Lose it in a lack of will / Play that song until you hate it / Love me like I know she will / and I wonder...." Mike D'Alton (aka Seba Safe) will hopefully feature all the tracks on his upcoming sophomore EP Rainy. Infusing dreamy elements to the folk-pop tune, the influence of DOPE LEMON, Maggie Rogers and Big Thief shine through every note. His usual layered, textures vocals are an easy listen, nestling poetic observations of everyday life and love into his musical output.
Cian Ducrot, 'Heaven'
Advertisement
The fast rising Cork singer-songwriter has shared another single ahead of the July 21st release of his eagerly anticipated debut album Victory. Having already landed two UK Top 20 hits with the Gold-certified 'All For You' and the Silver-certified 'I'll Be Waiting', garnering over 300 million streams to date, the TikTok star was recently invited to join The Jonas Brothers during their show at The Royal Albert Hall after his Ed Sheeran support date in Dublin. 'Heaven' is a track penned about the relationship he shares with his brother. The emotional single traces memories of his brother falling off his bike as a child, shouldering painful burdens before seeing Cian support Sheeran at the 3Arena.
Cian says, "I wanted to write a song that felt like it could be sung by thousands of people in a stadium and that joined everyone together in this shared feeling of love and euphoria. 'Heaven' is a song I wrote about my bond with my brother and our love and everything we've been through. It's a thank you to him and a song that I hope many people will connect with over their bond and love with their siblings and family."
Smilez x Maverick Sabre x Skripteh, 'Through the Storm'
Taken from Dublin native Smilez' new album Council Estate Dreams, the soulful 'Through the Storm' features confessional, earnest words over powerful hip-hop beats. Hailing from MacUilliam Tallaght, Smilez first emerged with raw singles like 'Gyptian', 'Bando' and 'Outside' before taking a hiatus due to experiencing homelessness. The rapper and management DBN music have finally released his new mixtape, after his first single of 2023, 'Letter to my Mum', saw him apologise to his mother.
 Looking to finish the year off with his headline show, he recently supported UK artist Chipmunk at the Button Factory in February. Maverick Sabre's lush, captivating vocals and Skripteh's trademark flow create a truly magnetic collaboration for the trio.
"Growing up on a council estate wasn't always easy, but it taught me the value of hard work, perseverance, and determination," Smilez said of Council Estate Dreams. "I wanted to create a project that would capture the essence of those experiences, while also sharing my hopes and dreams for the future."
TraviS x Elzzz, 'HEY U!'
The dynamic Irish-Nigerian drill sergeants are back with a fiery new single, featuring some of the hardest beats Liam Harris has created to date. The dexterous, cocky Gliders Collective pair can't be ignored in the industry, having climbed the charts with their Full Circle mixtape earlier this year and earned a Longitude slot for Sunday, July 2nd, warming up for Travis Scott, Joey Bada$$, Clavish, Meekz and more. 'HEY U!' is their first single since the tape, and it's the perfect anthem to release before their Monster Sessions performance with Hot Press on June 15th in Workman's, Dublin alongside Celaviedmai and Reggie B. TraviS and Elzzz take turns declaring their confidence on the new track, showing off their playful energy and insanely flexible ability to create vocal acrobatics above slick trap and drill beats. *Liam, blink twice if they're holding you hostage*
Advertisement
Elaine Malone, 'Moonthread'
Having supported the brilliant Lankum at Vicar Street earlier in the week (winning over hundreds of fans, no doubt), the gifted Irish musician returns with an evocative new single today. Malone's latest offering, released via Pizza Pizza Records, delves into the realms of 90s shoegaze and 60s psychedelia. Recorded by the acclaimed Cathal MacGabhann (The Altered Hours) and featuring the talents of Sam Clague, Ruairí Dale, and James Christie, 'Moonthread' draws inspiration from revered icons like The Velvet Underground, Nico, and Lee Hazlewood. Cork native Elaine Malone skilfully incorporates harmonium, guitar, percussion, and bass into her entrancing compositions. Her upcoming album promises to solidify her position as one of the most innovative artists in contemporary music. Having released two albums as part of the experimental folk-horror project Mantua and collaborating with punk outfit Land Crabs and Krautrock-led Soft Focus, there's nothing she can't do. Opening with barely there ethereal vocals and a soft electric guitar melody, the wall of noise that ensues when the musicians come together is both cathartic and enchanting.
Una Healy, 'Walk Away'
The Tipperary pop musician and former Saturdays member is back with a punchy new single, taking aim at a previous partner. Co-written by Una, singer-songwriter Megan O'Neill and the song's producer, Alex Maile, the track is about finding strength and bravery to leave a toxic situation, with the lyrics including playful metaphors. "You watch me leave, yet still don't believe that I'm really gone this time / Tired of dancing with the devil in old red stilettos / Sometimes you gotta walk away," Healy sings. "You had my heart in a noose, while you were filling your boots / You want us tied, right at the laces." Speaking of the new single, she says, "Walk Away is about having the courage to walk away from any relationship or situation that no longer serves you, to do it in style and to find the courage to move on to something better. Throughout the song, there is a play on words that keep it humorous and upbeat."
Súil Amháin, 'Rí na nDeontas' (filíocht le Seanán Mac Aoidh)
Advertisement
As reported first by Nialler9, Listowel rapper Súil Amháin has teamed up with producer Rob Mulhern of Irish psychedelic experimental band Tuath and Lunch Machine for a mixtape called Shammen, dedicated to the Donegal electronic producer Aengus Friel (aka Shammen Delly) - who passed away last year. Drawing inspiration from the hills of his native Donegal, as well electronica, ambient soundscapes and local folklore, Friel's experimental approach established him as an underground star in Ireland – releasing projects on labels like Culture Glitch Records, Psychonavigation Records, The Department of Energy, and Touched Records. He also self-released music on Bandcamp, including 2020's The Peoples Temple OV Big Tom. Kerry rapper Súil Amháin takes inspiration from poet and storyteller Seanán Mac Aoidh on the stunning 'Rí na nDeontas'. Check out the full Shammen tape below:
Crybabyamy, 'Mercy'
The 20-year-old pop artist shared '6am (untitled)' in recent months, but 'Mercy' is a further foray into electro/alt-pop glory. "I gave you all my time, does that mean a thing to you? You gave me all your mind, now you're someone I never knew...I let you see me heart, does that not mean a thing to you? It's like a heart attack but I'll let it shatter / You won't come back but that's the thing about us, we were always dust," Crybabyamy sings before catchy synths and a lush beat kicks in. If you're blaring Holly Humberstone, Billie Eilish and Olivia Rodrigo on your playlists, Crybabyamy needs to be on your radar. The track is her third release since signing a major publishing deal with BMG and was written and recorded at home before receiving additional production from UK producer Rob Milton (Easy Life, The 1975).
"I wrote mercy to define the concept of being too good for someone," she says. "Mercy was the word I chose to describe the way I love and care for people. At first Mercy sounds like a sad song but it's actually an empowering one. Loving people the way you do makes you wonderful!"
Chameleon & Levi Evans, 'You I Think Of'
Dublin-based producer and artist in his own right, Chameleon, has collaborated with LA-based Irish musician Levi Evans on an infectious new tune. Having been crowned A New Local Hero last year, Chameleon (Matthew Harris) has been gigging with 49th & Main and KhakiKid (did you see their Hen's Teeth set last week? It should be illegal to do 'Since You Been Gone' better than Kelly herself) as a session guitarist, but his talents can't be limited to one trade. Levi Evans first emerged in 2021 with debut single 'Back In My Head Again' before collaborating with Lucy McWilliams and more, steadily creating a rake of pop-driven indie songs. The duo make for an easygoing, addictive collaboration, layering acoustic guitars, soaring riffs and a chilled out chorus. "Getting lost in the thick...it's still you I think of," they repeat. Ultimately, the track is about loyalty and having a warm reminder of someone special popping back into your head during the hard times.
Advertisement
Paddy Keyes, 'Serotonin'
Having competed in the recent final of A New Local Hero at The Academy, the 22-year-old Sligo newcomer is rising up the indie-pop ranks with recent singles 'Complicated' and 'Best Friend'. New single 'Serotonin' and other fresh material saw him team up with Irish producers Phil Magee, Daniel de Burca,and Keelan O'Reilly of Post Party to craft a sound. Embodying the sonics and thematic focus of Holly Humberstone, Sam Fender and Pa Sheehy, the soaring 'Serotonin' adds electrifying guitar hooks, a massive chorus and slick vocals to the mix. "Hold my hand and tell me things only I understand / No, I don't wanna waste our time / We're caught inside this thing of mine..." he croons on love-focused track 'Serotonin' before the crescendo makes some magic later in the song. We're excited to see the direction Keyes chooses to go down, since he's only getting started. "Are you feeling that high?" He's got the pipes and the connections to do some big things.
Elzzz, 'What's G?'
One half of the infamous Dublin-based drill duo TraviS X Elzzz has gone out on his own for 'What's G?' - maintaining his deep-voiced bars and charisma ahead of the pair's Monster Sessions appearance on June 15th in Workman's. Telling followers to "don't get held back for nothing" and to "stay breaking boundaries" in a series of Instagram posts, Elzzz drove home the message of valuing what your efforts and working hard in 'Whats G?' Produced by long-time collaborator Liam Harris (who Elzzz has worked with on the act's chart-topping Full Circle mixtape), the single's artwork comes from Mattieu (@mattieufilms on Instagram). The Hot for 2023 Irish Act head up the Gliders music collective, with TraviS x Elzzz also delivering a set at Longitude Sunday on July 2nd. 'What's G?' illustrates Elzzz' fast-paced, mile-a-minute flow and ferocious swagger with ease and in-your-face attitude.
Zeztra, 'Dancing Freely'
Advertisement
The Dublin duo (made up of sisters Avril and Lorna Meade) have shared their new single 'Dancing Freely' right on time for Pride month. The upbeat pop LGBTQ+ summer anthem radiates love and acceptance, with inspiration drawn from both contemporary and 80s pop hits. Though the lyrical content remains sincere and often poignant, the overall ambience of this song was crafted for dancing and celebrating who you are. The track was produced by David Prendergast with additional production by John Reynolds (Damien Dempsey, Sinead O'Connor). Despite only forming in 2019 - though the sisters have performed together for years - the pair opened for Maverick Sabre in the Academy that year. From there, they went to tour around the UK and US performing on several of his shows including the Brixton Academy and Brooklyn's Rough Trade. Zeztra honed their craft over the lockdown period, recording new music inspired by pop, alt, rock, RnB and Latin.
David Keenan, 'Tick Tock'
Out today via Barrack Street Records, the Dundalk poet, musician and singer-songwriter's new single lands ahead of his Irish tour and UK dates. Recorded and mixed by Chris Barry in Ailfionn studios Dublin, "the song is inhabited by an apathetic character who laments the loss of creative motivation," Keenan explains. "Boasting of their talents but ultimately doing nothing with them. Brain drain induced by a certain app is also at the centre of the story, they wonder where all their energy is gone before escaping back into the void. I am not preaching, I also fall prey to the addictive nature of screen time and its consequences but music / words are the vessels that carry my observations from within and without and so here it is, beautifully charged with the potential to induce a smile (maybe even a boogie)."
"There are no homes to purchase...Must we be content with dreaming about walking around our own houses eating cereal in the nip on a whip? There are great tensions building up inside / We must act now, we must be our own saviours," he declares on the new offering. The single is rebellious by nature, featuring a new live band that have come together in harmony over the last few weeks, and the results are stomp-worthy. Don't miss David's date at Dublin's National Concert Hall on September 13th. Tickets here. Tracks from his independent CRUDE album will surely be on the bill, alongside his second studio album What Then?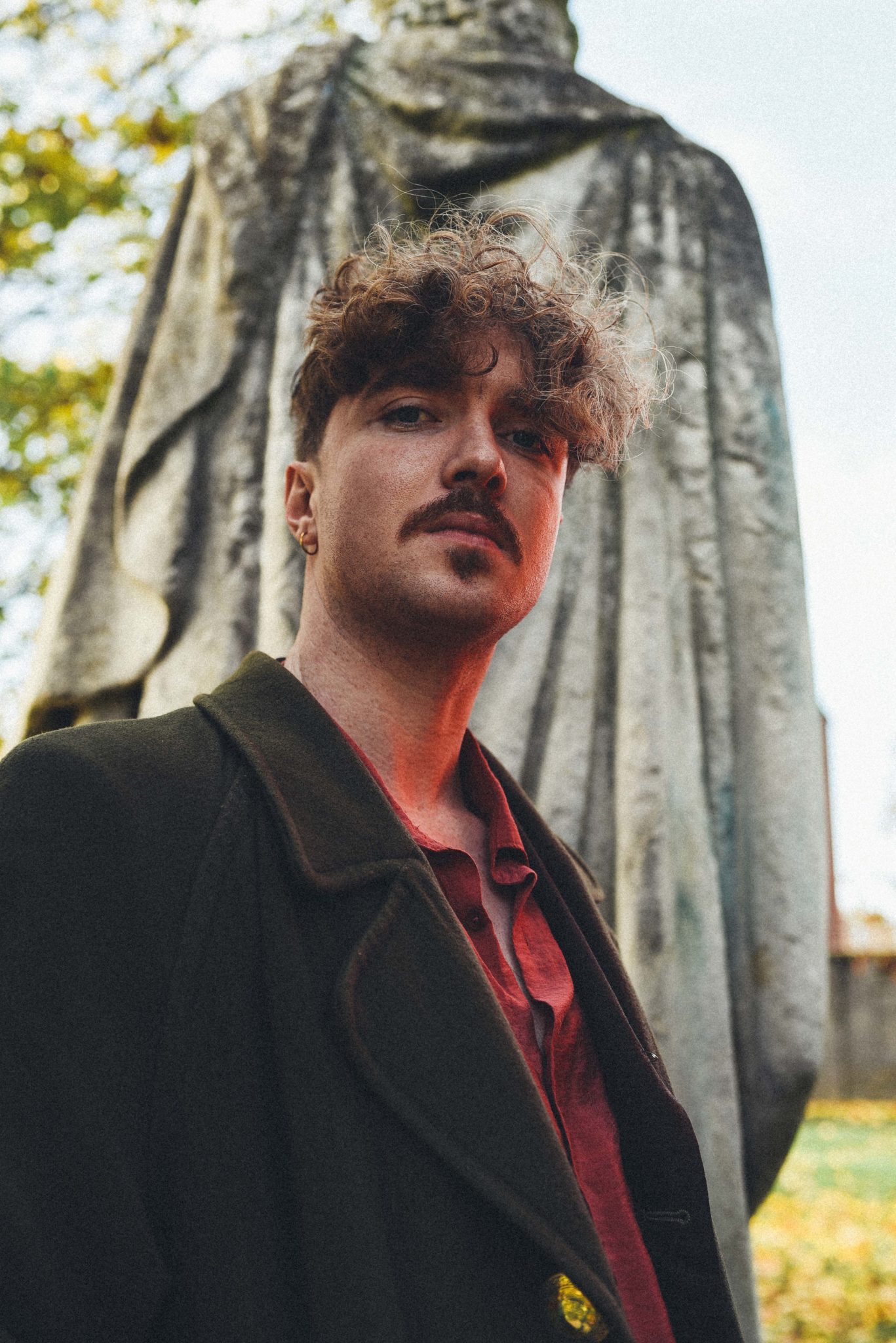 David Keenan. Copyright Miguel Ruiz.
Shane Barry, 'Love You When You're Gone'
Waterford-based multi-instrumentalist, producer and singer-songwriter Shane Barry is back with a pop single, exploring modern romance. 'Love You When You're Gone' is a jangly, brass-infused, self-deprecating track that embodies hints of Tom Petty, Elvis Costello and Big Star. Having had previous success with the soul/indie influenced Shane Barry & the Distractions, Shane has spent the last few years straddling a PhD, raising a family, and playing other people's songs to finance this new solo project. The pause in performance opportunities in 2020 led to a rediscovery of enjoying music and writing songs. Working with his usual collaborator, mixing engineer and former O Emperor drummer, Brendan Fennessy, enough basic equipment was purchased to self-engineer his upcoming album, Songs from the Silver South.
Advertisement
Without the financial pressures of the studio, the album was recorded in bedrooms, hallways and practice rooms over 2021 and 2022, while toddlers slept and neighbours mowed lawns. The album aims to infuse ambient soundscapes with Beatles-inspired pop, to create a setting for the characters and places in each of the songs. Hugh Beglin provides trumpet notes while saxophone was delivered by Mick Rowe on the intriguing new song. Barry's lockdown productivity benefits us all, it seems!
Angie McLaughlin, 'Nobody's baby'
The Ireland-based Scottish singer-songwriter has shared her beautifully transparent and eagerly anticipated debut album The Boy Is Gone today, featuring standout track 'Nobody's baby'. The slow blues love song layers various instruments - harmonica, tambourine, piano - with Angie's soft and sweet highly impressive delicate vocals. The single then bursts into a New Orleans funeral style echoing the sorrow of waiting for a love that will not return. The album touches on themes of grief, love and finding light in the midst of the darkness, inspired by the sudden loss of her husband. Angie McLaughlin's impressive first record is undeniably heartbreaking but there's catharsis in the bones of it.
Theo Fitzgibbon, 'Wild On Me'
Produced by Marc Carolan and Harry Hudson-Taylor (of the sibling duo band fame), Fitzgibbon's new solo single follows the Dubliner's epic debut 'Waterfall'. Opening with warm synths and electronic flourishes, the indie tune layers harmonies with Theo's powerful vocals that stand out from any crowd for a truly impressive second single. "She's a runaway child like me," Fitzgibbon singles. "Oh, I let her do time on me." Having previously performed as the lead vocalist and songwriter for League of Nation, he's got heaps of experience on the gig circuit, having honed his craft in London studying music production. Tapping Jake Curran and Cormac Curren on session instrumental duty for the track, you can tell that multiple producers have gotten their skilled hands on the track. Lyrically simple but sonically vibrant, you'll be hooked after one listen.
The Butterfly Graveyard, 'I'm Writing You Off'
Advertisement
The Irish alt-folk artist's new single "can be seen as a statement of intent or as a positive affirmation," as he describes. "It can be seen as a rebirth, a Renaissance, a Re-imagining, an Exhalation. I first heard the phrase through a conversation with someone who had just come out of a long term relationship. A powerful statement, which was said in the almost literal sense of taking an eraser to a once integral part of one's life and literally rubbing it out." Reminding the musician of the birth of a new country inspired the lyric, "I declare my independence, through an act of faith like a breakaway state I fly a flag in your face / I'm rising above the chains of your love and I'm floating away." The moral of the ethereal song's tale is that the future is ultimately bright.
Listen to the playlist in full below.