Shane Hennessy on Live at the Local, RETURNS: "I was blown away by the audience on the night"
Virtuoso guitarist Shane Hennessy speaks to Hot Press about the Richard Lennon-directed concert film Live at the Local: RETURNS, winning the Fleadh as a child, touring with two-time Grammy Award-nominee Tommy Emmanuel, and his plans to release his first vocal album.
Following conversations with singer-songwriters Eimear and Inni-K earlier this week, virtuoso guitarist Shane Hennessy is the last on the delightful line-up to share his experiences as part of the Richard Lennon-directed concert film Live at the Local: RETURNS. Shot at The Gregory Tavern in Kilcock, Co. Kildare, the visual project is set to premiere on the Hot Press YouTube channel tonight, on November 10th at 7pm.
Shane Hennessy is a Kildare-based guitarist, songwriter, and composer with a background in Irish traditional music. The 29-year-old has released four solo albums and toured extensively, with sell-out solo tours in Europe, Russia, and the United States under his belt.
He has collaborated with the Grammy Award-winning composer of Riverdance, Bill Whelan, and is currently on tour with acoustic guitar legend Tommy Emmanuel.
Let's talk about Live at the Local: RETURNS... You each brought in an original idea and through collaboration finished three pieces of music in one day, that you got to perform at The Gregory Tavern. How do you feel about writing with other musicians?
For me, the start of a lot of creativity is bouncing off of other people's energy and kind of throwing ideas against new people. Any opportunity I get to work with new people is something that I really try to make the most out of.
Advertisement
With Eithne [Inni-K] and Eimear, I knew that their calibre is very high and that they both make very interesting music, and importantly, music that is stylistically completely different to what I do. I find that I improve myself the most when I get to work with people that are totally different to me.
We met up in a café the morning of the first rehearsal. And you could tell that the three of us were a little bit daunted by the idea of having to finish off three brand new pieces of music by the end of that day. But once we settled into it, straightaway it felt like we'd been doing it for years. It went so smoothly.
Had you met the other two before?
I'd met Inni-K maybe two or three times before because we played at a couple of festivals together. We're both involved in the Irish language circuit, as well as the folk music/alternative music circuit in Ireland. But Eimear, that was my very first time meeting her and working with her. I knew of her reputation and how good she was as a songwriter, and as a performer, but I'd never actually met her or written with her in the past.
I came into the project as mainly an instrumental guitarist, and I wasn't sure how that would necessarily fit with two other people who are mainly singer-songwriters. I am a very slow writer. I like to mull over lyrics and chords and to play around with things. Having that instant feedback was really, really helpful, because you're not purely depending on your own opinion and that helps an awful lot.
Advertisement
What was the energy like on the night of the performance?
It was fantastic. It just felt like a group of friends in a room singing songs and having fun rather than this sort of crafted, pressure-filled environment that sometimes these projects can lead to. This one didn't feel like that at all. I think that's down to the director/producer Richard [Lennon]'s vision for the whole thing. He wanted it to feel like we're all just sitting around in the pub, and there's a couple of people there listening, and we're just having a good time. And that's exactly what it turned out to be.
The crew, as well, the guys who were there on the day between the rehearsal and the actual performance itself, were such nice people. Tony Sourke, the promoter, Gordon the sound man - everyone was positive, nobody was bringing the mood down. It all felt very familiar and very warm.
Can you tell us more about the brand new songs?
Eimear sang a song that was inspired by the cancer journey that one of her friends has been going through, and it had really, really heartfelt and moving lyrics. Eithne came up with this idea that she had initially written on the piano and it translated so well into this real powerhouse of a song. And I had this reggae-tinged song with very inspiring, uplifting lyrics.
Advertisement
The audience, in all three cases, really latched on to the stories behind the songs, and when it came to the singalong parts, they dug their teeth in and went for it. I was blown away by the audience on the night.
What sets Irish audiences apart?
In countries where classical music and opera has been so strong for years, like Italy and Germany, they really wait until the very, very last bit of sound has disappeared from the stage to start applauding, whereas I feel that performing in Ireland, they're almost applauding in the middle of the song because they're almost as much a part of the performance as you are. It's always a really welcoming and very reassuring feeling as a performer to know that the audience is on your side.
What are your earliest memories of performing live?
I was on the stage from the time I was maybe five or six years old. I started off on the concertina, and Irish traditional music was my whole world.
You also won the Fleadh at 10 or 11…
Yeah, but that was under 12s, or something like that. I was sort of a champion concertina player, but once the guitar came along when I was 12, I really felt like I was at home musically.
Advertisement
Between the influence of my father who's a musician, and of course, growing up with access to music online, that really hammered home how important it is to be fluent in many different musical styles. Suddenly, I found myself in situations where I had to learn how to play some jazz, some rock and roll stuff, modern pop songs. I became interested in South American and Latin music, and taking little bits and pieces from all of those styles has helped inform the style that I have now.
How would you describe your sound?
It's the hardest thing in the world to describe in words without actually experiencing it. I try to treat the guitar like an ensemble. I try to bring in baselines, melody lines, rhythm lines, percussion. If people aren't familiar with my style, or they hear my music, they think it's probably more than one guitar, or more than one musician. I like to tie in all the Irish influences, influences from bands that I love like Steely Dan and Level 42, right up to the modern day and bands like the Arctic Monkeys.
You're performing with one of the greatest acoustic guitarists of all time, Tommy Emmanuel, in Germany at the moment. How does that feel?
Tommy is my biggest influence, musically, without a doubt. I have him to thank for my whole career. He has helped me so much from the first time that he came across my music. He has been a mentor, he's been a friend, he's opened a lot of doors for me.
Advertisement
I really appreciate all the work that he has done to allow me to have the career that I have, because he forged a path at a time where there were no solo guitar players that weren't classical musicians, that were able to fill a concert hall. For him to come along with an acoustic guitar, to break into a worldwide market and create a new genre and a new style of music all by himself, is phenomenal work.
And aside from that, musically, he's just untouchable. He's such a phenomenally capable musician. Every time I'm around him, I feel like I just want to learn as much as I can. I've played with him a couple of times before, one of those times was in Dublin in the National Concert Hall, but for him to ask me to come out and tour with him is just a real honour and a pleasure. It's definitely a career highlight.
What's next for you?
I've never released any vocal music of my own. But during the pandemic times, and even on tour this year, I've been trying out some of the songs and getting people's feedback, and it seems to be very positive. My focus now for 2023 is to record my debut vocal release, which will mix the style that I currently have on the acoustic guitar with my vocals and my songwriting.
I've always been a huge fan of anything with a good groove behind it, so I'm trying to take little bits and pieces of different acts, and sounds and production styles that I enjoy and mix them together to create something that I really resonate with.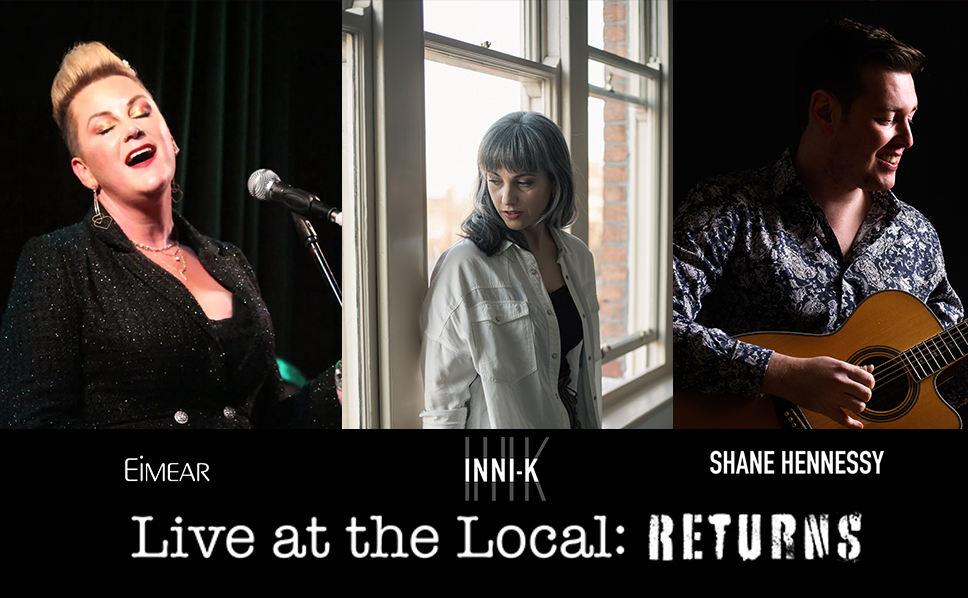 -- Live at the Local: RETURNS, featuring Eimear, Inni-K and Shane Hennessy, was recorded at The Gregory Tavern, Kilcock, Co. Kildare on Monday the 10th of October, 2022. The film was directed and co-produced by Richard Lennon (Darn Skippy Productions), co-produced and promoted by Tony Sourke (CS Promotions) and executive produced by Roseanne Lynch (Darn Skippy Productions).
Advertisement
The project was supported by Kildare County Council and funded by the Department of Tourism, Culture, Arts, Gaeltacht, Sport and Media's Local Live Performance Programming Scheme.
Read the interview with Richard Lennon, director of Live at the Local: RETURNS, here.
Watch Live at the Local: RETURNS on the Hot Press YouTube channel – going live at 7pm on Thursday, November 10th.
Shane Hennessy is playing at the Dean Crowe Theatre in Athlone on Sunday, November 27th. Free admission. Get tickets here.