Listen to some of our favourite new Irish releases of the week below!
The Murder Capital, 'Heart In The Hole'
Dublin post-punk band, The Murder Capital, have released the brand new single 'Heart In The Hole'. Marking the group's first release since their sophomore album Gigi's Recovery, their newest track is much more paired back than fans are used to from the back - delving further into their indie side. The magnetic track is accompanied by a vintage-feel music video, directed by Charlie Joe Doherty.
"Dublin is the backdrop, we were the always-changing cast of character, 'Heart In The Hole' is an injection of humanity into the void that's created in excess," The Murder Capital said of the track in a statement. "Reminding ourselves to laugh at the mania, question the motives and, maybe most importantly, stick around to see what happens next."
Awkward Z, 'Shrine'
Advertisement
Waterford rapper Awkward Z brings forth 'Shrine' inspired by the likes of Kendrick Lamar, Drake, and J Cole. The track drapes incredibly crafted bars over epic dance-inspiring beats. Lacking a set structure, 'Shrine' instead sticks to the freestyle flow, with fantastic lyrics driving the momentum.
"The song is basically about trying to leave something behind with my music," the artist says. "I think it's good for me to also affirm things in my music to try to speak it into existence. I also haven't been as active, so I wanted to show people I'm still here, and I'm still working on music. I'm really trying to be my favourite rapper in this song, no hook just bar after bar on a bouncy beat."
Strange Boy, 'FOR A MAN TO BE CONTENT'
Trap beats and traditional Irish flute are not necessarily an intuitive combination, but Strange Boy (aka Jordan Kelly) pairs the two with ease on his new single 'FOR A MAN TO BE CONTENT'. Rapping about relationships after going through a rough breakup in his thick Irish brogue, Kelly has created a modern, youthful track with inarguably Irish roots. Made with longtime collaborator Enda Gallery, 'FOR A MAN TO BE CONTENT' is an excellent follow-up to his 2021 debut album.
HXNEY, 'Happy Ending'
Advertisement
Dublin-based HXNEY returns with a RnB track that allows her to show off her unique voice and impressive songwriting skills. Fresh off of July's 'Sweet Spot', HXNEY is quickly proving herself to be one of the best artists out of Ireland at the moment. Drawing influence from the saccharine pop of ChloexHalle, 'Happy Ending' is a gorgeous offering from the musician that practically drips out of the speaker for all of its flow.
"The writing process for this song was unique because me and my co-writer 'Solow the Astronaut' played a game where he came up with a line then it became my turn to write the next line, and we went back and forth like that until we had all the lyrics written and then we worked on the melodies after. We ended up with a perfectly written song that has a lot of sentimental references. The song is produced by Chris Bubenzer (Benza) and the production process was honestly seamless for this song, we just vibed out the whole time because we were so obsessed with this song."
 

View this post on Instagram

 
Carlsbad, 'Parliament'
Advertisement
The first single off of Carlsbad's upcoming sophomore EP, 'Parliament' is an angsty, atmospheric track that is a unique mix of rock, folk and country. Hailing from Cowboy Country USA, Carlsbad calls upon her Western roots with soaring strings and incredibly visual lyrics. It's an excellent track that exists in a world all of its own.
'I hope the feeling and sentiment of this track is self-explanatory. It explores power dynamics, wicked thoughts, judgement from others... Sometimes I like to think of it as the female perspective of 'The Long Black Veil'. The title comes from my fascination with owls and collective nouns, Parliament being a group of owls. In Native American tribes like the Navajo owls are messengers of death. Greek Goddess Athena and the Norse Goddess Katyogel are often seen with an owl companion. And of course there is Macha, The Owl Witch. They are a symbol of wisdom and are believed to bridge the gap between the veil.'
Anamoe Drive, 'Goodbye & Goodluck'
Emerging from the collective of Dublin psych-rock band Thumper, songwriter and multi-instrumentalist Anamoe Drive (the moniker for Oisín Leahy Furlong) releases his debut single, 'Goodbye & Goodluck.' Embarking on the journey of his solo vehicle, Anamoe Drive pronounces himself as a resolute, introspective songwriter with this debut track, drenched in experimental indie folk sonics.
Initially a raw lo-fi recording with simple acoustics and vocals, 'Goodbye & Goodluck' transformed into a driving folk number which puts characteristic distance between Anamoe Drive and the garage punk of Thumper. A three minute version of a longer story, the track focuses on the journey and complexities of a relationship in decay. Beginning with ambiguous imagery such as "robin's eggs" and "standing ovations," the singer eventually gives in to earnest lines like, "I'm singing because I'm sorry tonight." Narrating the desperation and eventual resolution that comes with the territory of love lost, Furlong's vocals captivate an emotionally charged story, bleeding with raw emotion. Working with producer Rian Trench, Anamoe Drive's debut single, released via Faction Records, is a preview at the gritty, travelling indie folk sonics which will define his incoming debut album.
Advertisement
Elkin, 'DIY'
'DIY' is the first single from the duo Elkin's album project, Hear Us Roar. Hear Us Roar (or H|U|R ) is a musical collaboration like no other - the album features six incredibly talented female artists from Ireland: Elkin, Alicia Raye, Jackie Beverly, Laura Elizabeth Hughes, Dena Anuk$a, and Lisa Gorry. The LP will release on March 29, 2024, but to keep eager listeners appeased, the first single is out now.
This unique, meaningful project, began its creative journey mid 2021, with endless Zoom conversations brought to real life in Camden studios shortly after, where the tracks were recorded. 2023 saw the artists come back to finish the project with performance videos being filmed in Newmarket studios (One Productions). The project highlights the immense talent of these artists while pushing the boundaries of their individual styles. The album promises to deliver a fresh and exciting sound that is sure to captivate audiences worldwide.
'DIY' displays the stunning vocals of Elkin, with transcending strings, epic keys, and soaring harmonies. Delicate lyrics address heavy themes throughout, with Elkin commenting: "This track is about the impact toxic masculinity can have on a relationship. We love the reimagined version, special shoutout to Theodora Byrne for this arrangement."
 

View this post on Instagram

 
Annika Kilkenny, 'The Middle'
Advertisement
Following her debut release 'Look Mom I made It,' teenage singer-songwriter Annika Kilkenny is back with a beautifully stirring single, 'The Middle.' An intimate piano ballad accompanied by wonderful snatches of confessional lyricism, 'The Middle,' speaks to heartache, the difficulties of relationships and crossed signals. Garnering online attention after she shared demos of her tracks on TikTok, Annika's first musical love was piano –taking lessons from her auntie – she delights in assembling compositions that buzz with a distinct warmth and cosiness. For such a young new Irish voice, Kilkenny's songwriting skills are simply arresting, one to watch without a doubt…
Big Sleep, 'Maccy D's'
Continuing to climb the slope of their quick rise over the past 12 months, Dublin-based Irish-Italian quartet Big Sleep returns from a sizzling few months with the release of a new indie guitar number, 'Maccy D's.' With the band's sophomore EP due for release later this year, this new single is a bright peek into what their anticipated record will sound like. Of the song, the band says, "We tried to capture the same energy we feel in the room when we perform it live. There's this angular feel to Matteo's drum groove and the outro is bursting at the seams but we think it's a nice contrast with the hooky guitar melodies and lyrics. It took us a while to settle on the form for this one but when we all crowded around a mic in the live room of Hellfire Studios to scream our heads off for an extra bit of noise in the outro of the song, it felt too good to leave out and we knew we were heading in the right direction."
Introducing itself with smacking drums, 'Maccy D's' is an epitomical indie pop track, laced with gritty electric guitar and frontman Rónán Connolly's cajoling vocals. With pulsing drumbeats and a propelling bass, the song moves at a quick, infectious pace, pulling its listener along for a joyous ride. After meeting initially in school and then forming their official band through the Dublin music sphere, Big Sleep have proven themselves as a hot act to watch this year. The release of their newest single arrives in the days leading up to Big Sleep's Ireland Music Week showcase next Thursday, October 5 in Dublin's Workman's Cellar venue, where the rising Dublin act will take the stage at 23:20.
Denim Teeth, 'Porcelain Hand'
Imaginatively named Dublin post-punk band Denim Teeth has come out with their third single, the darkness-infused 'Porcelain Hand'. Channelling Joy Division and other new wave greats, it combines some seriously catchy riffs with a spacey, melancholic sound. It begins with an impressive drum solo before the rest of the instruments come charging in, and the song remains engaging from start to finish.
"Come here lover boy/don't you dare deploy your emotions/it's just not nice."
Advertisement
John Gallen, 'One Way Boat Trip'
Following his 2022 debut record '1970s,' 51 year-old singer-songwriter John Gallen returns with a lively cut, 'One Way Boat Trip,' from his forthcoming sophomore release, Rizla Smokes, Music & Wine. Introspectively traversing the universal themes of human hope, resilience and connection, Gallen croons over a ruminative wash of pensive instrumentation, giving way to an emphatic, soaring chorus: "Holding on, don't wanna be a preacher man, no"...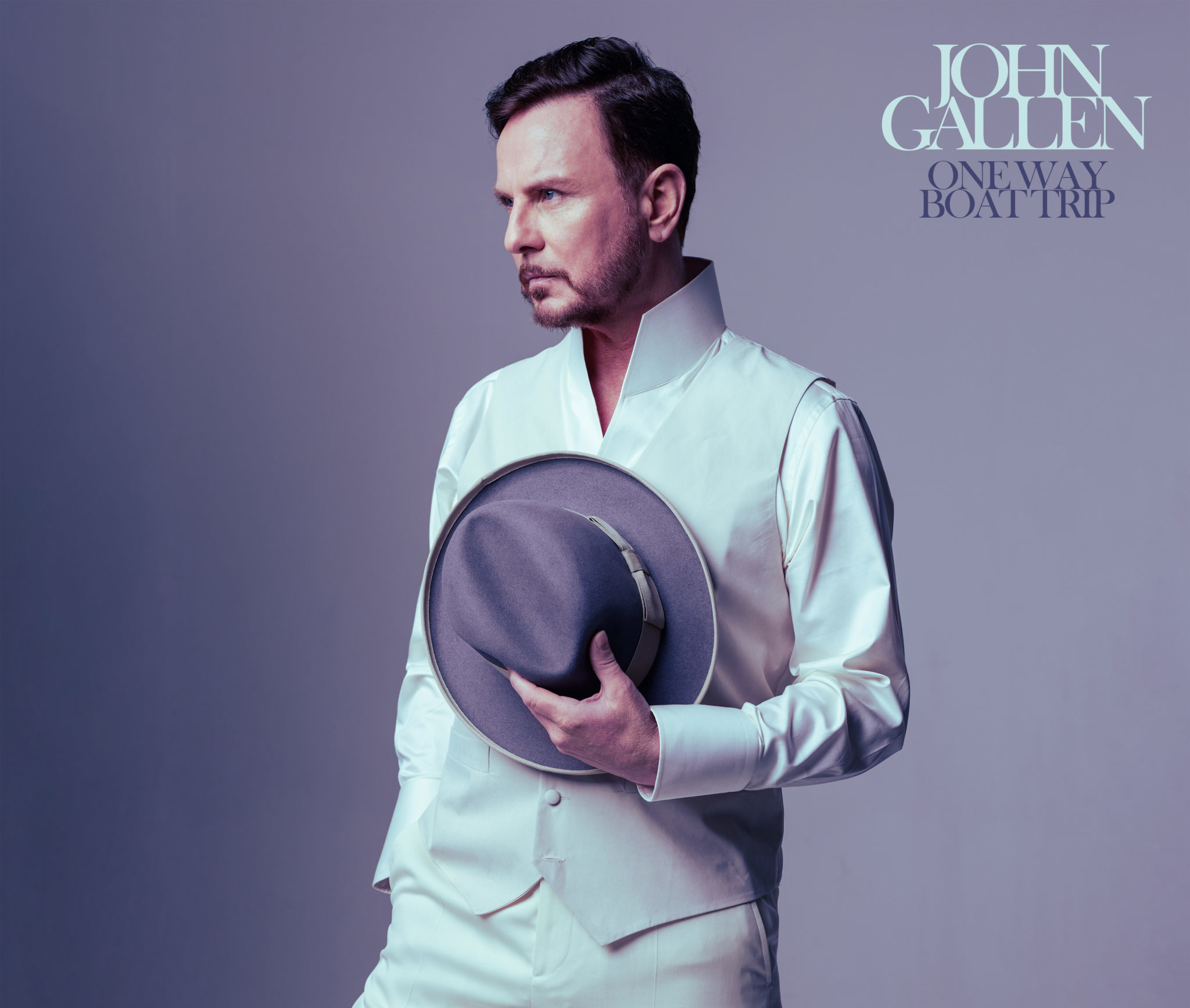 Of the deeply personal new track, Gallen shared that 'One Way Boat Club'  was written about "the struggles and resilience of those seeking a better life. I wanted to honour their stories and create a piece of music that would inspire compassion and understanding." Equal parts eerie and triumphant, 'One Way Boat Trip' is another contagiously catchy and well-crafted gem from the Balbriggan maestro.
Pauric O Meara, 'Don't Try Hard'
Advertisement
The freshly released single from independent, Dublin-based singer-songwriter Pauric O' Meara, 'Don't Try Hard,' is a clever, funky indie pop earworm. With witty lyricism and upbeat instrumentals, O'Meara explores the idea of trying "too hard" for what we want in life, while simultaneously being labelled as a "try hard." Of the track's theme, the artist shares it was born from "the idea of people 'trying too hard' to get what they want, and people not trying hard enough and getting all they need, which let's be honest, we have all experienced in our lives."
Led to write the track after a friend of O' Meara's was rejected by a love interest and the singer suggested they might have been "trying too hard," the comment sparked a universal debate worth exploring in his art. With raw, beguiling vocals as magnetic as the singer's onstage presence, the song flows along with upbeat, rhythmic instrumentals, slapping snares and a syncopated, driving bass line. Since his debut in 2020, the Tipperary Co. native's infectious tracks have made their way around the globe, garnering international acclaim with steady single releases over the past few years, including 2023's 'Come Home' and 'Fallin' Out.' O'Meara has already had a landmark year, ending the summer with a dazzling performance at Electric Picnic, after selling out major venues across the country for his Spring tour. His electric live show and dazzling songs will make their way through Germany, though the singer promises major UK & Ireland tour dates to be announced soon.
thanks mom, 'if you want me'
Co. Kildare's thanks mom released a new single 'if you want me' this week, and it's an indie rock track that is constantly taking left turns to great effect. You can clearly hear the impact of bands like Car Seat Headrest and Big Thief, but it also retains a unique quality that is undoubtedly thanks mom. The vocals are so understated you almost want to lean in to hear better before the chorus comes crashing in with its high-energy soundscape. With more new music in the works, we're keeping a close eye on thanks mom and what's next for them in the next few months.
Two Door Cinema Club, 'Sure Enough'
Advertisement
Two Door Cinema Club have been around a long time– six albums and more worldwide tours than you can count on one hand under their belt. The Northern Irish trio's newest single, the first since the release of 2022's Keep on Smiling, is as catchy as ever and channels their signature spinny pop. It begins with a Krautrock ARP synth and sparse beats before the chorus crashes in in all of its technicolour glory. It's a new era for the band, and a welcome one at that– buoyant indie pop that will raise the energy of whatever space it's played in.
Orchids, 'Memoria'
Orchids is an ambitious idea: the band brings together some of Northern Ireland's top musicians together to create an album of 9 alt-rock tracks– due November 10th. 'Memoria' is the debut single from the outfit, and features striking vocals from Wynona Bleach's Melyssa Shannon. Over intricate, midwest emo-esque guitar riffs and steady drums, she wails about a failing relationship in which she has to feign interest to keep it afloat. A striking debut, Orchids is an interesting idea whose first offering promises great things ahead.
Uly, 'all the sins I've forgotten'
Irish/Filipino artist Uly released a new single this week, and it's a gorgeous, soothing, exhale of a track. Repetitive, hypnotic riffs and far-reaching harmonies with both glittering falsetto and plunging bass make up 'all the sins i've forgotten', and it exudes a sense of calm despite the melancholic tone of the lyrics. Uly has an impressive collaborative discography, including Kojaque, Kynsy, Nealo and more, and even saw his music featured in the Sally Rooney projects Normal People and Conversations With Friends. But this new track might be his best one yet: as nostalgic as it is heartbreaking.
 

View this post on Instagram

 
Advertisement
Qbanaa, 'Mundo En Mis Manos/World In My Hands'
Cuban/Irish soul singer Qbanaa is at the forefront of a new wave of young Irish musicians working to incorporate a wider range of sounds within the local Dublin scene. 'Mundo En Mis Manos' is a gorgeous example, bringing clear Cuban influences including a chorus sung entirely in Spanish. Qbanaa's voice is gorgeous and the flow of the song is hip-swayingly, head-noddingly infectious. The lyrics tackle a very personal subject, centring around her experience of being prescribed antidepressants at a young age and becoming addicted to them. Also grappling with the realisation that revenge is not always the best medicine, she sings, "I slipped in time, the chains were holding me, to my surprise, revenge doesn't feel sweet, a butterfly, envuelta en dudas sin razón y vuelan como no hay destinación."
 

View this post on Instagram

 
U2, 'Atomic City'
Advertisement
Yes, the boys are back in town again... And this time its with a sleek new single, ahead of their Las Vegas residency this Friday. With the atmospheric sound and cinematic moodiness of 70s' post-punk, 'Atomic City' channels the glittering vibrancy of Giorgio Moroder, whose work with Blondie was a massive source of inspiration for U2's now iconic sound. Part sentimental homage, part sociopolitical critique; 'Atomic City' gains its namesake from a 1950s nickname for Las Vegas, from a time when nuclear fascination swept the nation and the city promoted itself as a centre of atomic tourism due to its proximity to the Nevada Test Site.
Recorded at Sound City in LA, and produced by Jacknknife Lee and Steve Lillywhite, the band recently debuted the track in a surprise performance, returning to the same Fremont Street location where Bono, The Edge, Adam Clayton and Larry Mullen Jr. filmed their iconic video for 'I Still Haven't Found What I'm Looking For' over 36 years ago. "it's a love song to our audience," says frontman Bono — "where you are is where I'll be..."
The Clockworks ft. Bernard Butler, 'Mayday Mayday'
Committed to wax amongst the hallowed halls of Abbey Studios, 'Mayday Mayday,' a recent collaboration with Bernard Butler — of Suede fame —was recorded in a one-day session, as part of the studio's 'Lock-in series.' Experimenting with vintage equipment, Bernard and The Clockworks worked instinctively, allowing for the band to reach towards now sonic textures through experimentation. Of the recent collaboration Butler said: "I had never seen the band perform and I had little idea how their other songs sounded. That way we would all act instinctively for the purpose of the singular recording." The collaboration set in motion Exit Strategy, a 13-track labour of love, with Butler at the helm as producer. Combining the grit of analogue equipment and future tech, 'May Day May Day,' is effortlessly lean, driving right to the heart of what The Clockworks do best.
The Line ft. God Knows & Murli, Patience of Saints
Advertisement
Brian Dillon — working under the pseudonym The Line — is an Irish musician, sound artist, and member of noisy Dublin five-piece, Meltybrains?; is joined on 'Patience of Saints,' by Limerick rapper Murli and God Knows. A single from The Line's upcoming 14 track collaborative record, Red Blood Cells and Righteousness, the track was conjured up during a long discussion about belief, being true to one's self, and the recent pandemic. Incisively interrogating questions of faith and self, Murli snarls in a resolute barrage of sharp observations, as The Line sets the mood — with a gorgeous bed of ambient atmospherics.
Shaun Finn, 'Times Are Changing'
The second single from Dublin songwriter Shaun Finn, 'Times Are Changing' has Dublin sewn into every second of its runtime. A rock song influenced by the likes of Foo Fighters and The Coronas, it tells the story of Finn's life and asks the questions that most 23-year-olds find themselves asking: what should I be doing with my life? It's a relatable, upbeat song with good production and heartfelt delivery.
Advertisement
VOXmouse feat. BRÍDÍN, 'Black Diamond'
Singer-songwriter VOXmouse brings listeners a soft folk-pop collaboration with Sligo-based artist, BRÍDÍN, adding harp into the mix. The pair come together on this powerful track to pay homage to the singer's late uncle who passed away after his battle with cancer. The image of 'Black Diamonds' comes from an old Irish tradition where people pinned a piece of cloth to their coats to show they were in mourning. The piece of cloth represented the grief we carry around with us every day and shows that no one is immune to losing a loved one.
"It was written about my late uncle and reflects on the hymn my cousin sang at his funeral and how she held onto pieces of him through the years, such as his voice on the answering machine," VOXmouse explains. "It's also about me and my dad; they looked so alike and my uncle's death made me realise that I would lose my parents some day as well, it's something we all will go through."
Marty Rafo, 'Our Last Goodbye (Coke Beats Remix)'
Northern Irish artist Marty Rafo has collaborated with Irish-Italian DJ and Producer Coke Beats on the new single 'Our Last Goodbye (Coke Beats Remix)'. The indie-pop anthemic track has been given the true Coke Beats treatment, turning the love song into a club-ready dance track, fit for a sweaty dance floor.
Advertisement
Commenting on the inspiration behind his latest single, Rafo said: "'Our Last Goodbye' is about two people who are in love with one another, then eventually break up and move their separate ways. It's about reminiscing about the good times and wondering where it all went wrong. In the song, the main character in this narrative is still interested in what she is doing. However, he discovered that she was with another guy in a different country. He realises he needs to move on and stop living in the past. Ultimately, he finds himself and finds self-love."
N.O.A.H, 'Something To Believe In'
Breakout Irish indie-rock band, N.O.A.H, are yet again set to captivate music enthusiasts with their stunning new single 'Something To Believe In'. Infused with their unique indie guitar sound and introspective lyricism, the track showcases the band's evolution and unique creative vision. With their new track, N.O.A.H delves deeper into the group's musical journey offering up a delicious mix of haunting melodies, introspective lyricism, plus epic indie-rock vibes.
 

View this post on Instagram

 
"'Something To Believe In' packs a lot of attitude and grit," the group commented. "It's heavy yet maintains its indie rock edge. Ryan's melodic and somewhat haunting vocal hovers over a dark & alternative accompaniment.
"We love the fact we can mash our heavier rock influences with our pop-rock melodies and indie guitars. It feels like we are pushing ourselves and our sound. This is the most authentic we've ever sounded, it's the type of song we've always wanted to make. We were inspired by bands like Nothing But Thieves, Bring Me The Horizon and Fontaines DC."
Advertisement
Elliot Crampton, 'In My Head (again)'
A rousing, indulgent single from Co. Wicklow songwriter Elliot Crampton, 'In My Head (again)' is a memorable one that spells great things for his future. Beginning with intricate acoustic guitar underneath his warblingly open voice, the song soon blooms into a massive soundscape complete with the fiddle, cello, trombone, saxophone and trumpet. Crampton is a family man, featuring his mother and brother Dylan on backing vocals and involving them in his gig at The Whale Theatre next month. It's a daring track that just keeps getting bigger and better as it plays.
Pier, 'Campari'
Much like a sip of Campari, Sardinian-born, Dublin-based alternative artist Pier's latest single tantalizes the senses from the offset. Starting off slow and introspective, the song gradually unfolds into a crescendo of haunting vocals, bewitching guitars and abrasive synths- weaving the songwriter's tale of love and devotion.
'Campari' follows up from Pier's (A.K.A Pierfrancesco Dessì) debut single 'Hollow'. The singer-songwriter has also been added to the stacked lineup of talent at Ireland Music Week 2023.
"Although 'Campari' has quite a nostalgic and dark sound, it's about that burning desire to connect deeply with someone special," said Pier on his latest track. "Instead of dwelling on fleeting past emotions, I wanted this track to live in the present. Musically, I was eager to build upon the sound Ber and I came up with in the studio for the previous single. 'Campari' was our playground for more sonic experimentation, a break from the usual live band formation. We even had some fun tapping a Guinness glass with a fork to add some groovy beats, we had quite a lot of fun!"
Caolan McCarthy, 'Selma McGlone'
Advertisement
'Selma McGlone' is the first single from musician and actor Caolan McCarthy's debut EP, titled Paper and Stone. The multi-faceted artist has made a name for himself in both music and acting, most notably playing Uncle Sammie in Kenneth Branagh's Oscar-nominated film, Belfast. The Grammy-nominated musician, composer, arranger, and music coach's first solo music project showcases his talent as a singer-songwriter and pianist.
'Selma McGlone' is an upbeat, musical theatre-inspired track, bringing forth epic keys, incredible guitar riffs, brass, and vibrant vocals from McCarthy. The characters Caolan describes in his tracks jump out of the tracks, materialising in front of the listener. This groovy single makes you want to dance and sing along to every syllable.
"It is such a joy to finally record my own original songs and release my debut EP," Caolan McCarthy said. "None of the 6 tracks are alike – they pay homage to so many of my diverse musical influences. This record is the culmination of years of playing other peoples' music and finally getting the courage to share my own. These songs are honest, heartfelt, and hopeful."
Brake Loose, 'Rebel Rebel (Evil Like The Devil)'
Dublin-based quartet Brake Loose's latest single 'REBEL REBEL (Evil Like the Devil)' is a thumping rock number about embracing your own individuality. Written one night in the band's Glasnevin studio, Venezuelan frontman Alex Murillo took inspiration from his favourite poets, Arhturd Rimbaud and Allen Ginsberg, to pen a track that could bring people together. Guitarist Dave O'Grady mimicked the fierce lyrics with an industrial riff, while drummer Dylan Martin and bassist Juanjo Pulpiero created a powerful stomping rhythm section to complete the marching anthem.
Advertisement
"Honestly, it is so captivating for us to play this song live and see everyone sing the chorus like a mad energetic choir," said the band. "All of you fans of Maneskin, Nine Inch Nails, Marilyn Manson, Rob Zombie, and even The Doors, you will absolutely love our brand new single that combines industrial metal with rock pop, nothing out there sounds like this!"
Having firmly established their presence on the Irish music scene, Brake Loose has also announced a UK and Ireland tour this winter to coincide with the release of their latest single.
Victoria Keating & Áine O'Gorman, 'What's Another Year'
Eurovision hopefuls and longtime friends Victoria Keating and Áine O'Gorman release a cover of Johnny Logan's 'What's Another Year' tomorrow, a number which won the 1980 Eurovision Song Contest. Imbued with magic, the West Cork duo puts their own tender mark on the timeless song, composed by Shay Healy, featuring O'Gorman's talented fingers across the track's piano and string instrumentation. Of the release, Keating says, "It's back to the glory days of songwriting, and we have dedicated it to Shay Healy." Keating and O'Gorman's tender, evocative voices, complementary in their differing ranges, fit into place like puzzle pieces; their vocals seem to nestle warmly into the shoulder of one another.
While the talented duo have been writing and performing together for fourteen years, they have each found their own individual successes since diving into the music industry. Keating has built her portfolio providing harmony vocals on five of Christy Moore's albums since 2011, touring with both Moore and Declan Sinnott before sold-out crowds. O'Gorman has shown her blazing cards as a songwriter who writes from an emotional, affective perspective, with her recent single 'These Empty Rooms' serving as a submission for this year's Grammys. The pair are currently working on finishing their debut collaborative album, which they have put the pedals on since Keating's cancer diagnosis in May of this year. With their close bond and knack for writing memorable, emotion-fueled songs steeped in their personal experiences, their cover of Logan's golden Eurovision song is made even more sparkling by their collaborative magic.
Moon Landing, 'Violet'
Emerging Belfast-based artist Moon Landing, aka Jake McCrea, shared this week the first of two album singles, 'Violet.' An emotional rollercoaster of soaring highs and vulnerable lows, the track was written as a means of catharsis after McCrea lost a friend to suicide in 2022. Tender acoustics and steady drum snares complement a tear-jerking orchestral arrangement, leading into the shimmering soundscape of the track's minutes-long bridge. "A friend of mine committed suicide in 2022 and I really didn't know how to process it," shares McCrea of the single. "We hadn't spoken in a while and it just left me feeling numb and emotionless, so I tried to write a song about it and 'Violet' was born. Writing about it felt really cathartic and it really helped me process my emotions and mourn in my own way. Musically, I really wanted to try and capture both the monotonous and emptiness of everyday life and then the huge euphoric highs that come from the real beauty of life."
Advertisement
'Violet,' inspired by the singer-songwriter's deeply felt loss, is nevertheless embedded with life and wonder – a reminder of the beautiful things which surround us on earth. The single is the first of two releases preceding his upcoming EP Blink Once and Miss the World Go By, recorded through support from Help Musicians and due for arrival on November 15. The 24-year-old multi-talented artist behind Moon Landing emerged in 2021 with single 'The Room is Spinning,' before spending last year completing a music degree and writing new material. His March single 'A Lack of Natural Light' earned the Belfast singer-songwriter radio attention across the UK & Ireland, with his next single due in October.
Eve Bell, 'Tether'
Eve Bell of Belfast is releasing her third EP Sharp Relief this week, and it's a gorgeously honest body of music that perfectly demonstrates her impressive songwriting abilities. 'Tether' is the closing song on the EP, and it's the messiest emotion-wise, about the end of a relationship that wasn't "particularly volatile" but "insidious and painful in its own way." It has its fair share of snark while also remaining raw and emotional, which represents Bell's distinctive style.
About the EP, Bell said, "This was that post-pandemic feeling of overstimulation at being plunged back into the world and feeling pressured to be back to normal (if there's such a thing). It's the most honest I've been about my mental health and sexuality and I think it's a better representation of my sound as it is now. It's extremely personal, dealing with some inelegant emotions, but that's what I love about it."
Louise Da Costa, 'Smoke & Dreams'
Advertisement
Smoke & Dreams, the brand-new album from Derry's Louise DaCosta, is a truly immersive auditory experience, rife with ethereal electronic dreamscapes. Entirely self-produced, written and released by DaCosta on her Derry-based independent label, the album features everything from electronic to classical sounds, as well experimental samples from natural environments, the seaside, and cities. The project has already received airplay from stations across Ireland and Canadian radio.
DaCosta started DJing & running events over 10 years ago when she was a teenager, honing her craft in the RedRooms venue in her hometown of Derry, supporting the likes of Calvin Harris, Claude Von Stroke and Benny Benassi whilst she was still finishing her A-levels. She has since written her own music and worked with a variety of labels, touring internationally across Europe, Asia and the UAE.
To mark the release of Smoke & Dreams DaCosta will be holding a launch party at the VOID art gallery in Derry, this evening, September 29.
Cruel Sister, 'Wolves'
Rising Dublin-based DIY artist Cruel Sister unleashes her sophomore EP Turgid today, with the standout track 'Wolves' blazing bright. Blending shoegaze and indie punk rock, Cruel Sister's atmospheric sound is contrasted by her visceral, gritty vocals and bold lyricism. The singer/songwriter/producer-turned-rockstar gained traction with her 2022 debut EP, girls my age, which led to her opening for Liverpool indie punkers The Wombats at their 3Olympia gig.
The self-produced singer-songwriter shares that her newest project sees her, "exploring my own brain in a more frank way, allowing myself to let the less desirable parts of myself come through and accepting they exist." The brain of Cruel Sister, the musical moniker for Faith Nico, is a territory the songwriter and producer knows well. She began producing her own music at nineteen, deciding to create her own sound because no one else would hear the music which existed in her head. Dealing with the heavy-handed themes of self-perception and the comparisons which ensnare the female gaze, Cruel Sister – who takes her artist name from the 17th-century murder ballad 'The Twa Sisters' – is an emboldened, fearlessly vocal act whose fiery music is blazing a bright trail ahead for the Dublin star.
Small Church, 'I'm a Fool'
Advertisement
Indie-rock Limerick-based band Small Church have released the second single from their upcoming EP. 'I'm a Fool' was previously titled 'Andreea's Song' after the band's lead singer, Andreea Mocanu, but has swapped over names in anticipation of their debut EP release.
The indie-dreamscape oozes sensual, bass-rich vibes, delving into the depths of old-school grunge to drag out a modernised, lighter version of Hole or Garbage. Andreea, who also fronts female post-punk group PowPig, brings effortless sultriness to the track, magnificent vocals decorating a rock-infused instrumental. The group are set to release their debut EP sometime soon - with a pile of fans already eagerly awaiting the drop.
Aaron Hackett, 'Rose Shades'
Limerick-based artist Aaron Hackett is back with his brand new track 'Rose Shades'. The 26-year-old began recording music at the age of 15, entering RTE's television program 'The Hit' after releasing his first few singles. During his time on the show, Duke Special chose Aaron's track '1969' as his pick to record and release, with the song going on to become a charting single for the Northern artist. Since then, Aaron has released two albums - 2018's Tides and 2021's public interest.
'Rose Shades' is the beginning of a new era for the artist, marking his first excursion into the musical world this year. Hackett's delightful indie-soaked vocals soar over fantastic dance beats, with layered harmonies and purposeful silences creating an epic blend.
Advertisement
"This track is about dealing with anxious, paranoid thoughts. It's about having your head constantly in a fog, constantly overthinking the smallest interactions, and creating made up arguments/hardships in your head. It's about trying to manage the unnecessary frustrations built from having a lack of control. It's almost like I'm speaking a mantra,
that we often have to look at life through rose-tinted glasses in order to make it through difficult situations."
Check out the playlist in full below!