The Aussie singer-songwriter and producer creates moments of magic on her recently unleashed debut record, Butterfly Blue.
The essential ingredients for her debut album already existed in Mallrat's earliest work. The multi-talented Aussie artist dips her songwriting pen into the ink of observation, taking in the impermanence of everything around her. The product is Butterfly Blue, an amalgamation of feelings in seamless flux.
The record, released last Friday, is a testament to her smart production. Mallrat is as invested in the story as she is in the experience of sound. Butterfly Blue certainly does not shy away from themes of sentimentality – it just doesn't dwell on it for the sake of evoking a single feeling.
"A lot of my favourite songs aren't just one feeling. Sometimes some of the most true or sticky feelings are confusing, they're maybe hope and regret at the same time," she brings up when I tell her how I experienced the album as simultaneously happy and sad. "Nostalgia is a feeling that is so precious but also a confusing thing in itself because it's happy, you're thinking about something that was really lovely, but it's sad because that thing is gone. I love when music is able to convey that."
Known onstage as Mallrat, Grace Shaw finds herself now on tour opening for Conan Gray. When we talk, she's right off the back of playing to an arena in Warsaw, Poland – "which was fucking crazy."
In the lapse of time between Butterfly Blue and her last EP, Driving Music, Shaw rode the relatable wave of uncertainty which plagued the last three-or-so years. She moved to L.A. from Brisbane, then from L.A. back to her homebase. But it's the distance from her first EP, Uninvited (which Mallrat released at just seventeen) and the work she's producing now that intrigues me the most.
Advertisement
Born in 2016, Uninvited chronicles the convolutions of teenagehood. It proved to resonate with an audience as antisocial as its narrator, rejecting ideals of fitting in and functioning as an outlet for the young singer's anxieties at the time. It's easy to grasp the cliché within the title of her contemporary record, Butterfly Blue: that the symbol is a notion for the artist's evolution, blossoming into her fullest potential and finally emerging self-confident in her talents.
Mallrat rejects that notion. "It's funny, because I've always had so much confidence that had no right to be there when it came to my songwriting. So that part feels about the same. Like, Kanye confidence without a reason to be there."
Her lyricism is simple but authentic, plucked from anti-seminal mundanities. But when it comes to its sound, Butterfly Blue is boundless. Shaw and her collaborators play with production to fill in empty spaces, saturating each song with a degree of reverb as fuzzy, electric riffs contrast dizzy dream-pop synths. The production quality of each track is arresting. Unlike too many pop products, it feels handcrafted – a reverence to Shaw's creative roots.
"Before I started writing music I thought I would be a DJ or a producer or something. I started making beats on GarageBand, and then eventually I sang over those beats. Then I focused on lyrics for a while and thought I didn't have a good enough skill set to be a producer, but I eventually fell back in love with that process again. So it's always been part of my passion for music," she shares.
Blending the introductory 'Wish on an Eyelash' into 'For You,' Mallrats' gentle tone pulls you in tenderly before eluding projections with Azealia Banks' verse on 'Surprise Me.' The Harlem rapper is a thunderbolt feature not just on the track, but alongside any Mallrat creation at all. Working against Shaw's notably subdued, airy vocals, Banks' striking verse is an unexpected change of pace.
Advertisement
"Her verse is so clever and funny, I can't imagine anyone else being able to write that verse," Shaw shares. "She kept re-recording it to make it better, which I really appreciated. It's nice when someone cares as much as you do."
Especially when that someone is an artist you grew up on, which is the case for Shaw with Banks. "I was a massive fan," she admits proudly. "Her debut album, Broke with Expensive Taste, was the first album I bought with my own money."
"It's very exciting and validating," she explains when I ask about the experience of working with her musical idols. It's also a testament to Shaw's uniquely hopeful perspective, which comes across in her positive conversational tone. "I feel like some of the most incredible things in my life have come from me believing in them, despite having no reason to believe that they would happen."
Such persistent hopefulness and a relentless belief in her ability to create something worthy is what catapulted the young artist into the music industry in the first place. "The reason I started making music was because I went to this concert of this artist called Allday when I was maybe fifteen, and when I was at that concert I had a vision that I would be at airports with him," she recalls. "That's when I started making music, and then my first-ever show was supporting Allday, and we ended up moving to America to do music together and we've done heaps of songs together. It's pretty crazy."
The record is decorated with unforeseen twists, but Shaw digs that. "I get bored really quickly, so I would hate to be pigeonholed," she shares. 'Your Love' contains the kind of catchy pop hook and repetitive lyricism which aims the track straight at charting potential – until the last minute or so, when the song takes a turn over a banging sample from Memphis rapper Gangsta Pat. It's an artful turn, even as it defies the equation of popular radio play.
"They all work together, but they're not necessarily chronological and there's no hidden, complex narrative or anything," she says of the tracklist, making it apparent that Mallrat is blasé about making realities more complex and twisted than they are.
Mallrat's dreams may be lofty – the singer manifests "all the Grammys" on record single 'Rockstar' – but her bold admittance of confidence and her willingness to fall into the industry machine are not one in the same.
Advertisement
"The only parameter that I gave myself when I was making the album was that I was like, 'I want it to feel like monster trucks and angel choirs,' basically," she tells me as we discuss brilliantly tucked-away productional elements throughout the record. From a kids choir singing Phoenix's 'Lisztomania' on 'Surprise Me' to artificial Mellotron synths and sourced samples, Shaw's toolkit is bottomless.
Which leads us headfirst into 'Heart Guitar' and navigating unrequited yearning. Shaw shares that the album is littered with the feeling of "almost having that thing, but not quite."
On 'Heart Guitar,' Shaw highlights her personal optimism, singing in a broken tone which sounds like the voice of someone learning how to speak.
"It's interesting how when you're producing something as you're writing it, those processes fade into each other and you can treat your voice as an instrument, chop it up and play with it and make it sound like something else," she says of recording and producing the track simultaneously before additional production from Japanese Wallpaper. "It's a lot more fluid. So I think that's one of the reasons why 'Heart Guitar' ended up the way it did."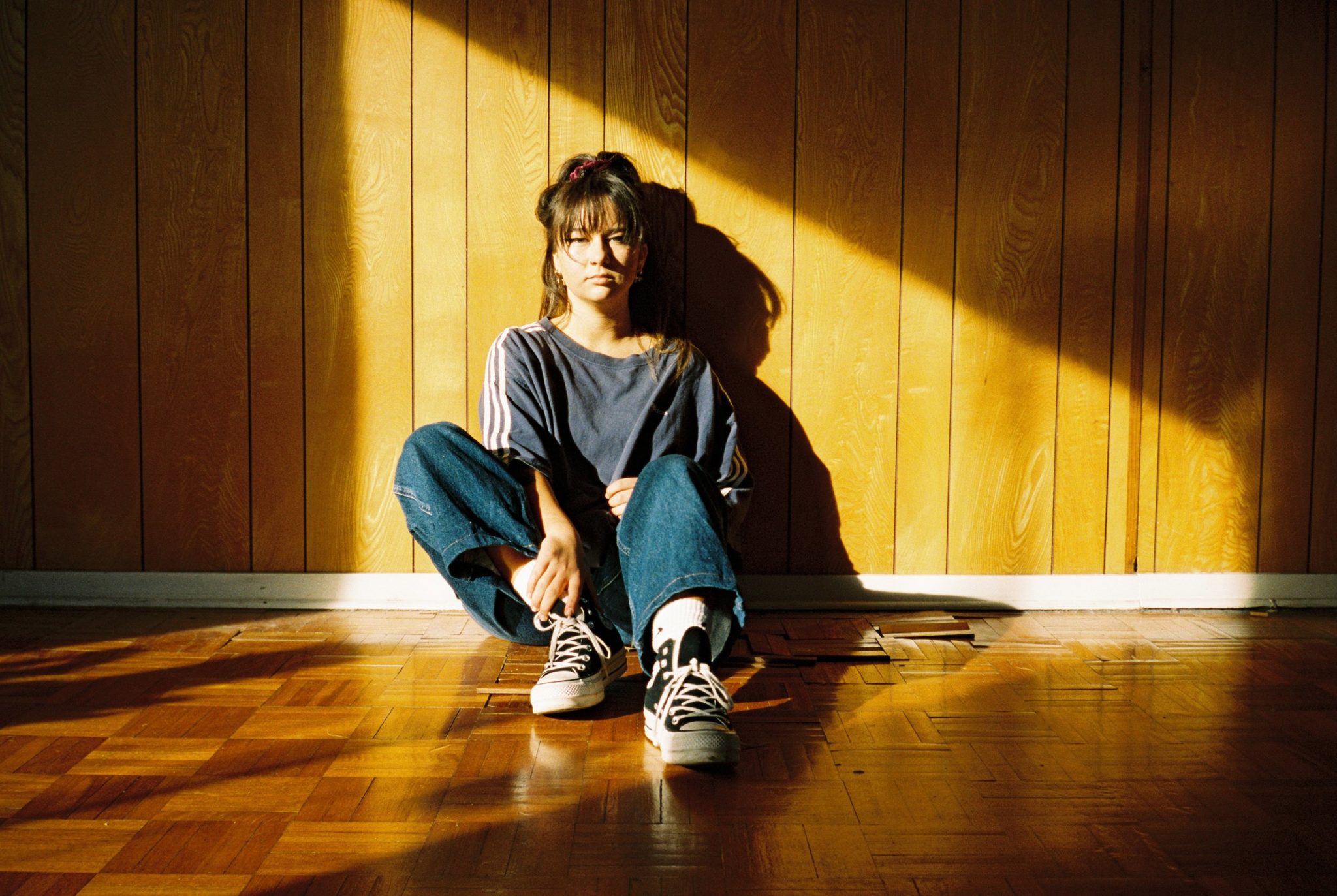 Taking her time in creating her debut was a worthy sacrifice to Shaw, who admits she can be a slow writer. "I think it's important that even when it's frustrating and time-consuming, to still be committed to high-quality output and not just put out everything you write."
On the topic of feeling pressure to constantly create, Shaw says, "I live in ignorant bliss of it."
Advertisement
The title track (one of the last songs Mallrat wrote for the record) serves as the story's final chapter, fading out as a restful lullaby. "That's when the album made sense to me," she says. "It's kind of about making peace with things being unresolved."
Mallrat's debut is a dreamy landscape infused with moments of elusivity, crafted from Shaw's rose-coloured observations. "It's usually what I see around me and what happens to me, but kind of through the lens of a little bit of magic or daydreaming," she says.
The album navigates envy and desire, bittersweet nostalgia and the crux of losing something you never had to begin with. But Mallrat isn't declaring anything groundbreaking. She's simply basking in the sublime sound of the chronicles of her life – while refusing to define her art in any constrictive terms.
It's in this way that Butterfly Blue remains within our grasp, nurturing a connection from track to track.
Butterfly Blue is available now on all streaming platforms via Dew Process.