And he sure has hurt a few people! Joker was one of the year's biggest and most controversial movies. Paul Nolan analyses the reaction to Todd Phillips' film and suggests that, politically, it was widely misread.
What is it about the Joker that we find so fascinating? Batman's arch-nemesis has given us two of the most iconic cinematic performances of the 21st century. First, there was Heath Ledger's anarchic punk take on the character in Christopher Nolan's 2008 blockbuster The Dark Knight. And 2019, of course, saw Joaquin Phoenix excel as the eponymous damaged loner of Todd Phillips' box office smash, Joker.
Undoubtedly, part of the character's appeal is his adaptability. The first incarnation my generation encountered was Cesar Romero's supremely camp take in the '60s kids' TV version of Batman (a series memorably parodied in The Simpsons' 'Scoutmaster' send-up). Then, in 1989, there was Jack Nicholson's swaggering performance in Tim Burton's big-screen revamp of Batman - a dark bedtime fable for the end of the decade. Ledger's unforgettable turn in The Dark Knight was the edgiest iteration yet: an amoral psycho who harked back to Joker's wartime origins, when Batman was viewed as a counterpoint to Superman - a noir superhero for a more cynical age.
Perhaps most crucially Joker just looks cool. The grunge trickster chic, faded make-up and readymade supply of withering one-liners give him more-or-less instant anti-hero cache, as the ubiquity of Ledger-Joker t-shirts over the past 10 years attest.
We'd seen little enough of the clown prince of crime since The Dark Knight. Jared Leto was entertainingly manic in Suicide Squad, and sparked impressively off Margot Robbie's Harley Quinn, though their double act was easily the highlight of an otherwise forgettable movie. Cameron Monaghan was similarly compelling as a Proto-Joker in Gotham, a series that quickly went off a cliff after a promising first season.
Inevitably, there was enormous interest when, in 2017, Todd Phillips announced his intention to make a standalone Joker movie, an interest that only intensified when the director conveyed his ambition to make a gritty film influenced by Martin Scorsese's work from the late '70s and early '80s. Still, there was some surprise when the film proved such a massive hit - grossing over a billion dollars at theatres - and, more than any other movie of 2019, told us so much about the cultural moment we're living through.
Advertisement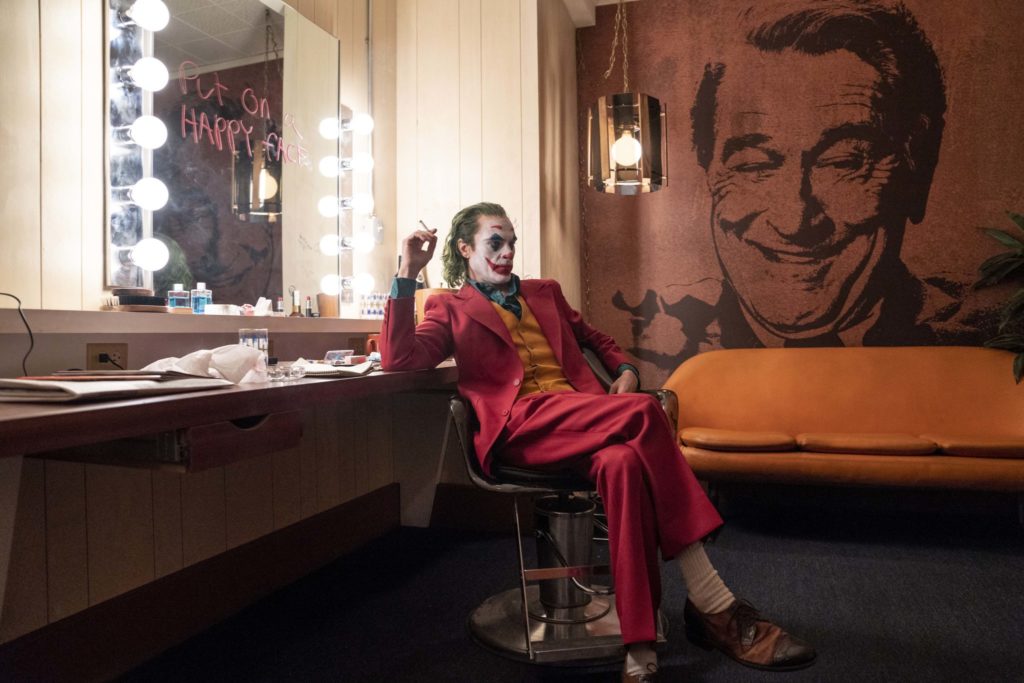 STRANGER THAN FICTION
In August 2016, I went to London to interview Phillips for his previous movie, War Dogs, an impressive - though commercially underperforming - dark comedy-drama about a pair of unlikely arms dealers, starring Miles Teller and Jonah Hill. In a suite at Claridges, the director - in between puffs on an e-cigarette - reflected on his early career making documentaries. War Dogs, he felt, reflected his abiding interest in stories where the truth was stranger than fiction.
"I do think as we get more superhero movies and sequels, there is a certain audience who crave something real," he suggested. "Also, there is a thing now, at least in the States, where people are starting to realise that the system is rigged. Whether it's The Big Short or Money Monster, or even this movie, people are making films about that idea. I mean, that's what Donald Trump is running on, even though he couldn't be more part of the system."
I asked Phillips what he made of Trump's rise.
"It's embarrassing," he shuddered. "It's particularly embarrassing when you go overseas. Americans travel with a lot of baggage - we carry the country with us - and you're probably smart enough to know that not everyone is represented by Donald Trump, or gun nuts. It's just horrifying, to be honest with you."
I enquired if Phillips knew any Trump supporters.
Advertisement
"Jonah and I were talking last night, and he mentioned that he knows someone who is," he replied. "It was like someone saying they'd spotted a unicorn. I'm like, 'You do?!' The one good thing you could say about Trump, if you look at it with an open mind, is that he has made it possible to not be part of the political system and enter it in a serious way. All we've had for the last however many years are the Clintons and the Bushes. Obama's great, but he was always a politician. Trump's not a politician, so maybe three cycles from now, some genius, great person will enter because Trump did it, but actually be somebody brilliant."
Born and raised in '70s New York, Phillips was very much a product of his time and place: a classic east coast liberal, with an undercurrent of Gen X cynicism. Fairly unremarkable, really - but we live in an era when artists' socio-political views regularly attract as much scrutiny as their creative aesthetics.
I thought it was a good interview, and I was glad to have met Phillips. I certainly didn't have the vaguest intuition what his next project might be. But afterwards, I headed for HMV on Oxford Street, where I bought - wait for it - a Clockwork Orange-inspired t-shirt featuring the Joker and Harley Quinn.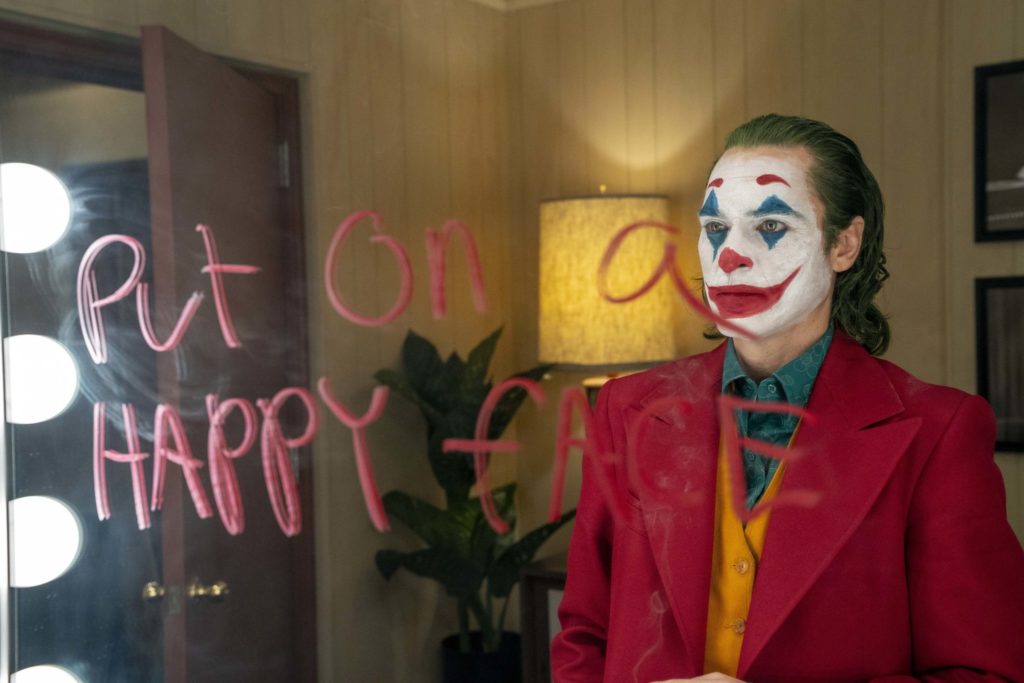 PRE-RELEASE CONTROVERSIES
Phillips' political views - in so far as anyone was bothered to check them - were starkly at odds with the film as it was portrayed in the inevitable pre-release controversies. It could be read, apparently, as a pro-incel treatise (a charge retrospectively levelled at Scorsese's Taxi Driver, one of its biggest influences).
Unsurprisingly, the director had to fight tooth and nail for his vision with Warner Bros, who were worried about the gloomy tone of Phillips' and Scott Silver's script, as well as the ending, the violence and, well, everything, it seemed. That the finished movie is so unflinching is a credit to Phillips and his creative team.
Advertisement
Plot-wise, Joker is straightforward enough: recalling both Scorsese's Taxi Driver and Alan Moore's graphic novel Killing Joke, Phoenix plays mentally unstable loner Arthur Fleck, who longs for a career in comedy and looks admiringly at the nightly TV talk show hosted by the smarmy Murray Franklin (Robert De Niro). Living with his mother Penny (the reliably excellent Frances Conroy), and with city cutbacks meaning he is no longer getting the proper treatment for his psychological issues, Fleck drifts aimlessly through the grimy dystopian streets of Gotham.
One of the most crucial scenes occurs when Arthur is set upon by a group of yuppie bullies in a subway car. Having killed two of them in bloody fashion, he stalks the third all the way to the stairs in the subway station, where he shoots him in the back of the head. It's shocking in its ugliness and brutality, and - uniquely for a blockbuster movie - actively dares the audience not to empathise with the protagonist.
The whole episode marks an epiphany of sorts for Fleck: having done an impromptu dance to chamber cello music, he works up the courage to visit his next door neighbour, Sophie, played by Zazie Beetz (though he later appears to kill her, Joker also strongly suggests Fleck is an unreliable narrator). The subway killings are celebrated by certain sections of the press and public as an overdue revolt against Gotham's wealthy elite, and people around the city start wearing replica Joker masks.
Having also violently killed the nightclub owner who gave him the gun, Arthur - amidst an almost unbearable sense of heightening dread - appears on De Niro's talk show as Joker builds to its shattering finale.
Like a lot of great movies, Joker's real strength lies in its general mood and tone. Phillips' vision of a decaying Gotham is brilliantly realised, with he and cinematographer Lawrence Sher employing long lenses to capture the street-level urgency of '70s movies like The French Connection. Phoenix is compellingly intense, immersing himself in the role while avoiding Daniel Day-Lewis's self-conscious histrionics (although there are a few too many shots of Phoenix's emaciated torso).
And then, of course, there are Joker's politics - one of the most contentious cultural discussion points of 2019.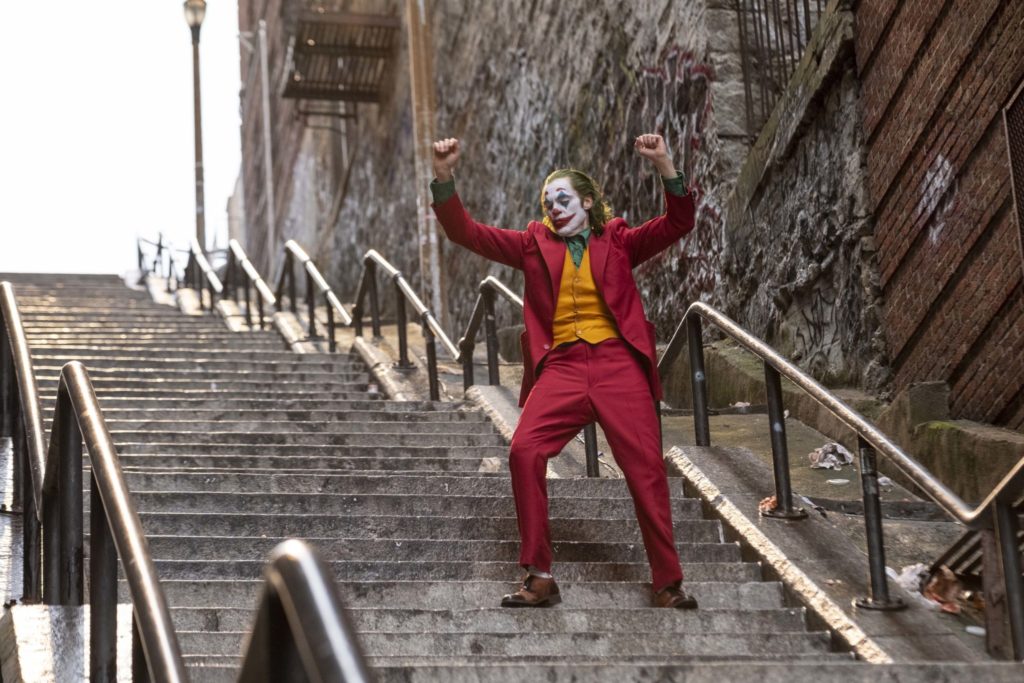 Advertisement
TRUMP ALLUSIONS
Politically, there is a lot to unpack in the movie, and it throws some serious curveballs. Perhaps the biggest question is to what extent Donald Trump's presidency hovers over Joker, and in what form. In a remarkable 180 swerve from convention - which has attracted surprisingly little commentary - it presents Bruce Wayne's father, Thomas, as a Trump-like figure.
Traditionally a kindly philanthropist, in Joker, Wayne is a scheming, oily opportunist - the ideal GOP candidate, in other words - running for elected office chiefly as a means of boosting his already enormous ego. The mythic patricidal overtones are laid on a bit thick with the storyline about Arthur being Wayne's disowned son, but I think the true commentary on the Trump era comes with the ending.
Having just murdered someone on live TV, Arthur smears a bloody smile across his face as an assembled crowd venerates him as a Christ-like saviour. He is clearly an unwell man on the verge of total mental disintegration, and yet, the throng - desperate for any shard of hope - hail him as the city's best hope for salvation. It's a portrait of a society where serious political discourse has completely collapsed, and a devastating commentary on where the US finds itself in the Trump era.
The scene is definitely the most nihilistic ending to any movie ever to gross a billion dollars - or would have been, had Phillips and Silver clearly not felt it was too on-the-nose, and tacked on the obligatory enigmatic coda, with Arthur being chased around a mental hospital having possibly committed another murder.
RORSCHACH TEST
I avoided most of the coverage of Joker prior to release, and only really dived in having seen it a few weeks after it hit cinemas. In Europe, it mostly received a fair hearing, though one podcast I listened to suggested the mainstream press in America had reacted with something close to hysteria.
Advertisement
And it was true, the liberal media in the US had an allergic reaction. The New York Times tied itself in knots with numerous think-pieces trying to make sense of it, while in The New Yorker, Anthony Lane wrote that: "I happen to dislike the film as heartily as anything I've seen in the past decade", adding that he was loathe to criticise it excessively, for fear of giving it the notoriety it so clearly craved.
By far the most disturbing reaction, though, came from alt-right commentators. Watching YouTube interviews with Phillips and Phoenix, I unfortunately started to receive recommendations from this particular abyss. With titles like "Why the woke establishment hates Joker", these vacuous diatribes were notable for their ignorance of the film's intentions, Phillips' own politics, and facts, generally.
Joker had become a kind of political Rorschach test for 2019: people were seeing in it what they wanted, including stuff that wasn't there. The fact it was so widely misread was the ultimate irony. Joker set out to depict a society where politics had dissolved and fragmented virtually beyond repair - and the response it generated came alarmingly close to proving its point.
BIGGEST FAILING
Perhaps Joker's biggest failing is that while it reflects the times, it doesn't strictly succeed as Batman canon. As portrayed by Joaquin Phoenix, Arthur Fleck is simply a damaged drifter, with absolutely none of Joker's traditional panache (some viewers have suggested the movie is about a character who ultimately inspires Joker, rather than the actual Joker).
I felt Phillips and Silver could have solved this problem by giving Fleck an additional flourish during his climactic showdown with De Niro. By having him state - with traditional Joker malevolence - that only a truly sick society could have produced him, it would have heightened the character and the drama, whilst also being more accusatory towards the audience.
But then, that would have been one more provocation in a movie scarcely requiring it. Whatever his next outing, in 2019, Gotham's public enemy number one certainly gave us our money's worth.
You can read Paul Nolan's essay on Joker in the Hot Press Annual – in which we distill the highlights and low-points of the year, across 132 vital, beautifully designed pages. Starring heroes of the year Fontaines D.C. on the front we cover Music, Culture, Sport, Film, Politics, the Environment and much, much more. Buy this superb publication direct from Hot Press here.
Advertisement