New venue The Workman's Cellar to feature Pillow Queens, Mango X Mathman, shiv, THUMPER & more
Dublin venue Workman's has created double the fun, featuring the likes of banríon, Strange Boy, Elaine Mai.
Long-time venue The Workman's Club on the Dublin Quays have announced the opening line-up for The Workman's Cellar, featuring the likes of Pillow Queens, Mango X Mathman, shiv, THUMPER, Strange Boy and Elaine Mai.
A musical oasis with a high-end sound system, the Workman's Cellar marks a brand new space for artists to perform in. Expect even more live music after the loss of the industry over nearly two years.
Workman's are putting on 10 nights of incredible performances for you to enjoy, so feast your eyes on the stellar cellar line up and get booking. Tickets will presumably fly out the door.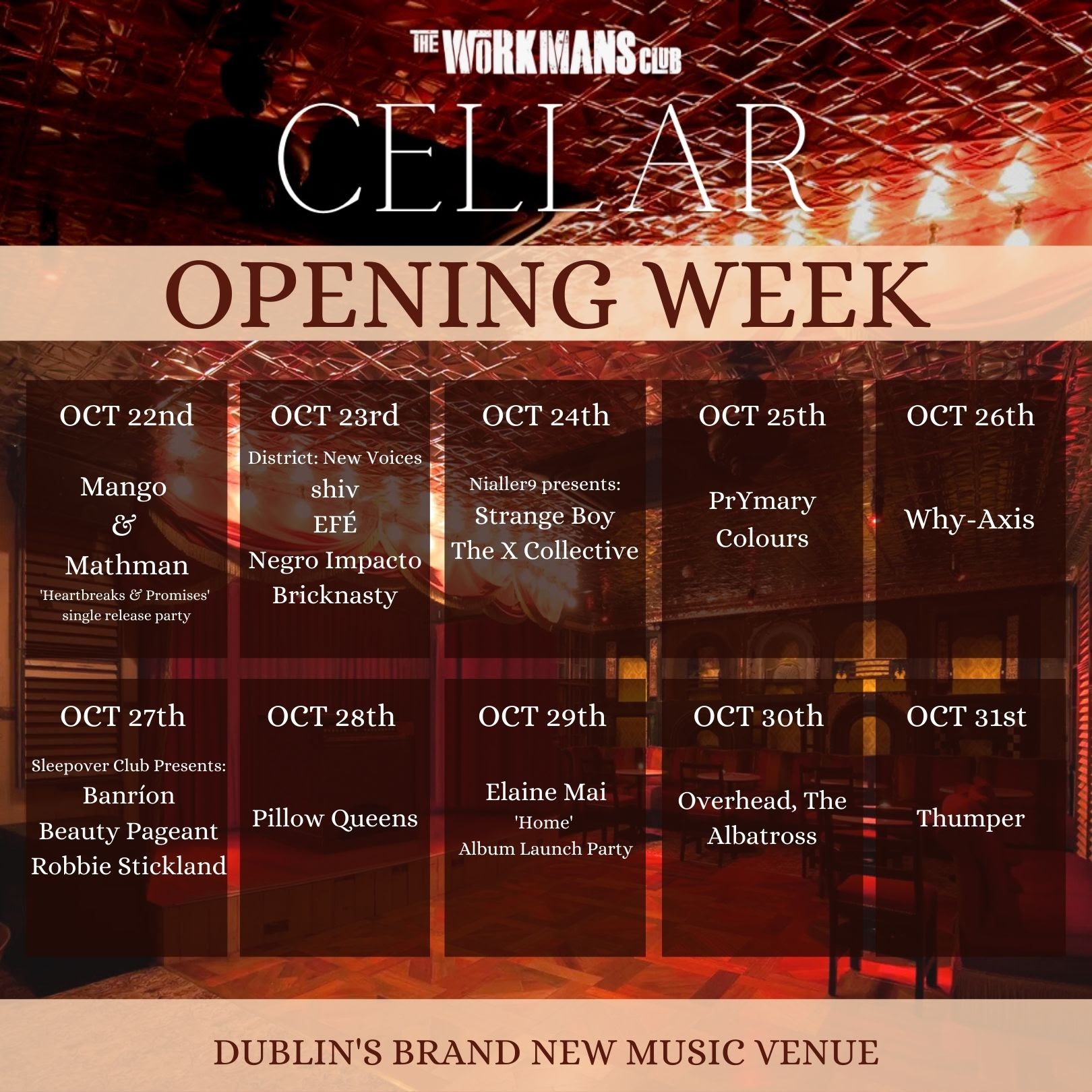 Friday, October 22nd: MANGO X MATHMAN single launch
Advertisement
Steeped in Dublin's rave culture, and at the vanguard of Ireland's hip hop scene, Mango X Mathman will be launching their brand-new single 'Heartbreaks & Promises' - a blistering and brilliant cover of Robin S 'Show Me Love' - in the Workman's Cellar on Friday, October 22nd. Tickets are only €10.
Saturday, October 23 October: DISTRICT MAGAZINE PRESENTS...Shiv, Efé, Negro Impacto, Bricknasty
With Shiv's silky-smooth vocals and unique blend of R&B and lo-fi hip-hop, catch the awesome Efé before. she goes stratospheric. If you're a fan of Khruangbin, Skinshape and Thundercat; you're in for a treat with Dundalk duo Negro Impacto. With Fatboy and producer Skidmark at the helm, Bricknasty only started creating music in January 2020 but have already made a significant dent in the Irish music scene with their R&B, hip-hop and anarchic musical approach. Tickets are €10.
Sunday, October 24: NIALLER9 PRESENTS...Strange Boy + The X Collective
With hard-hitting, thought-provoking lyrics and a unique mastery of flow, Limerick rapper Strange Boy has been described as a "1000-year-old poet channeling through the body of a young man". Also on the bill for the night, The X Collective - a community of creatives including artists, singers, rappers, songwriters, spoken word artists and more, who'll be putting on a show you won't forget. It's first come, first served so get in early for free entry.
Advertisement
Monday, October 25th: PrYmary Colours
PrYmary Colours are heating up stages all over the world with both music and dance, performance and aesthetics. The outfit fuse them all together, and are ready to celebrate the release of their track 'The Movement'. If chunky, fun, soulful electronic beats are your bag then don't miss this. Tickets €10
Tuesday, October 26th: WHY-AXIS
With undeniable flow and compelling bars, it's not hard to see how Irish rapper Why-Axis has made such a splash on the hip hop scene, not only here but across the globe. 'Like To', 'Shoulders' and 'Raincoat' have all been released this year to critical acclaim. Tickets are €10.
Wednesday, October 27th: SLEEPOVER CLUB PRESENTS...banríon, Beauty Pageant, Robbie Stickland
Advertisement
banríon is an indie-rock band, fresh on Dublin's indie/alt-rock/post-punk DIY scene. Headed by Róisín Ní Haicéid, the songs are raw, revolving around the complex and unique theme of disability, alongside relatable young experiences such as emigration, heartbreak and loving your pals.
Beauty Pageant's songs take influence from '90s indie-rock, from the power-pop of Ash to the slacker sensibilities of Pavement, while incorporating the synth hooks of late-2000s NME fodder and the cathartic energy of 2010s punk bands such as Joyce Manor. With his understated humour and DIY ethos, Robbie Stickland has earned comparisons to the likes of Mac DeMarco, Jonathan Richman and Kevin Morby - check out his LP Warm Jeans In The Morning to get a taste of what he's offering. Tickets €10
Thursday, October 28th: PILLOW QUEENS
If you've been living under a rock or hiding in a cave with no access to the interweb for ages, then maybe you haven't heard of Pillow Queens. The Dublin indie-rockers hit the big time with the release of their incredible debut album last year In Waiting. There's the small matter of their US TV debut on The Late Late Show with James Corden for a special performance of their song 'Liffey' earlier this year. G'wan the gang. Tickets are €16.50.
Friday, October 29th: ELAINE MAI album launch - Home.
Advertisement
Elaine Mai is one of Ireland's top electronic music producers and over the last couple of years has built a huge following in Ireland and abroad, with live performances and single releases collaborating with some of Ireland's finest local talent. Teaming up with the formidable MayKay, their marquee single 'No Forever' garnered widespread acclaim and achieved over 11 million impressions across Irish radio. It hit No.2 in the Irish Radio Breakers chart and peaked at No.6 in the Viral 50 Ireland Spotify chart. She'll be debuting her brand-new LP Home live at our place with some special guests. Tickets are €12.
Saturday, October 30th: Overhead, The Albatross
Overhead, The Albatross are an incredible 6-piece instrumental outfit from Dublin known for their intricate yet powerful melodies and energetic stage presence. Their sound combines a multitude of instruments that go beyond the normal boundaries of "post-rock" and delve into the realm of the cinematic. Layered strings, electronics and spacious synths combined with soaring guitars and powerful drums are used to create their unique sound. SOLD OUT.
Saturday, October 31st: THUMPER
2020 saw THUMPER perform a blistering Eurosonic show, a sold-out Molotow Hamburg performance, and embark on a month-long UK and EU tour in support of their single 'Ad Nauseam'.
This intense touring schedule was abruptly cut short in March due to the dreaded Covid-19. In June the single 'Topher Grace' was released to critical acclaim. Now with several successful live-streamed shows under their belt - including a collaborative show with Damien Dempsey, a Waves Vienna festival show, and a headline show from the Button Factory hosted by Hot Press - THUMPER set their sights on late 2021. A festival slot at Iceland Airwaves, an international tour, the announcement of a long-awaited debut LP and now a Workman's Cellar gig is in the bag. Tickets are €10.
Advertisement
Grab your tickets for The Workman's Cellar gigs here.