Listen to our favourite new Irish releases of the week below!
M(h)aol, 'Femme'
The Irish quintet have finally released their trailblazing debut album Attachment Styles today, and it's quite the journey. Ripping up the rules on gender, queer joy, desire, biphobia, sexual abuse and everything in between, one of the many standout tracks is 'Femme'. Opening with a steady drum beat and warped guitar fuzz underneath an intense melody, "I should have cut off my hair when I knew I was queer, it would have made it easier on everyone here," vocalist Róisín Nic Ghearailt declares. "It's not that I'm afraid, or scared of gay panic." The intricacies of "presenting" queerness, and whether we present or perform femininity, is explored with Nic Ghearailt's tongue-in-cheek humour and penchant for grabbing your attention. "I like to think it's not that dark / I like to think we've come so far."
Somebody's Child, 'You Know What'
The opening track on Dublin indie musician Cian Godfrey's self-titled debut album, out today via Frenchkiss Records, starts with one of his trademark addictive guitar riffs. That chorus is as driving as it is powerful, the London-based talent's soaring vocals describing coming-of-age moments, losing innocence and nostalgically looking back to the past. It's a fantastic start to a raw, impressive LP that emphasises his storytelling abilities, indie-rock melodies blending early 2000s with 2010s and contemporary genres for a heart-on-your-sleeve approach to anthemic bangers. We can't wait to hear this one live (please put it on the setlist, you coward!).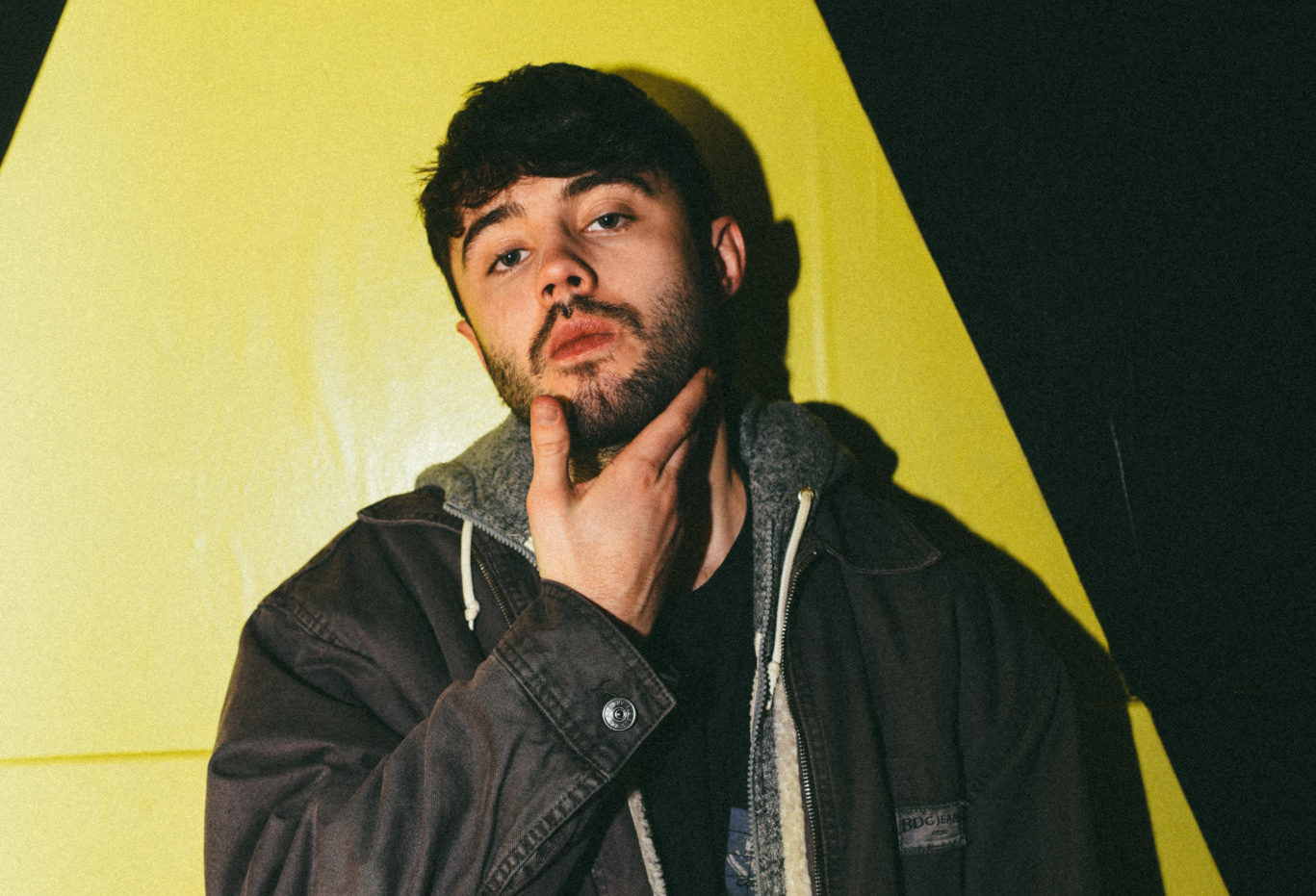 Advertisement
Lankum, 'Go Dig My Grave'
Following their lauded sold-out shows in Vicar Street back in December, Lankum are back with new music – sharing the haunting video (directed by Peadar Ó Goill) for new single 'Go Dig My Grave' this week, and revealing that their anticipated new album, False Lankum, will be released on March 24 via Rough Trade Records. Lankum's Radie Peat learned this version of 'Go Dig My Grave' from the singing of Jean Ritchie, who recorded it in 1963 on the album Jean Ritchie and Doc Watson at Folk City.
"Our interpretation of the traditional song 'Go Dig My Grave' is one that centres around the emotion of grief – all-consuming, unbearable and absolute," the group describe. "A visceral physical reaction to something that the body and mind are almost incapable of processing. The second part of the song is inspired by the Irish tradition of keening (from the Irish caoineadh) – a traditional form of lament for the deceased. Regarded by some as opening up 'perilous channels of communication with the dead', the practice came under severe censure from the Catholic church in Ireland from the 17th century on."
Inhaler, 'If You're Gonna Break My Heart'
The Dublin band's second album Cuts & Bruises arrives on February 17th, with Inhaler set to grace our cover alongside the Academic next month. Their down-paced new single was inspired by the band's time on the road. Infusing organ embellishments and a steady drum beat, the emphasis is on Eli Hewson's vocals and jangly guitar melodies. "If you're gonna break my heart / Smash it to pieces / Cause I'm not gonna need it / As much as I do right now," he sings on the chorus.
"Whilst on tour in America last year we were listening to a lot of music by some of the great American writers such as Bob Dylan, The Band, Bruce Springsteen etc," they explain. "Listening to these artists while travelling on big open highways resonated with us and helped shape this song into making us sound more like a live band than we had before."
Moncrieff, 'What Am I Here For'
Advertisement
Following his acclaimed 2022 EP Warm and a series of sold-out shows across Europe, Waterford singer/songwriter Moncrieff kickstarts the new year with a sonic declaration of love, out today via German label energie. Following previous single 'Perfect', the infectious 'What Am I Here For' opens on a strong note. The musician uses the metaphor of racing in a car to someone's door (running every red light and stop sign) to describe rushing to save a relationship before it's too late. It's still a battle against the clock: "I've been driving all night just to speak my mind / maybe I'll change yours."
Banríon, 'sugar water'
Taken from their sophomore EP dare to crush, which landed on Wednesday, rising indie quartet Banríon sound more hypnotic than ever on beautiful final track 'sugar water'. Róisín Ní Haicéid's textured, layered vocals on the down-tempo track trace everyday moments and finding the beauty in home. "There's sugar in the water / Here I was thinking you would never get better / My hand pulled closer / Save the feeling of being under," Róisín sings over a jangly guitar riff, sounding like a combo of Dolores O'Riordon and SOAK (sorry if that's reductive, they're both legends though).
The EP tracks were written by Róisín throughout 2021 and 2022, tracing romance, heartbreak, sickness and the housing crisis. It was recorded last summer in Meadow Lodge Studios with Rian Trench and they've since been working with Chris Barry and Morgan Beausang to mix and master the tracks. Banríon will play a small Irish tour of Galway, Cork, Limerick and Dublin from February 25th until March 11th, so catch them live.
1000 Beasts and Laura Elizabeth Hughes, 'Burning Flower'
Advertisement
Cork-based producer 1000 Beasts has tapped Dublin singer-songwriter Laura Elizabeth Hughes for his latest electronic track, and what a combo. Adding his usual flourishes and silky vocals of his "beasts", the single is all-consuming, laidback and made for a chilled out dancefloor. Cian Sweeney (aka 1000 Beasts) shot the visuals for 'Burning Flower' on the coldest night of the year at James Fort in Kinsale, with epic results. His debut album Naruda arrived last year, cementing his status as a superproducer and talented musician in his own right, using a huge mixture of genres and influences for a truly unique sound.
Yunè Pinku, 'Night Light'
Half-Malaysian and half-Irish, hotly-tipped newcomer Yunè Pinku layers wistful, syrupy vocals over production that draws from the UK rave canon but with a restless, textural slant. Traces of her childhood spent growing up in London can be heard in the shuffly garage rhythms of her production, although as a teen she was more into 70s and 80s music, according to her bio. 'Night Light' follows her 2022 Bluff EP and Biig Piig remix, sprinkling fast-paced beats with twinkly electronic embellishments for an addictive, powerful track.
Maverick Sabre, 'Open My Eyes (Daithí Remix)'
How did we get so lucky with these two powerhouses coming together? 'Open My Eyes' appeared on the New Ross/London soul artist's debut album Lonely Are The Brave back in 2012. Revamped and infused with beautiful, soothing electronics, Daithí has worked some magic. "I opened my eyes and finally realised / All this time I've been blind / Walking this road it seems we all follow / But it's so hard to change," Sabre starts. Evolving the track from hip-hop into a more electronic, ambient setting doesn't dampen the raw power of his vocals or bars in the slightest. It's insanely immersive and dazzling - don't miss it.
Advertisement
Michelle Grimes, 'Never True'
The Irish pop artist and multi-instrumentalist has returned with a powerful vocal ballad. The R&B sensibility of 'Never True' instantly sets her apart from her musical peers. Her breath control above the '90s-sounding beat and effortless style embodies that of Christina Aguilera, Jessie J and Aaliyah. No stranger to the stage, Grimes has performed in Trafalgar Square to over 20,000 spectators as part of 'Pride in London', has sung for the King and Queen of Belgium as well as singing for The Taoiseach and the US Presidential party - including a truly epic set at King Johns Castle in Limerick as part of the Denise Chaila crew last summer.
Valerie Rose, 'Rip My Calendar'
The Dublin-based alt-pop artist's voice sounds incredible on the guitar-driven new single, created alongside Diffusion Lab. Resembling the more emo tracks of Olivia Rodrigo's SOUR and softer Yonaka tracks with frontwoman Theresa Jarvis, the 17-year-old's latest offering starts off 2023 stronger than ever. 'Rip My Calendar' written in October 2022, by Valerie and Chris Bubenzer AKA Benza and Adam Cooke.
Valerie says "I wanted to write something based on how I was feeling at the time. I was a bit overwhelmed by how busy my schedule was, coming back to school and exams coming soon. I wanted to express my frustration and for it to come across in the song." She describes it as "a song about not wanting to put pressure on yourself anymore. It's about doing what you want to do, instead of prioritising other needs over your emotions. Sometimes you need a break from it all."
Gurriers, 'Approachable'
Dublin-based band Gurriers released their latest single 'Approachable' earlier this week. Although this was their first ever single released, the band have composed a more finely-tuned, studio version of the track. This comes at a time of their growing success, with appearances at Dingle's Other Voices and a support stint alongside Belfast outfit Enola Gay. Gurriers' latest addition certainly does not disappoint. 'Approachable' expertly mingles sounds similar to the noise of both Sex Pistols and IDLES, but brings something idiosyncratic to the table. Pairing provocative and memorable lyrics with grungy, exciting instrumentation, it's definitely one worth listening to. [Holly Hunt]
Advertisement
About the single, lead singer Dan Hoff explains: "Approachable is a tongue in cheek anthem about the rising far right rhetoric all over the world."
Les SalAmandas, 'Mary's Got Issues'
The West Cork duo shared their new single and album track (out February 14th), mingling reflective lyrics with their trademark lush harmonies. Opening with gentle guitar strumming and soothing background, the Ballydehob group use Colyne Laverriere's own experiences of mental health struggles to their strength.
"Call me on a Monday, tell how you like me / Tell me all the stories 'bout the weekend you just had / Call me on a Tuesday, tell me that you hate me / How everything was ruined by the day that you just had," the track opens, with dual vocals adding a beach-like, summery vibe.
"'Mary's Got Issues' was written in the middle of multiple lockdowns!" Colyne Laverriere of the West Cork duo says. "At the time I was struggling a bit with life and had to deal with my mental health for the first time. I guess it's always been really cathartic to write down how we feel about things and it really helped to write it down and to sing about it. Everyone is more complex than we think."
Markéta Irglova, 'H A P P Y'
Advertisement
Irglová is one of five acts vying to represent her native Czech Republic and move on to compete in the Eurovision 2023 finals later this year. 'H A P P Y' was chosen as her entry song as it not only reflects where Irglová is in her own life personally, but also her want for its sentiment to lift us up and thru these chaotic times. The Once star previously competed for her adopted home country of Iceland in 2022. Irglová, who was born and raised in Valašské Meziříčí, Czech Republic and still returns to spend summers with her family to visit her parents and sister, was spurred on by her three kids to enter. The feel-good tune is full of summery light, love and warmth - injecting ethereal harmonies and relaxed guitar twang.
Adam Mohamed, 'QNA'
Following 2021's 'ME & i' and 'Untitled', the Ballymun native sound ferocious on the uplifting new single. "Who's gonna stay for me? Who's gonna pray for me? I need a hug and I need a little love but I need that on me (x2) / Everything's changing / Time flies I'm not waiting / I'm just trying to stay focused." Describing staying true to his roots, keeping his loyal friends close, healing and the grind to get to the top, Mohamed's star power emanates from every bar. The future seems bright, based on his first 2023 offering.
Ragerra, 'This Time'
The band's fourth single taken from their forthcoming new album When The Time Comes, out on February 17th, is a nostalgic and reflective track. The song traces the memories we have of the simple joys and sorrows we experience in life as we grow from children, to teenagers, to adults. Musically it showcases the dynamic range the group's sound has explored throughout the making of their new record. RAGERRA first emerged in 2019 with an alternative, heavy rock explosion under the name Valhalla. The Dublin trio who enjoyed giant riffs and pounding drums, they soon developed a new respect for a more melodic sound and fresh moniker.
Arctic Lights, 'Holy Joe'
Advertisement
Following the release of their debut single 'King of America' in January 2021, Arctic Lights have dropped their first track of the year. 'Holy Joe' is a follow up to their critically acclaimed single 'Belong' released in October 2022, exploring a darker, heavier sound this time around. Emotion driven and gravelly lyrics feed the fire the track delves into with guitar noise.
"Holy Joe may sound a bit different to some of our other songs but we like to surprise people with each new release as we get bored quickly and don't just want to repeat the same tricks each time," Edward Butt, one half of the Cork duo, says. "I find writing music can be cathartic and songs have personalities of their own. I had a melody in mind for Holy Joe but no lyrics," Liam O Callaghan adds. "The minute we pressed record to put the melody down the lyrics just started pouring out. I think you can feel a crackling and bristling in society at the moment like there is a fire about to ignite."
Niall McCabe, 'Midas Touch'
Rituals is the debut solo album from the critically-acclaimed Mayo musician Niall McCabe. It fuses traditional Irish and folk music together in heart-warming fashion, with 'Midas Touch' easily a highlight. Using storytelling to his strength, he recounts a childhood memory. "Year on year and mile on mile I'm trying to catch up / But you always knew too much / I was goldy with a Midas touch," he croons over a delicate guitar melody before percussion kicks in. Closing his eyes and reappearing in the past, he could transport the listener. "'Cause I was always right and you were never wrong," he sings, seemingly describing a sibling relationship or close friendship but it's applicable to almost any connection.
Oran Byrne, 'Pretentious Intentions'
Following 'Relentless' earlier this month, the Waterford musician is back with a rock-driven banger. 'Pretentious Intentions' has definite traces of Arctic Monkeys all over it, specifically 'Old Yellow Bricks'. A riotous drum beat and plenty of guitar noise acts as a great foundation for Byrne's layered vocals. Oran released his debut album Moving Forward in May 2022 - an eight-track LP focusing on themes like fear, loneliness and abandonment, accompanied by rich, uplifting, upbeat, and sometimes gloomy melodies. It's got Alex Turner and Paul McCartney's DNA everywhere, but he's making the sound his own.
Advertisement
Melts, 'Outlier' (Gabe Gurnsey, Factory Floor remix)
The Dublin five-piece, who shared their debut album Maelstrom last June to critical acclaim, have unveiled a fascinating new remix track 'Outlier' by Gabe Gurnsey of Factory Floor fame. Synth player of the band Robbie Brady explains, "We have been big fans of Gabe's work for some time now and when the idea arose of a remix Gabe was the first person to come to mind. We weren't pushy towards what track we wanted remixed so after contacting Gabe we just let him pick whatever track he wanted to work with and that's what led to Outlier. Gabe has given the track an up-beat club style remix but still encompassing the visceral space rock sounds of the original recording."
The quintet have also announced a Workman's Club show in Dublin on May 20th, among other tour dates and St Patrick's Festival appearance.
Happyalone, 'You Are'
Following a slew of 2022 singles, the Cork trio return with a warped-sounding offering to begin a new year. The alt-pop group is made up of Baxter Robot, Slee and Paperclip and claim to be from "Andromeda Galaxy", which is presumably in Leeside somewhere. "I don't feel alive / I don't feel anything at all," the lyrics read, above eerie sci-fi synths and an intense beat. "Who knows what is real?" The song dives into surrealism, existential crises and isolation in frenetic fashion.
Advertisement
DeCarteret, 'Jerry'
Clare native DeCarteret makes lo-fi beats and classical music, as well as delving into neo-soul, jazz and R&B. Three previous singles 'Sunday 21', 'LuvSeat' and 'Trip Me' have all garnered Hot Press support, but her gentle new offering is full of poignance. Short, sweet and to the point, 'Jerry' is the second single from her forthcoming debut EP Crying & Cumming On The Bathroom Floor, due this autumn and follows her place on Hot Press Magazine's picks for 2023.
"The song is a message I wrote to myself about growing up. I wanted to remind myself to hold on to all the positive and healthy experiences in my childhood, and keep them safe. It's also about breaking unhealthy cycles and healing yourself for the sake of your children. I realised how sad it sounded, so decided to flip the hook and make it faster and cuter. The message I wrote is happy and wholesome, not sad and dreary".
Arn. & Aaron Everything, 'Phone a Friend'
Donegal natives Arn. (Aaron Coleman) and Aaron Everything (they're both called Aaron, so why wouldn't they work together) have teamed up for another emo-indie production. "She ain't over me the way she run her mouth / She got a boyfriend who doesn't fucking love her," they declare. It has hints of Sum 41 with contemporary alternative pop, but mainly, it's got energy and a welcome playfulness. "I ain't got the answers so you know I"m gonna phone a friend," the chorus states. "She turn around, and I'm already in the wind." It's catchy as hell.
Advertisement
Pio Hartnett, 'will you be back before dark'
The BIMM graduate and indie-folk artist returns with a vulnerable new track today, following 'Broadway', 'Roses' and 'Grand Prix'. The confessional, diaristic single spills secrets about how strong his feelings are for a loved one, so much so that it drives a sense of fear into his heart. Simple, melodic and universally relatable, 'will you be back before dark' is all puppy love and delicacy. "My thoughts are racing so far, so far ahead / Oh God (x3) it won't stop until I'm dead / You tell me straight up you're excited to make it back to the city / Back across the ocean on your mission away from me."
Cheesmore, 'All The Time'
After the release of '21' and 'Along With It' last year, Sam Cheesmore (based between Dublin and London) is back with a bang for a new year. With garage-type beats, warped vocals and intense electronics that can switch up the mood at a moment's notice, there's a sense of yearning from the song's core as he stated: "I think about you all the time....maybe we could take our time." The second verse comes from Henry Earnest, with a sample nicked from TikTok - as you do. Strong creative choices and versatile methods are his bread and butter, we're super excited to see what else Cheesmore brings us in 2023.
 

View this post on Instagram

 
Beauty Pageant, 'I'll Try To Start Again'
Advertisement
Following the release of Beauty Pageant's debut single 'Born To Stay' in November, the six-piece rockers are ringing in the new year with a mix of hope and melancholy with their anthemic and catchy second single 'I'll Try to Start Again'. The song evokes the soundtrack to a 2000s coming-of-age teen-drama, opening with an addictive synth hook before the full band washes over you with melodic lead guitar and swells of backing vocals and violins, playing off the bittersweet lyrics of the lead vocal. Youth culture, textured harmonies and charming guitar riffs are all part of their DNA.
Listen to the playlist in full below.