Recorded during last year's once-in-a-lifetime Busk performance in St. Patrick's Cathedral, the record includes an incredible tracklist from Damien Rice, Glen Hansard, Bono, Adam Mohamed, Lisa O'Neill, Laura Quirke, The Frames and more.
Dublin Simon Community and creative partner CLTV Films are launching The Busk album as a vinyl record in December, just in time for Christmas.
The Busk features once-in-a-lifetime performances from Damien Rice, Bono, Glen Hansard, Lisa O'Neill, Adam Mohamed, Laura Quirke and many more.
The recording was captured over two nights in St. Patrick's Cathedral in December 2021, when a host of artists came together to lend their talents to Dublin Simon Community as Covid restrictions meant the charity's annual Christmas Eve Busk couldn't happen in-person. The Busk 2021 was streamed on YouTube on December 24th of last year with individual artists being supported by "The Busk Choir"; an assembly of artists, crew, Dublin Simon staff and volunteers and service users who were present at the recording.
Retailing at €27.95, with all proceeds going to Dublin Simon Community, sales will help raise vital funds to aid the charity to help support the record-high number of people experiencing homelessness this year. The vinyl will be available to purchase online and in Golden Discs stores from December 9th.
To mark the launch, Dublin Simon Community CEO Catherine Kenny was joined by The Busk Director Mark Logan of Cltv Film and featured artists Rónan Ó Snodaigh, Louise Mulcahy, Laura Quirke, Megan Nic Ruairí and Manchán Magan, who all feature on the record.
Advertisement
The group gathered together on Mary Street, Dublin 1 in front of one of four pieces of guerrilla advertising for the vinyl, gifted by construction partner Duggan Brothers. All four pieces feature poignant song lyrics from the record which aim to highlight the plight of Dublin's homeless population from their locations on Mary Street, Usher's Quay, North Circular Road and Sean McDermott Street.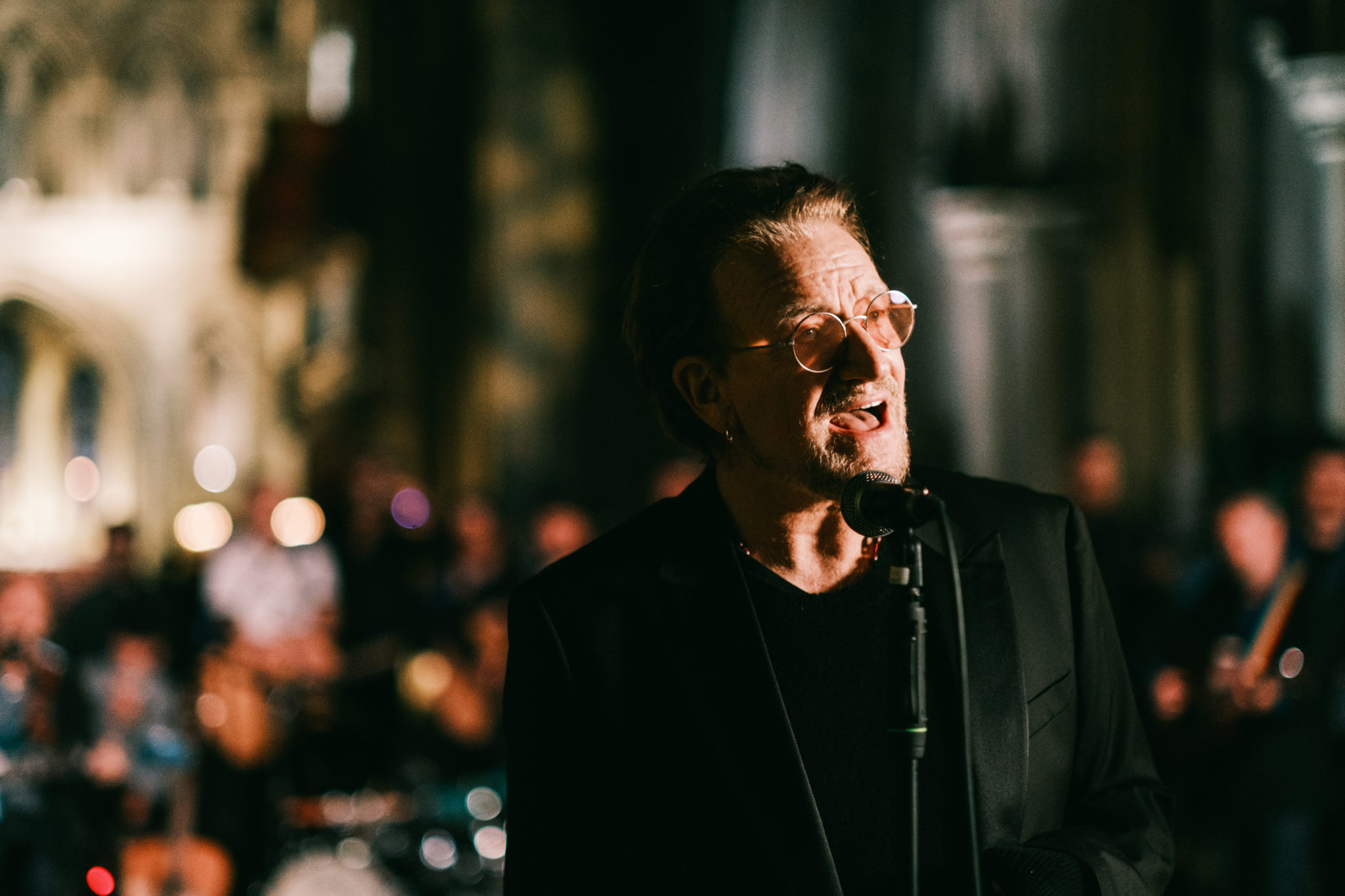 Speaking about The Busk and reflecting on the partnership with Dublin Simon Community over the last two years, Collective Films' Mark Logan said:
"Ever since we first partnered with Dublin Simon two years ago I've been consistently amazed by the magic that can happen when a group of talented people are united by passion for a vital cause. We've achieved unbelievable things together, from remastering a Phil Lynott classic to pulling off a once-in-a-lifetime performance from artists far and wide in 12 days and under Covid-19 restrictions. We are driven to keep supporting Dublin Simon every time we pass a person in hardship on the street or hear horror stories of people being evicted from their homes."
"It was a no-brainer that we would commit ourselves again this year to playing our role in alleviating the homeless crisis and raising funds for a cause we feel so deeply about," Logan added. "We're excited to be able to put out an amazing record which captures such an important moment in time; a time when artists from all corners of the country and beyond came together, many of whom were grieving their own losses and situations under Covid-19, for something that was bigger than themselves."
Advertisement
Catherine Kenny, CEO of Dublin Simon Community expressed her heartfelt thanks to Collective Films, Universal Music, Claddagh Records, the artists, Duggan Brothers and all who have already registered for pre-sale, highlighting how urgently funds are needed to protect a record-breaking number of people in homelessness this Christmas.
"We are so grateful to everyone involved in the creation and promotion of The Busk," Kenny stated. "When Covid-19 struck, we thought that was the greatest challenge we had ever faced, but the reality is that our greatest challenge lies before us.
"Devastatingly, a record-breaking number of people will spend this Christmas in homelessness," the CEO continued. "As housing supply remains at an all-time low, these people will have no indication of how many more Christmases will be passed this way. Several more will pass their Christmas at home in fear that it may be their last as the Cost-of-Living crisis pushes more and more people below the breadline.
"We are putting everything we can into moving people out of homelessness and keeping them in their homes where they belong, but we need all the help we can get. The sales of this record will fund the continuation of our services and serve as a glimmer of hope to the over 6,000 people relying on our help."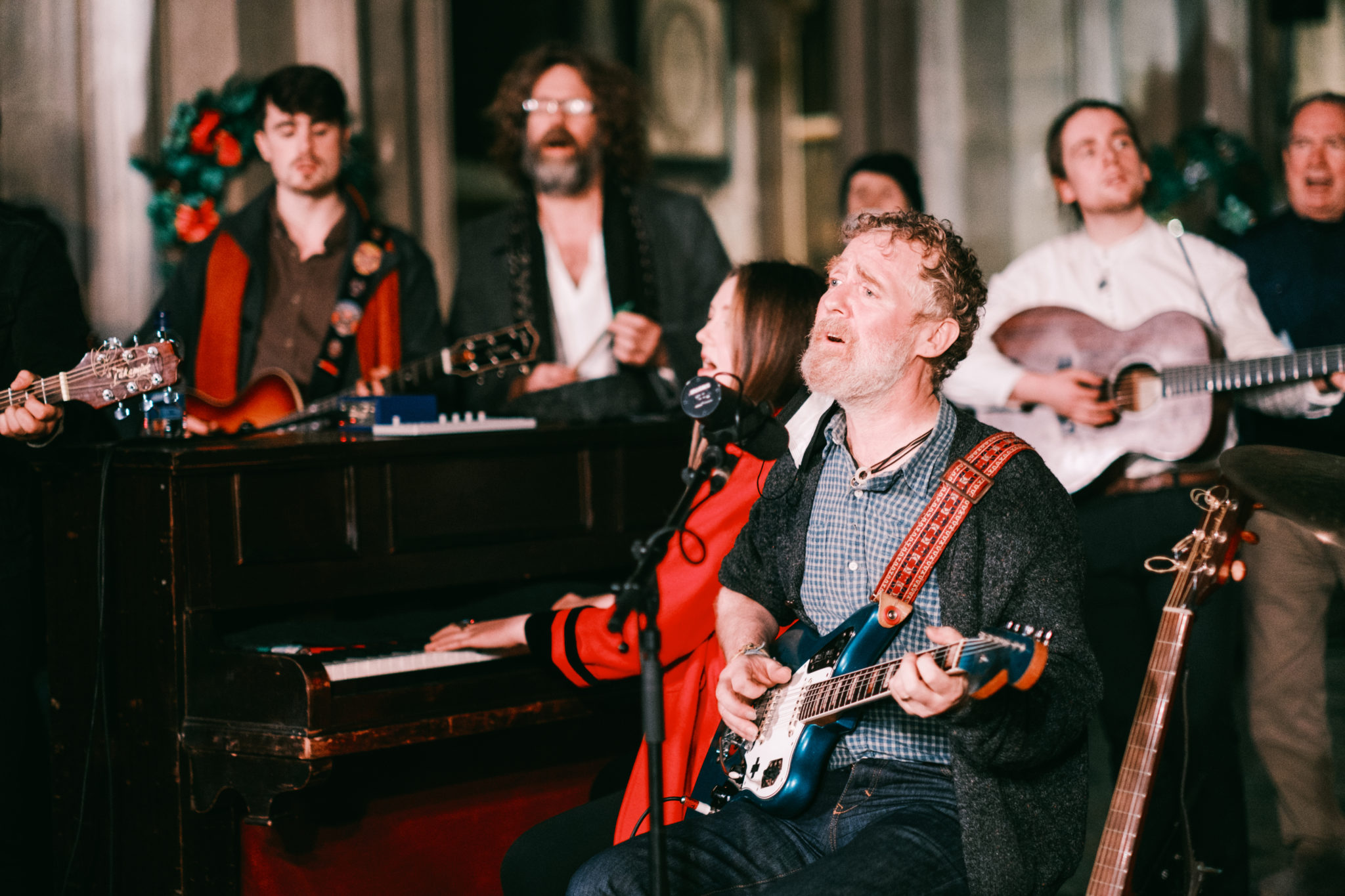 Kila's Rónán Ó Snodaigh, who also features on the record, made sure to express gratitude for his involvement.
"When you sing or write music or songs, you're trying to, well I do, try and create solutions for people to feel relieved by. So to me, they're emotional puzzles that I try and play with and to think that the song is going to go into a recording, collect money and really do it for real, not just emotionally for people but really raise money to help people; I'm thrilled to be involved."
Advertisement
Pre-sale for The Busk vinyl, which will be available from December 9th, is live here. The double-sided 140g vinyl is made from zero waste ecomix recycled PVC, with a gloss finish 505 micron PEFC certified board sleeve.
The Busk tracklist:
Side A
Running to Stand Still – Bono & The Busk Choir
Goodnight World – Lisa O'Neill
Astronaut – Damien Rice, Glen Hansard & Rónan O'Snodaigh
In the Half-Light – Laura Quirke
Fitzcarraldo – The Frames
Young Soldier – Adam Mohammed
Side B
Forever Young – Liam O'Maonlai & The Busk Choir
Ní Ceadmhach Neamhshuim – Louise Mulcahy & Manchán Magan
Big Love – Lily
Tá'n t'Ádh Liom – Rónan O'Snodaigh, Myles O'Reilly & Stephen James Smith
If you aren't in a position to purchase The Busk, donate what you can at dubsimon.ie.
Advertisement