The lineup for this year's All Together Now includes Iggy Pop, Lorde, Jamie xx, Caribou, Loyle Carner, Villagers, Jessie Ware, Sugababes, Lankum, and more!
One of Ireland's biggest festivals, All Together Now, takes place this coming weekend, Aug 4 - 6, 2023, in Curraghmore Estate, County Waterford.
The festival, including the campsites and car parks, open today, Thursday, for those lucky few who nabbed an Early Entry pass. These attendees will have plenty of entertainment to keep them going, with acts like Gemma Dunleavy headlining the Belonging Bandstand joined by Shiv, Stevie G, Rachel Mae Hannon, R3D's House, Ahmed, With Love, and Big Sleep, as well as the spectacular Arcadia breathing fire and playing dance classics.
From tomorrow, Friday, festival-goers can enjoy all 18 stages of music, art, theatre, spoken word, comedy and feasts of food, with plenty more hidden gems set in the gorgeous grounds of Curraghmore House, Waterford.
Advertisement
The festival is set to welcome the likes of Iggy Pop, Lorde, Jamie xx, Caribou, Loyle Carner, Villagers, Jessie Ware, Sugababes, Lankum, and more.
Acts like Tommy Tiernan, Deirdre O'Kane, Emma Doran, David McSavage, Ross Browne, and Enya Martin make up the weekend's comedy line-up.
Organisers are incredibley excited to welcome guests on to the site: "We can't wait for you to see what we've been working on. Check out the apocalyptic vibes of The Last City, enjoy debates and talks at All Curious Minds, relax and soak up the vibes in our hot tubs and saunas, gear up for AVA in the Woods, Lovely Day Stages, get the festival buzz in the Carnival Quarter, for example. There's so much to do, see and experience."
These organisers have also warned last minute ticket buyers to steer clear of scam tickets: "There are very very limited tickets available from official Ticketmaster outlets only. Please be careful not to purchase from unofficial outlets, these may be counterfeit."
Mobile tickets for ATN are downloaded directly to your phone, meaning there's no need to print or search through your emails! Find your tickets in your Ticketmaster account and on the app, or save them to your mobile wallet. You can check out a step-by-step guide on how to download your tickets right here.
Advertisement
Directions to Curraghmore House are available on the ATN website - with routes available for cars, buses, and trains. It's been advised that travelling by road between 9am and 1pm on Friday is one of the quietest times to travel to the festival.
As for the weather, organisers commented: "It's Ireland and it's meant to be summertime, but we strongly recommend that you prepare for all eventualities. Bring along waterproofs, wellies, hats, scarves, sun cream and shades - bring it all. The ground might be a little soft underfoot! Also, photo ID, your tickets (v important!) sleeping bag, tent, loo roll, bank card and toiletries."
Alcohol can only be brought onto the festival site the first time attendees arrive and are wristbanded. The alcohol allowance is 24 cans, or one litre of spirits, or one and a half litre of wine for personal consumption - however these will not be permitted in glass bottles. Organisers have also reminded those attending to always drink responsibly.
Advertisement
The festival's bars will be cashless, accepting card and contactless payments only, so remember to bring your credit or debit card with you! Non festival affiliated traders will accept card/contactless and cash payments. There will also an ATM on site.
The Bank Of Ireland All Together Now app contains almost everything you need - it's the only place to check the festival's site map, a great place to keep up to date with everything as it happens, travel news, any stage time changes, and everything in between.
Make sure to have a peek at the ATN website for a list of what you can and cannot bring with you to the site before you head to Waterford. You can find a list of what is prohibited to bring on-site here.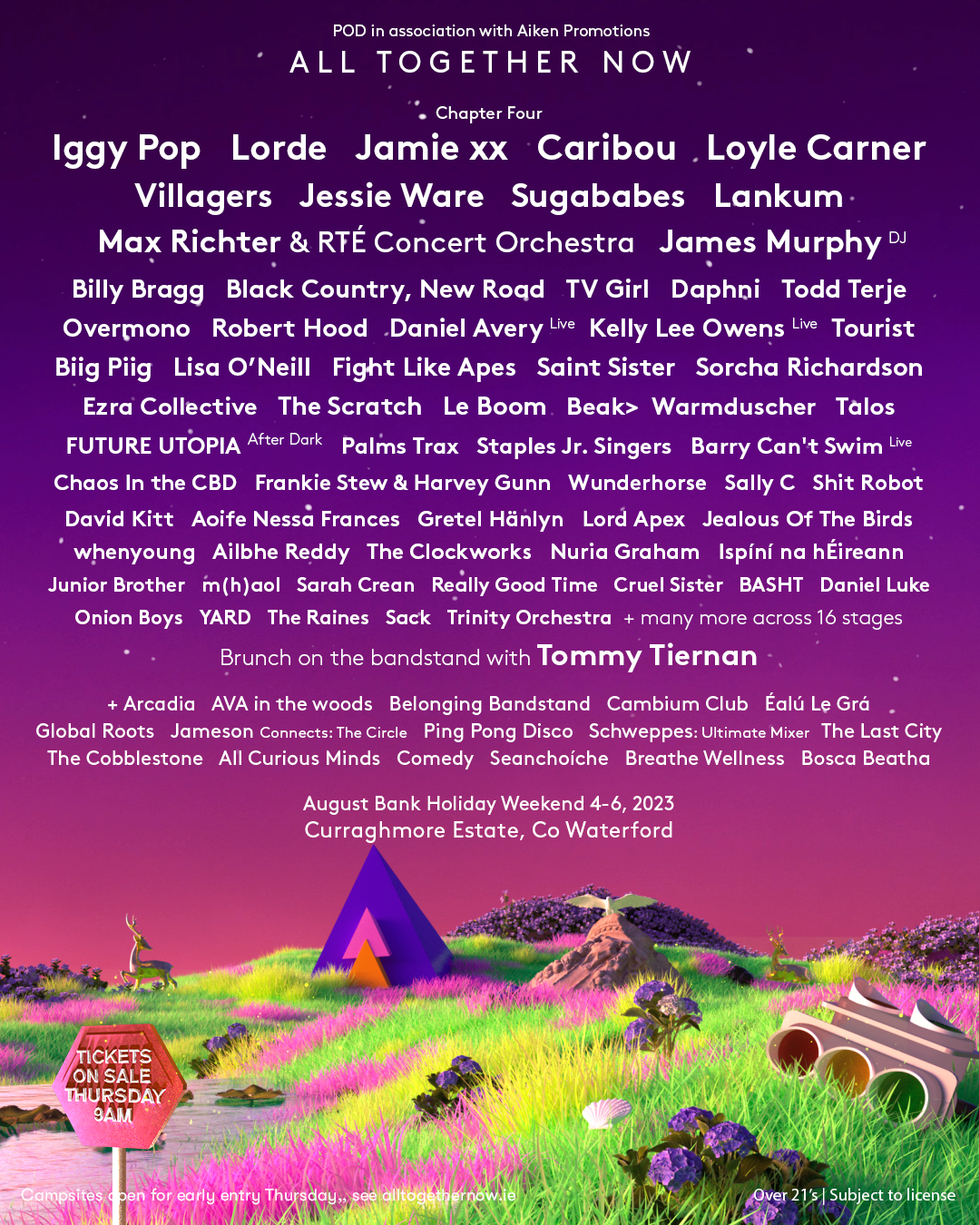 Most of all - remember to have fun, drink responsibly, and tell us all about your favourite acts on Monday!
Advertisement