The fourth chapter of All Together Now takes place Friday 4 – Sunday 6 August 2023.
Guinness and All Together Now festival have announced a brand new Lovely Days stage for the August Bank Holiday weekend, featuring special guest Annie Mac.
The incredible lineup for the weekend featuring an electric mix of emerging and established Irish and international artists, including Tourist, Fight Like Apes, Beak>, Ezra Collective, Warmduscher, Le Boom, Talos, FUTURE UTOPIA After Dark, Palms Trax, Barry Can't Swim Live, Chaos In the CBD, Staples Jr. Singers, Wunderhorse, Frankie Stew & Harvey Gunn, Gretel Hänlyn, Lord Apex, whenyoung, Tolü Makay, Aoife Nessa Frances, The Clockworks, Nuria Graham, New Jackson, Cruel Sister plus surprise guests.
One of Curraghmore House's main stages will be reimagined by Guinness to create a multi-sensory space, set to bring magic days and incredible nights to All Together Now. The Lovely Days area includes a custom-built stage designed for an energetic combination of music, from indie and electronica to laid-back rap.
With just over two weeks to go (the excitement is building), Guinness and All Together Now have also unveiled the first special guest set to take to the Lovely Days Stage, as broadcaster, author and musician Annie Mac. The London-based DJ maestro will make her official All Together Now debut on Friday 4 August.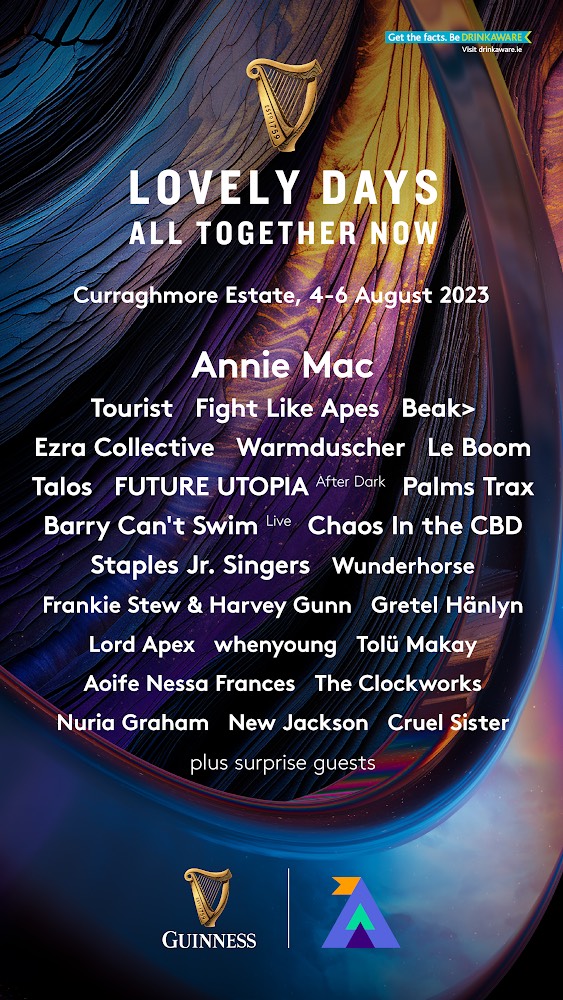 Advertisement
The Lovely Days stage is a design by Irish creatives Kev Freeney and Jordan Ralph; built as a backdrop to enhance every performance, created with the beauty of Curraghmore's tree-filled skyline in mind.
Under an orbiting halo, surrounded by nature and textures of black Shou Sugi Ban timber and gold, artist performances will be married with a curated and extensive lighting experience. Visuals will surge from LED screens behind performers, onto the halo, and ripple outwards along monoliths flanking the stage and into the festival crowd.
In between sets at All Together Now's newest stage, festival goers can also enjoy a creamy pint and summer vibes at the new Guinness 1759 Bar with plenty of unmissable moments across the weekend.
There will also be a new G00D Times Bar in the Front Lawns serving drinks throughout the weekend, including Guinness 0.0. Expect the same taste of Guinness, just without the alcohol.
"Building on last year, we wanted to create an even more immersive experience for festival goers and a space for people to connect," Anna Sablovscaia, Marketing Manager at Guinness Ireland, said today. "We can't wait for people to see what we've created and for guests to celebrate the magic of All Together with a creamy pint."
Advertisement
Will Rolfe, Promoter at All Together Now added, "It's been an exciting process to collaborate with Guinness and a team of Irish creatives in such an authentic way, all sharing the same ambition to enhance the festival experience for audience and artists. The Lovely Days Stage is an incredible addition to the festival, with a line-up that includes various genres. It's set to be a crowd favourite!"
The fourth edition of All Together Now takes place Friday 4 – Sunday 6 August 2023.
Tickets available at alltogethernow.ie/tickets