Listen to some of our favourite new Irish releases from the first week of May below!
Bricknasty, 'ducks ina row'
The third single from Bricknasty's debut EP, INA CRUELER, follows the title track and KhakiKid collaboration 'fashion'. The genre-blending offering, which features an animated video of his home residence co-directed by frontman Fatboy - is heavily inspired by Dublin's Ballymun flats, much like the EP itself. The track's opening is infused with an acoustic-jazz guitar, layered with textured vocals driving the song forward with a funk, hip-hop momentum. Signing to FAMM, Bricknasty are joining labelmates Jorja Smith, Enny and Maverick Sabre in the independent label's mix.
Character designs for the 'ducks ina row' visuals were provided by CmkRealm, with 3D assistance and motion graphics by Rilla.127. Produced by Cillian McCauley, frontman/guitarist Fatboy jams with warped, fuzzy electronic flourishes with his laidback delivery. Packed with their usual rich, warm instrumentation, we're excited to see how bassist Dara Abdurahman before drummer Korey Thomas and saxophonist/keyboardist Louis Younge - plus Fatboy - perform this live.
Grian Chatten, Fairlies
The Fontaines D.C. vocalist and frontman worked with producer Dan Carey on his debut solo record Chaos For The Fly, which arrives on June 30th via Partisan Records. The new video for 'Fairlies' was beautifully animated by Callum Scott-Dyson. Opening with a distinctively trad beat, the Dubliner opens with: "Kindness is a trick to turn you strange / Until you're twisted and you're shining like a varicose vein / Anger makes you weak and turns you sick / And gets you in the six feet nice and quick," before urgent acoustic guitar and percussion kicks in. "I can live alone, happy / I fought for the right to be." The track follows lead single 'The Score' from last week. "I wrote 'Fairlies' in intense heat," Grian describes. "Partly in Jerez, Spain, partly in LA a couple of days before a Fontaines D.C. tour kicked off. It was a quick write, and I believe I celebrated each line with a beer."
Advertisement
Ezra Williams and Sammy Copley, 'Until I'm Home'
Experimenting with playful synths over their staple cool, breezy acoustic guitar, Williams, the 21-year-old singer-songwriter from Cork has dropped 'Until I'm Home', from their forthcoming debut album, Supernumeraries (out June 16th via AWAL). "Don't wanna lean too much / I could get used to using you as a crutch," the pair harmonise, describing the feeling of dependence on a loved one when you're struggling to hold the world on your shoulders. The mingling of their choral-like, angelic voices is a match made in sonic heaven. "I wrote this song on the train home from hanging out with my girlfriend at the time," Williams said. "I overthink everything and cannot be left alone with my own thoughts for a second or I'll feel like the world is collapsing in on me."
49th & Main, 'Crash and Burn'
The latest release from the Kilkenny indie-pop duo opens with a contagious uptempo pop melody before mellowing out mid way through. The new singles ('Said Nothing' features SKYLAR as a compelling ballad) marks the pair's first release since their 2022 single, 'Believe in Love'. Both tracks were mixed by Edmund Irwin-Singer of Glass Animals, with the double A-side following on from their 2022 debut EP Must Be Nice.
"Any given songs potential is at the whim of how good the idea behind it is, and how motivated we are really," 49th & Main stated. "Crash & Burn was a 'slow burner' so to speak. Felt like a decent idea but very barebones for a long while. Until, day by day, harmonies were added, guitar layers, horn sections, drum switch ups and then seemingly out of nowhere, we had our biggest song we'd ever made. 'Biggest' meaning most musical elements/layers and probably most technical too. It's been a favourite of ours for a long time now so we're very excited to share it ."
Loraine Club, 'Sleepless Nights'
Advertisement
The six-piece outfit from Dublin have debuted a new '80s throwback-style single 'Sleepless Nights'. The track is loaded with warm instrumentation, filled with jangly vintage guitar notes and lofi vocals and showcases the outfit's typical driving bass and hard hitting beats. Loraine Club's catchy new song was penned after a hazy night out after a band performance: "Too many sleepless nights / It's taking its toll on me..."
Jordan Curtis of the group had this to say on the new release: "The songs lyrical content is pretty self explanatory, I wrote it with a lovely hangover the morning after a gig we played in Tipperary at the end of last summer. The idea was to make a kind of 80s rock pop song like Genesis or Toto also the guitar harmonies in the outro are also pretty Thin Lizzy inspired. We wanted to really embrace being a guitar band this year and give the recording a more live atmosphere to them."
Rachel Mae Hannon, 'The Boys'
Out today, the Monaghan-native returns with a new neo-soul, catchy single. This passion-filled, sultry groove has landed just in time for summer, celebrating empowerment for marginalised communities. With a foundation of soulful drums, deep tones and rich harmonies, this track is sure to become the ultimate anthem for the sunny season. Tune into The Late Late Show tonight at 9.35pm to catch Hannon's debut performance of her new single. The Dublin-based singer has also just announced news of headline show at Whelan's Main Room on October 20th. Since her debut release in 2020, Hannon has sold out headline shows in Whelan's and Workman's and supported the likes of HAIM at Trinity Summer Sessions and Tom Odell in the 3Olympia.
shiv, 'Heavy Water'
The Dublin talent returns with a soulful new R&B gem, following jazzy 2023 single 'Late Now'. 'Heavy Water' opens with delicate, bluesy piano chords before an emotion driven narrative begins lyrically. "I'm busy wasting, well it's too close to taste it / Halfway into our love, how do I find it? I've gone and lost you..." she croons, her honey-toned vocals sounding more stunning than ever before on the richly textured heartache single. "Won't you take by breath? Won't you pull me in?" Having released a string of singles back in 2020, rising talent announced a record deal with Warner Music Ireland in January of this year. Drawing influence from artists such as Biig Piig and Jorja Smith, Shiv has also crafted tunes influenced by Orion Sun, Arlo Parks, H.E.R and FELIVAND. Armed with a degree in psychology from UCD, Siobhan McClean (aka shiv) recently hit the stage with Kojaque and Kean Kavanagh at Bulmer's Secret Orchard event at Whelan's, wowing the crowd.
Advertisement
Chalk, 'Conditions'
The Belfast-based post-punk/electronic trio have dropped their 5-track new EP today, of the same name. Debut single 'Them' got them attention from all the right places, with 'Conditions' using direct callbacks to thematic scores of previous singles. Abandoning all hopelessness at the door and leaning on '90s-inspired rave and electronica as the primary spiritual notes, when the drum beat kicks in, you'll be high as heaven. Lyrically, the cinematic track deals exclusively in catharsis, ecstasy and commonality shedding any isolation. Once again produced and recorded by collaborator Chris Ryan (NewDad, Just Mustard), 'Conditions' erases the borders between the rave and the rock.
"'Conditions' is our way of summarising everything that life brings to us as people, both good and bad, in our dreams and in our relationships, in our struggle to find out who we really are, wrestling to discover what our purpose is, and where we belong in this world," Chalk explain. "We feel that 'Conditions' captures the essence of everything we've touched on throughout the EP and brings all of these emotions together, to a sort of catharsis. It's our way of pouring out how the world has impacted us over the past three years, and how all of us have changed as a result."
Luka Palm, 'Wait What'
Taken from his brand new BOYRACER EP, out today, the Irish talent is bringing nothing but heat across all four blistering tracks. 'Wait What' uses video-game-like electronic flourishes and intense background melodies to paint a dark atmosphere with brooding synths. His usual flair for creating fresh sounds with influences of contemporary R&B, bling-bling rap, neo-soul and trap has been pushed forward into a more raw sonic landscape. Produced by Kean Kavanagh, Wastefellow, Michael Monaghan and Jack Marlow, the project was released via the BUG LIFE label. The Swedish-born rapper who grew up in Dublin has been a staple of Ireland's underground hip-hop scene since the release of his track 'Pink Lady' back in 2015. Palm previously linked up for a joint EP with Kojaque, Green Diesel.
 

View this post on Instagram

 
Advertisement
Joexxvincy, 'Dubflint'
Taken from his new Council Baby EP, the hip-hop artist first burst onto the scene in 2019 with 'DO IT', a collaboration featuring Remy Lebeau. Building up a steady profile since then, 2023 saw him release 'SCRAPS N 9s' and '101 Freestyle', gearing up for the debut EP drop today (May 5th). With hard-hitting beats designed to shake the walls, 'Dubflint' was released ahead of the EP and for good reason - it's packed with epic, dexterous wordplay and clever rhythmic choices. "Penny for my thoughts 'cause you know I'm tryna change," he declares, atop of mesmerising trap beats. Two years in the making, his latest single was produced by eclectic Dublin artist Femi (@F3miii), who has worked with Jafaris and more of Dublin's most talented hip-hop acts.
Sample Answer, 'Festival Song'
The Dubliner has gone from homelessness in London, doing open mics night after night, to supporting artists such as Pete Doherty, Damien Rice, Gabrielle Aplin, The Fratellis; taking his skills from street to stage and working hard to make a name for himself. His debut EP Good Boy arrived in 2015, finding support from Annie Mac and John Kennedy. He returned to studio in October 2015 recording a second EP Textile Baby, produced by Iestyn Polson (Patti Smith, David Gray) before releasing his Collision EP in 2016. After experiencing addiction and homelessness once again, painting served as a cure, and he was quickly back on the rails. His first exhibition, a joint one with his girlfriend and fellow artist Anne Laure Lacan received positive reviews. Now living in East London with his girlfriend, 'Festival Song' follows two 2022 singles, and appears on his new mixtape Mama God. Opening with gentle electric guitar chords before his distinctively soul-inflected rockstar voice kicks in, passionate and fascinating.
Eiza Murphy, 'Conman'
Written by Eiza and produced by her sister Lenii, 'Conman' is about being deceived by someone and becoming closed off or emotionally unavailable. The fastest song the Cork native has ever written, the track remains the same as the day-one demo. Eiza has been finalising her debut EP and writing songs for other artists over the last few months - including Kenzie Ziegler's latest single, '100 Degrees'. After having music featured in Netflix's Riverdale series and charting at #1 on iTunes Ireland twice, Eiza gets straight to the point, using cutting language to depict her anger on 'Conman'.
"I wrote Conman in fifteen minutes while my sister had friends over. I sang really quietly so that they wouldn't hear, and basically just word-vomited the whole song into the mic. I was completely unattached to it at first because I thought it was too blunt, but my sister and I were supposed to work on a different song that day and when I played her the demo of Conman, she refused to work on anything else. So, Conman was started and finished that day, and hasn't been touched since. Making music with my sister is always my favourite thing to do, and we had so much fun making this song. It's brutally honest because I never thought it would come out, but here we are."
Advertisement
MayKay and Elaine May, 3AM (Radio Edit)
Iconic electronic artist/producer Elaine Mai has shared a video and radio edit for MayKay collaboration '3AM' - one of the stand-out album tracks from her RTÉ Choice Music Prize nominated album, Home. Marking the first time its been released as a single before, '3AM' has received such a huge reaction in live settings. Breathing new life into with this version, the visuals were helmed by up and coming director Cara Gaynor.
Elaine Mai says: "'We've created so many amazing memories performing 3AM. It's one of the clubbiest tracks on the album and we wanted to showcase it with a new visual interpretation from the brilliant Cara Gaynor. The track celebrates female empowerment, togetherness, and chosen family. It's an ode to losing yourself on the dancefloor, in music, and with others."
Dubh Lee, 'To My Sisters'
The melodic alt-rock artist has shared their debut EP Animals and Friends, following previous singles 'Low Again' and 'Holly Would'. For the most part, the project explores the artist's internalised misogyny and romantic misadventures. Dubh Lee took inspiration from 'Make Me Smile' by Steve Harley and Cockney Rebel for the backing vocals on gorgeous track 'To My Sisters', a highlight from the EP. "It's a deceptively upbeat song that recounts how internalised sexism has coloured my relationships with the women and men in my life. Everyone is subjected to so much gender-biased rhetoric growing up, it took a lot of self reflection for me to rewire my brain as an adult. The verses look at how I was manipulated by various men growing up; with the chorus I'm trying to apologise to my female friends for my past transgressions. The choruses swell with female backing vocals."
Advertisement
Eoin Devereux, 'Lost In My Head'
Written and self-produced, indie-rock artist Eoin Devereux is back with new single, 'Lost in my Head', exploring the complex set of emotions surrounding feeling different and misunderstood, and the consequences of loneliness and feeling lost that accompany them. Speaking of the new track, the Wexford native explains, "I wrote this song to express the feelings of isolation and disconnection that can come from thinking differently, but also to celebrate the highs that being different can bring. I hope that this song resonates with anyone who has ever felt like they don't quite fit in, and reminds them that they are not alone." Featuring a stunning melody and introspective lyrics, Devereux's new track provides the perspective of an outsider looking in at today's society.
Lewwab, 'I Got You'
A creative electronic beat and steady percussion overlaid with laughter, the newest single from the female electronic duo LEWWAB is a relaxing piece perfect for grooving in the soft, calm moments. Complete with a synthetic, laser-pop voice repeating an assuring vow: "I promise I got you" the track melds Lara and Anna's musical talents together into a fantastic first single off of their new upcoming EP. The Cork duo using use, percussion and synth amongst other electronic ambient sounds to create a unique offering.
Lydia Ford, 'Burning Out'
Speaking about the social anxiety that seems to permeate life in the 21st century, Lydia Ford explores the cost of downward spiralling. The sympathetic indie-pop lyrics air out the stress left behind by being mentally and emotionally exhausted. The slow-beat, "anthem for the burnt out millennials" is an earnest reminder that no matter how life changes, it cannot stop the onset of stress that younger generations face, induced by countless, seemingly meaningless but no less daunting tribulations: whether it be the fear of living without meaning, just existing in a crowd, or risk of being a downer at a party.
Advertisement
Cian Nugent, 'The Sound of Rain'
The Dublin native has revealed a gem from his new album Brings Me Back To The Land Of The Living. A slow-paced single, it sets a scene sitting by an open window with the rain coming down, enjoying the sound and the serenity it brings. The musician goes on to list his surroundings and emphasise the small beauties that decorate the mundane scene. It's an appreciation shared with the rest of Cian's album, which takes inspiration from Nugent's mother Kathy Nugent. When Kathy was recovering from a stroke and still experiencing difficulty with her speech in 2018, she kept repeating the phrase "She brings me back to the land of the living". The Dubliner subsequently adopted it for the title of his fourth album, his first in seven years, noting how these eight songs "act as a way of processing change and accepting new futures."
Vi0let, 'Lonely'
Talking to the listener, Vi0let encourages running away with others to avoid the onset fear of being lonely. The Brighton-born girl regretfully remarks that personal mental blocks to success, sharing a vulnerable insight into her deeper fears that come with living.
On Instagram, Vi0let added that writing the song with Clara Chugh was "like therapy." A single that navigates life, it gives voice to what seems like a cultural taboo: not knowing what you're doing as an adult, socially or professionally. It's meant to give courage and reassurance to those feeling the same dark feelings, offering not only an outstretched hand to those struggling with loneliness, but giving them solidarity and a role model to look to when fighting off those darker social fears.
Advertisement
Conor Maley, 'Praying For Change'
The Donegal native was inspired by the homelessness crisis paired with the struggle of everyday people on his new single, having been writing tunes since the age of 10. The country-pop single was produced by Matt Weir, who opted to maintain the melodic aspect to the lyrics but slow down the tempo. Having relocated to Belfast at a young age, in 2017 he won JBL eon one take UK songwriting competition and was brought to London to record his song 'Lost Boy' with Grammy winning producer Steve Lavine.
"When writing it, I thought of all the people in the world that live without the necessary things we need in life. I have a go at God and other higher powers in the song but feel like anyone can have their own interpretation of what it is I'm talking about," Maley explains. "Initially when I wrote the song it was a very fast pace. Slowing it down and giving it a slick almost country edge brought out room for the lyrics to shine through and gave the song exactly what it needed. Listening to the track I felt like fans of Chris Stapleton to Gavin James would love this song."
Badhands, 'Head in the Clouds'
Daniel Fizpatrick (aka Badhands) has unveiled his brand new album The Wheel today, with piano-led psychedelic ballad 'Head in the Clouds' standing out easily. The album follows his 2022 offering Far Away. Having been a musician and songwriter for years with the likes of The Mighty Stef, The Last Tycoons, and Maud In Cahoots, Badhands' 2018 debut album Predictable Boy earned deserved critical acclaim. 'Head in the Clouds' maintains a melancholic, woozy pace with rich background instrumentation and relaxed vocals depicting the mindless wandering the same avenues over and over again. The song was recorded live in the Meadow studio, with extra vocals later added by Aoife Ruth and Paddy Hanna. The track gradually builds in mood and atmosphere towards a soaring finale.
Advertisement
YAWA, 'Hangout'
'Hangout' is the latest release from indie duo YAWA. Composed of Tim D'Arcy and Harry Keyes, the duo from Dublin are back with the perfect summer wind-down song, with a dreamy soundscape set against a hazy beat and lyrics. The track, which is positively breezy, soothes the soul, setting a happy, positive tone. Described by London music blogger 'Sound Sniffer' as "in-between the bubbly and vibrant style of early Two Door Cinema Club and the bass driven sound of Mystery Jets," the new groovy, tune is sure to leach out into summer playlists this year.
Matt Grafton, 'puzzle pieces'
Croatian singer-songwriter based in Dublin, Matt Grafton, has released his debut, 'puzzle pieces'. The track is dominated by Grafton's velvety lyrics and its sultry, electric guitar. Inspired by a variety of rock, metal, pop, funk, and blues music, his influences have bled out into this new release. 'puzzle pieces' is the title track of the Croatian artist's upcoming EP. Produced by Gon Massey, the track is available to stream below.
Pier, 'Hollow'
Packaged in a song, 'Hollow' is a form of catharsis exploring loss, vulnerability, and internal fracture. In this new track, the alt-rock artist weaves together haunting vocals, atmospheric guitar work and ethereal strings, producing a unique, fresh take on the 90s dream-pop/alt-rock sound. Recorded in Dublin's Sonic Studio, the recording features Jacopo Stofler and Sara Barberio (Elaphi) on guitars, Kian Johnston (Slightly Dishevelled) on drums, and Dara Abdurahman of Bricknasty on bass.
"The song reflects on the aftermath of investing too much into something that was never meant to be meaningful, such as a one-night stand," Pier says of his new latest song. "More than a cliche unrequited love story, I rather think of it as a broader reflection of the human experience. As someone who has been living abroad for a while, I think I was just drawing from my own experiences to express that internal fracture that many people like me face at some point in their journey."
Advertisement

Essiray, 'Floating Up'
Rising above the prospective thought about meeting her downfall, Essiray sings an empowering, optimistic indie-pop track blending self-confidence, affirming accomplishments, and conquering personal fears into a rally cry encouraging listeners to join her "floating up" above adversity and stress. The Dublin-artist feels no remorse "wreaking havoc on the stars," taking on life and the music scene with an upbeat attitude and popping rhythm laden with stunning, melodic lyrics.
Bríd Lyons, 'Pass Me By'
The Kilkenny-born singer-songwriter and musician has unveiled a new EP today, Tied To The Turf. The project was recorded between Windmill Lane Recording Studio, Crossroads Recording Studio, Beardfire Studios and Ballyfermot Library Creative Studio and also features a live version of Bríd's song 'Mothlight' recorded at her headline show in The Cobblestone Venue in November 2022. Beautiful a capella song 'Pass Me By' draws inspiration from the traditional Sean nÓs style of singing but is modernised by atmospheric production. It's a painfully honest song about learning the meaning of true heartache and trying to take comfort from the positive and educational aspects of the experience. The notion that 'what's for you won't pass you by' is often reiterated by Bríd's mother and brings comfort and acceptance in moments of great loss.
Pagan, 'I Want Your Love'
Following the Dublin artist's 2023 single 'Two Faces' and PGN01 EP (featuring 'By Design' and 'Flowers'), the brilliant Pagan is back with a euphoric dance anthem that immerses the listener in a swirling beat. The young producer has been on the scene for years, getting his first break as a resident with one of the capital's most iconic collectives, Toast. This opportunity allowed him to hone his skills as a selector, playing raw, gritty, house and breakbeat style sets in the beloved Wah Wah Club basement. Nominated for the AVA emerging producer of the year in 2019 for his trance-inspired breakbeat track 'Rise', he's garnered much-deserved attention ever since. 2023 is already proving to be massively exciting for Pagan, following his 2021 debut EP Wash Away Our Fears, with the revered London-based label Lobster Theremin and Butterfly EP the same year. If 'I Want Your Love' is anything to go by, he'll deliver even more exhilarating slices of heaven in the coming months.
Advertisement
 

View this post on Instagram

 
Slick Bullet, '4 Man'
Rising drill artist Slick Bullet (Samuel Edward), who was born in Nigeria but bases himself between London and Ireland, is turning up the furnace with his latest sample offering '4 Man'. The producer, sound engineer and musician is building a reputation for his smooth, melodic approach that often collides with familiar drill textures. His Afroswing/Bashment/hip-hop sound is on full display on '4 Man', which follows fellow 2023 singles 'Jessica Snow', 'Bando Baby' and 'Out All Day'. Showcasing a lush vocal ability, the emotionally driven outing is about learning tough lessons as a young boy trying to become a man. "Out on the lonely streets tryna hide these scars." Described in a press release as "a raw, intense portrait of a life consumed by crime, a story of reckless youth and the consequences that follow. It's haunting melody and explosive chorus will leave you feeling both moved and exhilarated, a true testament to the power of music to capture the human experience."
Slick Bullet is gearing up for his first headline show at The Sound House on Friday the 23rd of June. Hosted by DJ F.M.F beats and accompanied by Dubzeno, Smilez, King Prezi, Dane, Asha Ari, Huggie B3ar, Bernard M, and Demlot. Doors for the gig are due to open at 7:30pm, and tickets from €20 are on sale now.
Éadaoin, 'Goodbye'
After dropping her Graveyard + Chill EP in 2021, the Cork artist dropped 'ADRENALINE' earlier this year before today's new track, 'Goodbye'. The editor, videographer, filmmaker and singer-songwriter (full name Éadaoin O'Shea Costley) first started releasing on streaming services back in 2017, and her progress is crystal clear. 'goodbye' is packed full of ethereal, angelic vocals paired with ghostly background harmonies. "My only regret is that I never kissed you goodbye," she croons on the poignant, melancholic gem of nostalia. "And it's still in my head that we never finished it right / 'Cause you were the best / Would have never given you up / We kiss goodbye in my dreams, then I woke up." She's adept at capturing an emotion and embodying it within melodies and lyrics, like a diary exploding onto a guitar.
Advertisement
Elephant, 'Olivia'
Landing after 2023 single 'Young', two years after his last musical output, 'Olivia' starts with warm guitar finger noodling and rich textures. The brainchild of multi-instrumentalist Shane Clark, known for his ability to walk the hallways of countless genres, Elephant's compelling new track arrives via Pizza Pizza Records. From folk to funk, four-part vocals to vapourwave, Clark has adapted to many styles, now including Western, which can be heard on 'Olivia'. The new single is a forced together selection of feelings and memories or nightmares Clarke experienced one night when he had a very high fever. "Always so far away..." he sings, his vocals warped.
About the single Clarke says "You know those kinds of nights where you are freezing and sweating and you can't seem to get to grips inside your own mind. Thoughts repeat and repeat like playing a loop pedal but you can't switch it off. Retching and aching. There's a baby crying? When did love leave? Wagons? Cats? Trains? Just crazy looping images and scenarios, voices and crying... where is Olivia? Who is Olivia?"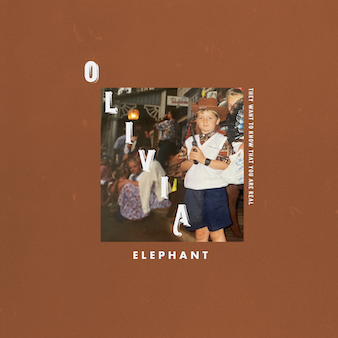 Dylan Kearns, 'Make Me a Believer'
Produced by David Curley, the Dublin musician's new tune is an uplifting single crafted to emphasise the joy of love and hope above all else. Armed with luscious synths and sweeping orchestral segments, 'Make Me a Believer' builds to a cathartic release in the latter half, mirroring the rollercoaster of emotions facing the protagonist. Always offering a redemption arc within his music, Kearns' vocals are booming with power. "I can see it in your eyes, and it's breaking every bit of me / It's like one step forwards, two steps back / I know something's gotta give / But now I'm lying on this cold, cold ground / Screaming but there ain't no sound," he sings before a gospel-inflected chorus of layered harmonies. Dylan's fourth release and first of the year follows his debut single 'She's Like A Drug' from March 2022, which we nominated for Irish Song of the Year.
Karl Mac and Jodie G, 'Wish I Didn't Miss You'
Advertisement
Having made a name for himself on the Irish dance scene over a decade ago, producer Karl Mac has played the biggest events up and down the country for years. The DJ is today making his highly anticipated debut as a recording artist with 'Wish I Didn't Miss You'. Renowned for sets packed with energy, he captures that sound on the explosive new dance track. Securing hundreds of thousands of streams across SoundCloud and YouTube pre-release, it's official launch is predicted to be big. Joined by his cousin Jodie G on vocals, Karl showcases his masterful grasp over the genre with family ties. Demonstrating hard-hitting basslines and classic house pianos, this scintillating banger has a noteworthy presence. It launches with an event at Dublin venue The Button Factory.
Gilmore, 'Goose'
Rising Irish producer Gilmore is braced to release a four track EP spanning UK breaks, emotional club and anthemic techno from a melting pot of influences (Adam Pits, Overmono, Bicep) on May 19th. Ahead of the full release, Rory Gilmore has unveiled 'Goose', supporting previous single 'Electric Tears'. The new tunes land hot on the heels of an EP release on Belfast based, Timmy Stewart-headed label Extended Play in late 2022 – with the title track 'Borderless' being debuted by Rinse FM resident Kessler in his Shall Not Fade in-store mix. Expanding his sound with infusions of psychedelic progressive club, introspective dub-pressure and fascinating techno-breaks; the Lemonade Shoelace drummer is sure to get people moving with his latest anthem. Creating an all-encompassing atmosphere with his electronic sets, Gilmore is definitely one to watch this year.
The Kyd G and Sir Otho, 'Talk Shit'
Released today, 'Talk Shit' has been arrived with a storm of bravado and slick beats by The Kyd G, featuring Sir Otho. The bass-driven grime track is dubbed with synth sound effects for a cool, seamless melody. "I used to stress about money and how my clothes hung on me but now I can never complain." The Kyd G has previously released 'Lemme Tell Ya (B*tch), with a feature from HallowBoysDance. His previous solo singles, 'Awh Baby', 'No Sense', and 'Serenity' were released in 2022 and 2021 respectively after his previous collaboration with HallowBoysDance on 2021's 'Try My Luck'. The Kyd G recently opened for Loud Motive and Chris Kabs at The Academy in Dublin, impressing everyone in the room with his captivating stage presence and confidence. Meanwhile, Sir Otho's previous release 'Home Girl' dropped in 2022 through Odyssey Records.
Advertisement
Listen to the playlist in full below.