ESNS (Eurosonic Noorderslag) returned with a virtual festival this week, with Irish talent on thrilling display throughout.
Irish artists delivered an incredibly diverse range of genres, moods and tracks during the 2022 edition of ESNS (Eurosonic Noorderslag) festival last week.
The spotlight was focused directly on Irish-Zambian artist Denise Chaila, having nabbed a Music Moves Europe Award at Thursday night's ceremony in the Netherlands. Dublin band Inhaler won the overall Music Moves Europe Awards prize in 2019 and the prize has previously been won by Stromae, Adele, Mumford & Sons, Dua Lipa, Rosalía, Meduza, Lous and the Yakuza.
Winners of the Music Moves Europe Awards were selected by an expert jury consisting of Gemma Bradley (BBC Radio 1), Cindy Castillo (Mad Cool Festival), Kevin Cole (KEXP), Bryan Johnson (Spotify), and honorary jury member Alyona Alyona (Public Choice Winner 2021).
Speaking about Denise Chaila, the jury said: "Smart lyrics, a real passion and strength when performing. One of the most exciting artists on this year."
Five Music Moves Europe Award winners receive €10,000 each - we're excited to see how Chaila uses it!
Advertisement
Sadly, the festival had to be held virtually again this year, but this didn't stop the Irish from making the best possible use of their respective stages. From trad and electronic to hip-hop, R&B, indie, alternative and folk; the multi-genre representation was phenomenal.
Dublin multi-instrumentalist John Francis Flynn kicked off ESNS proceedings with 'The Lag Song' by Ewan MacColl, as sung by Luke Kelly of Dubliners. The renowned folk song was originally written in 1965 for BBC documentary In Prison, a documentary film on Manchester's Strangeways prison.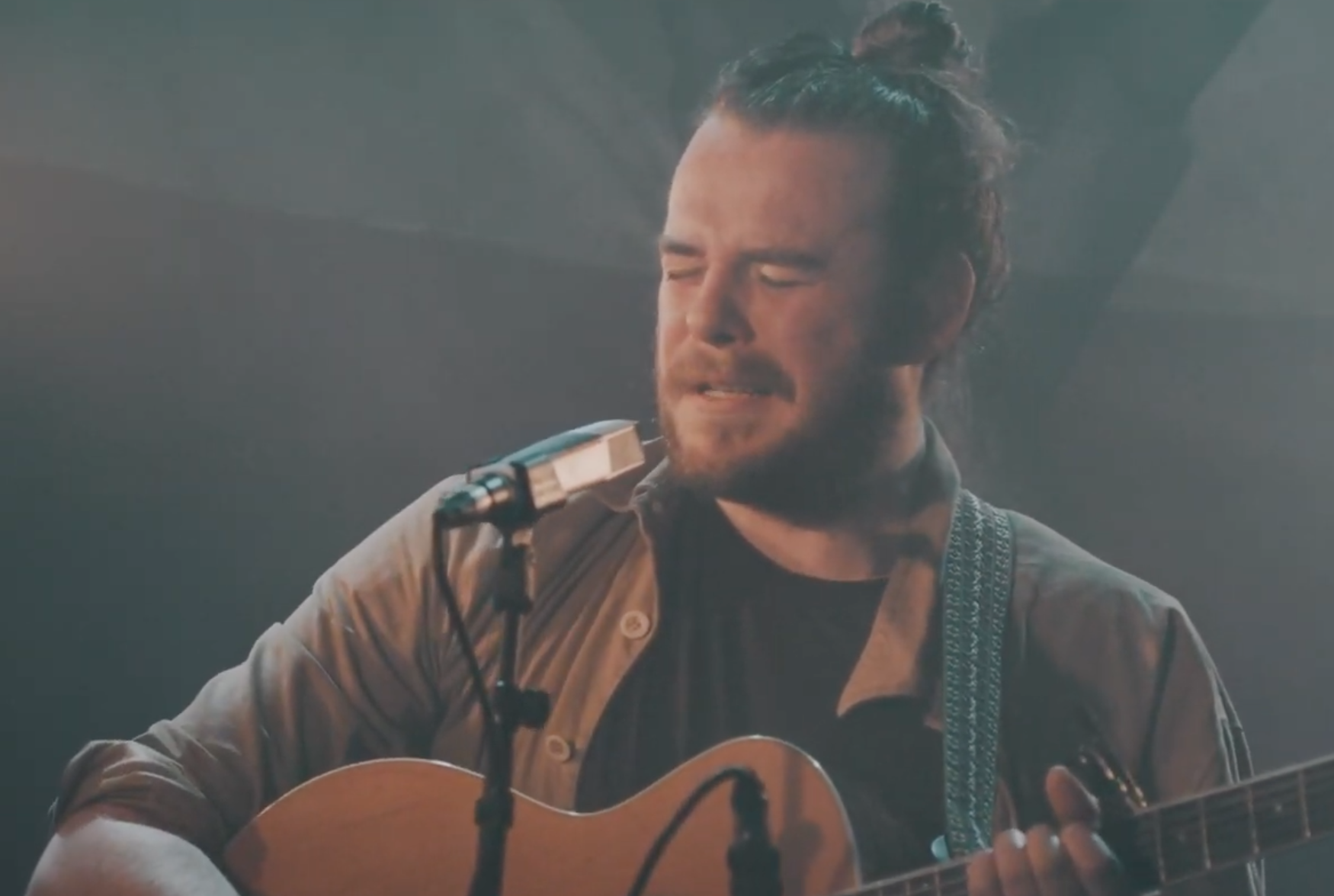 "When I was a young lad sometimes I'd wonder / What happened to time when it passed / Then one day I found out that time just lands in prison / And there it is held fast."
Flynn gives the song plenty of space and time to breathe, with a dimly lit setting of ivy and wood adding to the unique mystique he so delicately creates. Gentle guitar strumming, violin instrumentation and scratchy reed sounds add to the intimate mood of the performance.
'My Son Tim' followed, a track which appears on the Skipper's Alley founding member's 2021 debut album I Would Not Live Always (River Lea), which topped the Guardian's Folk Albums of the Year list. His blunt yet sincere voices weathers the storm of the song with ease, drawing listeners in with storytelling prowess. His personal spin on the traditional track makes it his own, somehow. It's a brilliant ESNS debut from Flynn.
Irish artist, musician and producer Constance Keane (aka Fears) has made a name for herself since releasing her debut album Oíche last year to much critical acclaim. The project was recorded and produced in three bedrooms and one hospital and released in May 2021, on brand new label TULLE.
Advertisement
Surrounded by pink and purple lighting to match her pastel hair, plus a projector as her background graphics, Keane started her set with the quietly beautiful 'Fabric', taken from Oíche. With reflective electronics, acoustic samples and haunting vocals, Fears takes the viewer on her own personal ethereal journey. The boundaries between visual art and music are blurred, with emotive themes and a minimalist approach.
The down tempo first track is contemplative, seeing Constance sport a stunning black tulle dress to stand out against the pink backdrop. 'h_always' follows, a chilling blend of electronic pop that feels made for the night. The track explores her journey in psychiatric care, referencing hospital beds and medication. It's grippingly personal, and will no doubt resonate with a wide audience. "I'm black and blue on the inside too."
Keane ends with 'tonnta' ("waves") - a highlight from Oíche. The spectre of trauma looms heavily over each album track, but there are glimmers of hope and aspiration. 'tonnta' features heavily layered, delicate vocals over a powerful drumline, which refuses to out-shine the star.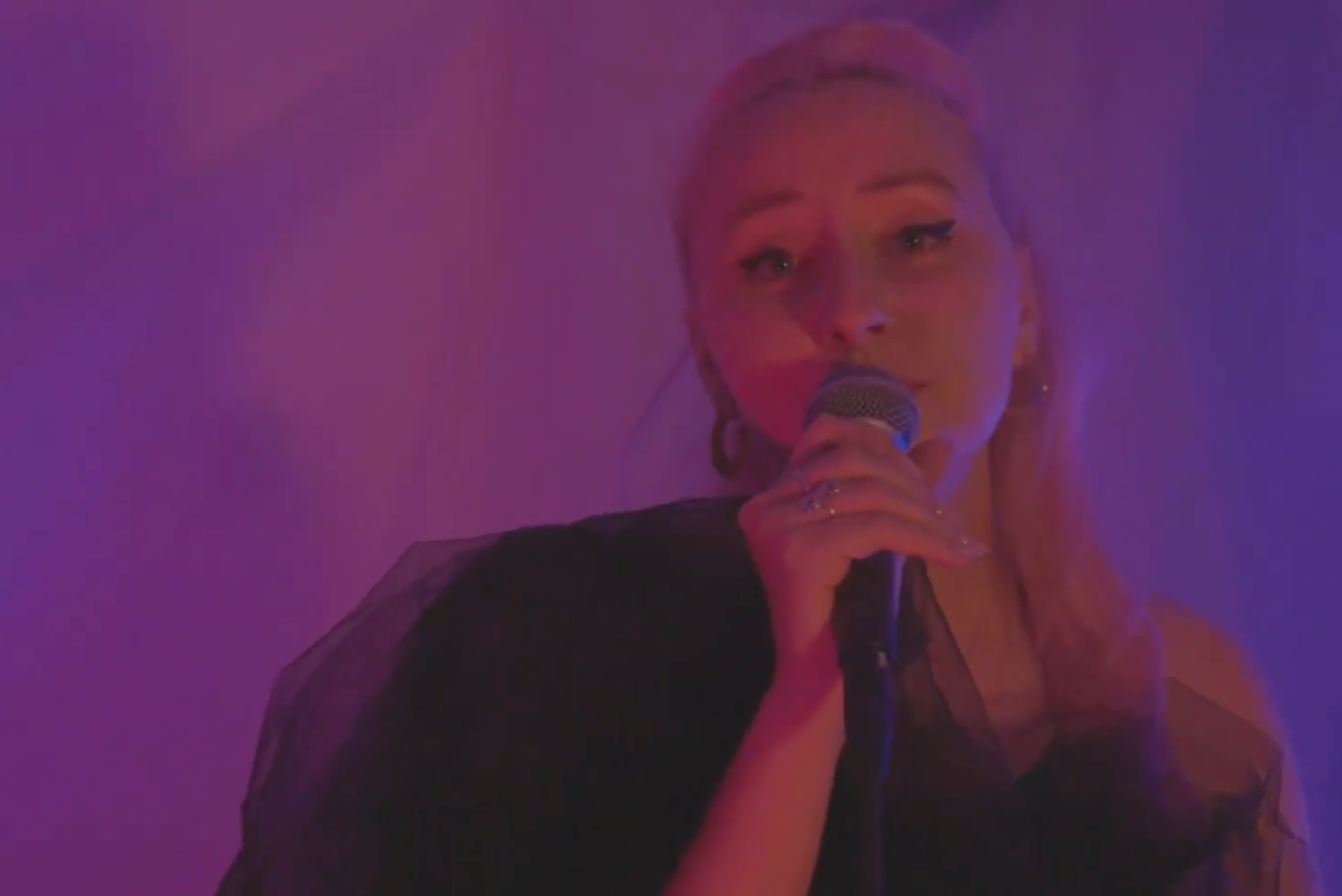 Accompanied by a pianist, Cork native Cian Ducrot starts off his performance with recent single, 'Not Usually Like This'. Pitch perfect vocals ensue, exploring a past relationship that refuses to let fade from memory. Singing of seeing a previous partner moving on with another guy, Ducrot's raw voice allows the emotion-driven pop track to elevate itself. 'Crocodile' follows, with the pace reduced slightly.
It's easy to see why Darkroom/Interscope Records promptly signed the Irish songwriter/producer. "How can you be friends with someone you don't even know?" he queries, addressing someone who took advantage of him. The universal appeal of his tracks comes across brilliantly in his ESNS set; brimming full of heartbreak, love and friendship.
Born to a concert pianist and flautist, Cian found escape in music by listening to his mum playing everything from Bach to Chopin. Ducrot later won a full scholarship to study classical flute at the Royal Academy of Music, but left the prestigious school when he fell in love with songwriting and producing. His debut release, the mixtape started in college (2020) was discovered by major labels, who platformed his 2021 EP Make Believe. The TikTok community has embraced the Irishman with open arms, luckily for him.
Advertisement
Hailing from County Armagh in Northern Ireland, Conchúr White achieved notable success in Ireland with his previous band Silences. Since touring solo with Villagers and Margaret Glaspy, White returned in June 2021 with his stunning Dreamers EP.
Shrouded in darkness, White stands out on stage, wearing a tan jacket and playing both keys and guitar for his ESNS set. The theatrical storyteller begins with the graceful 'Go Easy', which references how kindness and empathy goes a long way with human connection. It's a relatively simple song but it stays with you long after it ends, with mass-like key chords and understated, haunting vocals.
The influence of the likes of Father John Misty, Lana Del Rey, Alex Turner, and Charles Bukowski are exquisitely on show throughout next song 'Daisies'. Taken from his 2020 Bikini Crops EP, it embodies dream-like surrealism, supported by a captivating guitar riff. "The tragedies of Sophocles, they seem quite tame to you and mean/but if you know death is to free yourself/you're always free". It traces a complex love story.
He rounds out his set with 'Bikini Crops', which was originally mixed by Matt Wiggins (London Grammar, Glass Animals, Horrors). It's a slightly faster pace from White, whose vocals sound better than ever. His stage presence is hard to deny at ESNS: he hopefully caught the attention of European fans with this gig.
Dea Matrona perform their ENSN set on a Belfast rooftop, echoing the finale of '90s flick 10 Things I Hate About You. Siblings Mollie and Mamie McGinn - plus lifelong pal Orlaith Forsythe - tore up their ready-made stage in the sky; performing previously released singles 'Stamp On It' and 'Nobody's Child.
The influence of Debbie Harry, Stevie Nicks, Zeppelin (plus a bit of Joni Mitchell) shines brightly throughout their nostalgia-heavy rock 'n' roll set. Armed with pitch perfect vocals, shredding guitar solos and infectious melodies, the talented trio blast their way through their ESNS performance with style and confidence.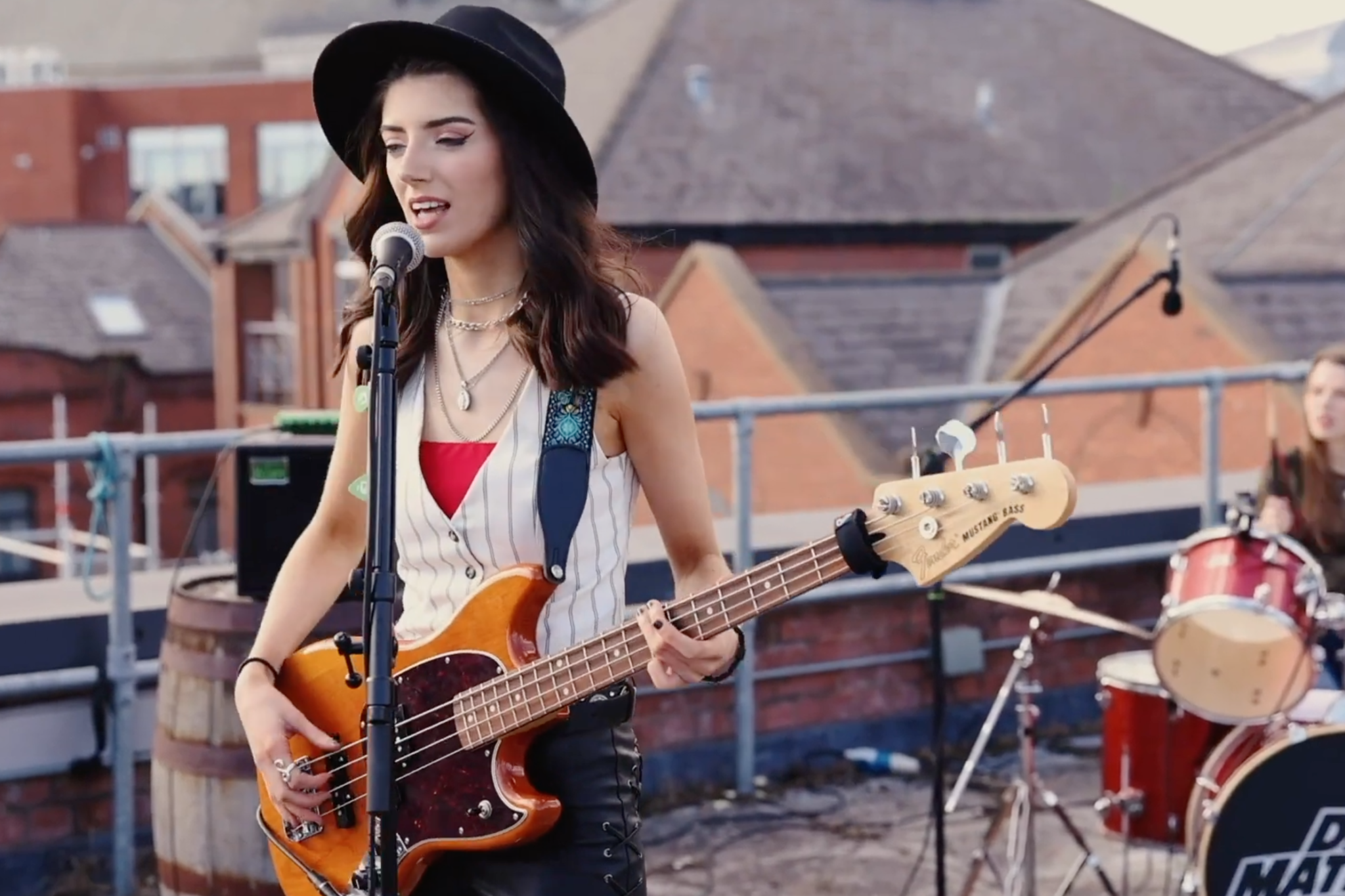 Advertisement
Another returning artist from last year's festival, Enola Gay delivered a blistering set. The Belfast punks ripped through their recent rack 'Scrappers', an Idles-esque fast paced track before jumping into 'Birth of a Nation', a heavier bass driven tune. If they continue on this road of early success, they'll likely be soon held in as high esteem as other emerging Irish and UK punk such as Fontaine's DC or Shame. For fans of quick, hard drums, great vocal delivery and just plain good angry, fun energy.
Smoothboi Ezra offered one of the best ESNS features of the night, starting with the hauntingly beautiful 'Stuck' - taken from their EP of the same name. With a dimly lit background and a rainbow guitar strap, the Wicklow artist seems relaxed, sporting a knit jumper and auburn hair.
From their poster-covered bedroom-meets-recording studio in a small coastal town in Ireland, Smoothboi Ezra has developed a world class flair for emotive songwriting. Catchy but subtle songs, self-deprecating but never sombre and always utterly charming; you won't be able to escape the poignancy of each lyric.
"I've never been good at this stuff/I can feel the growing resentment/But I'm too afraid to end it/Do you feel stuck?" she croons on 'Stuck', her voice soft yet piercing. 'Palm of Your Hand' continues to explore the emotional intricacies of relationships. Exploring the nuances of alcohol's messiness, medication and parties, the artist asks questions throughout as if addressing their personal diary. A gripping set throughout.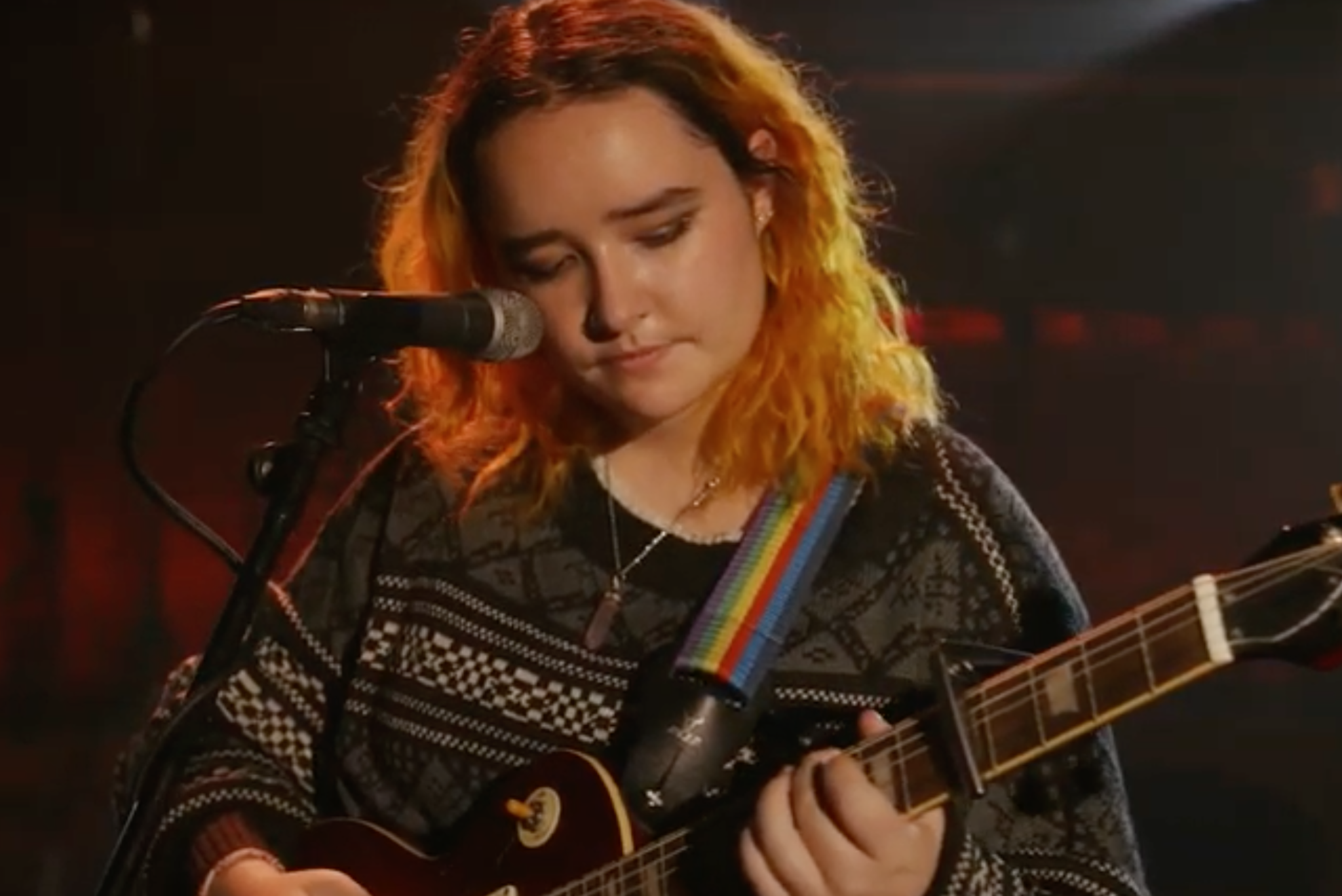 John Lydon once said that anger is an energy and that's clearly on display in Sprints' lively set. Their first track 'Modern Job' from the Dublin punk group is a brutal summation of millennial dissatisfaction and the demands we set ourselves. The relatable lyrics, alongside the tight instrumentation combine for a great display. Despite only releasing five official singles so far, Sprints are definitely one to watch in 2022.
49th and Main offer up a more relaxed affair, conjuring up memories of the mid-2000s Kooks on their song 'White Lightning'. The Irish independent duo (Patrick King and Ben O'Sullivan) exploded onto the scene in 2020 after releasing a string of successful singles, from 'Don't You Like It?', 'Catching Eyes', and 'Party Alone' to 'Lost With You', 'Raw Mixer' and 'Midnight Juice'.
Advertisement
Taking a slightly more indie-rock journey than their usual electronic sound in more recent times; the pair's 2021 single 'Good Life' is heavily inspired by the sound of Red Hot Chili Peppers. Think SG Lewis amalgamated with Franc Moody, and you're in the right dimension of 49th & Main's sonic world.
Another nice moment during their ESNS set includes the brass parts of their opener 'Don't Like It'. Think Rex Orange County meets Bastille. Their choice of synths and beats is usually what allows them to stand out from the crowd. Overall, a hugely promising set with some nice melodies and a chilled, laid back atmosphere. The vibes are always immaculate when it comes to a 49th & Main gig. Their new EP rodeo (COVID TAPES) saw the pair collaborate with fellow rising stars Chameleon and Fynch.
The incredible Denise Chaila emerges in a stunning red sequinned gown for her set, accompanied by her collaborators, friends and labelmates God Knows and MuRli. Danny and DJ Replay join the Limerick-based trio. Performing a string of hits, including 'Chaila' and 'Anseo', her stage presence is off the charts.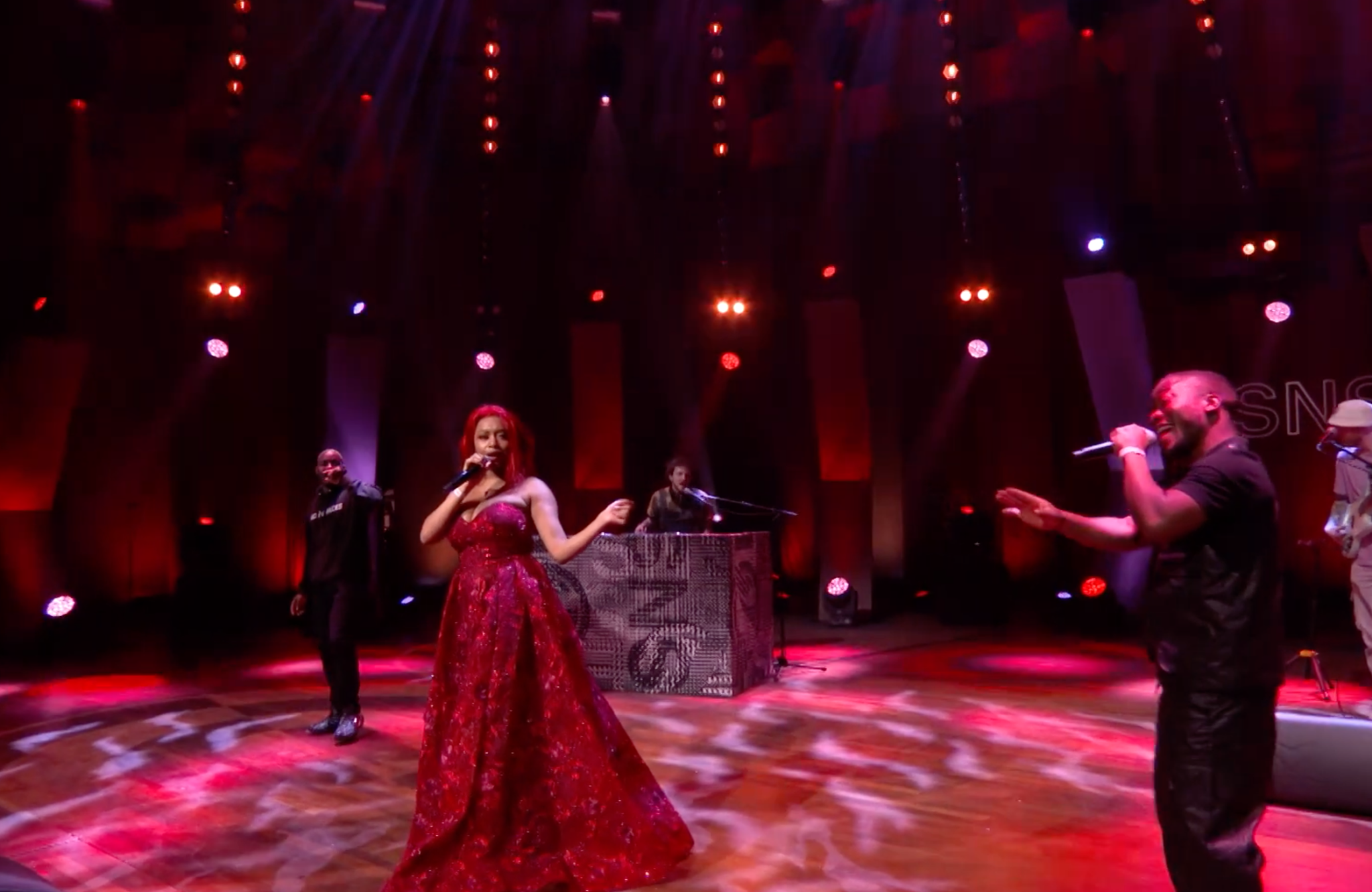 Making sure her audience knows her Irish roots, the King enunciates every powerful lyric during her set, which sees her Go Bravely mixtape highlighted. Oozing charisma, power and vocal dexterity, the hip-hop star, poet - and don't forget pharaoh - gets her viewers up and dancing. Her promise was first heard as a guest MC on on Rusangano Family's Isn't Dinner Nice back in 2016 before nabbing the Choice Music Prize for her first mixtape - which landed after her 2019 solo EP Duel Citizenship.
On new project 'It's a Mixtape', Chaila challenged the bigoted custodians of Irish culture and savaged misogynists within the hip-hop scene. The rapper's third track in her explosive ESNS appearance is '061', hailing Limerick with every bar. The Zambian-born musician concludes her four-track performance with the jazz-fuelled 'All That'. Dripping with soul, "I'll give it to you like Nat King Cole" she says.
Denise leaves Groningen with a Music Moves Europe Award, a fiery gig and many more friends in the music industry after "reppin' the southwest".
Advertisement
Re-watch all the performances from ESNS 2022 here.