Nell Mescal: "I was very lucky that my parents said, 'You need to do what you need to do,' and protected my mental health"
She's not yet 20, but Nell Mescal is already rubbing shoulders with rock 'n' roll royalty and penning killer songs of her own. Larging it up at the BAFTAs, Los Angeles, Gary Lightbody, Taylor Swift, singing in the shower and that famous big brother of hers are all up for discussion as she meets Stuart Clark
If I'd been at a major awards ceremony on Sunday night, the last thing I'd want to be doing on Monday morning is having my picture taken and talking to the press.
"It probably wasn't the best idea," grimaces Nell Mescal whose post-BAFTA partying ended at 5am. What time did her alarm go off?
"Seven AM," she grimaces again. "I have to admit I'm crashing a bit now!"
It speaks volumes of the resilience of youth – and Nell's burgeoning rock 'n' roll credentials – that you'd never guess she's sleep-deprived and has kangohammers going off in her head.
Resplendent in an off the shoulder black lace number, the 19-year-old enjoyed every minute of her red carpet experience at what Peaky Blinders and Bad Sisters man Daryl McCormack described as the "Irish BAFTAs."
Advertisement
"Yes, it was like being at the Trinity Ball or something," she laughs. "I was so pleased for Barry Keoghan that he won the Best Supporting Actor BAFTA for The Banshees Of Inisherin. There's so much Irish acting talent out there at the moment."
And she should know. Paul's kid sister, Nell has been making international waves of her own with 'Homesick', a whip-smart pop-rock single – think Phoebe Bridgers with a sprinkling of Olivia Rodrigo – written in Los Angeles with Jamie Commons and Cameron Montgomery whose collective CV includes Lewis Capaldi, Ne-Yo, Maroon 5, Nicki Minaj, Flo Rida and Pitbull.
"The reaction to the single has been lovely," Nell beams. "The song is about feeling isolated, so getting feedback from people experiencing the same thing – and putting their own spin on it – is great.
"It's one of the many songs that came from that trip to Los Angeles, which was a completely different vibe to what I'm used to. Here, you go into a room and talk shit for a few hours and maybe write a song before going for a pint, whereas there it's this machine where you do three different sessions in a day. It was very collaborative and took me out of my comfort zone, so I really enjoyed it."
Did she get to play as well as work in the City of Angels?
"I was working pretty much non-stop for the eight days I was there so, no, not a whole lot," Nell resumes. "It was such a weird trip. I don't drive so I was taking Ubers everywhere and just hoping I ended up in the right place. One time I didn't end up in the right place, I got out of the car and literally stepped on Amy Winehouse's star on Hollywood Boulevard, which was really cool."
Advertisement
Nell has also written with her fellow QPrime management stablemate Gary Lightbody.
"Gary's just the sweetest guy on the planet," Nell enthuses.
"When you're starting out it can be really intense, but he gave me some great advice about dealing with the disappointments that inevitably come your way. He was like, 'You just have to keep going.'
"Gary's also a great advert for success because he's so level-headed and leads a really normal life – well, as normal as it can be when you're in Snow Patrol!"
Does Nell find being signed to the same management company as Snow Patrol, Muse, Metallica and Foals daunting?
"At first it was," she admits. "I remember on a call saying, 'Are you guys sure? I'm not going to end up in the Rock And Roll Hall of Fame. Have you heard the songs I write?' They were like, 'Yeah and we want you to keep writing them', which reassured me.
"The Murder Capital, who are friends of mine, are also signed to QPrime. They've been given lots of time to develop their sound, so it's not just about quick returns. They've been incredibly supportive."
Advertisement
Nell took the bold decision in October 2021 to quit Maynooth Community College during her Leaving Cert year and move to London.
"I went back to school after spending time in London writing and getting a crash course in how all this works," she explains. "I was missing that and finding some of the relationships at school difficult. I was like, 'Why am I not doing the thing that's bringing me so much joy and that I was on a path for? Is it worth staying on to fail Ordinary Level Maths in the Leaving Cert?' It really didn't make any sense – the situation and the maths, which has always been my downfall.
"I was very lucky that my parents said, 'You need to do what you need to do' and protected my mental health. It was a great decision and I'm very happy about it."
Maths aside, was Nell a natural scholar?
"Contrary to the impression I might just have given, I really enjoyed school and like to say that I'm the smartest of the Mescal children. I've got an ego about it! If I could have done school and this, I would've, but they weren't in any way compatible.
"I dropped out of school and worked for a month while logging on to Spare Room London all the time – it was refresh, refresh – to see if I could get accommodation. Eventually I found someone who said, 'You can stay with us' and I was like, 'Okay, done!' It was very near where my manager Tara lives so it was serendipitous. I feel like I'm meant to be here."
Now safely ensconced in East London, Nell is part of a female Irish Murphia that includes Kynsy, Orla Gartland, April, Lucy McWilliams, Lucy Blue and Ailbhe Reddy. Do their paths ever cross?
Advertisement
"There's so many of us and, yeah, we're always hanging out and going to each other's gigs," she notes. "It's nice to feel supported like that. I lived with Lucy for a while – she's one of my closest friends, I love her – which was really inspiring because she's such a talent and works so hard. I was like, 'Okay, I need to up my game!'
"There are some great venues in London like the first one I played, The Social – it's a strange little room but there's something charming about it – and the Lafayette, where I supported my friend Cait a few weeks ago. I'd definitely head to those two if you're over."
In his Hot Press interview last year, Grian Chatten spoke about "the microaggressions like being called 'Paddy' and people making jokes about petrol bombs being thrown around" that Fontaines D.C. have experienced since moving to London. Does that strike a chord with Nell?
"I know it happens, but personally I've never really found myself in those situations where people take the piss out of you for being Irish," she reflects. "Maybe I give off more of a 'Don't mess with me!' vibe."
Is Nell suggesting that Fontaines D.C. are a bunch of softies?
"Yeah, make sure to put that in the interview!" she laughs. "Joking apart, I'm a huge Fontaines D.C. fan. I love the fact that they haven't watered down their Irishness for international consumption. Have you seen the Dad Reacts thing on YouTube?"
No, can't say I have.
Advertisement
"It's a son, Connor, playing really big albums like Kanye and Rihanna to his father, Kevin, who's so full of joy and loves music. They're from Canada and their reaction to 'In ár gCroíthe go deo' – they get the pronunciation totally wrong – is beautiful."
Along with the cool tunes, another reason that Nell's fan club is so burgeoning is her tweets, which range from telling the world that her new musician flatmate Katie Gregson-MacLeod has "somehow fucked up beans on toast" to applying the correct technical term to Andrew Tate, which is "loser."
"I've always been afraid of Twitter because you tweet something you think is hilarious and everyone goes, 'No, I'm not liking this, it isn't funny!' Like the other day when I insulted the people of Leeds without meaning to. For the record: I love the people of Leeds!
"I've had crazy traction recently on Twitter, which scared me because most of my tweets are complete rubbish. It's instant and forever but I like it, because you get to communicate directly with the people who like your music – and some who don't! I feel like if you're honest and a good person you can't go wrong, but I might end up changing my mind about that."
Out of interest, who's the domestic goddess in her new gaff?
"I'd say me because I'm cleaning the kitchen today!" Nell laughs. "Katie won't like that! It's tended to be a toss-up for both us between housework and bingeing Succession – and Succession's won!"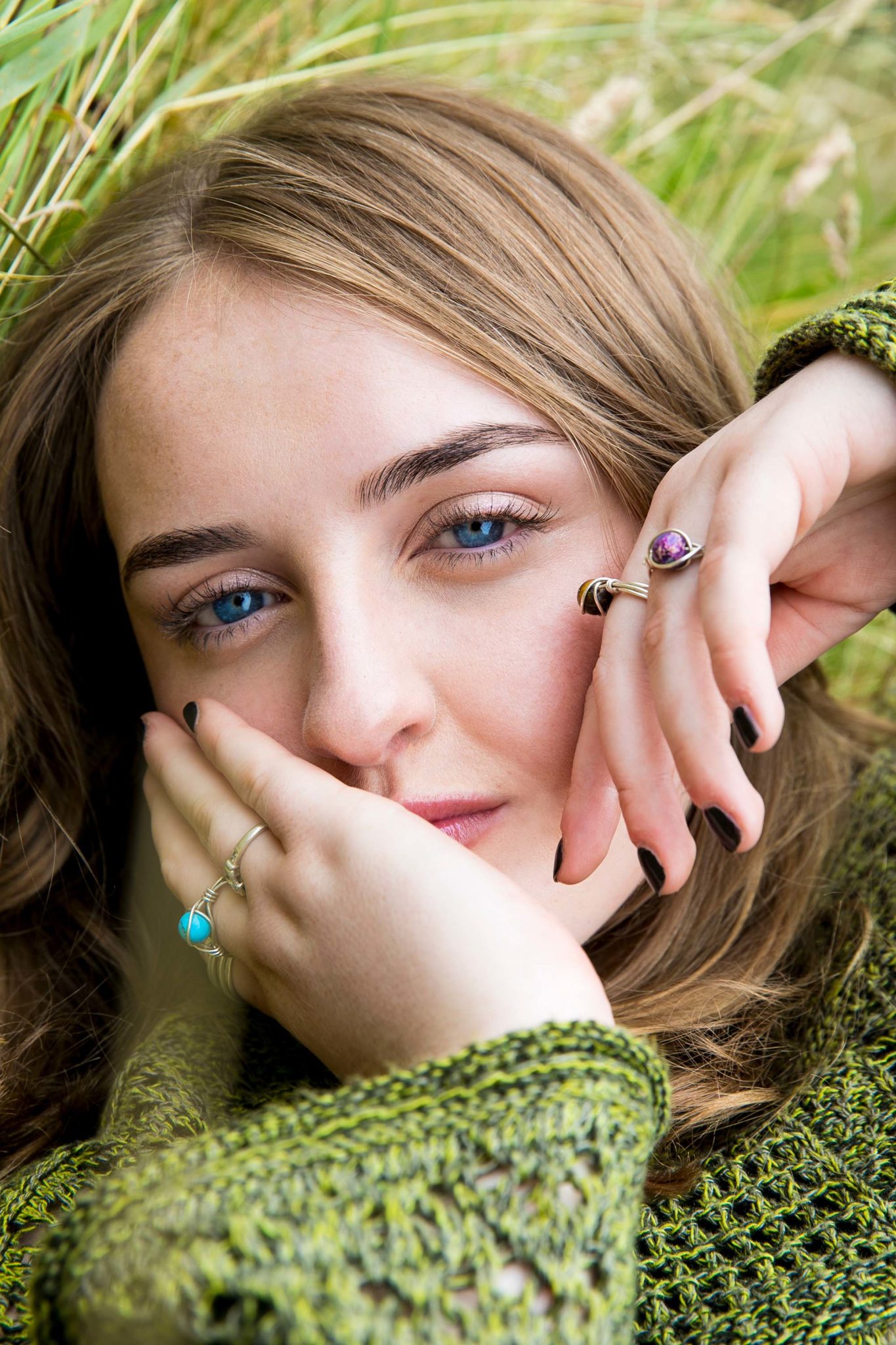 Advertisement
Returning to Andrew Tate: what's gone wrong with some of our young men?
"A lot of it comes down to online," she proffers. "When I was on social media growing up, my parents kind of knew what I was looking at and there were conversations about it. What 12-year-old boys don't need when they're trying to shape their minds is some idiot spouting pure shit online."
Amen to that! All of Nell's Christmases and birthdays came together on Thursday January 17th when Taylor Swift unexpectedly waltzed out on stage during The 1975's London O2 gig and performed 'Anti-Hero' live for the first time.
"It was the most insane night," she recalls. "I was there with my friend Annie and joking about The 1975 needing to have someone who does the female part on 'About You' if Carly Holt, the original singer, isn't there. I was like, 'Who could it be tonight?' and Annie jokingly said, 'Taylor Swift!' The shock when Taylor Swift actually walked on – oh my God, I was audibly sobbing. As soon as she left the stage, I went out and rang my Mum, still crying. The connection was really bad, so she was going, 'What's wrong, what's happened?!' I was like, 'Taylor, Taylor… she just appeared.' It blew my mind."
Tears of Mescal-ian joy were also cried when she saw Billie Eilish live.
"One of the first things my manager said to me when I moved to London was, 'You need to go to gigs' because I'd only been to a few in Ireland with friends and needed to figure out what I wanted my own live sound to be," she reveals. "It felt like I was going on a school trip all the time, taking notes: 'That's cool'. 'That really works but is probably not for me…' The absolute best one I've seen was Billie Eilish in the 02. I went with Lucy Blue, who I'd only just become friends with, and she must have thought I was a total sap because within ten seconds I was sobbing. I had no idea how much it was going to affect me: it was incredible."
Like her American heroines, Nell was performing from a young age.
Advertisement
"I was the embarrassing younger sister who used to scream Taylor Swift's 'We're Never Getting Back Together' in the kitchen while my brother's friends were in the sitting-room, hoping that they'd come through and tell me I was great – which they never did!" she laughs again. "I also loved musical theatre. My biggest grievance with my parents being that I wasn't one of the kids who got to audition for New Annie: Search For A Star and ended up on Broadway. 'Why, why wasn't it me?' The closest I got – and one of the highlights of my childhood – was performing an Annie solo with the musical society I was part of. I still sing 'Maybe' from Annie in the shower and think, 'This bangs!'"
There's a gorgeous clip on YouTube of Paul Mescal playing the piano while Nell, sporting a Beatles t-shirt, absolutely nails Villagers' 'Nothing Arrived'.
"I think we did that just before lockdown," she says. "I saw a video of myself recently aged four or five playing the piano and singing and dancing, which is never going to be allowed to make it on to the internet!"
You can be jetting over to Los Angeles and hanging out with Gary Lightbody, but nothing, repeat nothing, is going to impress the folks half as much as appearing on the Late Late with Tubs.
"I was at that 1975 gig in London – their logo had just come up – when my manager called me with the news," Nell says excitedly. "I'd been home the week before for my Grandad's birthday, and all the family were jokingly asking, 'When are you going to be on the Late Late and can we come?' Having said, 'No idea', I was able to ring them all and say, 'This Friday!' My Grannie, in particular, was so excited.
"Come the day, I was totally stressed because I'd never sung on live TV before. The worst bit was walking on stage and having to stand there in front of the audience while the interview before us was still being conducted. It was so embarrassing! Once we got going, though, the nerves disappeared and I had as much fun as I do when I'm gigging."
Advertisement
Having played three seriously sold-out gigs this month in Belfast, Cork and Dublin, Nell is looking forward to a busy festival season and writing more songs for a debut album that will arrive when it's ready – and not a moment before.
"I was lucky, because as soon as I arrived in London, I met the people who are now in my band and actually know what they're doing," she concludes. "This year's about getting my music out there and people understanding who I am as an artist. It's shaping what's to come, which is really exciting."
• Nell Mescal's new single 'In My Head' is out now on LAB Records. She supports Birdy on April 25 in the Dublin 3Olympia and will be hitting the summer festival circuit.