Antonia Campbell-Hughes to direct Film Adaptation of Philomena Lynott's My Boy
Production on the Shy Punk Productions film is expected to begin in late 2022 or early 2023. Main pic by Chris Barr
Antonia Campbell-Hughes (pictured) is set to direct the upcoming adaption of My Boy, the memoir written by Philomena Lynott (with Jackie Hayden), and published by Hot Press Books.
My Boy was an Irish No.1 best-seller twice over. It hit the top spot when it was originally published in 1995. And it repeated the trick when it was updated in 2011 – when it went to No.1 all over again.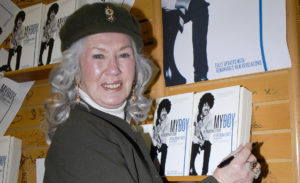 Philomena Lynott (pictured above, photo by Kristina Iljasova) died in 2019. However, her legacy lives on through the best-selling memoir, which focuses mainly on her relationship with her rock star son, Philip Lynott, who of course was the lead singer with trailblazing Irish rockers, Thin Lizzy. Philip, who was Ireland's first Black rock star – indeed he is often referred to, not entirely in jest, as the first black man in Ireland – died in 1986. An iconic figure, he was recently the subject of the widely-praised documentary Phil Lynott: Songs For While I'm Away, directed by Emer Reynolds.
Philip Lynott (pictured below) was also the subject of Philip Lynott: Still In Love With You by Hot Press editor, Niall Stokes.
Advertisement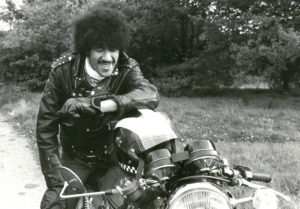 The upcoming adaptation of My Boy was announced in August when the rights to My Boy were acquired by the rising UK film outfit, Shy Punk Productions. A script has since been written by Kit De Waal (author of best-seller My Name Is Leon) and her brother and screenwriting partner Dean O'Loughlin – and Antonia Campbell-Hughes will now deliver what the producers call "a director's draft" of the screenplay. The film is being produced by Libby Potter and Jo Tracy.
Born in Derry, Antonia Campbell-Hughes featured in Hot Press first as a fashion designer. She subsequently decided to concentrate on acting, which she described as her 'first love'. She has appeared in numerous UK television productions, including Lead Balloon with Jack Dee, as well as in feature films like Neil Jordan's Breakfast On Pluto, Jane Campion's Bright Star and the BBC's When Harvey Met Bob, about the build-up to Live Aid in 1985. She also starred as Natascha Kampusch in the film of the memoir recalling Kampusch's period in captivity, 3096 Days. Antonia has recently completed her directorial feature debut with It Is In Us All, which she filmed in Donegal, Ireland, during lockdown, in October and November 2020. Starring Cosmo Jarvis, the film was funded by Screen Ireland's POV scheme.
It Is In Us All is currently in post-production.
Production on My Boy is expected to begin in late 2022 or early 2023.
Advertisement