Tipperary's CAPPA FEST returns this August with Wild Youth, Ryan Sheridan, Bobbi Arlo and more
Taking place on August 14, CAPPA FEST will see vital funds raised for the Cappawhite community and Cappawhite GAA.
CAPPA FEST returns to Tipperary's Cappawhite this August 14 after a two-year pause to the festival.
Running from 12 noon 'til late, the line-up consists of wonderful Irish acts: Wild Youth, Ryan Sheridan, Bobbi Arlo, Bassline, Tiny Giants, Freefall, and DJ Dan.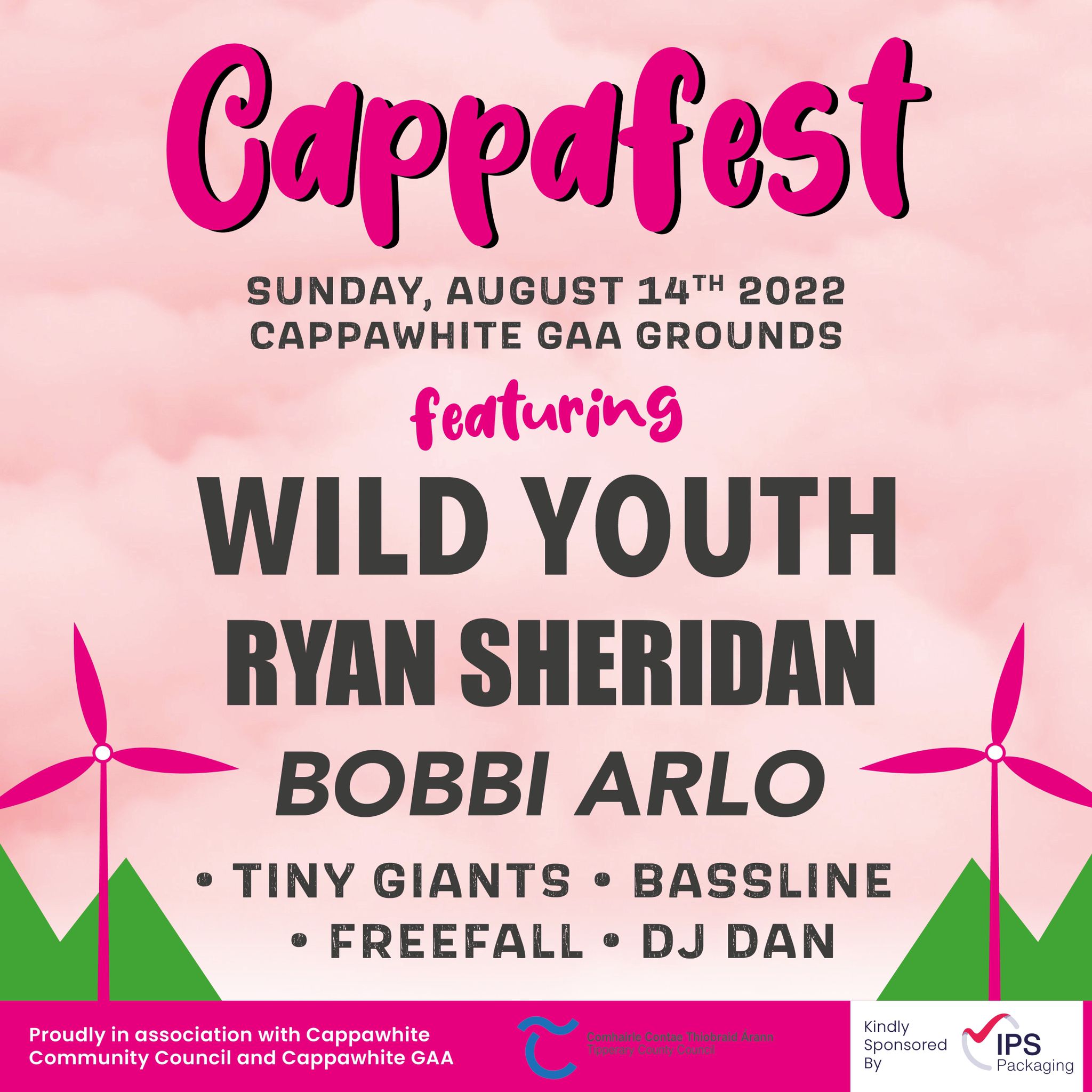 Irish band Wild Youth are an indie-pop sensation, recently completing a headline national tour with a sold out show in neighbouring county, Limerick's Dolan's Warehouse. Their latest single 'Live Without You' has garnered over 40 thousand streams on Spotify, with top tracks 'Can't Move On' and 'Next To You' brandishing a combined total of almost 7.5 million streams. Far from inexperienced with festivals, the quartet will take the the Tipperary stage as headliners on Sunday August 14.
Monaghan singer-songwriter Ryan Sheridan has an interesting performing history - from touring as part of Riverdance, to busking on the streets of Dublin, and now international tours. The singer has four albums and two EPs under his belt, and will be taking off on an Irish tour from September 2 after taking to the CAPPA FEST stage.
Advertisement
One of Ireland's rising pop stars, Bobbi Arlo, will also be taking to the Cappawhite stage. Releasing her first and only track of 2022 so far, 'Parasite', back in February, the singer has since performed and announced a slew of festival appearances including Indiependence, Sea Sessions, Kaleidoscope, Dublin Pride, We've Only Just Begun, Ireland Music Week, as well as CAPPA FEST. We're excited to see what the singer brings to Tipperary.
CAPPA FEST will also feature lesser known acts Tiny Giants, Freefall, and DJ Dan.
The one day festival will see the acts - as well as, fully licenced bar facilities, a range of food trucks, and of course, an all-important ice cream van, arrive onto the Cappawhite GAA grounds.
The event has taken place once before, in 2019, and returns in 2022 to raise funds for much needed facilities and services for the Cappawhite community and Cappawhite GAA.
Early bird tickets for the event are available for €25 until July 30, with tickets costing €35 thereafter. As CAPPA FEST is a family event, the organisers have made life easier for young families, with under 12s allowed free entry to the event. Tickets for CAPPA FEST are available here.
For further information, contact CAPPA FEST:
Telephone: 087 3117152
Email: [email protected]
Facebook: Cappa Fest 2022
Instagram @cappafestsummer22
Twitter @cappafest2022
TikTok @cappafest
Advertisement
Check out the latest release from Wild Youth below.