Pastiche: "Something switches in me when I perform - I become the person I've always envisioned myself being"
After releasing her debut single 'Chasing the Fame', during the height of lockdown restrictions, rapidly rising pop singer-songwriter Pastiche has been embracing every chance she gets to perform on stage. With a sold-out gig in Whelans, live support slots for Aimée and Robert Grace under her belt and fresh off an electric show upstairs in the Grand Social, the breakout Dublin artist is truly a force to be reckoned with.
From booking her Whelans gig by herself with no assistance to releasing her six-track EP Freak Show Symphony, Pastiche has come a long way in the past two years. Deservedly, the rising star is brimming with excitement.
Growing up immersed in musical theatre and graduating from BIMM Dublin (alumni include Fontaines D.C., The Murder Capital and Erica Cody), the Malahide singer took advantage of her newfound free time during the pandemic. The pop artist finally had the capacity to fully concentrate on pursuing her passion as a full-time career after no longer having to juggle her retail job and vocal teaching duties.
With her music quickly surpassing thousands of plays on national radio and tens of thousands of streams on Spotify, Pastiche has gone from the confines of lockdown restrictions to the shining lights of the stage.
"My biggest dream was to just make my income solely from music projects, and the fact that I'm at that point now makes me so happy," she beams, touching on the topic of her success. Instead of hindering her ability to perform, the reduced capacities for social interaction made her eventual stage debut extra sweet.
"I've been building up for this for such a long time and that's why any gig I get I'm like, 'Yes, give it to me! Let me get on that stage and let's do it! It still feels so new to me in a way," Pastiche tells me. "That element of performance has always been deeply ingrained in me. I've never been afraid to be on a stage. I feel most myself when I'm in front of a crowd."
Advertisement
Tackling themes of sexuality and mental health, Freak Show Symphony delivers a medley of fun, energetic tracks and includes slower ballad 'Growing Pains' to prevent the album from becoming too homogenous.
Title track 'Bad Loser', with over 75,000 streams on Spotify, bases itself around "all the horrible characteristics that I have as a person, but being okay with it and owning it." Electronic dance tune 'Written and Directed' takes from the themes of revenge portrayed in Quentin Tarantino's films after Pastiche went down a "Tarantino hole" during quarantine after testing positive for Covid in February.
With the music video shot in The George, 'Disco Junkie' centres around "being an absolute vulture to the night, loving club culture, queer culture and drag culture", with the Hot for 2022 Dubliner adding: "I wanted to just put out something that made you feel good, but also it's my first real introduction into giving a body of work to people."
Feeling the pressure to choose the right name for her first EP, Pastiche's experience of naming herself was an entirely different ball game. Inspired by drag culture, she decided she needed a stage name and after attending a cultural perspective class on the topic of pastiche versus parity during her time at BIMM, she finally found it.
"People say there's no original ideas anymore and we're all just in this cyclical time," she ponders, smiling. "I was thinking about how we're all pastiches because we're all artistic interpretations of what we consume. We're all performers in that way consuming media, music, art, whatever. That kind of makes up who we are as a person and for me, I was like, 'Well, that's who I am. I'm a pastiche of everything I love'."
Advertisement
Most herself when taking on her alter ego of Pastiche, any pre-gig nerves are quashed when she gets up on stage and puts on what her bandmates have dubbed her 'Pastiche face'. "Something switches in me! I just become the person I've always envisioned myself being, but never felt that I could be."
After writing all of her own songs for Freak Show Symphony and recording them alone in her kitchen and collaborating virtually with producer Viscose, the singer-songwriter found it strange transitioning from working solo to operating in the fast-paced environment of a studio.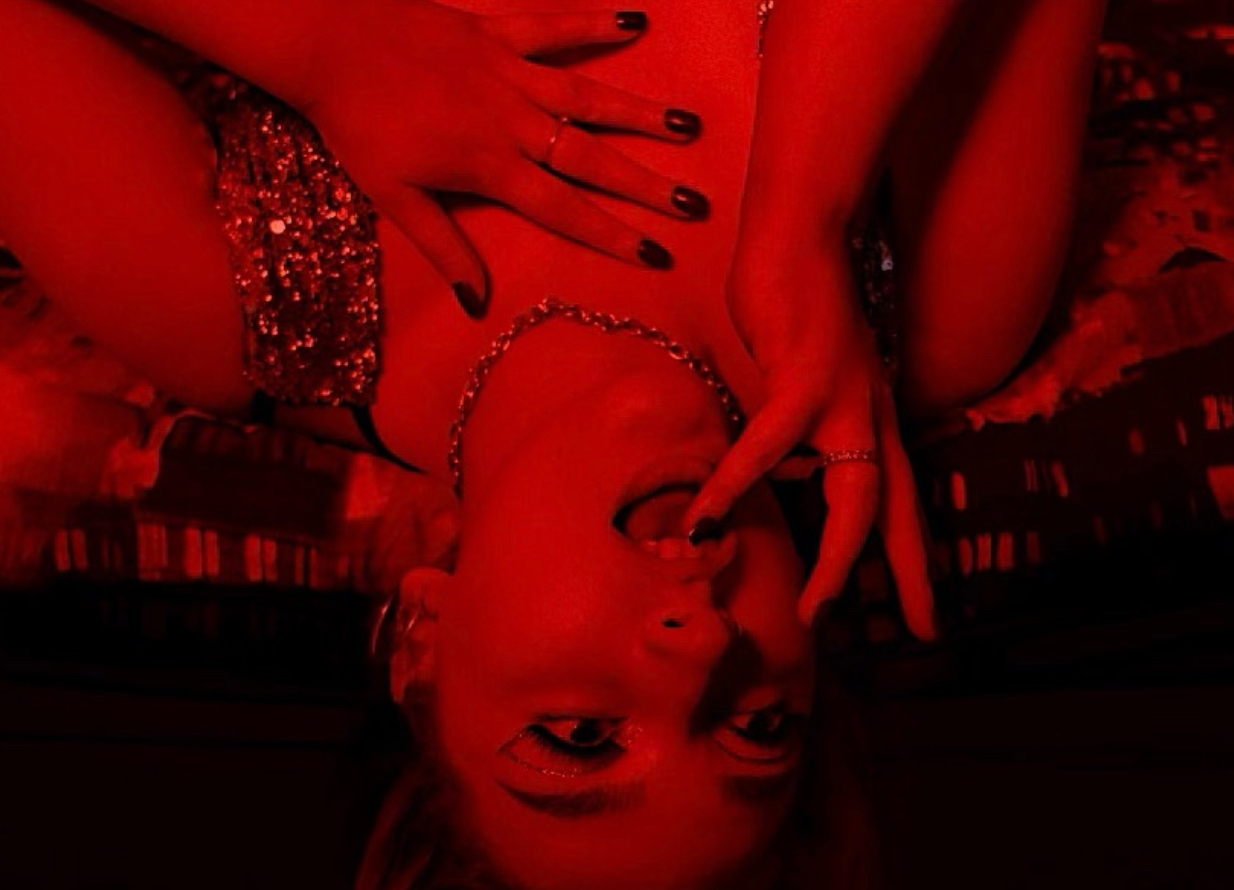 "I remember I did 'Freak' with Diffusion Lab, and we did the song in a studio setting," she recalls. After being asked to write the second verse of the song on the spot but "writing horrible lyrics," Pastiche ended up finishing the track on the bus home. "Now that the EP is out, I'm looking forward to just having a bit of fun and writing and improving myself in that way."
Before securing any management, Pastiche rang up Whelans after releasing her debut single and booked a gig a year in advance, which eventually sold out on the night. After delivering an explosive set the night before at The Grand Social, the independent artists' love for performance is obvious. "I can't believe that happened. I almost cried in the first songs. I cannot believe that this is my life. I will do anything I can to make this my life. I love it so much."
Taking inspiration from pop idol Lady Gaga and early Katy Perry, she dubs the times in which the pair were on the charts "the golden age," adding that Lady Gaga influenced her not only musically but culturally: "She made me who I am."
Having noticed a dramatic uptake in support over the past two years for not only Irish pop singers but female-identifying singers, Pastiche shared her admiration for fellow artists Denise Chaila, Bobbi Arlo, Tolü Makay, Elaine Mai, Lyra and Orla Gartland.
Advertisement
Leading into her biggest piece of advice for aspiring artists trying to navigate the Irish music industry: just "keep going".
Sharing an earlier experience she had with someone within the industry, "they basically told me I would never make it, because Ireland doesn't want a 'ridey' girl singing pop music. I actually cried after the phone call and said, 'No, hold on. I'm going to show him' - and that's what I'm doing." Unfortunately, the singer has experienced sexism throughout her ascension - a common theme for many cisgender women and marginalised genders.
"Or am I here because I tick a box? Am I a token female artist?" she asks, noting the feeling of self-doubt that enveloped her during past moments. "You do come into situations where you'll get spoken to differently because you're a woman and they expect you not to know what a certain cable means. I guess it's just part of the territory."
With a concept for her next album already in place, Pastiche has one clear goal: "To be the best pop girl to come out of Ireland."
Check out Pastiche's new album Freak Show Symphony below: