Pillow Queens gear up for Forest Fest 2023: "It's great that people want to come to the festival and see us, but we also want them to have an amazing time"
Festival season will soon be in full swing in Emo Village, as Forest Fest makes its triumphant return – with a stellar line-up featuring James, Bell X1, Suede, The Proclaimers, Suzanne Vega, Pillow Queens and more…
The countdown is officially on for Forest Fest – one of Ireland's most eagerly anticipated music and arts festivals of the summer. Returning to Emo Village in Co. Laois for a second year, from July 21–23, you can look forward to a brilliantly eclectic line-up across all three days and nights, featuring international heavy-hitters and local heroes alike.
Kicking off proceedings on the Friday, prepare for major sets from James, Nik Kershaw, The Proclaimers, Ash, Peter Hook & The Light, Allie Sherlock and more. The standard is just as impressive on the Saturday, with the likes of Bell X1, Big Country, Jack Lukeman, Alabama 3, Frank & Walters and 49th & Main set to perform. Capping off the festivities on the Sunday, get ready for music from Suede,  Gabrielle, Suzanne Vega, Paul Brady, The Riptide Movement, Something Happens and Hermitage Green – to name just a few!
And that's just a taster of what you can expect across the weekend. This year's edition of Forest Fest will include a brand new element, Forest Fleadh – a stage that celebrates the best of Irish folk and traditional music, with performances from Paul Brady, Sharon Shannon, the Daoirí Farrell Trio, Stockton's Wing, Kíla & Brass, the olllam, Greenshine, The Raines, Alfi and more.
Forest Fest's organisers have teased that there will also be some surprises in store, with a few special additions yet to be announced...
Voted the Best Festival in the Midlands last year, Forest Fest embraces a family-friendly ethos, and is gearing up for an extensive children's entertainment programme – which is being curated once again by the multi-talented Port' Art Collective, in collaboration with Broken Theatre and Jabba Jabba Jembe.
In addition to the free parking and the shuttle buses serving the local area, Forest Fest is planning even more extensive transport links, in partnership with CIE. A festival site map will also be published ahead of the weekend.
Campervan and caravan camping for the festival has already completely sold out, but there are still a limited number of weekend camping and glamping tickets available. Regular weekend tickets are also on sale, along with individual day tickets. But you better act fast! Following the success of its inaugural edition in 2022 – and thanks to its fantastic 2023 line-up – Forest Fest is gearing up to be one of the most unmissable events of the summer...
For more information – and to buy tickets! – visit forestfest.ie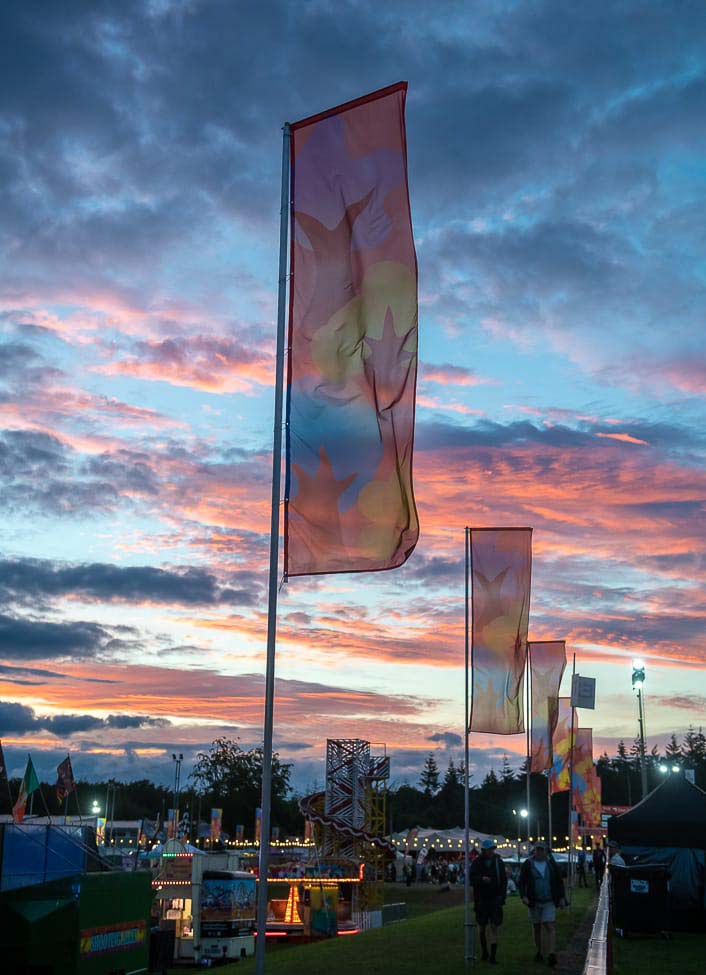 Pillow Queens on Forest Fest: "It's great that people want to come to the festival and see us, but we also want them to have a fucking amazing time..."
Pillow Queens are among the numerous must-see acts at Emo's Forest Fest this summer.
Interview: Molly Cantwell

The beginning of 2023 has seen Dublin rockers Pillow Queens take a step back from touring – with their first festival appearance becoming their first appearance of the year. Their summer excursion also includes a stop-off at Laois' eagerly awaited Forest Forest.
"We've been very quiet so far this year," notes Pillow Queens singer Pamela Connolly. "Most of our gigs will be festivals. At the end of May we're playing Leeds and then we're up and running. I'm really excited as I'm very aware we haven't been on tour this year. And when you're on tour, you don't want to be on tour – but when you're not on tour and see other bands posting about touring, you really want to be playing shows!"
Forest Fest boasts a star-studded line-up, including Bell X1, Gabrielle, James, Suede, Suzanna Vega, The Proclaimers and more. The festival puts attendees at the forefront, with innovative strategies like flexible tickets allowing customers to exchange tickets for the day their friends are going, or the day the acts they want to see are playing. This is something Pamela has taken a particular interest in, saying she loves seeing fans put first.
"It's great that people want to come to the festival and see us, but we also want them to have a fucking amazing time," she emphasises. "I know myself, sometimes when I'm at a festival, I get a bit overwhelmed – they're so big, it's a bit daunting.  The idea of people coming to see us at a festival and  generally having a bad experience is not good. I'd much prefer them to have a good time, and in a selfish way, it'll only make them enjoy our set more. Because, if they have a memory of being at a festival they didn't enjoy and seeing us, they might be like, were they even good?"
A perk for the band when playing festivals all over the country is the amount of music they get to take in.
"Usually when we play festivals, we like to stick around for as long as we can," says Connolly. "Maybe not the whole weekend, but even for the day. I'm really excited to see Bell X1 at Forest Fest."
Connolly also enthuses about the band's Stateside stint, where they curated a week of events at New York's Irish Arts Centre.
"It was really cool to play a gig and stay in one place and explore" says the singer. "When you're on tour, getting from one place to another, you're like, 'Hey, I was here, isn't it great?' But you're only there for a few hours and then you leave. In New York, we were there for a good week. It was so cool to get that opportunity with the Irish Arts Centre, because we hadn't really done anything like it before. We didn't really know what they expected from us. But we were excited to showcase things we're passionate about. We got to show Kate Dolan's film You Are Not My Mother and loads of other amazing Irish work."
Pillow Queens have been using their time at home productively and working on new material.
"I don't know if there's anything I can give away without getting in trouble, but there will be music in the future," says Pamela. "The thing I'm most excited about is the amount of time that we gave ourselves to write. So, we're kind of whittling things down at the moment, which is a privilege that we've never really gotten to experience before. And we're still in the process of writing.
"It's been a really fun, creative time. We won't know until we're in the studio how things really sound, but at the moment, it feels like there's a lot more depth to it than our previous work. For all we know, nobody's gonna like it, but we love it. It's also really sad, some of it, so I'm just hoping people accept that as well."
Meanwhile, might we see a Pamela Connolly-curated festival in the future? With her dream line-up, I really hope so.
"We'd definitely be playing my dream festival – but at a very convenient time for us, so that we can experience the rest of the festival," she laughs. "A lot of the line-up would be our peers, so we can all have the craic together – the likes of Sprints and Ailbhe Reddy, you know the gang! I'll throw Phoebe Bridgers in there because you know, I wanna do gay shit. I was actually listening to Billy Joel this morning, so I'd actually like Billy Joel to be there, ending one of the nights – that would be a dream.
"Death Grips in some janky tent somewhere, that would be amazing. I've gotta say Jai Paul, and Lankum, so I can cry. Definitely Taylor Swift as well. She doesn't normally play festivals – but she'd play my festival, obviously."
Here's some of the other superb acts set to thrill the crowds at Forest Fest...
STAR ATTRACTIONS:
Bell X1
The Irish rockers, originally hailing from Kildare, are back in business with their eighth studio album, Merciful Hour, due to arrive on May 26. Recorded last year in Dublin, the ten-track record was produced by John 'Spud' Murphy. Having been in the works since 2018, this will be the group's latest album since Arms in 2016. Paul Noonan, David Geraghty and Dominic Phillips have performed on The Late Show with David Letterman, with their music also appearing on hit shows like Grey's Anatomy and The OC.
The Proclaimers
With their potent mix of pop, folk, new wave and punk, their classic songs and extensive touring have earned The Proclaimers fans around the world. The Scottish group's sound and energy have endured across generations, most notably as a result of their 1988 hit 'I'm Gonna Be (500 Miles)'. The rock duo was formed in 1983 by twin brothers Craig and Charlie Reid, who were just 21 at the time. Selling five million albums worldwide, The Proclaimers have released 12 studio albums since 1987, the most recent being 2022's Dentures Out.
Suede
The English rockers were formed in London in 1989 by singer Brett Anderson, guitarist Justine Frischmann (later of Elastica), and bass player Mat Osman. Lacking a lead guitarist, the three put out an advertisement in NME, a call answered by the prodigious Bernard Butler. The full band now includes Neil Codling, Simon Gilbert and Richard Oakes. Suede's self-titled first album would become the fastest-selling debut for a decade, and went on to receive the Mercury Music Prize in 1993.
RETURNING HEROES:
The Undertones
Known for hits like the immortal 1978 single 'Teenage Kicks,' Derry rockers The Undertones are now made up of John O'Neill, Damian O'Neill, Paul McLoone, Billy Doherty and Michael Bradley. The Undertones released 13 singles and four studio albums between 1978 and 1983, before original frontman, Feargal Sharkey, announced his intention to leave the band in May 1983. They remain a thrilling and wildly entertaining live proposition.
Bronagh Gallagher
Derry-born Pulp Fiction actress Bronagh Gallagher has also made a name for herself as a soulful singer/songwriter. As of April this year, it's been confirmed that she has joined the cast of a new musical film named The End, directed by Jerry Oppenheimer. Bronagh made her screen debut in 1989, with her first big feature film appearance being Alan Parker's The Commitments (1991). In 1999, she appeared in George Lucas's film prequel, Star Wars: Episode I – The Phantom Menace. She has also earned considerable acclaim for her stellar live music performances.
The Riptide Movement
The Dublin band began busking on Grafton Street early in their careers, and are now known for their rip-roaring live shows and energetic guitar tracks. With four studio albums to their name – including the Choice-nominated Getting Through – the quartet have toured extensively throughout the world on the back of wildly popular tunes like 'All Works Out', 'You & I' , 'Elephant In The Room', 'Changeling' and 'I'll Be There'.
NEWCOMERS TO WATCH:
Pastiche
Just two years ago, young Dubliner Pastiche began releasing music under a stage name and booked a show with zero PR or management. Since then, the BIMM graduate has played to a full house at Whelan's with five singles, four music videos and 100,000 streams under her belt. Tracks like 2023's 'Appetite', 'Paraphernalia', 'Heaven' and 'Supernatural' bring brooding beats and Billie Eilish-style breathy vocals to Pastiche's personal brand of pop, and we're buzzing to see what's next.
49th & Main
The Kilkenny duo exploded onto the scene during lockdowns and haven't looked back since, signing to Counter Records (an imprint of Ninja Tune) and releasing their debut EP Must Be Nice in September 2022. They're back this month with double A-side 'Crash And Burn' / 'Said Nothing (feat. Skylar)', with both mixed by Edmund Irwin-Singer of Glass Animals. Looked after by the same management company that has Slash and Lionel Richie on its books, Ben O'Sullivan and Paddy King have amassed over 22.3 million Spotify plays with their lo-fi 'Catching Eyes' banger.
Carrie Baxter
Waterford's Carrie Baxter has been widely tipped as one of the most thrilling emerging forces in Irish music, following the release of her soulful debut EP, Placebo, in 2020. After a selection of acclaimed singles and collaborations, the London-based rising star returned with her follow-up EP, What Now, in October 2021. Singles like 'Something In The Water' and Jafaris joint venture 'Satellite' have drummed up support in all the right places for the jazz-influenced musician.
Forest Fest takes place in Emo Village, Laois from July 21 – 23.