Tickets for individual shows go on sale tomorrow for the musical showcase The Road to the Great Escape.
When tickets for the festival event The Road to the Great Escape, presented by MCD, went on-sale back in December, the two-day passes quickly sold out. Excited music-goers will be happy to hear that new tickets for individual shows will be available for purchase tomorrow morning.
It was previously announced that 49th & Main would be playing, as would Dubliner Sammy Copley, Belfast-based Chalk, and Sorcha Richardson. Richardson just released her second album, Smiling Like An Idiot.
A few new acts have been added since December, including Irish natives Khakikid, Spider, and SIIGHTS.
Spanning multiple stages and locations, multiple shows will happen across the booked venues at the same time. The full schedule for the four Dublin venues is now available.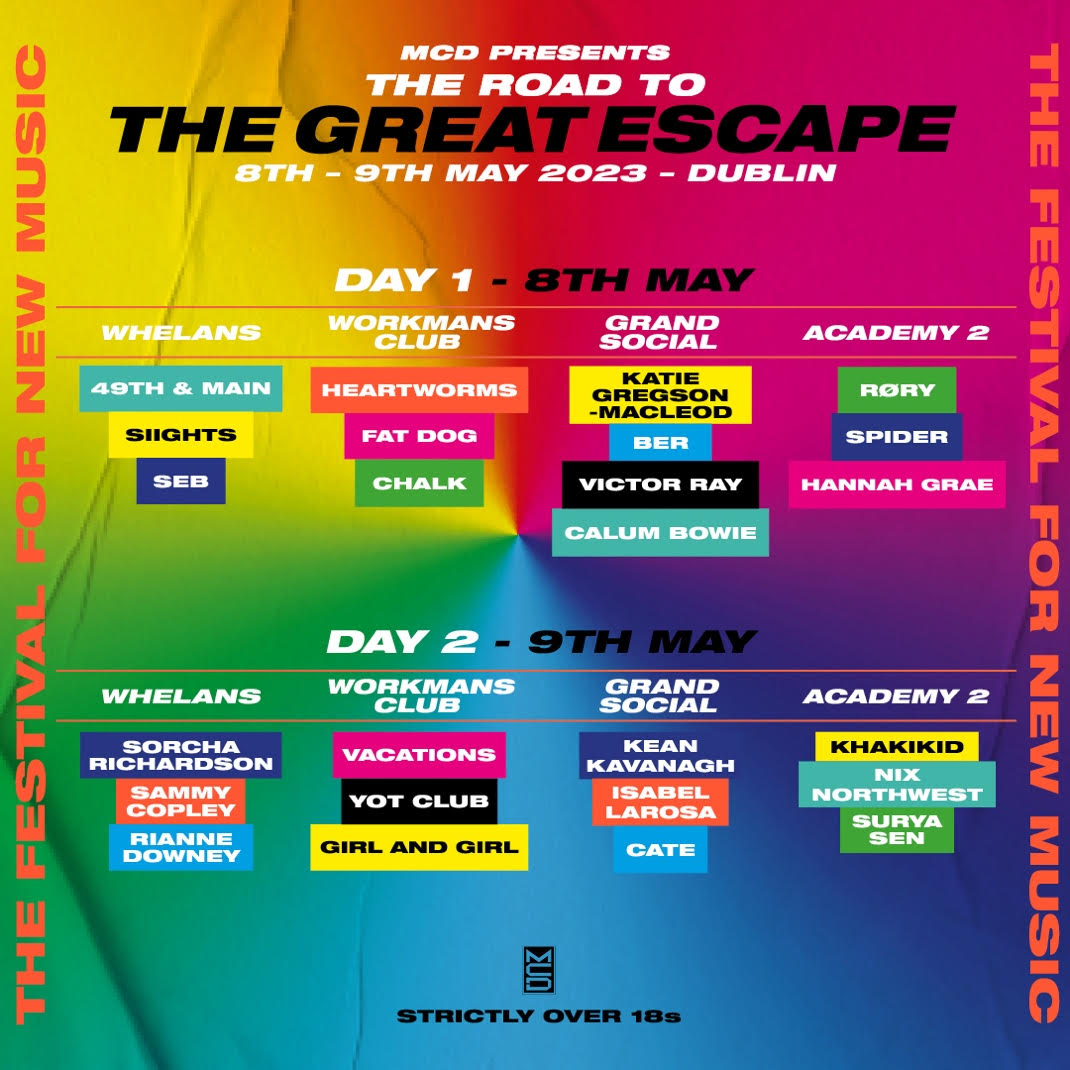 Advertisement
On May 8th, the first day of the festival, Whelan's will host 49th & Main, SIIGHTS, and Seb. The following day will see Sorcha Richardson, Sammy Copley, and Scottish folk artist Rianne Downey take the stage there.
At the Workman's Club, the gothic post-rock Londoner Heartworm, Fatdog, and Chalk will play on the 8th. Vacations, Yot Club, and Girl and Girl play the 9th.
Academy 2 will first be honoured with RØRY, Spider, and Hannah Grae on day one and then KhakiKid, Nix Northwest, and Surya Sen on day two.
The Grand Social gets the amazing musical performances of popular Minneapolis songwriter Ber, as well as Victor Ray and Calcum. The following day Kean Kavanagh, RCA signee Isabel LaRosa, and Canadian singer Cate are set to perform.
Scottish singer-songwriter Katie Gregson-MacLeod will also play the Grand Social on May 8th alongside Ber, Victor Ray, and Calcum. Her track 'Complex,' saw viral success recently. For her debut EP, Songs Written for Piano, she was featured in The New York Times and across the BBC.
The days of the event, doors will open at 7PM.
Tickets go on sale tomorrow, February 17th, at 10AM from €15.90. You can get them here:

Advertisement