There was very sad news yesterday, with the announcement from Rounder Records that the folk and country star Nanci Griffith had died. Nanci had a very special relationship with Ireland...
Hot Press is deeply saddened to hear of the death of Nanci Griffith. She was just 68 years of age.
An artist of great intensity, she was raised in Austin, Texas, which is home to one of the most vibrant music scenes in the US. One of those remarkable singer-songwriters who became a big star in Ireland, ahead of any breakthrough in the UK and other European countries, she enjoyed a special relationship with Irish fans and musicians. Nanci featured once on the cover of Hot Press.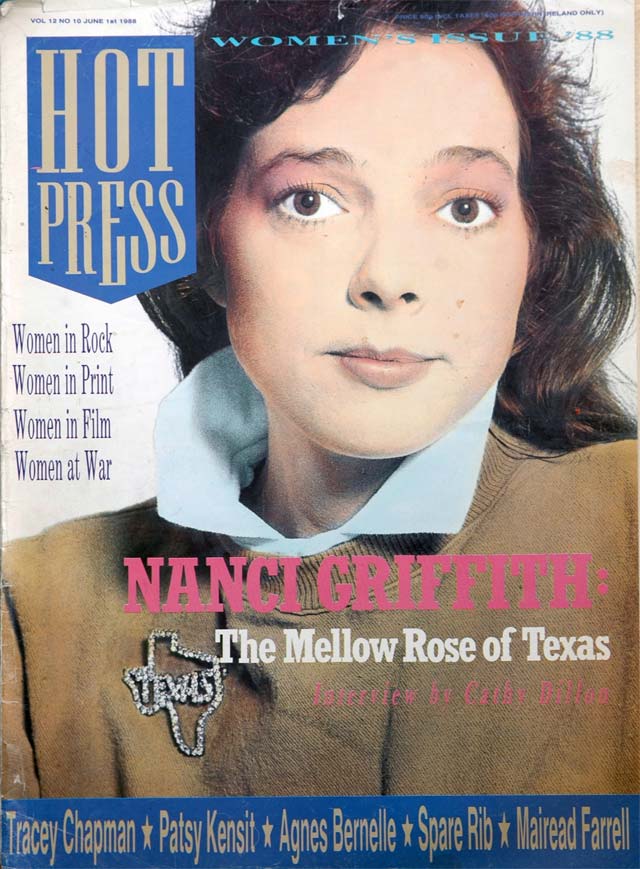 Born in Seguin, Texas, she moved to Nashville to develop her career. Her best known recording in Ireland was probably her cover of 'From A Distance', written by Julie Gold, which was a big radio hit here. In a similar vein, Griffith's classic 'Love at the Five and Dime' was a bigger hit for Kathy Mattea than for Nanci herself. Her 'Outbound Plane', was recorded successfully by Suzy Bogguss. Nanci characterised her music as folkabilly, a place where folk music and country music meet.
Nanci Griffith was diagnosed with breast cancer in 1996 and subsequently with thyroid cancer in 1998. Nanci's career was badly affected by illness: those two hammer blows came after she had won a Grammy Award in 1994 for her superb album of covers, Other Voices, Other Rooms – which took its title from a Truman Capote novel and passed it on to the Irish TV programme Other Voices.
Advertisement
On the album, the late John Prine contributed backing vocals on a lovely version of his brilliant song 'Speed of the Sound of Loneliness'; and Bob Dylan played harmonica on a version of 'Boots of Spanish Leather'.
One of the musicians on the record was the Irish singer-songwriter and one-time member of Granny's Intentions and The Fleadh Cowboys, Pete Cummins, who sang with her on a version of 'From Clare to Here', written by the other great folkie Ralph McTell. Some of the greatest songwriters in history were represented on the album: in addition to Dylan, Prine and McTell, there were covers of songs by Townes Van Zandt, Woodie Guthrie, Janis Ian, Gordon Lightfoot, Jerry Jeff Walker and Harry Belafonte (on a song written with Malvina Reynolds and Alan Greene).
The album was produced by Jim Reynolds, a Nashville-based producer with strong Irish connections, including with the late guitarist Philip Donnelly, who played out of Nashville for a large proportion of his career and also featured on the record.
The album reached No.54 in the US and No.18 in the UK. It eventually was certified gold in the US, selling over 500,000 copies there.
Nanci's most recent album was Intersection, released in 2012.
Nanci Griffith died in Nashville. No cause of death has been given.
"We are deeply saddened to hear that Nanci Griffith has passed," a statement issued by Rounder Records said. "Our condolences to her family, friends and many fans."
Advertisement
"Nanci Griffith was a master songwriter who took every opportunity to champion kindred spirits," the CEO of the Country Music Hall of Fame and Museum, Kyle Young, said. "Her voice was a clarion call, at once gentle and insistent. She offered gifts that no one else could give."
Senator Frances Black, who worked with Nanci Griffith, and recorded some of her songs on her own debut album said she was saddened to hear of Griffith's passing. "I was honoured when she came over to Ireland and sang with me on the album," Frances added.
Irish singer-songwriter and Chairperson of IMRO, Eleanor McEvoy, described Griffith as an extraordinary singer, writer and player.
"She was very good to me when I was starting out, brought me on the road with her and brought people to my gigs," McEvoy added.