---
Final Call for Musicians! 125 IRISH ACTS TO RECEIVE ALMOST €100,000 as 25 IBI Radio Stations Team Up with Hot Press to find A NEW LOCAL HERO
Radio stations have been accepting submissions nationwide as part of the groundbreaking Irish Music Month Initiative, supported by the BAI's Sound & Vision fund and XL Retail Group. We're looking forward to an exciting month!
The 'A NEW LOCAL HERO' initiative, which forms part of the IRISH MUSIC MONTH project, is firing on all cylinders! The overall project – run by Hot Press and the Independent Broadcasters of Ireland (IBI) – will promote Irish artists and bands, and is supported by XL Retail stores, as well as the BAI under its Sound & Vision scheme.
Irish Music Month will see significantly increased radio play across 25 independent radio stations – with nearly €100,000 being paid directly to Irish musicians, through the major artist search, 'A NEW LOCAL HERO'.
Bands and musicians nationwide are in the process of submitting original material to their local radio station, to be in with a chance of being one of five acts – per station – chosen to perform live on air during Irish Music Month this October.
Pictured at a photoshoot to mark the occasion were the latest signing to the Rubyworks label, the brilliant Saibh Skelly (centre left), with John Purcell (IBI/KCLR 96fm), Jess Murray (Hot Press), Niall Stokes (Hot Press), Elaine McCann (Rubyworks) and Paul Bealin (XL Retail Group).
The five chosen acts on each station will receive a payment of €700 for their performance, and each station will then put forward one Local Hero, to be part of a national shortlist of 25. All music styles and genres are welcome. And acts can be established or emerging. Artists or bands can come from – or live anywhere within – the relevant station's franchise area.
From the 25 artists selected locally, an industry judging panel will choose 5 acts to play at a showcase event in Dublin. This will not be a "battle of the bands" style gig. Each act playing at the live event will receive €1,400 for their performance on the night. The gig will be broadcast by all 25 stations – and on the night, A New Local Hero will be announced to benefit from the bursary. In effect, the act selected will be launched onto another level in their career level, and will receive:
An additional €5,000
Guaranteed release of a single through the renowned Rubyworks record label
Simultaneous play on every participating station, in a special national statement of support
A minimum of 30 subsequent plays on each of the 25 stations, resulting in a minimum of 775 plays on Irish radio.
Full support across the social media of all 25 stations and from individual DJs
Huge support from Hot Press, in print, online and across social media
Numerous Irish artists have already recorded messages of support for Irish Music Month, including recent Hot Press cover stars James Vincent McMorrow, Andrea Corr and Elijah Hewson of Inhaler, as well as U2, The Script, Kodaline, Una Healy, Villagers, Soulé, Mary Black – and many more.
Irish Music Month has been hailed as a hugely important new initiative in Irish radio by The President of Ireland, Michael D. Higgins, who described it as "genuinely historic".
"A New Local Hero is a key element in Irish Music Month," Hot Press editor Niall Stokes said. "Supported by the BAI Sound & Vision fund, the musicians who are selected for live participation in the programme are being paid, which is really important after the devastating impact of covid-19 on the lives and livelihoods of everyone in the live music sector. But it is also a nationwide search that will boost the careers, first of 25 Local Heroes, and finally one brilliant new artist who will receive the bursary of €5,000, as well as having the powerful support: of local and regional radio stations all over Ireland; of Rubyworks – which is home to such great Irish music; and of Hot Press."
BAI Deputy Chief Executive, Celene Craig, said: "The BAI is delighted to support this fantastic initiative through our Sound & Vision funding scheme. After a very challenging period for both the broadcasting and Irish music sectors, this collaboration will help to provide a boost to our established musicians and performers and will help to shine a light on up-and-coming local talent, while bringing the best of Irish music to radio listeners across the country. We wish every success to those participating in Irish Music Month."
John Purcell, chair of IBI, welcomed Irish Music Month as an opportunity for stations to show the unique power of radio in Ireland.
"I was really pleased at just how enthusiastic everyone in the 25 stations was about getting involved in Irish Music Month," John Purcell said. "I believe it is going to be a powerful and hugely beneficial initiative. The past 18 months have been very difficult for Irish musicians and for the events industry. If we learned anything from the pandemic, it is that we are all stronger if we support one another, and so all of twenty-five independent stations are stepping up to the plate now and doing their bit to support Irish artists – and hopefully to speed up the recovery of a sector that is vital to Irish life. It is an opportunity for radio stations, which are so important to their local communities and audiences, to show what they can do – and they will really relish that."
"When we heard about Irish Music Month, we immediately saw the fit," Paul Bealin, Sales Director of XL Retail group, said. "XL and our independent retailers are all about serving and supporting local communities – which is what is so attractive about Irish Music Month. It is brilliant to have 25 local radio stations showing their support for Irish music and Irish musicians – who are so important to local communities all over Ireland. Building on our pledge to offer 'a great deal more at your local store', we hope that the support of XL will help Irish Music Month to achieve its goal of lifting the spirits of Irish musicians, and of audiences all over the country, as we all recover from the devastating impact of the pandemic."
"Irish Music Month is a brilliant initiative," Denis Desmond of MCD Productions said. "There are so many great new Irish artists coming through, and to see them and their work being supported in this way by 25 radio stations working together is of immense importance. We need to support and encourage Irish artists in every way we can, which is what makes Irish Music Month so important."
• Irish Music Month is supported by the Broadcasting Authority of Ireland from its Sound & Vision fund and by XL Retail, offering a great deal more at your local store. Irish Music Month is also supported by MCD Productions, IMRO and RAAP.
For more information, listen to your favourite independent radio station, read Hot Press – and check out hotpress.com.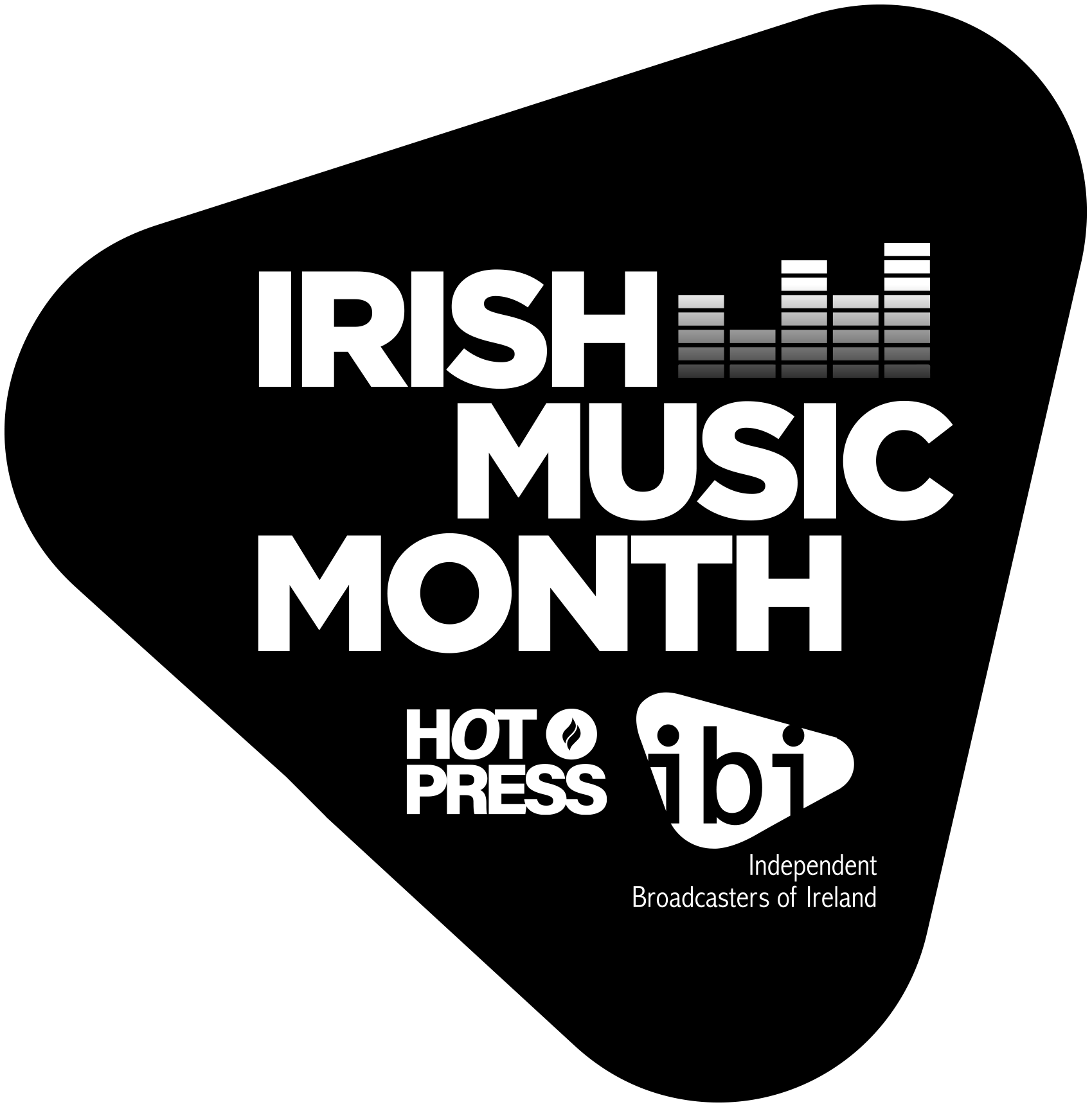 Below are the radio. stations still accepting submissions, get yours in before the deadline hits!
KFM: Kildare
Closing date: Thursday 30 September. Submit your music here.
Shannonside / Northern Sound: Cavan, Monaghan (Northern Sound Radio), Leitrim, Longford and Roscommon
Closing date: Thursday 30 September. Submit your music here.
Midwest Radio: Mayo
Closing date: Thursday 30 September. Submit your music here.
98FM: Dublin
Closing date: Friday 1st October at 3pm. Submit your music here.
Spin 1038: Dublin
Closing date: Friday 1st October at 3pm. Submit your music here.
Spin South West: Limerick, North Tipperary, Clare & Kerry
Closing date: Friday 1st October at 3pm. Submit your music here.
South East Radio: Wexford
Closing date: Friday 1st October. Submit your music here.
Galway Bay FM: Galway
Closing date: Monday, 4th October at 6pm. Submit your music here. 
Radio Kerry: Kerry
Closing date: Monday, 4th October. Submit your music here.
Radio Nova: Dublin city/county and commuter belt
Closing date: Tuesday, 12 October at 5pm. Submit your music here.
Classic Hits: Multi-city (Cork, Limerick, Galway, Dublin)
Red FM: Cork city / county
Closing date: Sunday, 17 October. Submit your music here.
Midlands 103: Offaly, Laois & Westmeath.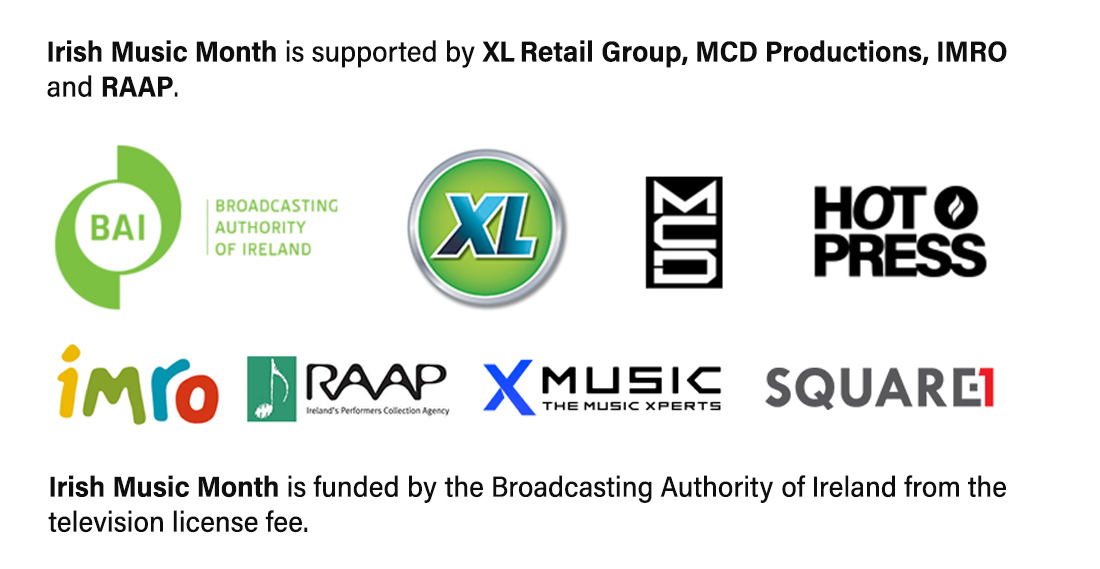 Irish Music Month is supported by XL Retail Group , MCD Productions, IMRO, RAAP, X-Music and Square1
Irish Music Month is funded by the Broadcasting Authority of Ireland from the television license fee