Andrea Corr, Imelda May, Una Healy & Gary Lightbody among the artists kicking off Hot Press Van Morrison YouTube Celebration
Tomorrow, Hot Press will launch 'Rave On, Van Morrison' – a major YouTube extravaganza to celebrate Van Morrison's 75th birthday. The schedule kicks off with Andrea Corr performing 'Moondance' – with a slate of marvellous performances on the way. Here we reveal the programme for the first two weeks – with dozens more to follow, in what will also be a powerful declaration of strength by Irish musicians and performers. Stay tuned...
Andrea Corr is the first artist to perform in Rave On, Van Morrison – the YouTube extravaganza created by Hot Press, to celebrate the songs and music of the legendary Irish songwriter Van Morrison. Also included in the star-studded line-up for the first two weeks are Gary Lightbody of Snow Patrol, Una Healy of The Saturdays and Imelda May.
Rave On, John Donne is timed to coincide with the 75th birthday of Van Morrison, who scored his first hit record as a member of Them, back in 1964. While the A-Side of his first hit, 'Baby Please Don't Go' was a cover of a blues song popularised by John Lee Hooker, on the B-Side was a Van Morrison song, entitled 'Gloria'. It went on to become one of the most recorded garage band classics in contemporary music, with The Doors, Jimi Hendrix and U2 among the countless artists who have recorded or performed the song since.
Among the other artists to deliver stunning versions of Van songs during the first two weeks of this unique celebration are Una Healy of The Saturdays ('Reminds Me of You'), Gary Lightbody of Snow Patrol ('Into The Mystic') and Imelda May ('Wild Night').
Also among those taking part in this unique event are the President of Ireland, Michael D. Higgins, who will perform 'Rave On, John Donne'; Hozier; Glen Hansard and Damien Dempsey.
"So many of these performances are brilliant that it doesn't seem right to single people out," Hot Press editor Niall Stokes said. "It really has been a joy, seeing the videos arrive in, and to sense the extraordinary inspiration which Van Morrison has provided to so many Irish artists. In hugely diverse ways, he has shown Irish singers, songwriters and performers that the only creative limits are to do with your imagination. He has forged a musical language all of his own and he has written songs that are immortal and will still be sung and played in a hundred years time.
"At Hot Press, we wanted to honour that and invited 75 brilliant Irish artists to join us. The result is what promises to be a thrilling series that I think will really capture the imagination of people all over the world, and hopefully turn them on afresh to the genius of Van Morrison – but also, as a result of the extraordinary reach of YouTube, to the fantastic talent that exists in Ireland. I have always believed that music is at the heart of Irish culture – there is such a richness to 'Rave On, Van Morrison' that people need look no further for confirmation of that."
The promotion of Rave On, Van Morrison will also be supported by the Department of Foreign Affairs, through its global diplomatic network and by Tourism Ireland.
President Michael D. Higgins said: "Van Morrison is one of the outstanding songwriters and performers of the past 60 years and has been a powerful inspiration to successive generations of musicians and artists all over the island of Ireland, and abroad. It is a great privilege to be part of this extraordinary celebration of Van's work, on the occasion of his 75th birthday. Long may he continue. Rave on, Van Morrison."
Dan Chalmers, director of Music YouTube EMEA, said: "Van Morrison is an icon performer and songwriter, and we are thrilled to host a celebration of his 75th birthday, and his decades of exceptional music, on YouTube. It's fantastic to be able to support such a wonderful group of artists, brought together by Hot Press magazine, to recognise his contribution to the music industry – and to celebrate the extraordinary breadth of music talent in Ireland."
Hot Press is also publishing a Van Morrison Special Issue, to coincide with Rave On, Van Morrison. It will be a must-have for Van Morrison fans all over the world.  To pre-order, go here:
The complete list of performances over the first two weeks is revealed in full below.  For the first fortnight, each performance will be posted on https://www.youtube.com/hotpressmagazine
at 19:00 Irish Standard Time (19:00 IST / GMT+1 // 14:00 EDT // 11:00 PDT)
WEEK #1
Tue Aug 04 Andrea Corr Moondance
Wed Aug 05 Hudson Taylor Cyprus Avenue
Thu Aug 06 Wallis Bird Listen To The Lion
Fri Aug 07 Thanks Brother Have I Told You Lately That I Love You
Sat Aug 08 Tim Wheeler Jackie Wilson Said 
Sun Aug 09 David Keenan Slim Slow Slider 
WEEK #2
Mon Aug 10 Gary Lightbody, Miriam Kaufman & Iain Archer Into The Mystic
Tue Aug 11 The Scratch Sweet Thing
Wed Aug 12 Bronagh Gallagher And The Healing Has Begun
Thu Aug 13 Imelda May Wild Night
Fri Aug 14 Maverick Sabre Beautiful Vision
Sat Aug 15 Una Healy Reminds Me of You
Sun Aug 16 JC Stewart Bright Side of the Road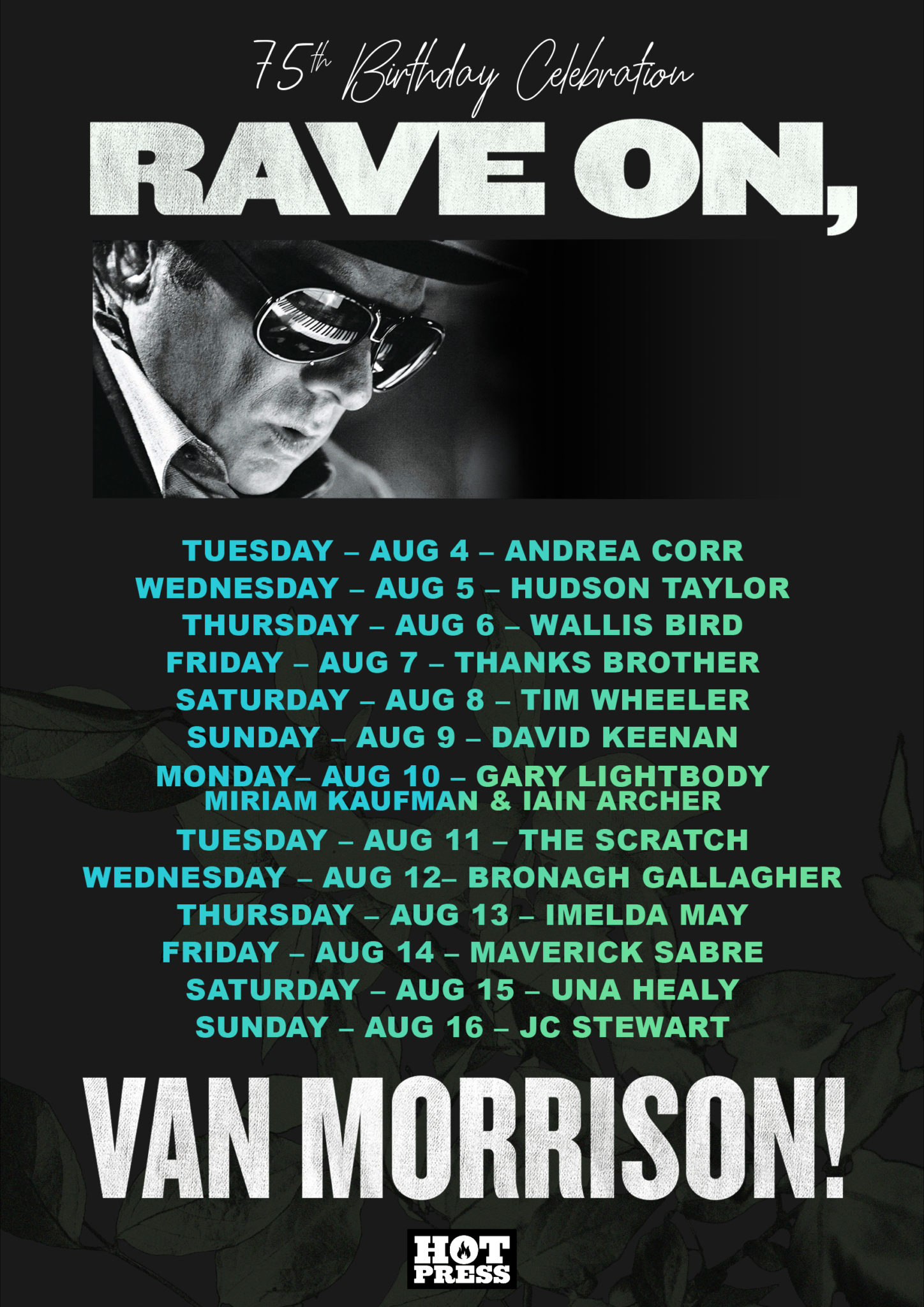 To be sure you don't miss out on any of our upcoming videos, subscribe to our YouTube here! 
RELATED