Hot Press celebrated Opening Weekend by stopping by four shows across Dublin – featuring Offica and A92, Wild Youth, Silverbacks and Mango x Mathman. As it turned out, the action was hot and the level of participation frantic. Just as it should be!
Opening Weekend has marked a significant milestone for musicians and the events industry as late-night venues can now operate at 100% capacity, with live music venues allowed to host a fully seated crowd and up to 1,500 people standing.
As an American recently arrived in Dublin, I can see already that Ireland is brimming with some of the most talented and creative musicians and performers. But they rely on the existence of live events, and – here as elsewhere – the COVID-19 pandemic has been enormously detrimental to the livelihood of many artists, up-and-coming and distinguished alike.
So this Opening Weekend, hopefully, will be seen, in the long run, as a watershed moment.
On Friday night, after 18 months of no stages, pubs, venues, or stadiums, live-entertainment lovers flocked to night clubs and music venues to celebrate the rebirth of one of Ireland's hardest-hit industries.
To mark this incredible re-opening, we visited four gigs on Friday night to capture the vibrant energy of Dublin's revitalised entertainment sector, as Opening Night unfolded.
Advertisement
Offica with special guest A92 - The Academy
The energy was high in The Academy on Friday with the anticipation of Drogheda rapper Offica and his A92 collective. Offica is one of Irish music's most remarkable success stories in years – and yet, has mostly flown under all the traditional industry radars. Despite this, straight away, you could see at the Academy that he has one of the most devoted fan bases imaginable, with fans singing along to every word and jumping impressively to the rappers' infectious beats.
A92 take their name from the local postcode in Drogheda. The collective features rappers Dbo, BT, Ksav, Kebz, Nikz and Andre Fazaz all bringing their own diverse flavours and energies to the team. The rap collective are the first artists in this country to truly bring the rap subgenre to such dizzying heights, despite not getting the same radio play as other Irish acts.
Following the release of his first track, 'No Hook', in late 2018, Offica garnered viral attention with his breakout single 'Naruto Drillings', as well as the subsequent remix featuring popular YouTuber and rapper KSI. Originally hiding his identity behind his trademark Naruto mask, Offica continued to build his reputation through collaborations with major UK drill artists Skengdo & AM and Harlem Spartans' Blanco.
His acclaimed solo track 'Face Reveal' premiered on hotpress.com back in May, and was soon followed by a music video that saw Offica removing his iconic mask for the first time – sparking a major reaction online.
The Offica and A92 show at The Academy truly showcased the incredible support this collective of rappers has from their Irish audience, with a youthful audience hanging on their every word, enthusiastically joining in a chant led by A92, "When I say fuck, you say COVID!" This sold-out gig was one of many on Offica's UK and Ireland Tour, continuing until November 19.
Wild Youth - The Button Factory
Advertisement
Burgeoning superstars Wild Youth featured as cover stars of the Hot Press 'Hot For 2019' Special Issue. Their rise as a live powerhouse has been paused by Covid – so there was a huge sense of release when they brought their euphoric pop sound to The Button Factory on Friday night, with spirited fans grooving along to what sounded like epic tracks, a sea of dancing bodies bathed in multi-colored lights.
The homegrown quartet, made up of Conor O'Donohoe, David Whelan, Ed Porter and Callum McAdam, racked up over 1.2 million streams on Spotify alone for their recent track 'Next To You'. The band have rapidly established themselves as one of the most thrilling acts in the country – as well as making significant strides internationally.
In a Hot Press interview earlier this year, David Whelan said, "There's so much talent in Ireland – it's insane."
"For such a small little island, we have a lot of creative minds that are flourishing right now," he continued. "It's great to be Irish and get to support it. That's the main thing – we've been shown so much support since we started. Now, we want to show as much support to other artists as we can, and back each other."
It's clear that the band have made a huge impact at home, with fans coming out in droves on Opening Weekend to have the chance to hear catchy tracks like 'Champagne Butterflies' and 'Next To You' live and in-person.
Later, Wild Youth spoke of the unforgettable opening night on their Instagram. "It's hard to put into words how last night felt," they said, "we've felt empty without you and now we feel so full, thank you to everyone who came last night."
Advertisement
The band will be going out on their 'Forever Girl' tour in early 2022, bringing their vibrant sound to Cork, Limerick, Galway, Belfast and more. Don't miss them...
Silverbacks- The Grand Social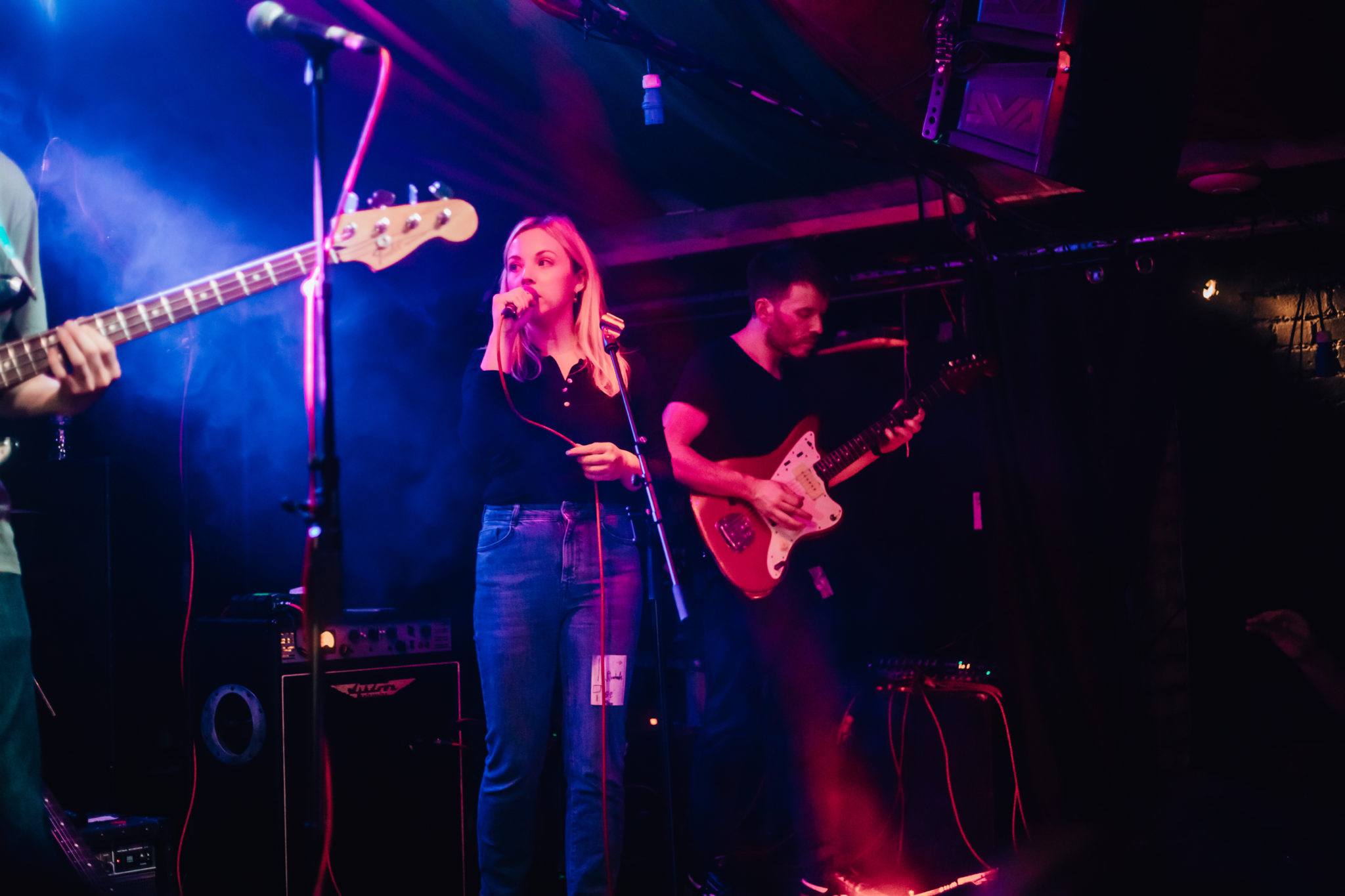 Dublin art-punks Silverbacks brought their crashing, kinetic sound to The Grand Social on Friday, playing to a completely packed venue of excited fans.
One of Hot Press's Hot for 2019 Irish Acts, the band offer a heady stew of jagged riffs topped off with disaffected vocals – their sound tipping a cap to outfits like Parquet Courts and Pavement.
The Dublin five-piece – comprised of Daniel O'Kelly, Kilian O'Kelly, Peadar Kearney, Emma Hanlon and Gary Wickham – are known and loved for their tongue-in-cheek humour and incredible melodies alike.
With indie rock anthems such as 'Pink Tide' and 'Just In The Band' Silverbacks deliver a refreshing melange of playful and idiosyncratic art-rock – much to the delight of their dedicated fan-base.
Advertisement
The Grand Social's first Opening Weekend gig was part of Silverbacks' Ireland and UK tour, which will take in gigs in Limerick, Glasgow, London, and more. The band have announced that their second album, Archive Material, is due for reease on Jan. 21, 2022.
MANGO X MATHMAN- The Workman's Club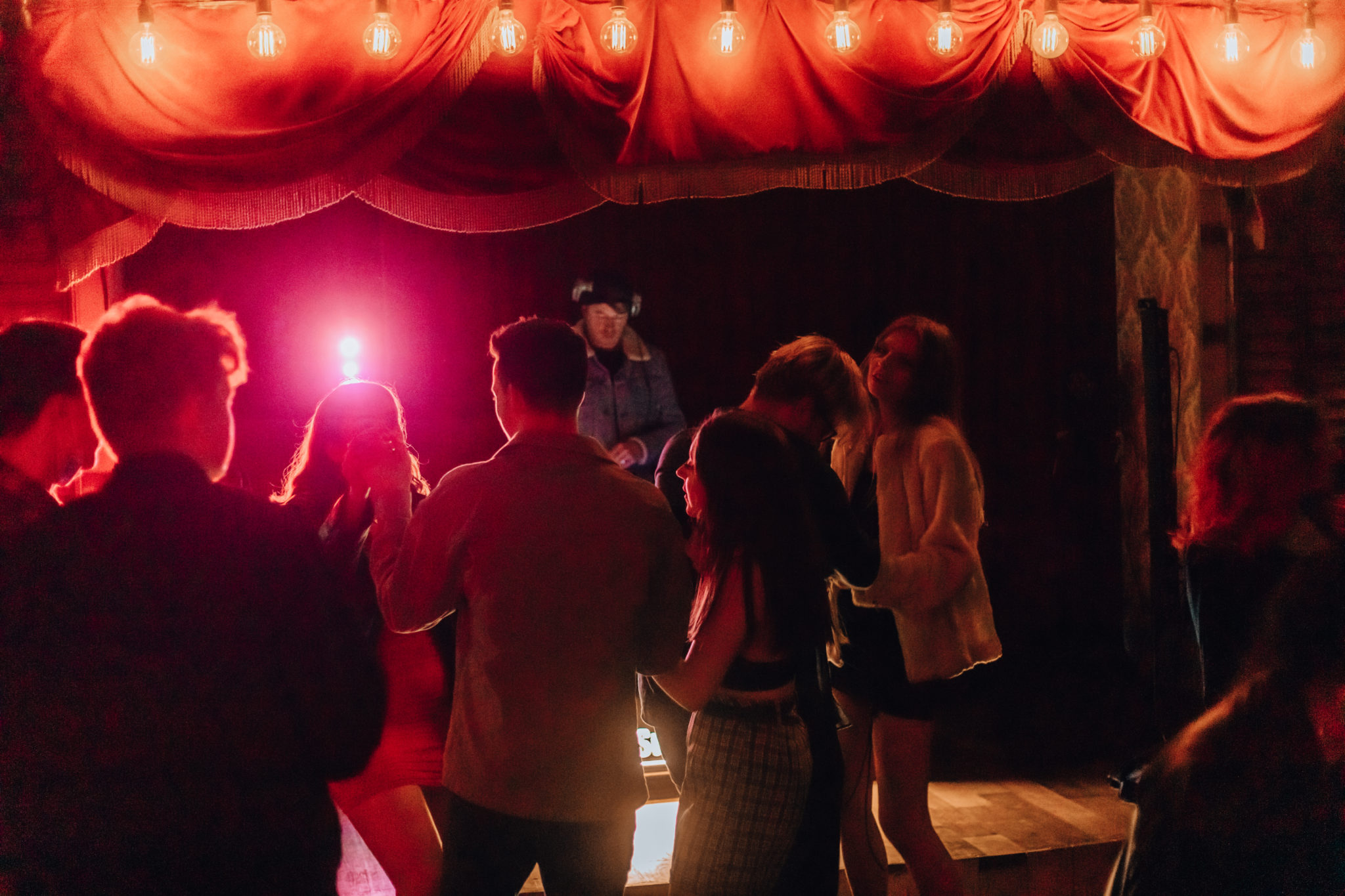 One of the country's most celebrated MC/DJ duos, Mango X MathMan, celebrated the release of their newest single, 'Heartbreaks & Promises' at The Workman's Club.
"Dance music and hip-hop have always lived hand-in-hand in Ireland," MathMan stated in a Hot Press interview in 2019. "We were born and bred on both of those things. You had pirate radio playing club and dance music, and you had your own little CD collection back in the gaff of 2Pac and Jay-Z.
"You'd go out some nights, and have house and techno in the big room, and hip-hop outside," Mango added. "Ireland's too small. When they're closing down the clubs, everyone has to go raving together."
A love of storytelling lies at the heart of the duo's collaborations, carrying on a tradition long-established in Dublin. But while literature, poetry and theatre have often been reserved for certain exclusive classes in this city, M&M argue that music – and hip-hop in particular – is creating a much-needed space for working class voices.
Advertisement
In the cellar of The Workman's Club, you could see that dynamic in action. The energy may not have been as manic as elsewhere in the city on the first night of Opening Weekend, but it felt like a perfect place for excited night-goers to dance their Covid-induced blues away.
On this evidence, Dublin's Opening Weekend has given people of all musical types and interests the opportunity to find their place in the city again. What's abundantly clear – even to a recent arrival – is that the celebration of Ireland's music scene is likely to gain momentum, as the Irish relish the return of excitement and music to everyday life.