Interview: Mango X MathMan on the state of Dublin, mental health, the rise of Irish hip-hop and the road to Casual Work
One of the country's most celebrated MC/DJ duos, Mango X MathMan, sit down to discuss the state of Dublin, mental health, the remarkable rise of Irish hip-hop and the long, hard road to their new album, Casual Work.
"I don't think we have success," MathMan muses, watching the city pass by from our perch outside Grogan's. Dressed in his Sunday best, a matching velour tracksuit, the genre-splicing producer is sipping pints of Guinness with his partner-in-crime, the rapper Mango – in a vain effort to ward off a looming hangover.
"Making a living off your art, and not having to worry about having a second, or a third job would be success to us," he continues. "I mean, we've had certain levels of success, like having someone come up to us after a show, saying, ''Lord Hear Us' is a fucking belter, and it really helped me through a tough situation'. But radio play doesn't mean success to us, really."
Four tough years in the making, Casual Work, the debut album from Mango X Mathman – also known as Karl Mangan and Adam Fogarty respectively – is finally ready to see the light of day. The title reflects the stark reality faced by their generation: casual work certs, working X's and O's for social welfare and hopping on planes to Australia. And while the pair are full of playful braggadocio and loud banter, there's an earthy honesty to everything they put across – representing their everyday experiences in local pubs and chippers over the American tropes of Rolexs and yachts.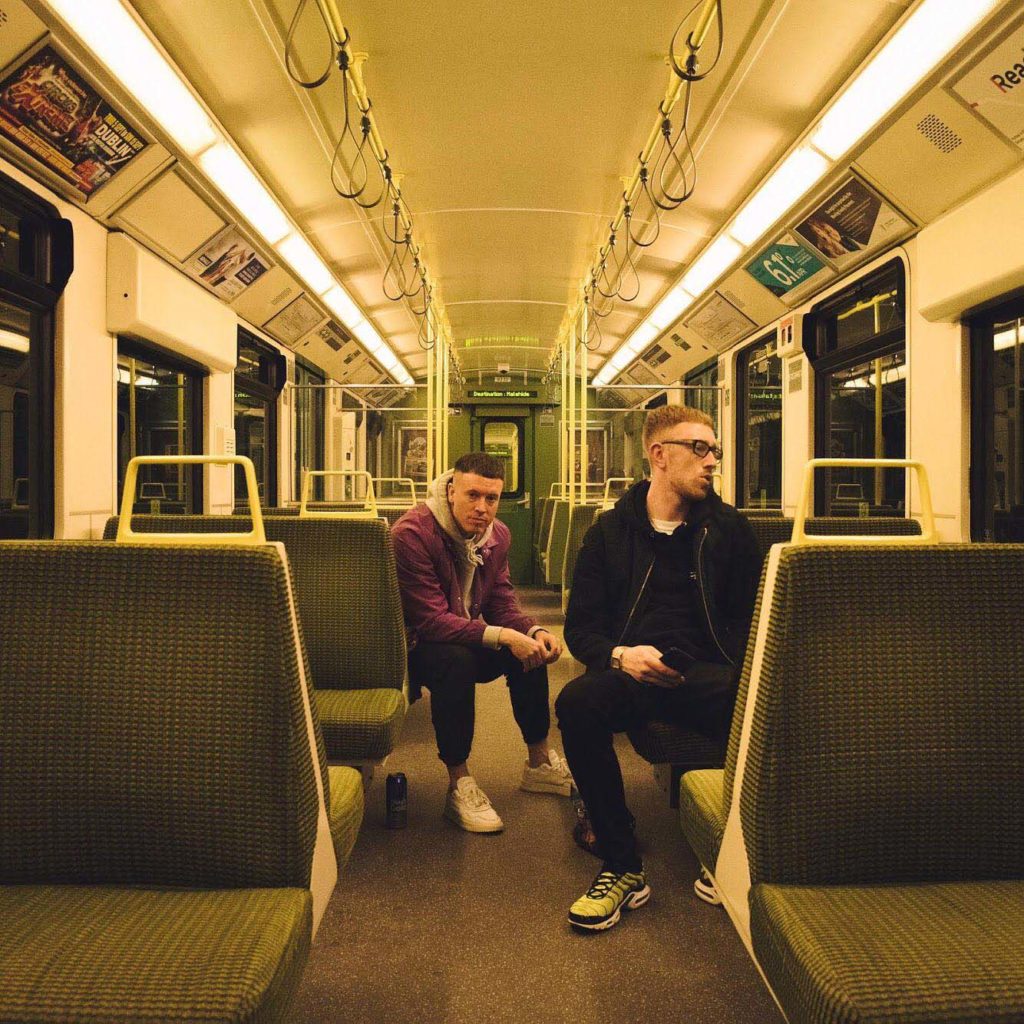 "The title became a bit of a running joke," the bespectacled Mango smiles. "Making this album was casual work. We were doing it at the same time that we were working our day jobs. It was a part-time thing, because it had to be.
Advertisement
"Lyrically, you see me going from a 23-year-old to a 26-year-old. For a lot of lads, that time in your life is like a second growing up. You go from having a load of mates to having a couple of mates. You get into serious relationships. Things change."
Casual Work's gestation period also saw the duo's relationship tested – something they've openly acknowledged on the album. One of several interludes features a voicemail from MathMan to Mango: "Listen, I don't know what's going on with you at the moment, but there's something I need to tell you. You're acting the bollix right now, man, and you're messing a whole load of people around."
"We met each other in our twenties," Mango explains. "I was doing things that he had already done, and I was going out acting the bollix. He was a bit more mature than me, so he was like the older brother, checking me and helping me out through that. But that's what I needed, and that's why we're still so close, because it's gone beyond music. I actually care about him, and what we do together.
"There's just the two of us, so it's not like when you're part of a bigger team, and you can sink into the background and not pull your weight. If we're not both at 100%, it's not going to happen."
A love of storytelling lies at the heart of the album, carrying on a tradition long-established in Dublin. But while literature, poetry and theatre have often been reserved for certain exclusive classes in this city, the lads argue that music, – and hip-hop in particular – is creating a much-needed space for working class voices.
"Hip-hop is a leveller," Mango says. "For this album, I knew I had to say something – I couldn't give you a load of songs about how deadly I am and how shit you are. I wanted to show you everything, because the hip-hop albums that I love reflect that. You hear it on OutKast's ATLiens, when André 3000's tell you that he's living cheque to cheque. I respect that, and that's what lasts with me.
"It was also the storytelling that I'd hear in places like this that inspired me," he smiles, pointing around Grogan's. "The people in pubs who'd tell you a five-minute story, but in the end it turns out it's actually a joke. This is Dublin, and that translates through it."
Advertisement
Mango X Mathman's sound is grounded in hip-hop, but simultaneously pays homage to the city's unique club culture.
"Dance music and hip-hop have always lived hand-in-hand in Ireland," MathMan nods. "We were born and bred on both of those things. You had pirate radio playing club and dance music, and you had your own little CD collection back in the gaff of 2Pac and Jay-Z."
"You'd go out some nights, and have house and techno in the big room, and hip-hop outside," Mango adds. "Ireland's too small. When they're closing down the clubs, everyone has to go raving together."
While Irish hip-hop is rapidly hurtling towards the mainstream, evidenced by JyellowL's inclusion on the FIFA 20 soundtrack and the international success of Rejjie Snow, Mango X Mathman faced first-hand the early resistance against the genre on these shores. Even four years ago, MathMan reckons "Ireland wouldn't have been ready" for Casual Work.
"At the time, the acceptance for Irish rap music wasn't where it is now," he argues. "To do something as artistically rich and representative of ourselves as this would've been ridiculous at the time. We would have sent it out and nobody would've connected with it. Now's the right time."
There was also a prevailing tendency to ridicule Irish people attempting to rap in their own accent.
"It's a post-colonial attitude," Mango asserts. "It's the same reason your mam tells you to speak properly when you talk like us. People think it's mortifying to hear our Dublin accent. But we believed in it. We thought it was such a rich and weird way to speak. Why not use it in rap music?"
Advertisement
"We are so proud of where we come from, and what we represent, that it could never be any other way for us," adds MathMan. "We've gone through eight years together as a group, and we spent nearly five of those getting laughed at. But we're still here now, when everyone's clapping us on the back – that shows you how much we care."
"People tell us that we're right on-time for Irish hip-hop," Mango laughs. "No, we were early for that buzz, mate!"
Dublin essentially serves as its own character in Casual Work – but the project also sees the pair coming to grips with the city's darker realities.
"I love being a Dub, but I hate living in Dublin sometimes," MathMan muses with a sad smile. "We love the life we lead, the people we meet, the humour, the architecture and the beauty in the city. But things we have no control over are turning this city into a sterilised fucking hotel. It's ruining the identity of the city, and what Dublin represents."
"It's a land grab," adds Mango. "Most people under 35 are renting accommodation. They're taking land off us and fucking us away. It's neoliberalism, and you can see the immediate effects of it. People in their late twenties with a full-time job are living with their mam. I mention that in 'Said And Done': 'How can I ever feel at home/ When no one I know has a home that they own?' They don't want young people owning property or land."
Advertisement
The struggles of maintaining relationships and independence while still living with their parents is a reality Mango and MathMan are all too familiar with.
"It's a joke," MathMan says. "Especially with aul ones like we have. It's 'Where are you going and what time are you coming back at?' 'Are you having dinner?' 'Your dinner's in the oven – it's after being in the oven for three hours!' 'Where were you, you never texted me?' Fuck off, will ya? I'm 35! (laughs). Now, I love her to bits. Our mams are fucking deadly."
They've also witnessed first-hand the destructive forces in the music scene – from the rarely discussed mental health issues faced by many DJs, to the drug culture tat can sometimes hurt.
"It's the lifestyle," MathMan explains. "You could have a gig on Thursday, Friday and Saturday night – back-to-back sessions. Your rider is stacked with whatever the fuck you want on it, gargle or otherwise. You wake up in the afternoon the next day and the anxiety kicks in, because you're thinking, 'I've got a show later on – am I ready for it?' It can be a dark place.
"I've never done drugs in my whole entire life," he continues. "I come from a long line of sessioners in my family, and I grew up around some fairly spicy people. Seeing that, and knowing the reality of that life, I was self-aware enough to say, 'That's not what I want to be.' But I've been a DJ since I was 14 years of age, so imagine being in that environment – people coming up to you going, 'Here, do you want a whiff off that?' I tell them I'm not here for that, and they're like 'Wha'?' I know it's mad corny, but for me, nothing else mattered but the music."
Mango hides his grin behind his pint: "That is corny, bro."
The pair have addressed these issues on tracks like 'Lord Hear Us', which courageously explores young Irish men's struggles to open up and discuss their emotions.
Advertisement
"All the time that I was being a fucking bollix when I when I younger, I was going through depression," Mango reveals. "I just didn't know what that was. It's not like now, when you've got Hot Press doing a mental health special. No one was talking about this, especially not to young fellas, who came out of school thinking they were going to be joiners or electricians – only to be told, 'We've no jobs for you – go to Australia.'"
The contribution of young women to Irish culture is also celebrated on the album – with stunning guest appearances from the likes of Loah ("She bodied me on my own album, bro," laughs Mango); Lisa Hannigan ("A buzzer," according to MathMan); and plus-size model Irena Drezi.
"We have to give a lot of love and respect to Irena," nods MathMan. "She never sang before, but she killed it. We sent her a couple of songs, and when we met in my house she'd two songs written in the space of two weeks – and they were perfect."
"She came over here and lived in direct provision, and now she's an official plus-size model for PrettyLittleThing," adds Mango.
"She's a fucking G."
With four long years of love, loss and tears ready to enter the world for the first time, there's an excited energy buzzing between the lads – but also an unmistakable sense of serene triumph.
Advertisement
"Irish hip-hop has to be the biggest musical story of the decade," smiles Mango. "Honestly, I never thought I'd see the day."
• Casual Work is out now. See our review here.
https://open.spotify.com/album/4GTMTG8DND1AEEkzwMRzPS