'All I do is study this art form': Donegal designer Daniel Walters talks celebrity clients and taking SAD SAC global
The 25-year-old designer and Depop sensation has created clothing for the likes of Declan McKenna, Yungblud, Dylan Minnette, Blackbear, Biig Piig, Boy Pablo and Still Woozy - all from the comfort of his bedroom.
The remote parts of the North of Ireland may not have a reputation for producing rising fashion designers, but Daniel Walters cites his hometown - and specifically his bedroom - as the genesis of his entire success story. With 22,000 Depop followers and an army of celebrity clients endorsing his SAD SAC brand, the artist's passion for thrifting and hunger for success have allowed his remarkable talents for the industry to flourish. Being in the top 200 Depop sellers worldwide gave the self-taught designer the confidence to continue blazing his own trail as a DIY vetements veteran.
"Donegal has essentially made me an artist," the 25-year-old explains.
"I don't use that word lightly, because I feel like to be an artist you have to be sort of baptised by the people as opposed to self-diagnosed, but I feel like I've earned my place. The city-orientated creative ideology can sometimes take away from what a true artist really is, in my opinion. I love Dublin's culture, but I think the idea of central city hubs are overrated. Cities act as more of a fantasy than a reality."
Walters' family instilled in their son a love of boot sales in his home county, leading the youngster to develop an obsession with collecting items and sourcing the best bargains in charity shops. What became a hobby later blossomed into a burgeoning career.
"I've never worked a 'normal' job in my life, to this day," Daniel smiles. "My entire life, every piece of my clothing I wore has been second-hand. I didn't know it was culture at the time, that's just the way I was brought up as a hand-me-down kid. Over time, the collection I was building in my room got ridiculous. Even though I couldn't afford clothes, I became known as the kid in school who had the nice outfits. Everyone assumed I was rich! It was purely because I was in the boot sale two days a week from 6am."
Advertisement
"Long story short - I was selling vintage stuff online and Depop reached out to me to say that they wanted to put me on the 'Explore' page when I was 19 or 20," the designer adds.
"I figured out how to see a single stitch in a t-shirt and recognise it from the '80s. I learned an item's value and how to walk up to a stand and come away with everything almost for free. I love this culture; it's defined who I am because if you grew up in vintage-land, it becomes a huge part of you. I had to create my own style within the confines of my budget and make it work somehow. It's the whole ethos of my brand. Then I became a full-time Depop seller and learned the online trade."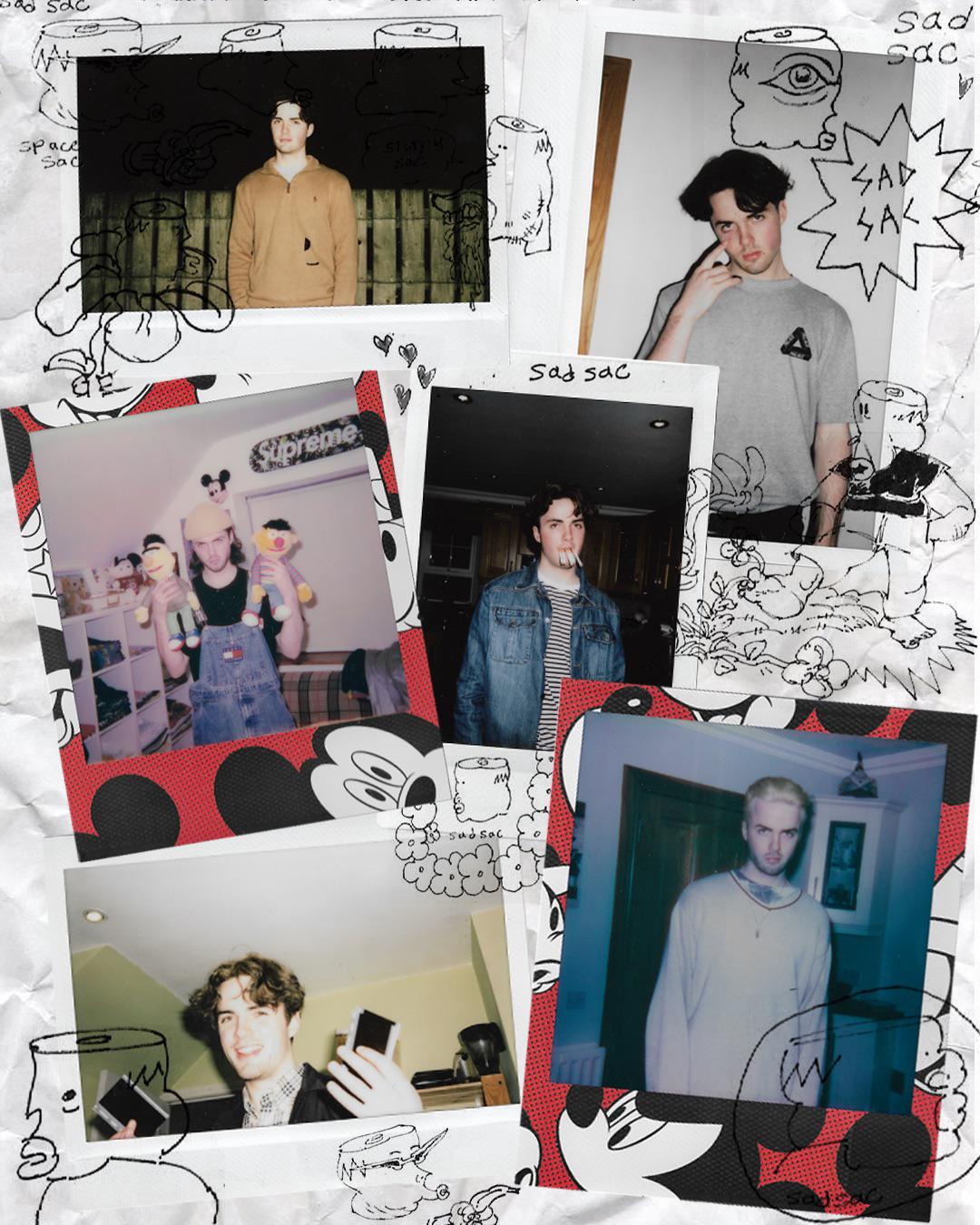 Mental health is one of the central tenets of Daniel's SAD SAC brand. Art was an escape for the designer, who has autism, and allowed him to express the inner crevices of his mind.
"I didn't expect anything from the mental health unit in Ireland. It's a defence mechanism: if I don't anticipate help from anyone, then I can create my own success," Walters explains.
"I've tried private and public counsellors, but it's just a case of whether they can connect with me or understand me. Creating my own t-shirts really helped my mental health. Every single design I make always has a message and tells a story. My designs change with my mood. Every single doodle is a tale from my timeline, but I could never draw anything that doesn't mean anything to me. SAD SAC is calculated. It's the most interesting bedroom story you'll ever hear in your life. People from fucking Hollywood are wearing my clothes because I'm one of the few genuine people in this game. That's why Depop love me. I'm happy to be that character who breaks the rules of fashion and art and proves doubters wrong. It's a challenge when people tell me I can't do something."
"My place in the art scene is still the underdog but I also want to be in the Hall of Fame," Walters continues, his self-assured thirst for recognition on show. "That's always been my venture - to start trends. I'm trying to say to the real world that this is who I am and what I've done. I won't be happy until designers like Sean Wotherspoon recognise me as an official streetwear representative."
Advertisement
"My heritage is what makes me original and creative, but I don't just want to make it big in Ireland because I love global culture as a whole," Daniel adds. "I genuinely will not be happy until I'm an international artist and an attribute in fashion. I do everything the wrong way and it somehow turns out right for me because I never give up. I know the ins and outs of everything because I'm autistic with this shit. All I do is study this art form."
With names like Dylan Minnette (of 13 Reasons Why and Wallows fame), Boy Pablo, Yungblud, Blackbear, Declan McKenna, Piig Piig and Wifisfuneral wearing SAD SAC, it's not difficult to see why the momentum is steadily building for Daniel's unique designs. With the emphasis on unyielding creativity, sustainability and authenticity, and a knack for connecting with trendsetting artists; Walters has discovered the formula for dynamism.
"No one in my scene is having celebrities wear their shit like I am, and I'm not going to indulge the information of why that is - because there's no real secret," Walters says with a smile.
"It's the same way you make friends, there's no real hack. A lot of the time they reach out, or I'm put in contact with them. 80% of the people who have worn my stuff got in touch with me, so I must be doing something right! I think it's because I'm doing something that creatives can relate to. I've always made what I wanted to make for personal reasons, never to impress anyone."
Clothes swapping app Depop recently confirmed that SAD SAC was the first account to start sustainability on the platform, which makes it even more relevant in the current times.
Advertisement
"I don't think that Depop is Irish based at the minute," the designer says, when asked about why the app hasn't seen the same success which its UK users have offered.
"Ireland has always been a decade or so behind when it comes to that stuff. I don't mean to diss the country, but we're always the last to follow up on trends. For whatever reason, Air Jordans are coming back into fashion here now. It's taken 25 years for that shoe, the forefather of sneaker culture, to hit our streets. I don't think Depop will be embedded fully in Irish culture for another eight or nine years. The platform isn't perfect, but it's definitely the future."
Depop has grown in popularity presumably on account of the increased interest in sustainable fashion, with the textile industry proving to be the second biggest polluter of water in the world - only oil is more destructive. One criticism of certain sellers on the app is the re-selling of clothes at a significantly higher rate than their original price.
"Streetwear culture is similar to vintage culture in that it's often saturated by posers and people who just want to get in the market. I don't judge anyone for anything, because if my energy isn't focused on myself, then I've lost," Daniel says. "I don't care if people are re-selling clothes for huge prices. Humans are humans, people are going to take advantage of every culture."
"In terms of sustainability, I think we're only on the brink," he adds. "For me, it's been my entire life because old stuff is far more interesting. Fast fashion brands care about money, that's their basis. They're going into sustainability to protect their business, and their methods are questionable. For me, making the most of resources is second nature. I never see old material as something to throw away, it's how to make the most of it. If this generation keeps that in mind, it'll come naturally. I do my part."
Having taken part in multiple documentaries tracking his journey to becoming the designer he is today - examples being With All My Heart and Twenty Something - Daniel Walters is still working on video projects in the hopes of shining a light on his hard work. Fashion features like 2018's McQueen have proven that the demand to see behind-the-scenes insights to the art world is stratospheric.
"I've documented my journey for six years, so have thousands of drawings and photos on film gathered where I channel my whole growth. I'm making a film which is in development at the minute, and it's literally taking seven years," Daniel says. "There are a few directors involved, and I hope that's my break into this scene. If you have a years-long project which shows the growth of an artist: you can't not love that shit. It makes me cry to watch me go from confused 19-year-old not knowing what he's doing and dropping out of college to someone who pursues art for a living and refuses to give up on his dreams."
Advertisement
"In the art world, you're either in it or not. You have to kind of sell your soul. I've been in it and will be in it forever, I'll do this until I die. I'm completely invested in this lifestyle."
Check out SAD SAC on Depop here or visit sadsac.bigcartel.com.