Wet Leg: "The stars aligned and people connected with us, probably because of this endless year"
Rhian Teasdale of UK viral sensations Wet Leg tells us the band's story so far – and looks forward to the group's keenly-awaited first album, which might just be the most sensational debut of the year.
Almost three years on from their decision to officially form a band – they were at a summer festival at the time – Wet Leg have gone into over-drive. Already, to their credit, they have multiple viral singles; second place on the BBC's Sound of 2022 list; a record contract with Domino Records; and a debut album, recorded with Fontaines D.C producer Dan Carey, that's ready to rock. Not bad going, for two music college friends from the Isle of Wight.
These new indie darlings refuse to take themselves too seriously. It's a promise that's gloriously upfront in Hester Chambers and Rhian Teasdale's witty, feel-good anthems. This unique commitment to being themselves, and damn the consequences, resulted in one of 2021's standout tracks, the irrepressibly brilliant 'Chaise Longue'. Replete with Mean Girls quotes and a string of sexual innuendo, it's impossible to forget.
Their second single, 'Wet Dream', is an equally memorable statement directed at an ex, while 'Too Late Now' examines the confusion of contemporary life and the modern notion of 'self-care'. The anticipation is understandably building massively for their debut album, which will be released in April. To describe Wet Leg as Hot for 2022 might just turn out to be a massive understatement.
"Before band stuff I was living here," the 28-year-old Teasdale tells me, smiling benignly from her former London abode. "So, I'm just hanging out at my old house with two girls from the Isle of Wight. I'm sitting opposite my friend Sarah, who's subletting the room. I've been doing Zoom interviews here all week, so she's heard me talk about myself non-stop."
Having read a load of Wet Leg interviews, it's fair to say that journalists like to paint the duo as stereotypical quirky indie girls.
Advertisement
"We're both tired of that story now!" Rhian laughs, referencing the yarn that she and Hester spun about cementing their decision to start a band at the top of a ferris wheel. 
"Why did we insist on being so zany?" she asks me. Thankfully she doesn't need an answer from me. "Often, I'll read stuff back – not too often because it's weird – but I won't recognise the portrayal of us. I could be in a really weird mood for those 20 minutes and then it'll be written in a way that isn't really me. It was pretty funny when we got misquoted by NME about wanting to be 'guitar heroes'. 
"Interviews were daunting to us at the start," she adds. "It's still so strange to talk about your band."
The chemistry between the duo is an essential part of the Wet Leg appeal. 
"Hester might seem shy, but actually she's very strong and powerful," Rhian says. "I think I'm the opposite, in that I'm more extroverted."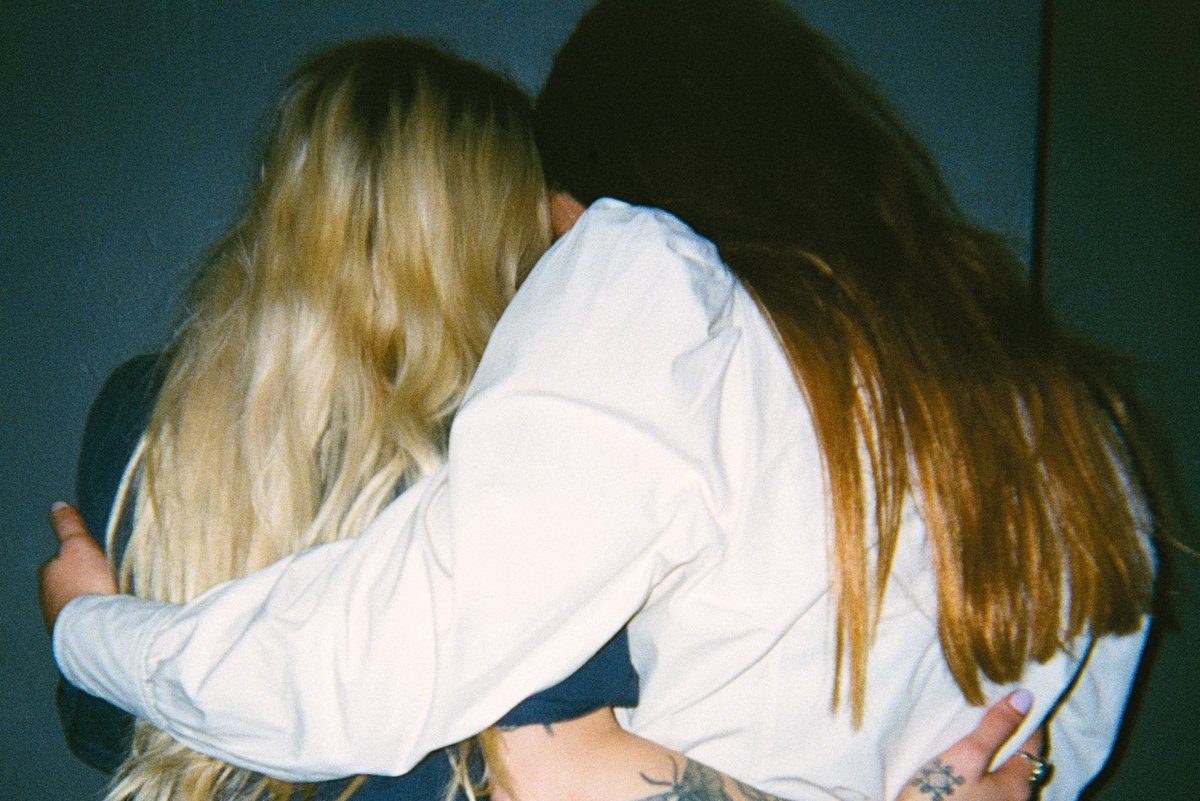 How important is the folk connection to their music?
"We both used to do solo, folk-leaning stuff," she explains patiently, "because we started writing when Laura Marling released her first LP. Joanna Newsom, Josephine Foster and Patrick Watson inspired us – a world away from what we're doing now. But I was also listening to The Strokes, The Black Keys, Kings Of Leon and Black Rebel Motorcycle Club. When writing, I draw from that pot of influences. We just kind of imagined Wet Leg music as a setlist we'd want to play."
Advertisement
Clearly it worked! What was the process of making their debut with Domino like?
"For better or for worse, we were just left to our own devices," Rhian laughs. "There were no disruptions, so it was a bit scary. It was a leap of faith on the label's part. We didn't set out with any theme in mind, because we never thought we'd make an album. When the label asked me about working with Dan Carey, I was like, 'Oh my God, no way!', like a basic bitch. Our publishing guys genuinely thought I was saying no, but I was just in disbelief."
Carey runs the Speedy Wunderground label, and has also earned Mercury Prize nods after working with the likes of Fontaines D.C., Kae Tempest, Nick Mulvey and Black Midi.
"He's intimidating when you're just a fan who doesn't know him," Rhian confirms. "After the first session, it was clear that it was going to be good. This cosmic guiding light is right for us. He's just super-kind and nurturing. We'd always go to the pub after a day in the studio, so we kept it fun. That was important for us.
"Since finishing recording, he's got our backs," she muses. "He's so experienced and we're just this little baby band, so it's nice to know that we have him as a friend."
For many, Wet Leg's tongue-in-cheek lyrics are the backbone of their appeal.
"I have speculated on the same thing, about our sense of linguistic silliness. The album's lyrics are humour-based, because I can't take anything seriously, but they're also cutting. Succeeding in music seems to require momentum. I have an endless list of bands I love who haven't been given as much support as we have. 
Advertisement
"Their songs are definitely better," she says modestly, "but the stars aligned and people connected with us, probably because of this endless year. The public only had the capacity for so much darkness."
• Wet Leg's debut album lands in April 2022.
PHOTO: Hollie Fernando