"The differences between the main political parties in Ireland have never been so difficult to identify" – The Hog
The differences between the main political parties in Ireland have never been so difficult to identify. Which is a very curious situation indeed, as we head into the final two years of the current administration. So why is there such a paucity of big ideas and of vision?
A century ago, in the aftermath of a catastrophic European imperial war and a global pandemic, with the post-revolutionary Russian civil war raging, and guerrilla warfare breaking out in Ireland, William Butler Yeats began to pen his most quoted poem.
In times of crisis – such as we are experiencing right now – his Spartan and epigrammatic 'The Second Coming' never fails.
Every line rings with apocalyptic dread – and apparently fresh contemporary relevance. Each phrase was hewn and honed. But it's the poem's third line – "Things fall apart, the centre cannot hold" – that has most frequently been co-opted into political discourse and commentary.
This is especially, though not exclusively, the case with centrists despairing at how politics across the globe has moved towards the extremes.
However, that's not what was on Yeats' mind.
Advertisement
He thought that history moved in 2,000-year cycles and envisaged it as a gyre, a vast swirling cone, something like the Milky Way.
Maybe "the centre" of such a thing is a kind of black hole that draws in everything and compresses it to almost infinite smallness before a vast explosion spews it into space. Hence,
"Turning and turning in the widening gyre
The falcon cannot hear the falconer;
Things fall apart, the centre cannot hold…"
The idea has no rational or historical basis, but maybe it suggests an alternative to the notion that politics spans a spectrum of left, right and centre, an idea on which we base most political action and analysis.
That perspective originated in the French Revolution in 1789.
Advertisement
As the mob famously stormed the Bastille, the National Assembly began to draft a new constitution. During debates, supporters of the king's veto sat on the right of the president of the assembly, and opponents sat on the left.
It was those who supported the status quo, set against the more radical and revolutionary – hence the left and the right and, of course, for those unconvinced by either side, the centre, in politics.
Simplistic it may be, but it proved of enduring value throughout the social, economic and political turmoil of the 19th and early 20th century.
However, it also had its limitations.
ALLIANCE OF MEDIA EMPIRES
One example: nationalism has huge political significance in many countries and very often cuts right across the left-right divide.
So too does racism, often seen as a badge of the far-right but also a longstanding problem on the left – particularly, but not exclusively, anti-Semitism.
Advertisement
And, of course, there's the Green conundrum.
The phrase "Fine Gael-ers on bikes" was once coined to describe the Green Party. That party has, of course, evolved into a much more complex entity since then, but all policy is analysed through a Green lens, so within its ranks you tend to find the full left-right spectrum.
And we can't forget that Ireland is very much immersed in the Anglo-sphere. Too much so, we think up here on Hog Hill.
This is especially so with young people, drawing their news, sport and entertainment feeds from digital, and therefore entirely English-language, sources.
But mainstream Irish media are also still infuriatingly Anglo-centric – look at their treatment of the UK's royal family if you doubt us.
If that just reflected audience bias it might be dismissed as just one of those things.
However, in recent decades political discourse in the Anglo-sphere has been hugely corrupted by an alliance of the media empires, including Rupert Murdoch's, and super-rich oligarchs across the globe, promoting a creed of consumption, fiscal libertarianism, anti-Statism and low taxes.
Advertisement
In the process we've seen the meaning of words corrupted and corroded: words like progressive, liberal, libertarian, radical, conservative and, of course, left, right and centre.
LITTLE MEANINGFUL DEBATE
That unholy alliance has succeeded in moving the centre point of politics very far to the right.
For Jaysus sake, to Europeans Joe Biden is a classic Christian Democrat, that is, centre-right. But in US right wing circles he's routinely touted as a leftist extremist. It's utterly insane.
Even worse, many here have bought into this misshapen Anglo-centric nonsense, even, from time to time, self-identifying as progressive or liberal or conservative…
This is not our kinda language, folks! And anyway, this outdated binary notion doesn't reflect what's actually happening in Ireland.
Here, rather than the increasingly toxic ideological conflict evident elsewhere in the Anglo-sphere, in Ireland we're actually seeing a much more European alignment, with a diversity of groupings offering themselves for election that have significant policy overlaps.
Advertisement
It's as though some centrifugal force is drawing all the big players towards the centre – which, if we judge by policies, is leftish in Ireland and is probably thought extreme left by free-market libertarians.
Let's take inequality and tax.
Before taxes and benefits, the distribution of household income in Ireland is the most unequal in the EU. But a study by Dr Barra Roantree of the Economic and Social Research Institute (ESRI) found that our "highly progressive" tax system substantially offsets this, bringing inequality in take-home income down very close to the EU average.
He says that no other tax system in Europe does more to reduce household income inequality than Ireland's.
We could also point to subsidies, grants, the growth of the State, the provision of fee-free (if not actually free) higher education, and so on.
That's not to suggest that we don't have major problems to deal with. Of course we do, especially in housing, health and transport; investment in education and infrastructure; and making progress on our climate change obligations, our national security vulnerabilities and so on.
But it's striking that there is so little meaningful debate. All parties seem to have more or less the same hymn sheet in their hands. Yes, Fianna Fail and Fine Gael have co-opted many Sinn Fein suggestions.
Advertisement
But, on the other hand, Sinn Fein has moved strongly towards the centre.
CLUB FOOTBALL GRUDGE MATCH
So what's going on?
It appears that Sinn Féin party strategists have realised that they need the floating voters. People in this key constituency, which won three elections for Bertie Ahern, are not to be found on the political extremes. And SF are also acknowledging that they need the business community on side.
So, there's no real contest of big ideas. Little separates the three main parties, or indeed most of the smaller ones, other than policies on a unification poll and age profile.
Advertisement
The current political contest eschews principles or philosophies and focuses on management, on effectiveness and delivery.
On his live album Take No Prisoners, Lou Reed snarls the seventh and eighth lines of 'The Second Coming' at a heckler: "The best lack all conviction and the worst are filled with a passionate intensity."
"Now you figure out where I am," he adds.
He might well have been referring to Dáil Eireann. With all the vicious and unworthy abuse yelled from the sidelines, heckling, barking, foaming at the mouth and faux apoplexy, debates in the chamber are more reminiscent of a local club football grudge match than a house of parliament.
If we're all in the centre, the next election should be about who you'd trust to manage things better. If someone steps forward with vibrant ideas and a long-term vision – and "change" isn't a vision or a policy: it's marketing noise – then that might shift the dial.
Until then, maybe Yeats was right about the gyre. And if that's the case, it's the black hole at its centre we need to worry about.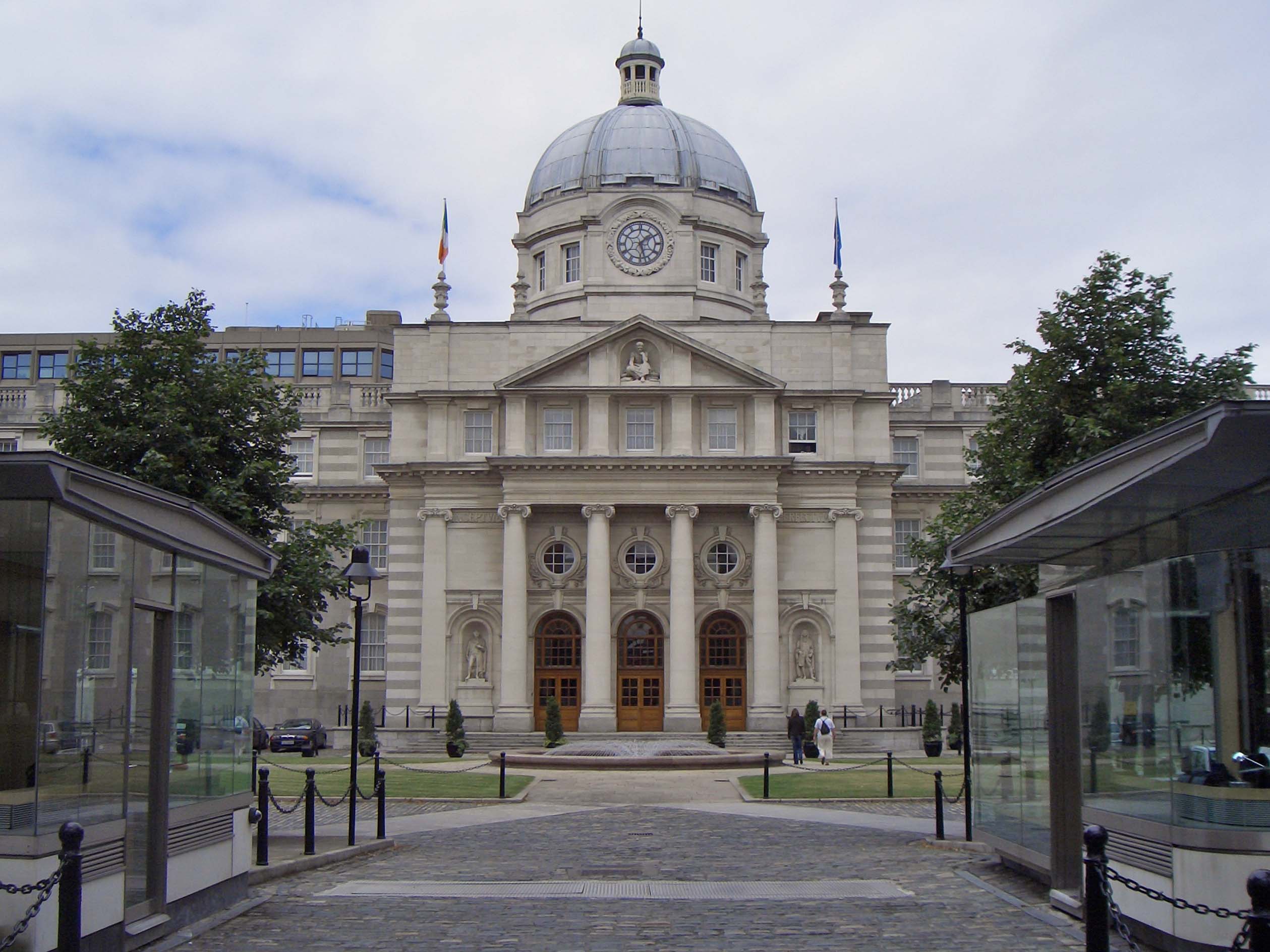 Advertisement