Listen to some of our favourite new Irish tracks of the week below!
SOAK, 'red-eye'
Returning with brilliant third album If I Never Know You Like This Again today, Bridie Monds-Watson is more vulnerable and wiser than ever before. Working with the excellent Tommy McLaughlin (Pillow Queens, Villagers) once again, quirky guitar riffs from the '90s college rock era are threaded throughout the gorgeous project. 'red-eye' encompasses the brand of lo-fi garage pop, indie and rock peddled by Pavement, Phoenix and now Snail Mail, Courtney Barnett and more - injecting diaristic lyricism with stunningly catchy melodies.
"It's my fault for saying I'd try everything once," they croon, recalling a memory of immersing themselves in new experiences, influenced by a loved one. Clever tongue-in-cheek vignettes and eagle-eyed precision makes the track stand out. "I was in oblivion when she turned me around/ Drenched in nerves, my speech was slurred/And my innocence we've yearned."
James Vincent McMorrow, 'Hurricane'
The opening track from the Malahide artist's upcoming 8-track album The Less I Knew sees McMorrow feeling light-hearted and laidback, surrounded by warm trumpets and soaring choral harmonies. The moving new track from the riveting voice is the second single, following the June 24th album's title track. Second 2022 album Heavyweight Champion of Dublin 8 will be released later this autumn.
Advertisement
"Even before the last two years I think I'd lost sense of why I do the things I do," says McMorrow. "I lost the thread of what I wanted to be and what I wanted to say. The Less I Knew, for me, is about getting that back. It's about going easier on yourself, realising the entire world is putting on a show, no one is immune to pressure. We contort ourselves in order to convince ourselves things are fine, or things can get better. For me, doing that meant I was missing, I had missed so many incredible things as they were happening."
Sam Wickens, 'The Devils With Me Now'
A slight right turn from previous single 'Civil', the Bangor native taps into the spirit of Jeff Buckley, the Lumineers, Damien Rice, Mumford & Sons and Tom Waits on the intricate new country-folk track, which coats the struggle of addiction or dependance with much-needed empathy. "I hate all that I wanna be/My life keeps bringing me down/I'm helpless but at best I just keep pushing things around/I guess I gotta get this off my chest/But I don't know how," he croons on the acoustic-orientated offering.
"'The Devils With Me Now' is about my experience in turning to alcohol to isolate myself from others and the troubles of my life, only for it to become a bigger problem in itself," Sam tells Hot Press.
Talos, 'dance against the calm'
Advertisement
A meditation on loss, the ghostly slow-burner is the first in a series of three quick-succession singles that will immediately remind fans of the Cork electronic/indie musician's unique ability to blend the intimate with the epic. Recorded at his home studio with long-time collaborator Ross Dowling, 'dance against the calm' was finished with co-producer Brian Joseph in his Eaux Claire studio in late 2021.
"It's a song about lost futures, and a nostalgia that we sometimes carry for things that could have been," Talos (aka Eoin French) says of his first single since 2019. To mark the return, the Choice Music Prize-nominated sensation has announced three live shows for October in London, Cork and Dublin. Check out the video here, shot by Niall O'Brien and Peadar O'Goill.
Pastiche, 'Freak'
The Dublin BIMM graduate has shared her six-track debut EP today, featuring previous singles 'Disco Junkie', 'Bad Loser' and 'Written and Directed'. 'Freak' is pop-fuelled at its core, with a driving beat and brassy vocals. If infectious choruses and fun-filled, empowering wordplay is your thing, dive into Freak Show Symphony.
"Freak Show Symphony is gaudy, it's opulent, it's everything I am rolled into one!" Pastiche says. "I'm not here to write an EP where every song sounds the same; I'm here to give you versatility, options, feelings, stories, but most importantly a show. Take a dive into my book. Let's bond over our miseries and shortcomings. I want the project to soundtrack your highest highs, and pick you up from your lowest lows."
Big Sleep, 'In My Head'
With a gloriously infectious guitar riff and warm vocals from Dubliner Rónán Connolly, 'In My Head' is a surefire radio and streaming hit from the boys that brought us 'Tutti Frutti'. Think Tom Misch, Parcels and Jungle in terms of indie, soul and R&B. It's a slower tempo than their debut single, but has a sultry, woozy pace that allows the lyrics to really hit home. Recent Hot Press Track of the Day, 'In My Head', details the turbulent times of a relationship that stays the course in the hopes of brighter days on the horizon: "We could be star-crossed lovers if we make it through the night".
Advertisement
Shobsy, 'Driven'
Theatrically stunning with an intensified edge, 'Driven' follows a friendship that is gradually developing into something greater. Bursting at the seams with sexual tension and desire, the single merges contemporary with classical influences for a modern twist on the '80s pop landscape.
"Driven is a song inspired by the feeling of being toyed with by someone you have fallen in love with,"says Shobsy. "It captures the mood of the crossover where sexual tension meets true commitment. In the song the character is being tortured by their love interests lack of clarity, with what they truly want."
REWS, 'Breathe Into Me'
Northern Irish songstress Shauna Tohill is back with her specific brand of melodic alternative rock/pop. Having amassed over 10 million streams from highly praised debut 'Pyro', the musician is back with a fervent song influenced by dark pop genre and released as part of the Earache Records family.
Advertisement
"'Breathe Into Me' is a song about the revival of a broken creative spirit," Shauna explains. "It's been a really tough time out there for everybody over the last couple of years and for me, it definitely did change my view on a number of things. There were a few demons to battle and so this song is an autobiography of the recent times experienced."
RikShaw, 'Sick & Tired'
The Coolock rapper has released his new EP Damage Control, featuring 2022 single 'Bad Dreams'. Project opener 'Sick & Tired' takes inspiration from the success of emo rappers like the Kid LAROI and 24kGoldn. Filled with explosive electric guitar riffs and warped vocal tones, the powerful track is the perfect introduction to the new Rikshaw era. 7th Obi, Pat Lagoon and 7eddy also feature on Damage Control.
Celia Tiab, 'BIBIBI'
Finally stepping out on her own, Célia Tiab's soulful debut single 'BIBIBI' arrived on Wednesday via Soft Boy Records. 'BIBIBI' marks her first cut as a solo artist, developing the record back in 2019 in the kitchen of her tiny apartment in Lyon, France alongside collaborator Brién. Opening with warped, warm drum beats and a honey-toned voice that grabs you from the first note, the single is all chilled ambience. Her vocals oozed charisma on Kojaque's 'Coming Up' and 'Sex & Drugs', with Tiab also appearing on Cork producer 1000 Beasts' song 'NYCBB'.
Advertisement
Strings & Things, 'Day In The Life'
The contemporary Irish folk quartet based in Tipperary/Galway have shared the follow up to previous single 'Too Much to Ask' with a pop-inflected offering titled 'Day in the Life'. The song delves into a protagonist finding the will to carry on when times are tough, following certain steps and getting over the slog as a goal in itself. "We all just live for tomorrow," they croon over soaring string melodies and a driving drum beat. The four-piece unveiled not one but two albums last year: Turbulence and The Unsolicited Dance.
Patrick Stefan, 'Head Voices'
The Irish-Dutch singer, born in Clare but Dublin-based, has dropped the first single from his debut album wayfare - due to land in September. Inspiration for his songs come from a colourful background of experience: learning tribal songs in Mali, jazz guitar in Boston, folk singing in Helsinki and drumming in north Brazil. His songs have been compared in sound to Paul Simon, Jose Gonzalez, Sufjan Stevens and Nick Drake.
"The notion took on a new meaning while journeying for four months," says Patrick. "Eagerly wandering foreign shores, field recorder in hand, I was welcomed & granted privileges on account of my efforts to speak the local musical language. A one-hour guitar lesson could easily turn into a day of playing music and eating with the whole family. This brought me close to all sorts of characters and my mind would inevitably start comparing our fortunes, or 'Head Voices' – those things we dream and say only to ourselves."
Yard, 'Lawmaker'
Advertisement
Dublin quartet Yard have released snippets of material over the last while, leaving audiences and fans of Gilla Band eager for more. The incredible arrival of 'Lawmaker' is introduced by noise wrangling, warped guitar soundscapes and propulsive screeching vocals that would blow IDLES out of the water. Techno, noise rock and industrial sonic genres mangle together for a darkly gritty new single. The wall of praise backing them as rising stars can't be denied legitimacy. Ben O'Neill's video for the single was recorded with Rian Trench and Robert Watson at the Meadow Studios.
Clodagh May, 'Say So'
The Derry musician has revealed her punchy debut single, which has the edge of Olivia Rodrigo and nostalgia of Paramore. Emotion driven confessional track has a soaring chorus that'll be wedged firmly inside your head, with uplifting lyrics addressing a loved one. "Don't go making decisions about us on your own," she begs. A raucous guitar line and powerful vocal prowess shows why Clodagh has been making a stir around Northern Ireland.
John Gibbons x Lyra, 'Edge of Seventeen'
Cork artist Lyra has a once in a generation voice, so it's no surprise she sees Stevie Nicks as an idol (as we all do). Teaming up with Carlow DJ John Gibbons, the pair are hoping for a chart hit with the dance banger. The Bandon singer-songwriter released her first EP W.I.L.D in July 2016 but gained recognition for her single 'Emerald', which was featured on a rake of TV shows. 'Edge of Seventeen' is delivered with a modern twist today, with Lyra's remarkable voice never overpowered by electronic beats and synths.
modernlove., 'Islands'
Advertisement
Skyrocketing indie-pop-rockers modernlove. have now announced the details of their eagerly-awaited EP Oh My Mind, alongside fresh tour dates and a music video for new single 'Islands'. The Drogheda band have now announced that Oh My Mind will arrive on July 29th through Akira Records (Phoria, Henry Green, Mt. Wolf, Rosie Carney, Shura). 'Islands' makes for the ideal companion track to introduce their newest EP.
Adding about the heartfelt new single, modernlove. say: "'Islands' is a classic coming of age story. Trying to cope with the fallout of a family coming apart due to divorce and one's own romantic relationship coming to an end at the same time. It tells the story of both, blurring them into one at times."
Myles O'Reilly, 'The Most Colourful Thread In The Loom'
The Dublin musician, composer, and filmmaker has helmed over 100 music video promos and 20+ music documentaries of musicians such as Villagers, Imelda May, Lisa O'Neill, Ye Vagabonds, Sinead O'Connor and Lisa Hannigan, Ernst Reijseger, Soléy, Múm, Amiina, Janelle Monae and The Staves. The ex-Juno Falls band member returned to making music during Covid and has since released Cabin Light's Off (2020) and My Mothers Star (2021). His new collection of ambient folk songs from lockdown, Cocooning Heart, lands on June 30th.
"'The Most Colourful Thread In The Loom' is a song directly inspired by my love for my wife Aideen, the life we have weaved together, and are yet to weave. Having experienced a difficult loss that put a strain on our marriage, even in the depths of despair she remained the most beautiful and loving person I know."
D. Cullen, 'Sing My Story, Tell My Song'
The title-track from the Dublin musician's upcoming album (out September 23rd) is described by the singer-songwriter as "something of a love letter to this crazy life of music that I've chosen." Produced by Boo Hewerdine and Chris Pepper, the up-tempo number has a joyful chorus aching to be performed live.
Advertisement
"The lyrics are about devoting your life to music, even when the lifestyle side or the business side can make that passion difficult. Fun fact: each line in the verses contains an album title by some of my favourite artists. If you want a little guessing game, see if you can get all 16!"
AikJ, 'Lose Control'
Emerging as one of the most formidable forces in Irish R&B in 2019 with his 1992 EP, AikJ has garnered over 800,000 streams on Spotify and coveted spots on influential playlists. Expect big thing from AikJ in the coming months following the release of new singles 'Phases' and 'Lose Control', taken from upcoming EP Pha$e. Merging R&B with electronic hip-hop influences, the sultry track is all seduction and brooding declarations. With smooth synths and an edge, it's a banger from breakout star AikJ.
Lea Heart, 'Mood'
Kildare singer-songwriter is releasing a new single, fresh from a double headline set at The Academy, Dublin. 'Mood' is pure pop, describing a partner who gives nothing but the bare minimum. The TikTok sensation pairs saccharine sweet vocals with radio-friendly beats and a catchy chorus worthy of repeat plays. Having released her self-titled EP last year alongside hit singles like 'Perfect Opposites', 'Taking Back My Heart', 'IDK Why', 'Older' and 'I'll Get Over It', the Irish music world is her oyster.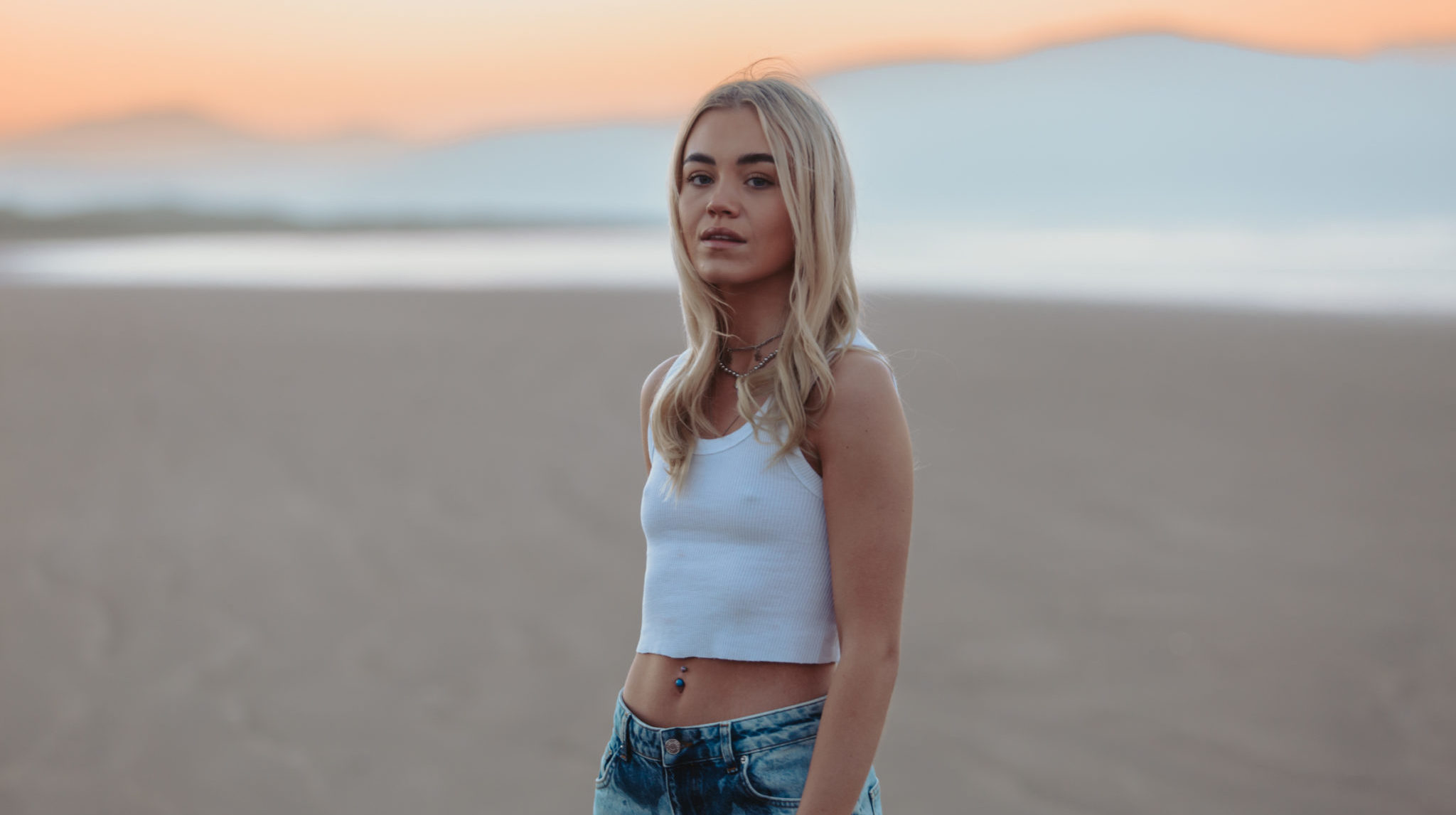 The Rising, 'When You Were Mine'
Advertisement
The Northern Irish pop/rock duo shared their No Hope Without Love EP back in 2021, followed by a striking Christmas single before returning this week with their first track of 2022. Name checking one of their musical idols David Gray at the start (who's playing Dublin this weekend, by chance), powerhouse vocals and booming guitar riffs build for an abrasive, feisty chorus from the pair. Infusing snippets of Nashville country genres, the versatile outfit are curating a big year for themselves.
Hudson Taylor, 'Golden'
Irish folk/Americana duo Alfie and Harry Hudson-Taylor are releasing their fourth studio album Searching For Answers two weeks from today. To build up anticipation, the lads have shared new single 'Golden', following 'Hold Out Hope' and 'Honest'. The simple, pared back track has an innocence buried within its narrative. "I spent the whole damn day trying to work this brain but I still feel half asleep," Alfie opens. "I gotta turn and face my own mistakes as they all come back to me." Watching the world unfold and somehow making beautiful, folk-pop tracks from their storytelling diaries is pretty on brand for Hudson-Taylor.
Sinead O'Brien, 'Multitudes'
The Limerick musician, spoken word artist and designer's new album Time Come and Break the Bower will be released on June 10 via Chess Club Records. The latest single, 'Multitudes' is about "desire and creativity", according to London-based O'Brien. The album title is derived from one of the song's lyrics. "Fearful beauty looks into the loneliness of submission/burnt and bleached by desert suns/praise the vision who returns in multitudes," she declares, grateful for the return of inspiration sparks.
"Multitudes- the word itself was the first choice," O'Brien explains. "It is not neat, it describes loose ends, open ends. Working with opposing forces and contradictions. An interrogation into the obstacles which pervade our daily lives."
Advertisement
Throatsugar, 'Ascend'
Emerging electropop act Throatsugar is a project from Colleen Heavey, a songwriting graduate with a Masters in Music Technology. Heavey was also a member of the band Brass Phantoms, and is finally ready to unleash her debut single. Having opened for Delorentos and The Slow Readers Club with her old band and toured around Ireland, the UK and US as well as acting as a DJ in the capital, Colleen has a wealth of experience up her sleeve with synths.
"Ascend started as a project at home and came to life when working in the studio with Mick Heffernan," Heavey tells Hot Press. "The track was inspired by the work of James Joyce, as well as the feeling of not wanting to wait around for things to happen anymore. I'm really excited to share it."
Slaney, 'Romeo'
The new dance-fuelled track is taken from the Normal People actor/musician's debut EP, Dream About You - scheduled for release in July. The Carlow-based electronic/pop artist has earned deserved spots on Spotify's biggest playlist with previous singles 'Chameleon', 'All I Want', 'Love Is Like A Drug' and more. 'Romeo' has ethereal, soft vocals from Slaney, which match the electronic beat with ease. We're excited to see the Irish artist's progress with single after single, here's hoping her EP reaches new audiences.
Matt Taylor, 'End Like This'
Advertisement
Taken from his new EP April 13th, searing pop number 'End Like This' has the air of Conan Gray, Christian Leave and Joesef. The Brighton-based artist's self-produced 5-track body of work displays an empowering journey that touches on feelings of confusion and heartache, through which Taylor navigates with his cathartic songwriting, all the time learning and evolving. 'End Like This' acts as a euphoric up-tempo moment, born from the relief of gaining closure and facing forwards.
"I had just come back from my month away when I wrote it, and had decided just before I got back that I would ask to meet. We agreed to meet on a Saturday and I wrote half of 'End Like This' before we met, and the other half, after. I know the chat was basically doomed from the start, so I wanted to prepare myself and make it easier! If I knew it was going to end, I might as well make it fun!'.
Dylan Kearns, 'Memories of You'
After the release of March single 'She's Like a Drug' ( a Hot Press Track of the Day, no less), singer-songwriter Dylan Kearns has returned with sophomore release 'Memories of You'. The cut is a poignant depiction of a failed relationship shrouded in guilt and dejection. Drawing on inspiration from artists such as The Beatles and Lana Del Rey, the single features lush strings, delicate piano and soaring guitars with crooning vocals.
"Having been cooped up for such a long period of time it forced me to reflect on themes I'd never explored with my songwriting," says Dylan. The captivating song was written during lockdown in May 2021 and recorded at The Clinic Recording Studios in Dublin with David Anthony Curley and Cormac Butler.
Advertisement
Ghost Boy, 'Reach For The Stars'
Galway-based hip-hop act Mike Moore (aka Ghost Boy) has unleashed a brilliant, energetic track filled with beautifully distorted instrumentals and distinctive vocals. 'Reach For The Stars' sees Ghost Boy take major inspiration from the likes of Kanye West and Brockhampton, blending his influences for a distinctive sound of his own. Opening with an organ harmony disrupted by Mike's raps, the follow up to 'Falling' (2022) flicks between hip-hop, electronic and noise-rock categories, with Moore hoping to make a stamp on the scene this year.
Def Nettle & Andy Rourke, 'War Machine'
'War Machine' is the latest single from punk-funk band Def Nettle, with frontman Glen Brady on vocals and guitar, and featuring Andy Rourke of The Smiths on bass guitar. A song that touches on themes of arrogance and addiction, the new single also features Jay Oglesby on drums as well as additional guitars by Graeme Slattery.
Glen Brady says: "The lyrics to 'War Machine' were written when I was driving home from dropping a good friend to a drug and alcohol recovery clinic. I found myself making a comparison between that experience and the planet's profound need for ecological rehabilitation."
Listen to the playlist in full below...
Advertisement