Listen to some of our favourite new Irish songs below...
Zapho, 'Peoples'
You may recognise Irish musician Zapho from her association with The X Collective, but her solo releases fuse funk, soul and electronic R&B with glorious results. 'Peoples' is the first song to be released from her forthcoming debut album, which is due to land this spring. Co-written and co-produced by Steven McCann of Rvstless, 'Peoples' has a psychedelic, dreamy soul soundscape infused with lush instrumentation.
"Genre wise my music and style is a mixed bag, but so am I, that's the Zapho sound. I wanted to make something that felt honest to me, I'm a lover of all types of music – it's about striking that unique balance!" Zapho says. "'Peoples' is very much so a reflection of my younger self, searching for the types of people that excited me, spiritually, romantically, platonically, creatively."
Dermot Kennedy x EARTHGANG, 'Better Days'
Dubliner Dermot Kennedy has released a new version of his hit single 'Better Days' featuring hip-hop duo EARTHGANG. The original was co-written by Grammy-nominated Scott Harris, ROMANS, Daniel Nigro (Olivia Rodrigo 'drivers license') and previous collaborator Carey Willetts. Since its release it has amassed over 100 million streams. EarthGang's Atlanta drawl works against Dermot's trademark raw vocals to create a new take on a fan favourite.
Advertisement
"I'm so honoured to have EARTHGANG feature on 'Better Days'," Kennedy says. "We met in LA a while back and started talking about doing something together, and when they sent me the first pass of their verse I immediately loved it. They brought a new energy to the song but kept the same message of battling through adversity. I'm so glad they're part of this song."
EARTHGANG followed up with; "Dermot is an amazing guy and this is a beautiful record. Music inspires hope, and people are in need of something to hope for these days."
First Class and Coach, 'My OH My'
'My OH My' marks the latest offering from the West Cork alt-rock band, and their first since teaming up with Cork independent label FIFA Records. The song, which was written at a rehearsal, deals with love and loss - plus the psychological relief that comes through the expression of raw emotions. The new single is the first track to be taken from First Class and Coach's forthcoming second album Neon Hip. Energetic and infectious, just below the surface is the outfit's trademark biting intensity. Unusual sonic textures and guitar-based noise makes First Class and Coach welcome gate crashers into an otherwise predictable mainstream musical landscape.
The Florentinas, 'It's Not In Vain'
The rising Bangor four-piece dropped new single 'It's Not In Vain' today, which follows the release of The Florentina's debut single 'Sandcastles' in October 2021. Their first offering earned key media support across Ireland, followed by two sold-out shows supporting Nothing But Thieves in Belfast and Dublin.
Advertisement
Formed in early 2019, Paddy, Jacob, Luke and Jakob quickly garnered attention following live performances in Belfast. Shortly after, they recorded a BBC Introducing Maida Vale session, catching the attention of Snow Patrol frontman Gary Lightbody's artist development company, Third Bar. The Florentinas made their television debut on BBC Northern Ireland's 'Sounds New' in 2021 after signing a major publishing deal with BMG in London.
On Our Radar Q&A: The Florentina's
amy michelle, 'the way i make things feel okay'
Mullingar native amy michelle has shared her second track, 'the way i make things feel okay', following her acclaimed 2021 debut 'the bottom of the well'. The singer-songwriter's debut EP is due out this spring on Method Records. On intimate sophomore single 'the way i make things feel okay', amy explains:
"it came out of the first lockdown as a result of loss, insomnia, anger, confusion and self-deprecation. I was picking my brain apart reminiscing on what if's, having fake arguments with the wall and trying to make sense of the end of the world."
The song strives to make sense of complex emotions, opening with an audio cut from the 1944 movie Gaslight starring Ingrid Bergman, where her husband tries to make her feel like she's going insane.
"As most of us were, I was forced to spend a lot of time reflecting and re-evaluating my relationships, past and present, accepting things for the way they were, and accepting I couldn't fix anyone who I wanted to fix. The outro here is one of my favourite moments on the EP. Sonically, it was the perfect minimalistic extreme I was trying to create, and a perfect reflection of what I was feeling; everything and nothing at the same time."
Advertisement
Trouble Pilgrims, '21st Century Girl [Immunity Mix 2022]'
To celebrate the end of Covid-19 restrictions, Trouble Pilgrims have gifted us with a 2022 remix of their first hit from the album Blood, Glass & Gasoline on FIFA records. Steve Rapid, Pete Holidai, Tony St Ledger, Johnny Bonnie and Bren Lynott have been honourably extending the legacy of The Radiators from Space since the untimely death of Philip Chevron in 2013 by forging razor-sharp nuggets of 21st-century rock'n'roll punk.
"As we all cautiously return to normality we need to socialise, engage and feel part of a community again, the lockdown gave me the opportunity to revisit the track and shape a mix that encourages the listener back onto the dancefloor, whether in a club or the living room at home...Let's Party!"
The Art Crimes Band, 'Guy Like You'
Founded in 2011 and hailing from Cork city, The Art Crimes Band released their first album Radio on the SUGO Music record label in 2015. Their sultry, funk, soul-infused new single 'Guy Like You' was written by Grace McMahon. The origin story of this tale goes back to when the singer was on Tinder busily swiping left. While pondering all the things a guy has to be, she eventually decided against listing all the materialistic reasons people usually consider and decided to focus on finding a really great person in general.
When debuting the new song during the group's successful run at 2021's Cork Jazz Festival, Grace told crowds, "I used to obsess over all the millions of things a guy has to be, then when I stopped obsessing about it, I found him, and I married him!". Good for Grace.
Advertisement
Interference, 'I Owe You Nothing'
Taken from the Breaking Out soundtrack, the Bandcamp track marks Fergus O'Farrell's sixth anniversary. It celebrates a truly incredible response to Michael McCormack's award-winning, deeply moving film Breaking Out, with 11 tracks featured in the film's soundtrack. Maestro Bob Ludwig of Gateway Mastering re-mastered each one.
The original recordings were restored, re-engineered and mixed by long standing interference producer Dan Dan Fitzgerald in his studio Sound Sound in Cork Ireland. 'I Owe You Nothing' was the last song Fergus worked on before his death.
"Written by Fergus and Malcolm MacClancy the song is heavily featured in the film where we see Fergus and Glen with other members of the Frames recording the song, in Ferg's home in Schull west Cork, some two weeks before he finally lost his battle with Muscular Dystrophy," the press release also states.
Craig Cooney, 'Realise'
Following the release of his acclaimed single 'Careful' last year, Craig Cooney has joined forces with producer Chris Kabs once again to bring us 'Realise' – a poignant track, dedicated to his young daughter. Premiered by Hot Press today, the song is about a girl who doesn't see her full potential.
Advertisement
"She feels insecure and doesn't realise she is deeply loved," Craig explains. "I know many women face this issue daily around the world. The original idea sprung from wanting to write a song for my five-year-old daughter. I want her to realise that she really motivates me to do my best and that I will always be with her on my life journey supporting her and reminding her that she is amazing."
Learn to Grow, 'Ancient China'
Having been a mainstay on the Irish music scene for the last number of years, producer and musician cbakl has joined forces with talented Belfast rapper Lacuna to create rap duo Learn to Grow. The pair dropped their first outing today on Class Craic Records, titled 'Ancient China'. The focus of Learn to Grow is firmly on introspective, meditative rhymes over captivating instrumentals.
Debut single 'Ancient China' features of raps from both cbakl and Spotify's New Music Friday UK-featured rapper Lacuna, with the duo questioning previous successes, death and what the future holds.
Dylan Flynn and the Dead Poets, 'i wasn't ready'
Limerick outfit Dylan Flynn and The Dead Poets have returned with a new single. 'i wasn't ready' is the final single to be shared from their forthcoming EP, crazy how we live like this, which comes out on February 10. The track was recorded and produced by the band themselves, mixed by Mike Gavin, and will arrive via Limerick-based collective, BitDepth.
Speaking about the song, Dylan Flynn says, "This song is about something deeply personal that happened to someone very close to me a couple of years ago. It was a very distressing time, and the only way I could think of processing it at the time was to write about it."
Advertisement
'crazy how we live like this' is a collection of their singles from 2021, and some new additions too described by Flynn as, "A time capsule of memories and mistakes."
Whozyerman?, 'All the Time to Kill'
Paul Savage of Choice Prize-winning Waterford band O Emperor shares his debut album as Whozyerman? today, titled Blink. Savage moved to Bray and spent the pandemic jamming and recording in his bedroom – the view from which comprises the album's dreamy artwork. There was "nothing except the time to kill", as this track explains, with long walks and Dart journeys part of his everyday world for two years. The electronics and psychedelic elements are quietly contemplative, with former O Emperor drummer Brendan Fennessy mixing the record perfectly.
KAZMS, 'Amoral'
KAZMS is the collaboration of folk singer-songwriter Eoin Keely, electronic producer Ciarán Byrne and traditional Irish musician Seán Ó Casaide. The music is a stunning blend of their individual talents with Keely's writing and delivery already drawing deserved comparisons with big Irish voices like Hozier and Dermot Kennedy combined with the subtle electronica of artists like Talos and James Blake.
The debut album from the outfit, Flow, is finished and scheduled for Sept 2022 release following a series of singles starting with the beautiful 'Amoral'. Strong songwriting and effortlessly raw vocals allow it to stand out from the crowd - we're majorly impressed.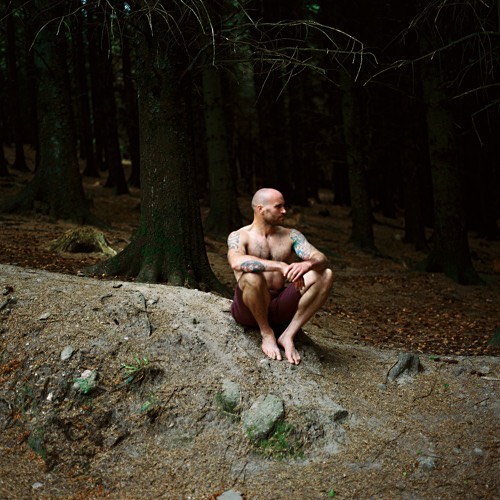 Advertisement
Hudson Taylor, 'You Me Myself'
Dublin duo Harry and Alfie Hudson-Taylor usher in the spring with the irrepressibly catchy 'You Me Myself', a fresh taste of their forthcoming third studio album Searching For The Answers, due for release in June. Recorded and produced by Luke Potashnick (Gabrielle Aplin, Hannah Grace, Ward Thomas) at the legendary and newly-reopened Wool Hall studios in Somerset, 'You Me Myself' joins the recently released streaming-only cut 'Won't Be Too Long'.
"A quiet year not being able to tour and play can sometimes lead to moments of self-doubt and leave you with a sense of feeling incomplete. I guess we're not the only ones to have felt this way in recent times," the pair said. "'You Me Myself' is about overthinking and over complicating life and relationships."
Read the brand new Hot Press interview with Hudson Taylor here.
Blondmodel, 'Lovesong (for the one)'
Hot for 2022 pairing Blondmodel are primary school pals who first began making waves back in 2019 with their debut single, 'Phonecall'. It becoming an unexpected streaming hit, and clocking up over half a million Spotify listens. In the years that followed, they've continued to carve out a unique path with a string of irresistible alternative pop singles, including 'B L I S S', from their self-produced debut album, Doom, Gloom And Cheap Perfume (out February 18). See them for yourself at The Sound House in Dublin on February 25.
'Lovesong (for the one)' is a dreamy, electronic-heavy track with a down-tempo drum beat and layered vocals to bring the listener into the intimacy. It shows another side to the boys, one we definitely want to see more of.
Advertisement
Stay tuned for Blondmodel's On Our Radar Q&A in the forthcoming issue of Hot Press.
R.L. Beats & Rahmania Astrini, 'Wondering What I Did To Lose You'
Irish producer R.L. Beats has tapped Massachussetts artist Rahmania Astrini for a laidback R&B track. The 20-year-old singer and TikTok creator has her vocals warped by the beatmaker, with a down-tempo love song about yearning and loss. The rising hip-hop producer teamed up with Forth Worth artist Lul Patchy last year on groovy track 'I Was In Love With U'. He also dropped 'I'm Alone', 'Don't Leave Me Here', 'One Lonely Night', 'I've Got Thoughts...', 'Wonder Why', 'I'll Die For You' and 'everything will be okay' over the past two years. He's a pro at slow burners, silky beats and finding the perfect vocalist.
Neil Dexter, 'Alpha'
'Alpha', Dexter's third single, is his most introspective proposition to date, demonstrating the breadth of Dexter's artistry. A significantly more sombre offering, the arrangement is simultaneously claustrophobic and weightless in tone. Driven by a smoky '80s-infused synth line, the spacious arrangement has an enveloping nocturnal atmosphere sprinkled with luminous keys and chimes.
Once again, Dexter worked closely with David A. Tapley (Tandem Felix) and engineer Stephen Dunne, with Ryan Hargadon playing saxophone on this dynamic and sophisticated soundscape. Neil's commanding cadence exemplifies his extraordinary vocal range on 'Alpha'.
Josh McClorey, 'Sideways'
Advertisement
Ex-Strypes man Josh McClorey unveiled his Sippin Bucky EP last year, following 2020 singles 'Everything was Easy' and 'Puffin' Clovers'. He returns with 'Sideways' today, his first single of 2022. It's got an Alfie Templeman vibe to it, with funk-drenched R&B making up the bones of the track. It's got an infectiously catchy chorus and melody, with layered electronic elements and nostalgic synths breathing new life into it. His soulful new single makes note of jazz compounds and textured vocals, adding clever storytelling finesse. We dare you not to get this stuck in your head.
TOUTS, 'Shane MacGowan's New Teeth
Northern Irish rockers TOUTS have sauntered back onto the music scene with a more mature take on their soundscapes, adding clever lyrics to their arsenel ahead of their upcoming tour. The Derry three-piece earned a reputation as teenage punks and caustic diarists of the mundane and maddening. They punched and kicked themselves into view five years ago, and we're glad they haven't strayed away. A springtime EP release and the band's live return is imminent, with 'Shane MacGowan's Teeth' acting as an unambiguous reference to The Pogues' front man's widely-publicised dental work undertaken in 2015, featured in a one-hour TV special.
"Shane McGowan's New Teeth is "a simple desultory philippic" against the overlooked absurdity of our modern lives," TOUTS' Matthew Crossan elucidates, "and the seeming inescapable throwaway culture that many of us celebrate."
No Monster Club, 'The Trundling Path'
Advertisement
Taken from No Monster Club's forthcoming album deadbeat effervescent (out Feb. 11th), 'The Trundling Path' has an introspective, jolting indie-pop soundscape that platforms their best traits. No Monster Club has featured a revolving cohort of collaborators, including Paddy Hanna, Mark Chester (Ginnels) and M.SORD (Jon Spencer and the HITmakers). The new LP apparently contains whispers of Sparks, New Musik, Devo, Pavement, Electric Light Orchestra, Orange Juice, Talking Heads, and even the band's tour-mates, The Polyphonic Spree.
Jehnova, 'in a daze'
With clear Kanye and Earl Sweatshirt production influences, South African-born emcee and Dublin NUXSENSE member Jehnova fuses jazz with rap to make undeniably fresh tracks. Since 2017, he's been honing his craft by dropping tangential solo singles outside of the group. 'Striped Pyjamas', 2019's 'Eudaemon' plus 'Weak Days', 'ALL IN' and his Avenoir project - a collaboration Lod - laid the groundwork. New singles 'Golden Sceptre' and now 'in a daze' combine lo-fi elements with a lyrically stacked style to grab the listener's attention, making use of samples and genre-blending skills for a brilliant exploration of Jehnova's journey.
Listen to the playlist in full below: