Listen to some of our favourite new Irish releases of the week below!
CMAT, 'Whatever's Inconvenient'
Dublin-born global pop star™ CMAT has kickstarted her second album campaign with infectious new tune 'Whatever's Inconvenient', which was released on Wednesday night (April 19) via AWAL Recordings. The dramatic self-examination traces her knack for throwing herself into the most inconvenient relationships (or situationships, by the sounds of things) with people she knows won't give her the time of day.
"I can always smell it coming / Like the grease upon your mullet / I knew you'd ruin me the minute I had a dream where you were in it / Just a dentist, you and I," the song starts, a driving drum beat swirling together with soaring strings and layered harmonies for the addictive chorus. The string-laden new single landed with a Greece-filmed music video, directed by Greg Purcell of Collective Films and complete with a donkey on the beach.
Æ Mak, 'Bluer'
Taken from Dundalk artist Aoife McCann's new mixtape Berlin (out today), 'Bluer' is track number three on an alt-pop, electronic EP masterpiece. Following glittering previous single 'Shimmer Boy', 'Bluer' and 'Baked Cheesecake' continue the frenetic beats and sparkling synths, mingling with McCann's warped, otherworldly vocals. 'Bluer' sees atmospheric keys and background harmonies fuse with edgy production, as her unique vocals declare: "You can have me / Nobody hurts me...And I've been thinking to myself that I have all of the time in the world to make a right choice."
Advertisement
There's a darkness at the core of the track, with textured and layered voice effects creating a spine-tingling soundscape that drags a listener in and demands to be performed live. Luckily, she's on an Irish and UK tour! Don't miss Æ Mak's Whelan's, Dublin date next Thursday (April 27). The Berlin mixtape features additional production and mixes by some of her favourite producers - ATRIP, Kojaque and David Noonan (Just Mustard).
Conchúr White, 'Atonia'
Armagh musician Conchúr White (pronounced 'Conor') has returned with a sensuous new single 'Atonia', alongside the news that he's signed to UK indie Bella Union - run by Cocteau Twins' Simon Raymonde. The song is a "moonlit lament inspired by the experience of sleep paralysis", according to the singer-songwriter.
"My life's a riddle that I solved already in the moonlight by my room light / And I'm tongue-tied baby / I can't breathe, can you hear me? I'm stuck like a bad idea / Save me, lost in this Atonia...," White begins on the tantalising new song 'Atonia', a track that is filled with rich textures and ethereal harmonies. Submerged psychedelic verses and a blossoming chorus combine in a cathartic plea for release on the haunting yet dreamy single.
Ailbhe Reddy & Elderbrook, 'Walk Away'
On March 31, critically acclaimed singer-songwriter Elderbrook released his 12-track new album, Little Love. Final track 'Walk Away' now features Irish indie artist Ailbhe Reddy, who shared her infectiously confessional second album, Endless Affair on March 17th. 'Walk Away' is Elderbrook's rework of Reddy's original song that was featured on her 2020 debut album Personal History. The piano was originally recorded the day it was written by Reddy in a studio in London with Erland Cooper.
Advertisement
Since the electronic maestro retained the Dublin singer-songwriter's vocals, the track works as a duet between the two, creating a unique and harmonic sound. "When I first heard it I thought it was a cover, I think because it seemed so familiar," Elderbrook recalls. "After I searched and asked around I realised it was an original. For a song to connect so instantly in my head was such a weird an special feeling."
Robbie Stickland, 'Bug Under Your Heel'
Dublin-based indie rock musician Robbie Stickland returns this week with a jangly new single, 'Bug Under Your Heel'. The banríon guitarist is clearly a man of many talents, recording the new single in his apartment to a cassette tape. The song is about handing yourself over to someone you're deeply in love with, offering them the power to essentially crush us like a bug under the sole of their foot - hoping, and trusting, they choose not to. The sonics of 'Bug Under Your Heel' was inspired by the likes of Joy Again, YMO and Haruomi Hosono.
"I punish myself for wanting more...don't leave me hangin' on too long," Stickland asks of his lover, before infectious guitar melodies kick in. "How long must I wait for you test me / I'll never get to make the best me / 'Cause if you asked me, I'd wait for ever / My life would pass me, dreaming of being together."
The Amniotics, 'Boomerang'
The feminist alt-rock quartet have released their debut single today, a social commentary on the lives of young Dubliners trying to make it in a city that has becoming increasingly hostile to their needs. Inspired by everything from Pavement and Le Tigre, to more contemporary artists such as Courtney Barnett and Taylor Swift; 'Boomerang' is a thrashing cynical take on the Dublin arts scene. It landed today, ahead of their support slot for The Pearl Harts in the Workman's Cellar on May 26th.
"I wrote "Boomerang" after living and working in the Dublin music scene for a while, and adapting to the quirks and frustrations of it," the band offer. "Living in a city where there's more hotels than affordable housing, where boys will roll you a cigarette as a flirting move, and where institutions that supposedly champion creativity and expression are collaborating with the some of the most unethical corporations."
Advertisement
Stephen Shannon, 'Eyot'
The Dublin-based composer and producer will unveil his new album Fathoms on May 19th this year with a launch in the National Concert Hall. Shannon has previously released music as Mount Alaska, Strands and Halfset, with Fathoms becoming the first album released under his own name. In 2021, Stephen received an Arts Council Agility Award to compose and record with members of Crash Ensemble on an album that spans the divide between his film scoring and electronic projects.
'Eyot' is influenced by artists like Jóhann Jóhannsson, Ólafur Arnalds and Nicholas Britell, and saw Shannon work with arranger Mary Barnecutt and some of Ireland's finest musicians: Diamanda La Berge Dramm, Maria Ryan, Kate Ellis and Lisa Dowdall. The death of two friends led Stephen to examine the meaning within his life, diving into relationships and metamorphosis thematically. The results are beautifully compelling.
Hannah Horan, 'Keep Sweet'
Produced by Sean Mulligan and mixed by Adam O'Leary (who produces and mixes for fellow indie singer-songwriter Sarah Crean), 'Keep Sweet' places all the emphasis on diarist lyricism and vulnerable vocals. "The smoke will rise and I'll wake in a nightmare / I have nothing left for you but I won't even go there / And would you lie to me if you thought it'd make me happy? Would you lie to me, c'mon baby / Let's keep sweet, Hannah croons. "Split your tongue, rot your teeth / for a little longer / Let's keep sweet." The gorgeous new single traces the need to hold on to a connection with someone, even if you know it's coming to an end or their feelings for you aren't matching. Apathy, emotional unavailability and pretending casual isn't causing paper cut emotional hurts - 'Keep Sweet' packs it all in for a poignant, heart-wrenching yet simple single. It follows the Drogheda native's beautiful 2021 debut 'Holy One'.
Advertisement
Zissou and E The Artist, 'Akira'
'Akira' (feat. Dublin-based act E The Artist) is track number two on Zissou's upcoming January mixtape - due to land in June. Tapping BBC Introducing supported MC EMBY, E The Artist, Julia Louise Knifefist, Sara, Julio Rubio and Josh & Zak Oke for his upcoming tape, Zissou (who also performs under his Sloucho alias, and is slated to support RHOSHI on May 26th at The Racket Space in Dublin) unites the best of hip-hop and neo-soul genre's underbelly. 'Akira' sees E The Artist shine above a hazy, retro-feeling beat that uses audio voice recordings, woozy synths and Tyler, the Creator levels of creativity.
"I became aware of E through Julia Louise Knifefist, seeing him perform at some shows and really fucked with his energy and bars," says Zissou of E The Artist. "Then on New Years I met him at a rave and in typical producer fashion told him I'd send him a pack. I sent him like 10 beats and he got back to me with a finished track after like a week or so. So we never actually linked in the studio but he took the track in the exact direction I was hoping for so it was really easy. I just produced it a bit more working with the flows he put down to make the beat more connected with his punctuations and stuff. But it was probably the quickest and easiest collaboration I've ever done."
Far Caspian, 'The Last Remaining Light'
The title track to his forthcoming sophomore album (out on July 14th via July 14th via his own label Tiny Library & Dance To The Radio) sees Far Caspian weave fear and grief around his dreamy 90s/00s surf sound. The Leeds-based Irish artist was diagnosed with Crohn's disease out of the blue, and found himself thinking about death in more introspective detail. Finding peace with the realisation that life can change in an instant, Far Caspian's new single was inspired by a disturbing dream involving the loss of a parent.
Advertisement
Speaking about the song in detail, Far Caspian explains: "I had a nightmare that my mum passed away and when I woke up I felt terrible. It made me think of what life would be like if she wasn't here and I wrote this song to symbolise how much she means to me and to capture the feeling of inevitability with all of our own mortality. 'The Last Remaining Light' represents the point in which you're ready to move on and let go.'
Perlee, 'Lived Out Moons'
The Irish duo have released their debut album Speaking From Other Rooms today, alongside focus single 'Lived Out Moons' from earlier this week. For fans of Low, Cigarettes After Sex, Radiohead and Beach House; the disarming, dreamy slowscapes of Perlee are hugely compelling.
Speaking From Other Rooms is a celebration of an interior life and the desire to connect and love, be that unconditional, familial, romantic, or self-love, with a healthy dose of dystopia thrown in for good measure. The Berlin-based Irish pairing (Navan couple Cormac O'Keefe and Saramai Leech, who relocated to Germany in 2018) worked on the project with drummer Matt Ingram (Laura Marling, LUMP) - who worked in London.
Luthorist x sivv, 'slave spells'
Taken from the pair's new project de​/​compress (out now on Bandcamp), featuring ZIMBACK on third track 'unforgiven sins', intro number 'slave spells' features lush production from beatmaster maestro sivv and sleek flow from Luthorist. The pair, South African-born, Ireland-raised, prove why their collaborative flair is more than just family relations. Sivv effectively reads Luthorist's energy, while the rapper packs on dexterous lyrics atop of soaring, all-immersive hip-hop and soul beats. It concludes with a sample of Sade's R&B jazz-driven classic 'Your Love is King'. "I'm steady floating like a Lotus / Working overtime on meditation / Brings the focus...Laughing at the opposition, sleight of hand to clear the mission / Clever ways to switch positions, Luthorist opens, his word surrounded by warm samples and synths.
Advertisement
Pager the Sloth, 'THE PITS (11 LEVELS)'
Featuring (deep breath) GI, 4Real, Fly Aka Fliz, SD96, Smiffy, Dicey the Artist, Deftmind, Dela051, Donkobz and Mouse Hughes; 'THE PITS (11 LEVELS') packs in talent and doesn't let up. Dublin producer Pager the Sloth combines melancholic, hard-hitting hip-hop beats with intense verses and input from friends in the business and underground artists bursting onto the scene. "The city never sleeps so we can hear the silence of the lambs...I'm sick of making excuses, I know my life's in my hands." Painting a vivid portrait of local communities, difficulty with violence, marginalised groups in financial difficulty, mental health and keeping the faith - it's 8 minutes and 44 seconds of pure confessional bars.
Eddie Simmons, 'Walk Away'
The Tipperary-raised singer-songwriter has released his first original song 'Walk Away' this week. Eddie has been making waves online since 2021 with covers, his most popular offering being Kenny Rogers' 'Gambler', which garnered over 100,000 views on TikTok. His streamed busking sessions have also amassed a huge number of views and followers. Simmons recently toured around Ireland as a supporting act for DÀWNA in venues like Record Room in Limerick and Whelan's in Dublin.
'Walk Away' has a distinctive pop country feel, with a beautiful instrumental background that will keep you hooked. It describes a relatable love story of a young man's failed love life when he couldn't provide the girl he loved everything she deserved and decided that walking away was his best option for her. Eddie said this song was inspired by his friend's romantic experiences, and that he hopes to keep sharing stories with others through his music in the future. [Laura Karaliute]
Paddy Dennehy, 'She's Mine'
Limerick-born, Cork-based singer-songwriter Paddy Dennehy recently announced his new album Love and Be Brave, due to arrive on May 25th. 'She's Mine', Paddy's latest folk number, is taken from the project. The tune follows 'If I Can't' from earlier this year, and opens with a compelling strings section before guitar melodies and piano riffs fill out the body of the sound. "Gonna be a bad day today / If baby's listened to the news / You see she feels it all too keenly, the pain of those who were born to lose / Like all the sadness in the world and all the badness that's ever been / Steals in through the windows and the keyholes of the doors and crawls under your skin," Dennehy opens, with strong vocals and a Nashville aura.
Advertisement
"'She's Mine' quickly became my favourite song on this album. It's a protective chant, rampant and effusive in parts, and measured in others. All with the sole aim of warding off the dangers of the world. Keeping anyone with harm in their hearts away from the one that I love."
Bambie Thug, 'Egregore'
Coming hot on the heels of 2022's 'Merry Christmas Baby' and 'Tsunami 11:11'; the metal, rage-fuelled 'Egregore' fuses elements of Evanescence alternative rock, metal, pop-punk and electronics for an absolute rollercoaster. "Cut the wire you're such a bad liar / Can't hide the destruction / But you never tire / Go through hell or fire / I shouldn't have to remind you...Suffocating, my morals keep breaking..." Screeching vocals, wall-shaking guitar riffs and explosive drum beats combine for a thrillingly edgy single. Born in Ireland, Bambie came to London to discover more of their hyper-pop talent, sharp lyrics and excavate their deepest desires. The results are all-encompassing, sexual, angry, freeing and endlessly cathartic. They unveiled their HIGH ROMANCY three-track EP in 2021, gaining attention for themes of "agency, liberation, self-love, infatuation, mystery, medication, melody and good vibrations."
Pa Sheehy, 'Meet Me At The Record Store'
After the Dingle native's 2021 EP The Art of Disappearing and 2022 single 'Róisín', 'Meet Me At The Record Store' is Pa Sheehy's first single of the year. The Kerry singer-songwriter begins with calm guitar plucking melody before his gravelly, captivating vocals kick in: "My songs, my playing star / My dreams, my old guitars / Can someone take them all from me? / My body roams so far / My love, my lucky charms / They wait with open arms for me / Meet me at the record store to find out who I was before / I've grown just a little / My heart's just a little tired." The song finds the former Walking On Cars frontman searching for home, finding the essence of who he is and the meaning of his current life. With Bowie's 'Hunky Dory' playing in the background, Sheehy tries to find the core of his being within music, rather than covering up his flaws in his lost state.
Advertisement
Badscandal, 'Control Me'
Having teamed up recently this year with Burak Yeter and Harddope - plus solo singles 'Without Ya', 'Flowers', 'Unholy', 'Wait a Minute', 'Be The One', 'Wish I Could' and more (Jesus, how productive can one man be?) - 'Control Me' is an electronic dance offering that builds to a magical crescendo. The DJ, producer, singer, mixing engineer, song-writer and multi instrumentalist (Luke Power) only began his EDM career in 2022, believe it or not. Since the beginning of last year, Badscandal amassed over 20 million combined total streams making him one of the fastest growing EDM artists in Ireland alongside Shane Codd and Belters Only. Now he's got over half a million monthly Spotify listeners, much of them in Brazil. "You're searching for gold / 'Cause no one satisfies your soul or keeps it whole / You're never home..." he declares on 'Control Me', exploring the addiction of love and romantic connection.
Papa Romeo, 'Already Day'
The Dublin quintet are performing at The Sugar Club on Saturday night (April 22 - Record Store Day), with new single 'Already Day' marking their first single release since 2022's only offering 'Runway'. 2021 saw the band introduce themselves with 'Yellow Magic Orchestra' and 'Team Sports'. 'Already Day' is a relaxed, laidback, jazz-fuelled indie tune - penned with easygoing vocal harmonies: "Flights that'll only go one way / I'm getting cold feet on the runway / So don't you call 'cause then I just might flee."
Packed with summery guitar melodies and funk-driven background instrumentation, it's easy to see why the lads have accumulated fans from their lauded live performances. Featuring musicians Chris Wong (who released a class solo R&B tune last week), Dan Coyne, Rob de Boer, Paddy Rogers and Mark Rogers, the five-piece have played All Together Now, Other Voices and the Grand Social. Papa Romeo will apparently issue a string of singles in 2023 towards their debut EP. The guys have individual projects going on too, as if they weren't busy enough as an outfit. Stop making the rest of us look lazy! I beg!
Advertisement
Patrick stefan, 'the waves, the waves'
Off the back of a sold-out album launch, the Dutch-Irish musician has released new song 'The Waves, the waves' - a slumbering, lulling, fan-favourite from his live set. Inspired by Moby Dick, wayfaring and by the hypnotic rhythms of the sea, the stunning single borrows a sample from American-Irish tap dancer Morgan Bullock, who's video went viral during lockdown. Following 'just another love song' and his debut album Wayfare last year, 'the waves, the waves' starts with the mantra: "I don't ever wanna fall into your arms / Without you knowing." The indie-folk merchant is an expert at crafting ethereal melodies, silky vocals that yearn with passion and authenticity, and sonic influences from all over the world.
Nathan Connolly and Ailbhe Reddy, 'Ghost'
Ppening The Strange Order of Things, the Snow Patrol guitarist's new solo album (out today), Ailbhe and Nathan's voices mingle: "Apparitions and daydreams / Resurrect their hold on me / Hard as I try to pull free / Can't escape the atrophy / Your ghost kicking in my sleep...Don't take this out on me." Armed with driving guitar rhythms and riffs, powerful subject matter and universal themes; 'Ghost' is about trying to run away from the inevitable. Elsewhere, lead single 'Fires' – featuring Biffy Clyro dynamo Simon Neil – boasts an anthemic, fists-in-the-air chorus.
Confamm Charlito, TraviS, Elzzz, Reggie and Tidah, 'Low Key Hating'
Advertisement
Confamm Charlito's previous offerings include 'Crease' and 'Red Cup, but 'Low Key Hating' is a collaboration for the ages. Gliders collective co-founders TraviS and Elzzz, who burst onto the scene recently with their Full Circle mixtape (which climbed up to No.2 in the Irish Album Charts) add blistering verses, melding their Irish-Nigerian heritage and sonic influences. R&B artist Tidah's vocals are honey-sweet, as she sings: "Ain't what it seems, it's more complicated / Smile in your face but they low-key hating." Fervent trap, drill and hip-hop beats act as the foundations for the different styles of rap and vocals, creating a banger that's radio-ready.
Cinder Well, 'Cadence'
The Clare-based musician Cinder Well has shared her anticipated album, Cadence, on Free Dirt Records, today. Amelia Baker's experimental folk project drifts between two far-flung seas: the hazy California coast where she grew up, and the wind-torn swells of Western Ireland that she's come to love. The album's name refers to the cycles of our turbulent lives, to the uncertain tides that push us forward and back. The title track includes her usual transcendental vocals that pierce the soul, sweeping arrangements and chilling words of wisdom.
Written soon after the release of 2020's acclaimed No Summer, Baker returned to her hometown in central California to record at Harlan Steinberger's nearby Hen House Studios in Venice Beach for the new album. Baker expanded Cinder Well's sound to include percussion, provided by her old friend Phillip Rogers (Haley Heynderickx), as well as trance electric guitar and expansive string parts courtesy Cormac MacDiarmada of Lankum. Nodding to LA's mythical Laurel Canyon years with her more expansive sound, Cinder Well's experimentation pays off well.
Marketa Irglová, 'If You Want Me'
Paying tribute to her past, the new version of ONCE favourite 'If You Want Me' maintains the beautiful nostalgia while developing and progressing the track even further. A fan and live favourite over the years, the song plays a key role in the movie showcasing her character's journey to becoming an equal to her male (Hansard) counterpart. All while she wanders the streets of Dublin in pyjamas with headphones and a Sony discman on at night. The idea of revisiting the song came natural to Irglová as she prepares to join Hansard on tour in a few months performing songs not only from Once, but The Swell Season and respective solo compositions. In the last 10 years or so, the Czech-born musician competed in Eurovision with 'HAPPY' for the Czech Republic, moved to Iceland, got married, had three kids, attained dual citizenship, built a studio and established her solo career. To describe it as 'multi-taskingm is the understatement of the century.
Advertisement
Ultan Conlon, 'The Old Songs'
The Irish singer-songwriter found a haven for his unique sound and sensibility in Los Angeles with Grammy Award-winning David Garza (Fiona Apple) producing Ultan's fifth record, The Starlight Ballroom, which drops on September 13th, 2023. Ultan shares the lead song, and accompanying video for 'The Old Songs' this week, featuring Eddi Reader. Conceived during pre-production in Los Angeles when Garza came up with the rousing balladeer chorus 'Who's gonna sing the old songs, when all the old timers are gone?' Ultan got to thinking about the sessions in his cousin's pub JJ Hough's in Banagher, Co Offaly. Everyone would get up and sing, sometimes badly but it all sounded magnificent. No song was discriminated against, if it was catchy it would be sung and all present would join in. "The song represents community and connection with a dollop of humour thrown in for good measure,' he notes. Fairground Attraction' Eddi added her magnificent brogue, feisty character and trademark theatrical voice to the track, enriching the song.
Audible Chocolate, 'AmberThief'
Taken from their new EP Straight In, No Kissing (yes, that's the real title), the funk trio are performing plenty of live dates around Ireland. Recorded and produced by James Smith (Gypsies on the Autobahn, Zaska, J Smith), at Hellfire Studios, 'AmberThief' is an explosion of guitar riffs, groovy melodies and infectious mantras. "Couple things you need to know about the Amber Thief / That empty bus you got on last week? He sat down right beside you / I once seen this man give a smoke to a baby, then he took it back before the baby could even take a drag - who does that?" Describing the Amber Thief wielding "A White Russian made out of oat milk while talking about the dangers of gluten" makes for a hilarious lyric, we'll give them that. They'd be some craic to see live, make sure to catch their sets around the country in the coming weeks and months.
A.S. Fanning, 'Pink Morning / Magic Light'
The Dublin born singer-songwriter released the second single from his forthcoming record Mushroom Cloud earlier this week. The project was produced by K&F Records/Proper Octopus Records. 'Pink Morning / Magic Light' is a ruminative account of a moment trapped in time, written by Fanning on a golf course in Southern Sweden. The track finds similar themes to the record's lead single 'Mushroom Cloud', yet tackles them in an entirely disparate way. Where 'Mushroom Cloud' found paranoia and anxiety in isolation, 'Pink Morning / Magic Light' finds beauty and reflection. Finger picking over sweeping strings, Fanning sings in haunting baritone, giving depth to the lyrical scene he paints.
Advertisement
"Out on this lonesome golf course where I find myself / As the night gives way to morning, the snow begins to melt / There are many things I wish for, or have lost / Everything I have, or have ever know, will melt away like frost," the artist croons before launching into the chorus. "I think it's quite a meditative song," Fanning remarked. "There's some darkness in some of the lyrics but I see it as a song about switching off the negative and fearful thoughts and appreciating a moment of beauty."
Pio Hartnett, 'When I Go There'
Included on his nine-track debut EP, Cargo, Galway-born singer-songwriter Pio Hartnett has released his single 'When I Go There'. In the song, the singer reflects on his past and his attempts to keep his problems away from his friends and family, when he really needed them the most. 'When I Go There' is co-produced by Zak Higgins and shows again the unique voice Hartnett has. With the use of soft piano sounds and the intentional use of autotune, the two musicians create a very special sound. In 2018 he moved to Dublin, and studied music at BIMM before teamed up with producer Zak Higgins in 2021, while also putting in hours as a songwriter, eventually gaining writing credits for artists from Ireland all the way to Japan.
Declan Welsh & The Decadent West, 'I Don't Know Why'
With the imminent release of their second album 2, Declan Welsh and The Decadent West have released their new single 'I Don't Know Why'. With varying guitar riffs and melodic synthesisers, the track offers a new and very unique style to their beloved sound, expanding their established realm of sincerity. Frontman Welsh explained that the song is "a story from different characters' perspectives. "It is about "how we cope with things ending. What we reach for. And how there's such a massive amount of life that's impossible to know, sometimes the only response is to walk into the unknown and embrace it," he said.
Advertisement
AILSHA, 'Sleep'
The Wicklow singer-songwriter and producer revels in pop-punk, heavy 'djent' metal, electronics, rock, video game soundtracks and everything in between. Her third single of 2023 comes in the form of 'Sleep' today, following on from her latest singles 'Sucker' and 'Red Flags' - both of which were #1 in the Irish iTunes Rock Charts. Her heaviest yet, 'Sleep' pivots from AILSHA's usual playful lyrics and instead explores a darker topic; the very human feeling of existential dread. The playful instrumentation of the track blends a kaleidoscope of genres, while the honest lyrics in the track come from a place of AILSHA exploring her own acceptance of the unknown.
"'Sleep' is an explosion of fun that comes from a dark place of anxiety," AILSHA explains. "I think many people can relate to those late nights when you get into bed and your brain decides to freak you out about your own existence. The lyrics ultimately come from a place of my own struggles when it comes to accepting life and death and surrendering to the unknown."
Breandán Fitzpatrick, 'Sweet Return'
"Darlin' I'm not broke / I've been saving up a pile of hope / I've been wasting here alone in fear / waiting on your sweet return," singer-songwriter Breandán Fitzpatrick poetically sings in his latest single 'Sweet Return'. 'Sweet Return' is Fitzpatrick's first original song and was released on April 21. The summery sound of the acoustic guitar, accompanied by the singer's calming voice, makes the song especially unique. Breandan is one half acclaimed band Omonoko - who are mostly know for electronic dance music. Over the last 10 years, Breandán has also been working steadily in the background of the band on his own acoustic singer-songwriter tracks, which are about to take the forefront of his musical ambitions.
Advertisement
Ellen Sleator, 'Loving in Lilac'
'Lovin in Lilac' is Westmeath-based singer Ellen Sleator's new single, putting a confident stamp on her narrative and songwriting abilities. Like most of her songs, the track does not fit into any particular genre. Through the many details and the skilfull use of elements from old-school hip-hop and jazzy melodies, Sleator creates a sound that is both unique and familiar. Along with her unique voice, the musician takes listeners on a metaphorical journey through the lyrically profound lyrics of 'Loving in Lilac'.
Jealous of the Birds, 'Beginner's Luck'
Jealous Of The Birds recently shared the single 'Beginner's Luck' from her upcoming album Hinterland, due for release on May 19th. The song blends folk and pop to create a personal revelation with a taste of something playful. Jealous Of The Birds is the project of Irish songwriter Naomi Hamilton, who collaborates with producer Declan Legge to create a sound that has never been heard before.
"The older I get, the more I discover that the key to learning is to open oneself to being teachable. The song's structure is set around archetypal figures from which one might construct a perspective of the world. There's value in that, which I wanted to dedicate a song to, and 'Beginner's Luck' is what came of it," Hamilton said.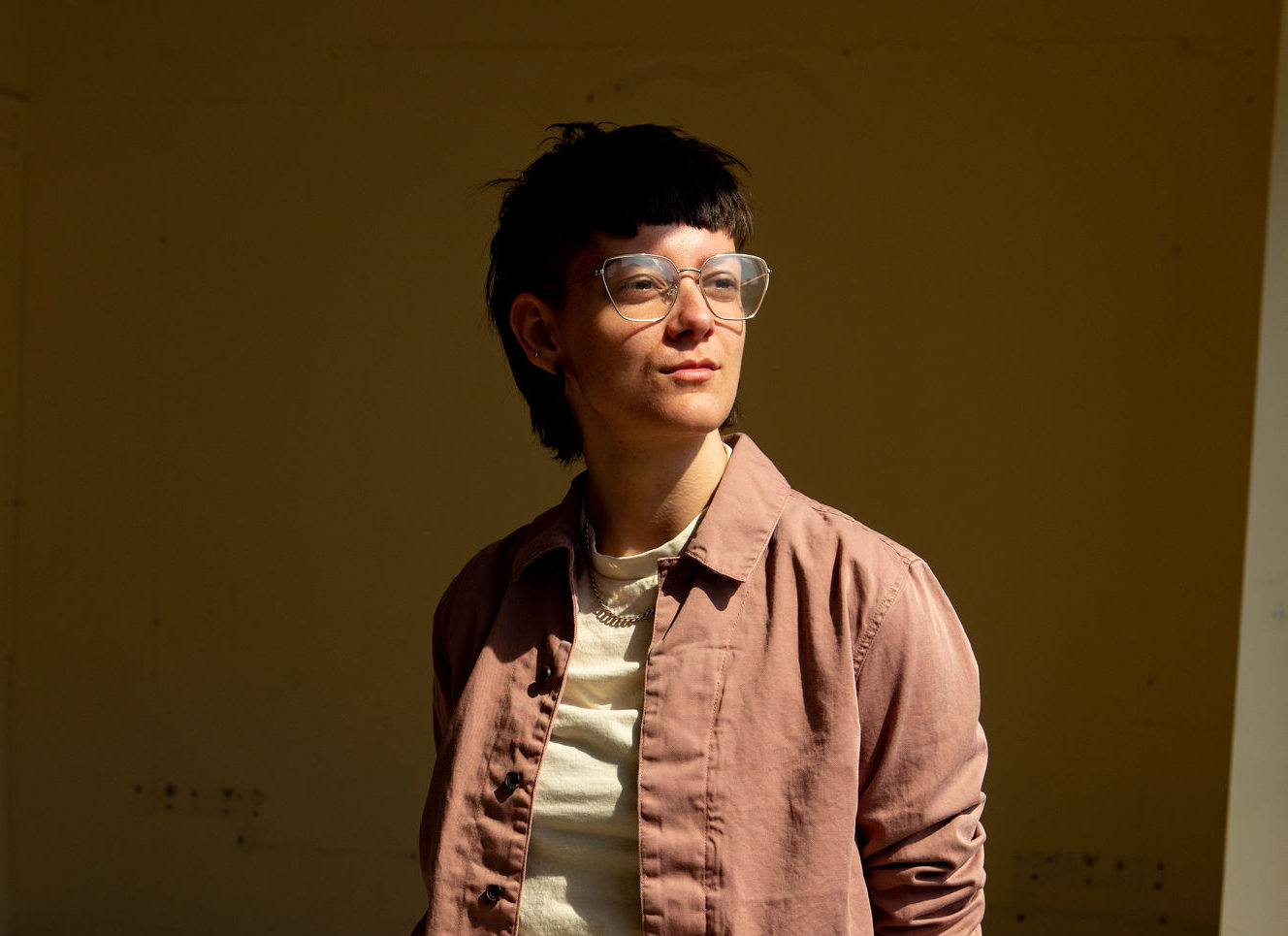 JyellowL, 'Lowest Lows'
Advertisement
Irish/Jamaican/Nigerian hip-hop artist JyellowL is back with his new track 'Lowest Lows'. Produced by his long-time collaborator Chris Kabs, the rapper flows over a typical drill beat and hits the sound of the time. The 25-year-old musician recently shared the single 'La vie este belle' ("Life is beautiful"), which was highly acclaimed by fans and critics. JyellowL is known for his creative and genre-melding singles, which are inspired by his Irish upbringing and Nigerian/Jamaican heritage.
jena keating, S P A C E, 'OBJECTIFICATION'
Cork native Jena Keating has dropped her new single 'Objectification' featuring S P A C E. The song is part of Keating's latest EP 9 ("Nine"), which was largely co-produced by S P A C E - who has worked with the singe-songwriter previously. In the genre-bending electrical song, Keating sings about the commodification and sexualisation of women's bodies. With sonorous synthesisers and rhythmic drum patterns, the musician creates a sound that remains in the mind.
Lisa Keane, 'Unravelling'
The Dublin based singer/songwriter started penning tracks at age 13 after learning about a music course for teens which focused on songwriting, recording and performance. In 2019, she graduated from BIMM Dublin with a BA in Commercial Modern Music and Songwriting - inspired by artists such as Taylor Swift and Griff. Lisa's previous single 'this is how it feels' got the attention of major tastemakers, while 'Unravelling' takes it up a notch. The song traces the experience of running into someone unexpectedly and quickly trying to figure out where you stand with them romantically. Lisa worked with Belfast-based Sam Stevenson (who produced 'Concrete Jungle' and 'this is how it feels') on 'Unravelling', referencing 'Skinning Dipping' by Sabrina Carpenter. Adam Shanahan mixed the song and it was mastered by Richard Dowling. "I wrote 'Unravelling' years ago and I remember it being one of those sort of songs that just pours out of you," Keane offers.
Advertisement
Yenkee, 'If Looks Could Kill'
Following 'Soft Satellite', his only single of 2022, Cork native Yenkee (Graham Cooney) returns with indie number 'If Looks Could Kill'. "I'm writing my name on a mirror and I'm finding my way through my little school / Suddenly something is clearer / I'm finding my way back to Liverpool / I'm feeling the pain / All over again / I'm wasting my time on a question / Am I losing my mind or are they just cool / They said that I'm one in a million / Now that I'm here I'm invisible," London-based Yenkee opens the track, atop of indie-rock guitars and twinkling piano chords.
The Soft Boy Records signee has a knack for comedic, deadpan lyrics that tell a unique story of everyday life. Co-produced and engineered by Peter Brien with backing vocals by Célia Tiab, the Soft Boy family really came alive for to tell the teenage, poignant story of loneliness. "Would I be here if looks could kill you? / Nobody cared so let me heal you."
Seba Safe, 'Oblivion'
Seba Safe (real name Mike D'Alton) takes direct influence from the likes of DOPE LEMON and Big Thief in his music, with conversational lyrical delivery and sharp observations of mundane vignettes fast becoming his bread and butter. 'Oblivion' joins 'Afterlife' and 'On My Way' from his new sophomore EP Rainy. "Tell me what the price / I don't want to wait or learn along the way / Honey, I don't like surprise / Touch me with your eyes in silence." His soft voice describes his love for a partner, for whom he'd give up anything for. "I'm not really like this / Got a chemical draw to your lips / Let's get lost in the woods to get up to no good / The apple you feed me tastes as good as it looks," he croons as the drum beat quickens the pace alongside his textured indie-folk sonics. Adding warm, inviting strings to the mix and acoustic guitar, the emotion and adoration seeps through every note.
Kormac and MayKay, 'Always the Sound'
Composer, producer and DJ Kormac has teamed up with MayKay on a fiery new track, marking his first release of 2023 - after 2022 releases 'Carry Weight' and New Day (remixes). Last year's album Equivalent Exchange, saw him write a full suite of material for an orchestra and a host of collaborators including Loah, Jafaris, Jack O' Rourke, MayKay, Shahab & Shayan Coohe and Stephen James Smith while working with acclaimed artist, Maser, on artwork and show visuals. The live show sold out venues throughout Ireland. 'Always the Sound' builds in tempo and ambience, swirling MayKay's ethereal vocals with electronics and beats until it peaches its peak in a glorious burst of synths. The pace is just perfect on this one.
Advertisement
 

View this post on Instagram

 
Le Boom and AMY MC, 'The Only One'
Recent tracks 'Live Sesh' ('Coma' and 'Ravey Fitz'), and 'Friday Night' set the scene for Le Boom's ecstatic Dublin shows, but 'The Only One' goes back to basics and drags us all to the dancefloor with impeccable ease. AMY MC's vocals are warped, as heard in Chiqueness in Paris ("shit Guinness in Paris", lol) on the lush electro-pop anthem. "You're turning into somebody new, somebody new / So you move into the light and you're doing alright / You are the one that I've got on my mind..." the lyrics repeat, before glittering synths and beats collide. Christy Le Boom has been dropping music on Le Boom's own label, Innocent Chap Sounds ('Next Time' being another gem, featuring his brother Andy L). 'Friday Night' was recently remixed by Jordan Nocturne and Gabe Gurnsey and supported by BBC Radio 1 DJs and club DJs over the summer months - let's hope 'The Only One' gets the same love.
Dave Lofts and S.A.N.D., 'Tell Me'
The five-piece indie-folk band have just launched their debut offering 'Tell Me', which is building up the excitement for their upcoming debut album and live dates. Hailing from the south-east of Ireland and united under the roof of Henhouse Records, Dave Lofts and S.A.N.D. are inspired by the husky, raw vocal talents of Paolo Nutini and Shane MacGowan. Wicklow native Dave relocated to Waterford as a teenager, crafting an emotionally charged sound into his musicianship before taking S.A.N.D. along for the ride. He's already shared the stage with the likes of icons such as Damien Dempsey, Duke Special, Mundy, Jerry Fish and Paddy Casey, but this marks a new chapter in his life and career. 'Tell Me' is a tale of love, connection and spending all the time you can with a romantic partner before anything goes wrong. "Tell me now baby, would you love me and never let me go?" It's got definite Hozier energy mingled with country-rock melodies.
Dan Byrrrne, Graham, Curtisy, 'Not The Same'
Advertisement
"I'm breaking the rules / I'm smoking again / I'm steady, trying to play it cool but haven't spoken to my friends...I'm not gonna fret / Sick of queuing for apartments that I'm not gonna get," the track opens. Newcomer Dan Byrrrne taps Clondalkin-based underground rap artist Graham and hip-hop act Curtisy for a woozy new track. Diving into flaws, bad acid trips, finding to find your path forward during mental health troubles and friendships, 'Not The Same' uses a down-tempo, lackadaisical beat to dive into youth culture and living in Dublin during a time when opportunities feel slim. "I've been dealing with some issues I won't be forced to expose...if you're unsure about your symptoms, if what you're feeling is depressed." Two of Dublin's finest on the track, "you should show respect". Capturing the feeling of being inside their heads, their dexterous wordplay and refusal to hold anything back is laudable.
Listen to the playlist in full below.