Listen to some of our favourite new Irish releases of the week below!
Ezra Williams, 'Bleed'
The AWAL signee announced details of their debut album, Supernumeraries, this week (out June 16th) with 'Bleed'. The latest single from the album sees Ezra exploring the feeling of being disconnected from those around them and struggling to form close relationships despite wanting to. Their music examines the complexities of forming relationships on the Autism spectrum, offering an often overlooked perspective and moving the needle on what it means to write a love song. With soft, melancholic vocals and stripped back but intense instrumentation, 'Bleed' sets the tone for Supernumeraries early on and with masterful songwriting. Mostly self-produced, with additional contributions from Ezra's friend Jacky, the album was recorded at friends' houses, and in the seomra at the bottom of their parents' garden back in Greystones, Wicklow.
Lemonade Shoelace, 'I Think My Heart Is Set On You'
The psych-pop bedroom producer shared his second single today, marking his final release before the drop of his upcoming debut EP Do Whatever Makes You Happy on April 28th. BIMM graduate Ruairí Richman has come a long way since winning the prestigious VANS Musicians Wanted competition back in 2021, sharing debut single 'Autopilot Paradise' the same year. His latest offering further explores a dreamy sound, dipping into themes of loneliness, isolation and yearning that comes with love on his latest track, broadening the emotional scope of his catalogue. Lemonade Shoelace fuses rocky riffs with a backbone of house and dance rhythms by merging the conventional and the experimental.
"'I Think My Heart Is Set On You' is a song about realising that the love and appreciation that you have for someone is much more apparent when distance and separation becomes involved. It also touches on the indecisiveness that can happen in relationships, but ultimately time and solitude will be the measure which decides how you truly feel towards that person," the Richman says.
Advertisement
Peer Pleasure, 'Weed Addict'
The Wexford newcomers (featuring Brandon Murphy, Cein O'Dowd, Erik Murphy, Eoin O'Faherty, Jack Joyce, Joel Pitcher and Joseph O'Gorman) have shared their debut single earlier this week; a two-minute rollercoaster of irresistible late-60s garage rock topped with roars of frustration. Peer Pleasure balance the essence of The Sonics and UK rockers Fat White Family on the audio spectrum but additionally, go toe to toe with the sheer chaos of The Sex Pistols in the live offering. Recorded live at Hellfire Studios, Dublin with Joe McGrath, Ivan Jackman and Killian Taylor, backing vocals also come in the form of Alphi Demp's dulcet screams. He's the magical mind behind VistaFutur.
'Weed Addict is an irreverent observation of marijuana culture and its effects and prevalence in arts spaces and youth culture," lyricist Brandon Murphy explains. "The song aims to break down the solemnity that both anti and pro marijuana users have on the drug and in relation to each others' attitudes and existence: 'I don't got a problem, you're the one with the problem'."
Cian Ducrot, 'Part Of Me'
After winning the Choice Music Prize award for Best Irish Newcomer last month, Cork singer-songwriter Cian Ducrot is back with a single more emotionally-driven than ever. The TikTok star is currently supporting Ed Sheeran on tour, performing at 3Arena Dublin last night, and is sure to be gaining a host of new fans. His followers are connecting deeply with the grief at the core of 'Part Of Me', dedicated to a close friend Cian tragically lost to suicide.
Advertisement
"One of the hardest songs I ever had to write but probably the most important one, on December 2nd 2019 I got the news that my best-friend had taken his life. A beautiful life way too short lived, the news has taken years to swallow and is something I will never quite understand but this song was a moment where I tried to process some of it. Now it's yours and I hope it can help you process something you need to. Life should never be cut short, it is too precious. If you're struggling you're not alone I love you and the people around love you."
JyellowL, 'Nausea'
Injecting jazz and soul into his latest single, JyellowL lays it all down in the romance-themed new track. "Been inside 100 rooms / Really thought I'd seen it all, you showed me something new / And every day I pray for you but other brothers prey on you..." he raps, using more vocals than usual but maintaining his hypnotic flow. The lush chorus is full of sleek production, embellishments and electronic flourishes. Harmonies and funky accompanying electric guitar riffs add a fulsome vibe to the ambience of the groovy new single from the Kildare-based rap sensation. The Nigerian/Jamaician/Irish artist's Choice Music Prize nominated debut 2020 DIvision got him noticed by all the right people, deservedly so. Let's hope 2023 sees a new EP or LP in the works, but his recent slew of singles are a stronger batch than ever - working with producer Chris Kabs and infusing infectious Afrobeats.
Tomike, 'Some Fries'
The R&B/neosoul musician has shared her first single of 2023, and it's more of a drum 'n' bass/electronic-based offering. With sultry, angelic vocals and a faster pace than usual, her ethereal voice pairs magically with twinkly, addictive beats that call to the dancefloor. The light-hearted track focuses on the singer standing in line asking someone for fast food order, presumably after a night out. Don't waste her time, she just wants to eat - basically (fair enough). At the end of last year, the Irish-Nigerian talent shared her Take Two mixtape with producer Jack Suddaby. Since Tomike's debut EP Stages of Love (2019), the Dubliner was highlighted as a 'Black Artist to Watch' by BBC Introducing Merseyside and performed for the Hot Press Y&E series. Keep an eye out for more singles from the rising star this year.
Advertisement
ZoiD, 'Timelapse'
The Irish electronic producer dropped their third full-length album and most ambitious project to date today, titled Internal Space Element. The project fulfils a lifelong dream to combine electronic beats with a lush string quartet (Cora Venus-Lunny, Aoife Durnin, and Ailbhe Mc Donagh.) The album features a stellar team of vocalists, producers, and some of Ireland's best string musicians. Each song is a collaboration between ZOiD and the guest artist, including Meljoann, Miriam Ingram and Suzane Savage. Inni-K offers sincere, Sinead O'Connor-inspired vocals on the poignant 'Timelapse', which is rounded out by strings and a steady, flickering electronic beat.
Saibh Skelly, 'Superficial'
The Dublin teenager is maintaining her hot streak with the new single, co-written and produced by Toby Scott (Felix Jaehn, Dimitri Vegas, Galantis) and Olivia Sebastianelli (Ella Henderson, Sophie & The Giants, Cassyette). Current single 'So What?' landed an audience reach of almost six million, so we have high hopes for 'Superficial'. Skelly will release her second EP, SAIBH X FIVE on Rubyworks on April 21st, following 2022's Top 10 charting debut Undercover Heartbreak. Catch her EP launch Upstairs At Whelan's on Saturday, April 22nd.
"Social media can put pressure on us to make our relationships appear to be picture perfect," Saibh says of the single. "People put so much time and effort into this, that they can ignore what's going on behind the camera. We've all found ourselves reminiscing over old photos, forgetting about the bad times but we have to eventually realise that sometimes it's all just superficial!"
Anna's Anchor, 'Function Room Floor'
The Limerick outfit have announced their fourth album, out July 7th via Strange Brew, titled The Merries with a new single and tour of Ireland. Once a solo affair, this ever-evolving musical project now resembles a collaborative community with frontman Marty Ryan as the band's lynchpin. 'Function Room Floor' looks back on teenage social awkwardness with a sweeping sound inspired by The National, Alex G, and Tycho. The insistent chord progressions play on a feeling of youthful yearning, while intense percussion drives the song forward.
Advertisement
"It's a simple song about being a nervous young person at any kind of social event in Ireland, be it a teenage disco or local GAA club function, where I'd be found with my back glued to the wall afraid to speak to anyone but imagining all sort of narratives in my own head about everyone else's lives and using that as a vicarious means of escape from my own life at the time," Marty Ryan says.
Silent Ghost, 'Exit 7'
Music producer and singer-songwriter, Silent Ghost has released his latest single, 'Exit 7.' Previously producing music for a plethora of Irish artists such as FeliSpeaks and Darcy Faith, the Dublin-based musician has quickly become one of the most exciting musicians to emerge from the Emerald Isle. His latest single, 'Exit 7' certifies this. Silent Ghost has crafted a mesmerising and powerful new single with his own voice at the helm. His expert mingling of hypnotic lyrics with synth instrumentation makes the song feel destined to grace the Drive soundtrack. A song that remains embedded in your brain long after it ends, Silent Ghost is an artist who demands your attention." - Holly Hunt
Loud Motive, 'Money'
Featuring Marvell (vocals/lyrics), Danny Duho (bassist), and Ridler Tempo (drums), Loud Motive fuse guitar melodies and intricate wordplay with hip-hop sensibilities and politically charged lyrics inspired by the stories that have been gaining traction in Ireland in recent years. 'Money' marks their first track of the year, reflecting on the currency and its effect on our world: "Sometimes money controls my whereabouts". Laced with enticing rhythmic guitars, and blessed with percussion and drums, the addition of the striking bass guitar sound and graceful strings adds to the wider universe within Loud Motive's music. The trio ask the listener whose negative effect on the world weighs more - drug dealer or a banker. We see the day-to-day toll of those attempting to survive and the excess, partying, and subtle killing of the soul that a life of drugs, arrogance, and privilege creates.
Crybabyamy, '6am (Untitled)'
Advertisement
The 20-year-old self-described cry baby is aiming to normalise every kind of emotion through her pop sound. From being vocally influenced by Adele, to being lyrically inspired by the likes of Julia Michaels, the singer-songwriter and producer is rising up the ranks. Crybabyamy's new single '6am (Untitled)' tells the story of falling in love with someone in a matter of days and feeling utterly heartbroken when it doesn't work out. "If we were trying to hold on to love, I can think of better ways." Sharp, piercing vocals and electric guitar backing builds up alongside the electronic pop beat, until the ultra-catchy chorus grips us instantly. The track is her second release since signing a major publishing deal with BMG and was written and recorded at home before receiving additional production from UK producer Rob Milton (Holly Humberstone, Easy Life, The 1975).
Bless, 'HMU'
Following 'TWD4L' earlier this year, Dublin-based hip-hop artist Bless returns with 'HMU'. The rapper has just performed a headline show at The Sound House in the capital, showing off his stage presence and uncanny ability to energise a crowd. 'HMU' is a love record that infuses the upcoming feel of summer with the vibrant buzz that Jersey Club music has created. Ultimately, Bless expresses the longing to reunite with a former fling, refraining that she should call him one more time. The production of 'HMU' seamlessly compliments Bless' subject matter, with an emotional vocal chop and a bright summery soundscape. "Music has been my only way to express how I feel, especially when it comes to rekindling an old flame," Bless recounts. Passion, hard-hitting beats and confidence is all he needs to make a bonafide hit, and he's got all three in spades.
Aran Sheehy, 'Manifest'
The Dublin electronic musician released his debut single 'Burn' in 2022, with the Ailsha collaborating going straight to No.1 on the iTunes Electronic Charts. His follow up 'Mandala' has seen endorsements electronic legends like Sasha and Job Jobse, the latter of whom plays the track at his Berghain residencies. Last year saw Sheehy receive an Arts Council award to create an album with electronica duo Manyana. The sound engineer and freelance producer/journalist has shared his fourth solo single today, taken from his forthcoming EP Bridge Burner. The self-esteem booster of an anthem shows off his entire back catalogue of skills with a unique style emerging.
Advertisement
"Created completely in my home studio using mostly analog synths, this song continues my sonic exploration and draws influence from other amazing Irish electronic acts like Bicep and Max Cooper," Aran says of 'Manifest'. "At its core, this single is about grabbing victory from the jaws of defeat through the power of positive thought, and about believing in yourself when no one else does."
Sorcha Durham, 'Heart and Soul'
The Kerry musician has announced a four-track EP of ambient pop tunes, titled All I Wanted and due for release on May 26th. The debut solo project from the former Walking On Cars frontwoman, now a hotly-tipped solo artist in her own right, is sure to be superbly crafted. Durham shared a new single from the EP called 'Heart and Soul', to mark the release. Sorcha solidifies her atmospheric sound on the new single, with sweet vocals pairing with contemplative synth. What came out of the recording, writing and production process with Sorcha's boyfriend Ben is a collection of tracks full of heartache, anger and hope. The follow up to 2022's debut single 'Fireside' starts out slowly before growing in ferocity, tracing a break up and emotional dependence. "Side by side for so long / Gave my heart and soul / Gave it all and more / But you know that / Gave my heart and soul / But I know that...Lost in silence, I can hardly find it."
David Kitt, 'It's In Some of Us'
As Will Russell said in his verdict of Kitt's new album Idiot Check, "The wonderful Katie Kim also features on several tracks, reaching for perfection on 'It's In Some of Us' – a song that is pure Kittser, careening fantastically from acoustic to electronic, serene to turbulent." "It's time to let go of the love that you know," he croons, as electronic beats and soaring harmonies slowly create an otherworldly sphere of down-tempo, ambient soundscapes. Produced and recorded by Kitt himself using his "Breaking Bad mobile studio set-up", the album was written between 2016 and 2022 in Dublin, Paris, and eventually the remote town of Ballinskelligs in south-west Kerry, where the artist moved during the pandemic and has stayed ever since.
Advertisement
Daniel Luke, 'Chatterbox'
The pianist, composer, and arranger was a founding member of Gypsies on the Autobahn, releasing two critically acclaimed albums and touring Ireland and the UK extensively for over a decade. In his childhood home in Cabra in early 2020, Daniel Luke began work on a project of solo piano music. The resulting compositions are uniquely playful, taking inspiration from his classical training, and borrowing elements of the jazz, contemporary and neoclassical music that remains dear to his heart. The lovely 'Chatterbox' is the second single taken from his upcoming debut album, released to celebrate World Piano Day. The hypnotic, cinematic tune follows 'Shadow Dance' from earlier this year and 2022's 'Heather'.
Willzee feat. Hazey Haze and Jayne, 'Two Friends'
Limerick rapper Willzee has nabbed Jayne and Hazey Haze to hop on his latest single, which was produced by Danny Lanham. The track showcases Willzee's lyrical prowess and unique style, blending personal experiences with relatable storytelling. 'Two Friends' does what it says on the tin, recounting friendships and crushes from his school days within his community. Jayne's captivating vocals add a new level of depth to the song, infusing soul and R&B vibes. Willzee (real name William Casey) released his last album Kuti Gris last year, having won the Music, Arts and Culture award at the Irish Traveller Pride Awards.
Kellie Lewis, 'Battle of Love'
Advertisement
The Limerick-based pop-rock artist to prominence after placing runner up on The Voice of Ireland in 2014 – during which she was mentored by her idol, Dolores O' Riordan. After releasing her debut original EP, Behind the Moon, Kellie moved to Los Angeles to further pursue music, performing in The Hotel Cafe, VidCon and launching her own show at Molly Malones. New single 'Battle of Love', which follows 'Flashback to 18', encapsulates "a promise made to her soulmate that love is worth fighting for". The romantic, soaring track celebrates the light and dark moments in a relationship and highlights the difference between wanting and needing someone. Tracing everyday moments and the simple pleasures of coming home on a Friday night and recounting your day to a chosen person, Lewis lays it all down on the table with her heart on her sleeve.
DALY, 'Love Me Now'
Aaron Daly (aka DALY) is hip-hop artist from Dublin's Northside, who started out as a busker in the city centre before worked his way up to performing at festivals such as Electric Picnic. New single 'Love Me Now' is a beautiful yet tragic love story which takes place at the final moments of a break up. The song tells the tale of a young man struggling with the emotional trauma and anger of losing his long loved partner. Maturity and self-reflection allows the rapper to switch blame from the past partner to himself. 'Love Me Now' took inspiration from the likes of Damien Rice and Mac Miller, with recording completed by DALY and Adam McNamara.
"The inspiration behind 'Love Me Now' came from a real-life situation," DALY expresses. "Writing is a way of healing for me and going through a break up myself, this song was the result of the final goodbye. The message I want fans to be able to take from the song is that sometimes when relationships end it's easy to fall into the blame game trap. But instead you must be mature enough to accept you can make mistakes and it's ok to love someone but must say goodbye without letting it destroy your mental health."
Cinder Well, 'A Scorched Lament'
With recent press acclaims coming from domestic and international outlets, Clare-based musician Cinder Well is back with third single 'A Scorched Lament'. The single is taken from her upcoming album, Cadence, out on April 21st via Free Dirt Records. The track features a brand-new, haunting music video shot by videographer Ruth Clinton of the band Landless. The song itself is a meditation on the impending massive changes of our times from the voice of a blackbird, a commonly featured messenger character in traditional folklore. Cadence, the new album from Amelia Baker's experimental folk project, drifts between two far-flung seas: the hazy California coast where she grew up, and the wind-torn swells of Western Ireland that she's come to love.
Advertisement
Sophie Doyle Ryder, 'Happier'
Having unveiled her debut EP Beginner's Luck last year, the Malahide native continued her surge towards the heights of Irish alt-pop. Returning today with new single 'Happier' after Evan McGee remixed 'Hunni Hunni', her vocals are stronger than ever on the edgy new track. "For me, it's been the longest year / This time I won't self-sabotage, I can't go back to what it was / Oh no, I can't go back to what it was," she begins. "I'll stop fighting the feeling, I know what I am worth / 'Cause I'm happier." After leaving a codependent, the subject speaks of feeling more self-assured now she doesn't need her past partner. An anthem about independence, the laidback production allows Ryder's belter voice to take centre stage, and the chorus and universal themes easily reel any listener in. It's an exciting start of the year for the rising musician.
Chanele McGuinness, 'Stray Dog'
Hailing from Ballyshannon, Donegal, Chanele McGuinness returns with the follow up to 2022's 'Bitter Drain' and 2021's 'Halloween Song'. The singer-songwriter with haunting vocals takes influence from the classic voice of Karen Carpenter and contemporary acts like Lisa Hannigan. Her new offering is a loneliness anthem for the ages. "Hold me tonight / Tell me all your lies / I've always been alone / Stray dog left out in the cold," she croons, over a brooding electric guitar melody and soft indie-rock percussion. "I'm grinding my teeth down, skipping some meals now / I just wanna know that I'm okay." McGuinness has toured with songwriters Natalie Prass & Matthew E. White, playing sold out shows across Europe and the UK. Her voice also appeared in the soundtrack for Irish film Pursuit, starring actor Liam Cunningham.
Still Blue, 'Honeysuckle Daydream'
Faction Records have unveiled the Dublin-Donegal indie-pop trio's debut track with the label today. set for release on March 31st. Still Blue are led by vocalist Nicole Lyons, with Ruairi Forde on guitar, and Greg Kearns on bass. They've just been added to the 2FM Rising list of 'Irish musical acts to watch', and are giving fellow acts of the genre like NewDad, ROE and The Fae a run for their money (in a nice way! There's room for everyone). 'Honeysuckle Daydream' is a chaotic, feel-good tune, reminiscent of a scene from a coming-of-age film and the sound of The 1975, Julia Jacklin and Beabadoobee.
"Writing the song, we tried to encapsulate all the different emotions experienced in a night out - the complications of old relationships, the promise of one ones and the feeling that anything could happen," the band say of the single. Recorded in Dublin and Belfast, 'Honeysuckle Daydream' was produced by the talented Matt Weir.
Advertisement
Really Good Time, 'Victory Button'
After sharing 'Really Good Song' and 'Afternoon Tea' last year, it's time for a new tune. Dublin's Really Good Time is a new band made up of former members of Beach / Fat Pablo and electronic producer Diolmhain Ingram Roche AKA Wastefellow. It's quite the combo, and the rock results are made for BBC Radio 6 (in our humble opinion). "I know you could care less but I need you know to know that I try...Can you wake me when I'm winning?" It's got elements of THUMPER's sound, but the bones are all LCD Soundsystem, U2's Vertigo era and Pixies. Really Good Time's byline says they are "Dublin's hottest post-crunk apré-garde super group" - make of that what you will. We've heard they're epic live, mingling krautrock, psych-rock, post-punk and art-rock (lots of rocks, is this a quarry? Sorry).
Everything Shook, 'Too Hot For Me'
Taken from their new album Blacking Out (which comes after 2016's Drinking About You), 'Too Hot For Me' is an unusual form of alt-noir goodness. "Do you think about how you up and left? We'll soon be dead...You're too hot for me / I'm too cold for you." It's a playful electronic trinket that makes use of warped, sci-fi synths from the '80s and David Bowie-esque vocals paired with Faye from Soda Blonde. The three-piece band features Robyn Bromfield, Jessica Kennedy and Áine Stapleton, who use synths, bass guitar, and Korg DS to create a unique, electric sound.
T.A. Narrative, 'Signs Out'
Advertisement
T.A. Narrative's Retro Futurism EP continues down the progressive path of synth wave and hypnotic indie. Turning inwards to excavate the depths of independence, discrimination, love, self-worth and more as themes, there's a serious twinge of Swedish dance-pop icon Robyn on the EP. 'Signs Out' builds on gritty, electric guitar riffs that add a raw edge and mingle it with OMD-levels of synths and sparkling electronics. The bassline beat is almost Eurotrash in nature, creating a pulsating feeling that pushes and pulls the listener. The duo are sure of their image, sound and mentality in a tough business, which goes a hell of a long way. "I will hold your heart when it's too much now."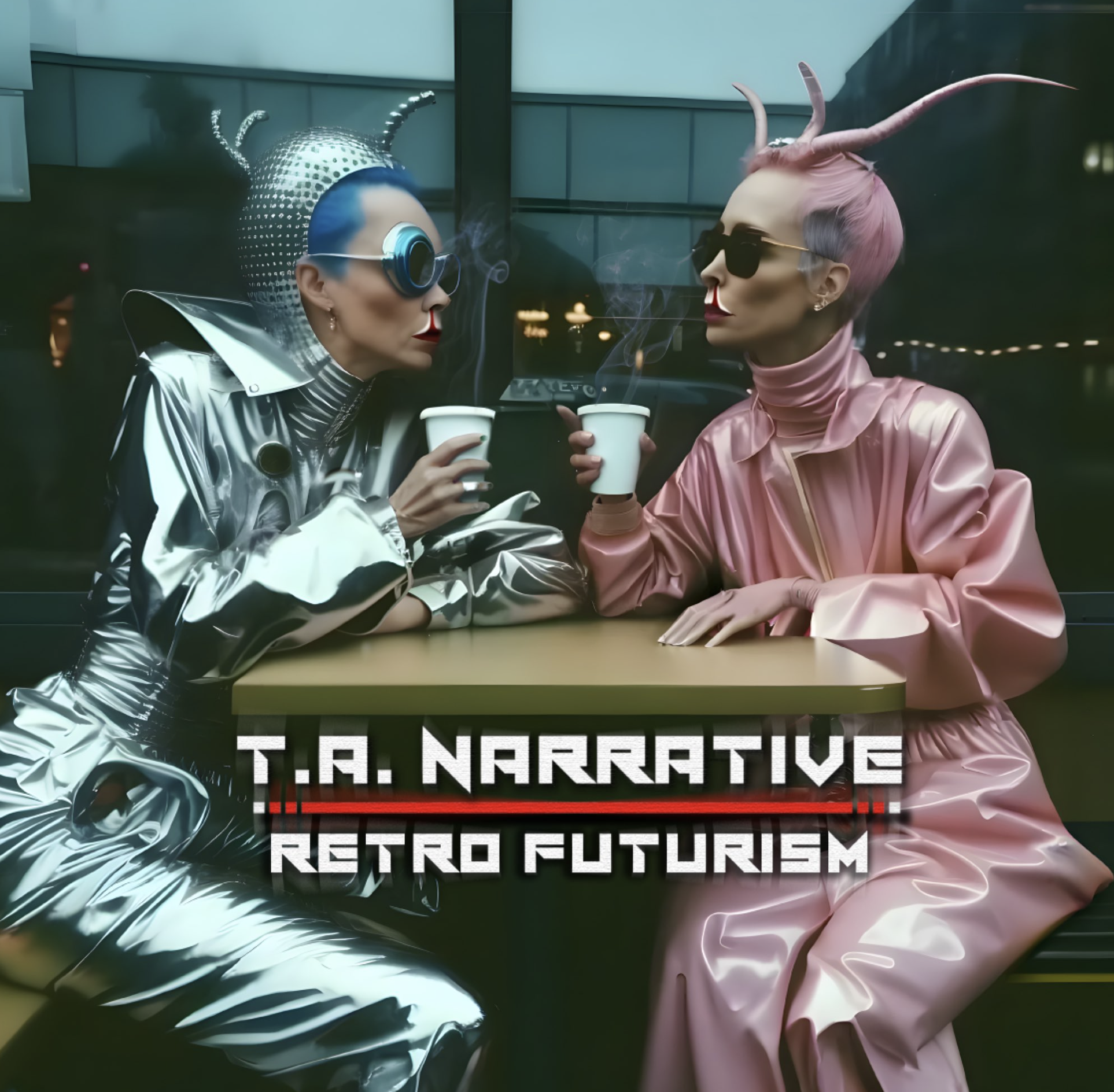 Elkae, 'Here Comes The Monsters'
Dublin artist Elkae (Laura Keane) sees evocative, booming contemporary instrumentals paired with her soulful vocals on her latest EP. The title track from the new project is a pounding confirmation of the demons faced when wading through life struggles. With glimpses of Lenii, Billie Eilish and more, she's an exciting songwriter who's been grafting for years and deserves her moment. Following the release of her debut EP, Girls Like You Like Me, and an acclaimed appearance on the Hot Press Y&E Series in 2021, ELKAE's momentum has shown no sign of slowing over the past year – continuing to expand her soulful electro-pop sound with the release of a series of vibrant singles. "Do you really wanna chance it?" she asks over a rock-informed electronic beat, letting all her frustrations out in one fell swoop.
Pio Hartnett, 'i don't mind, it's nice to make new friends'
Arriving after fellow 2023 numbers 'Hooligans' and 'Will you be back before dark?', the Cliften native returns with an acoustic-guitar focused single. 'i don't mind, it's nice to make new friends' shows off Pio's strong vocals, reminiscent of Villagers' Conor O'Brien. With soft, heavenly harmonies behind his predominant vocals, the universal subject matter of the tune mingle with personal memories. "I want a piece of the puzzle so that you can't finish it / And I wanna be the person that you thought I was," he declares on the down-tempo indie-rock single. In 2018, the Galway musician moved to Dublin, and studied music at BIMM Dublin. He teamed up with Dublin producer Zak Higgins in 2021, while also putting in hours as a songwriter, eventually gaining writing credits for artists from Ireland all the way to Japan. 
2023 will hopefully be a huge year for the talent.
The Cope, 'Back on My Bullshit'
Advertisement
The duo shared 'Oíche' earlier this year, which was released a few months after 2022 singles 'I Am Stretched on Your Grave', 'True Romance' and 'The Cope'. The Dublin/Berlin based electronic duo (David Anthony Curley and Joe Furlong) delivered a euphoric show at The Button Factory recently, supported by Small Crab. 'Back on My Bullshit' is a defiant, carefree thumper of a dance tune that wills anyone towards the nearest nightclub. Starting with pulsating beats reverberating around the skull. "So here's the plan, I've got a problem and it starts with you and ends with me." Miche Moreno contributed hugely to the sound engineering of the powerful, riveting electronic track. Posting to Instagram, The Cope said: "These two songs are really special to us, for different reasons, but together they are part of something greater." Stay tuned to find out more.
CROOK, 'OH GOD'
The Berlin-based Irish producer has shared a new single today, with 'OH GOD' coming from a place of self-sabotage ultimately. "Some days we wake up and decide to do everything the hard way," he notes, saying that the title "is more accurately read like an instruction, or an invitation: to feel more deeply, more fully, more honestly -- to do a better job of feeling." OH GOD itself comes from a place of self-sabotage and how "some days we wake up and decide to do everything the hard way." Musically inspired by genre-pushing pioneers The Neptunes, Bon Iver and SOPHIE, CROOK's folk roots shine through in his captivating storytelling. His debut mixtape FEEL BETTER includes 'BREAKING', 'BUCKLE UP' and 'ANTI-AMERICAN PROTESTS'. The acoustic guitar bones at the heart of 'OH GOD' act as the skeleton for more warped electronic touches and autotuned emo-alt-pop vocals. "Why do I have to make things so hard?"
Listen to the playlist in full below.
Advertisement