Kae Tempest: "It's not really the wins that define you. It's how you recover from the losses. That's what I've learned"
As Kae Tempest returns with their eagerly anticipated fourth album, the acclaimed writer and musician sits down to discuss their "soul connection" with Fontaines D.C.'s Grian Chatten, the importance of conversation, and their journey to The Line Is A Curve: "I've come out. I've done some work on myself. I've had a breakdown. And I picked myself back up again."
Over the past few years of Kae Tempest's life, change has been the only real constant. As well as the upheavals of lockdown, which brought their lauded live shows to a halt, they had to contend with challenges in their personal life, and periods of vital self-assessment. Their upcoming fourth album, The Line Is A Curve, will also be their first musical project released as Kae, a name they've used publicly since August 2020, when they came out as trans/non-binary.
There's been other changes, too – from stepping out of their comfort zone on the album's audaciously vulnerable cover art, to a more confident embrace of the musical side of their artistry throughout the album.
But of course, some things remain the same. The soulful voice at the heart of the work, for instance, is as fearless and captivating as ever. The two-time Mercury Prize nominee's famously formidable work drive has also gone nowhere – with a non-fiction book, On Connection, published in late 2020, and a critically-acclaimed play, Paradise, having premiered at the National Theatre in London in 2021.
The Lewisham-based artist explains that they view each phase of their creativity as separate "constellations" – linked together by the period in their life they emerged from, and the commonalities they share – with On Connection, Paradise, The Line Is A Curve, and a few upcoming projects forming one of these groupings. Kae sees their previous album, 2019's The Book Of Traps And Lessons, and their 2018 book, Running Upon The Wires, as another separate constellation.
"That's like a mini capsule moment, where everything changed," they say of their previous creative spell. "My life was different then. I ran away and lived in the mountains, and I had a relationship with somebody that was beautiful. These two little things were like a bridge.
Advertisement
"And now, I'm in this different mode of creativity," they continue. "I've come out. I've done some work on myself. I've had a breakdown. And I picked myself back up again. So these are all part of a new breath. That's the only way I can put it. It's like you take this huge breath in, and let a huge breath out – and all this work is part of that."
The creation of the new album, Kae elaborates, coincided with a period of their life where "things got pretty dark.
"But then things got better," they add. "And I think you can hear that in the record. The album goes down into the darkness. But then it's like, 'Okay, I'm up against the ropes here, but I'm not going to give up.' Because it's not really the wins that define you. It's how you recover from the losses. That's what I've learned."
Speaking of being up against the ropes – I clock a punch bag in the corner of Kae's room.
"I love boxing," they grin. "I was training a little bit out of a boxing gym. But that's actually my friend's – his girlfriend made him get it out of the house! I was like, 'Yeah, I'll have that!' It's quite good, because I work in this room. I'll be trying to sort something out, working on some really intense poem, and then I can just go over there and do 30 seconds on the bag!"
THE POET'S SOUL
Advertisement
Release is a central theme of The Line Is A Curve, with a particular emphasis on letting go of shame and anxiety. Concepts of identity also had a bearing on the project, but although it coincides with Kae's coming out experience, they stress that it's not specifically "an album about trans identity."
"It's not an album specifically about my journey," they resume. "But all of that is a part of what you hear in the record because it's what I've been going through. I started writing this album before I came out, and before I accepted myself that way. But obviously, I've been trans/non-binary my whole life. It's just taken me up until I was fucking 35-years old to be able to articulate that to friends and family – let alone to the wider world.
"So that stuff is on the album, but this album is not a direct response to that. I will make more explicit work about that stuff. It's coming."
The importance of collaboration and communication is another key feature of The Line Is A Curve. In addition to the contribution of producer Dan Carey, the likes of Kevin Abstract, Lianne La Havas, ássia and Confucius MC all make appearances – while a spoken word verse from Fontaines D.C.'s Grian Chatten is a particular stand-out.
"I love him," Kae enthuses. "I'm so glad that he agreed to come and be a part of it. He's the real deal. I've seen Fontaines loads of times over the years. Grian really moves me, in the way he approaches his words. I feel like we have some kind of soul connection because he's a true poet. Obviously he's a rock and roll star, but I also feel this sensitivity in him.
"He came down, and I didn't know what he was gonna do, but he had just written this beautiful poem," they continue. "And throughout the album, there's these male backing vocals — that's him and Confucius MC."
Advertisement
Grian's not the first Irish artist the Londoner's worked with having previously collaborated with both Damien Dempsey and Sinéad O'Connor.
"He's a fantastic human," Kae says of Dempsey. "I'd love to see him again. I have huge respect for him. It's the same thing as with Grian, actually – it's the poet's soul thing."
I JUST LET GO
Sparking connections with these kinds of kindred spirits has been a constant feature of Kae's career. They've been working with producer Dan Carey for over 20 years now, having first met when Kae was a member of the band Sound Of Rum.
"He totally changed my life," they reflect. "When I met Dan Carey, I was a poet that was writing plays. I was in a band that was playing pubs. I was desperate for a record deal. I just turned up at his studio. It was snowing, and I had this ropey little car, and me and Archie from my band were skidding all over the road.
"So we left the car on the side of the road, and walked through the snow with our fucking demo!" they laugh. "We knocked on the door of Dan's studio, and he was in there with someone doing a session. We were trying to play it cool – like we hadn't just walked through the snow for an hour to get there! I just knew I was meant to work with his guy. I'd never really done something like that with any other producer."
Advertisement
With Dan's help, the new album finds Kae connecting with their musicality more than ever – largely in response to "the joys and the frustrations of making The Book Of Traps And Lessons."
"Traps And Lessons was made under the guidance of Rick Rubin," Kae explains. "And Rick Rubin wanted me to stop rapping. He couldn't say that, but that's what he wanted. He wanted the vocals really high, and he wanted the music really low. I'd worked all my life to be a rapper, and then I got to work with this great hip-hop producer and he's like, 'Stop rapping!'
"So when we got to the sessions to make this album, I just let go," they add.
Throughout their career, Kae tells me, they've harboured conflicting feelings about the spotlight – combining both a hunger for it, and a deep discomfort. Despite their commanding stage presence, I'm surprised to hear that Kae would consider themself shy.
"But it doesn't make any sense!" they smile. "Because it's like, 'If I'm really shy, why am I working so hard to be in front of loads of people that I've never met, rapping?' It's this weird mix of low self-esteem or something, but also a total desire for presence. In normal life, when I meet people, I'm shy. But when I'm on stage I don't feel that."
That "total desire for presence" kicked in at Electric Picnic back in 2011, when Kae delivered a freestyle verse in front of Public Enemy's Chuck D inside the packed Hot Press Chatroom tent.
Advertisement
"I've had some really amazing experiences at Electric Picnic," they laugh. "Every time I come to Ireland, some little magic happens. But yeah – that's exactly what I'm talking about when I said I showed up at Dan Carey's house with a demo. I just wanted to make it happen so badly. I was obsessed. I just wanted to make music. I wanted it to be my life. And I thought that standing up and spitting my rap to Chuck D maybe would do it…
"I wouldn't do it now!" they add. "Because now I see that it's the ego. All those people were there listening to that person – and I was like, 'Somebody listen to me!' That's the drive. But I think you have to have an element of that. Otherwise, why would you bother putting pen to paper? The ego is important in the creative drive. But as I get older, I realise that it's actually less interesting in the work."
LIVES ARE AT RISK
In their new album, the power of the ego has largely been superseded by an emphasis on the importance of conversation and connection. But in an bizarrely polarised world, genuine conversation is looking like an increasingly impossible goal.
"If you bring combat into the conversation, then it's not conversation – it's combat," Kae nods. "It's attack and defence, instead of the idea of actually trying to understand where somebody is coming from.
"I do think conversation, communication and connection is possible," they continue. "But the purpose of conversation isn't 'Let me tell you what I know!' It's 'How do you feel about where you're at?' That's how I would like to approach connecting with people."
Advertisement
From their own standpoint, as a trans/non-binary person, Kae points out that attempting to hold these kinds of conversations can be more complicated: "Because people's lives are at risk, because of the fury of people's hatred for each other."
"For example, people are so weirdly angry about the idea of having a gender-inclusive toilet in a public place," they continue. "In my body, in my experience, I hate going into public toilets because I freak people out. I don't belong in either one of those bathrooms, and when I walk in there, people get upset – and it upsets me. And it can be dangerous.
"If you feel totally confident and comfortable going into the ladies or the gents that's great – good for you! But that's not an experience that I know to be true. So would it be possible that there's a space where I could go to have a piss and wash my hands?"
As Kae points out, the anger over gender-inclusive toilets ties into a much wider problem of transphobia and hatred.
"It's like, 'The transgender agenda is trying to pollute our ways and kill our children!'" they remark. "It's just so fucked up. So part of me would love to have gentle discussion and conversation with people. And ask, 'Why is it so terrifying for you, that people exist outside of the gender binary? Why does it hurt you so much?' I want to know. But you can't have that conversation, because it just descends into so much pain.
"So, it's still possible, but at the same time, there's a level of resignation that you have to have," they continue. "Because you know that there's certain things that are going to create really weird reflexes in people."
With their belief in the power of connection still safely intact, Kae is set to take The Line Is A Curve on the road over the months ahead, with a string of dates in Ireland.
Advertisement
"I can't wait," they tell me. "I've done my time in Ireland. I've played Vicar Street, I've played Kilkenny, I've played a tiny little pub in Mullingar. There were like four people in the pub, and three of those were in my band. But it was good craic, as they say."
And although The Line Is A Curve has yet to be unleashed on the world, Kae – true to form – already has more projects in the pipeline.
"I'm working on a new book of poems, which is very, very nearly finished," they reveal. "And then, we've got a load of new songs. We've started a new album. It could take years, but it's underway. And then I'm working, very slowly, on a novel that I'm hoping to finish at the end of this year. I don't know if that'll happen! And I've got some ideas for another play. But yeah, it carries on doing its thing, my brain…"
• The Line Is A Curve is out on April 8, via Fiction Records. Kae Tempest plays Róisín Dubh, Galway (April 30); Cyprus Avenue, Cork (May 1); Cathedral Quarter Festival, Belfast (3); and Vicar Street, Dublin (4).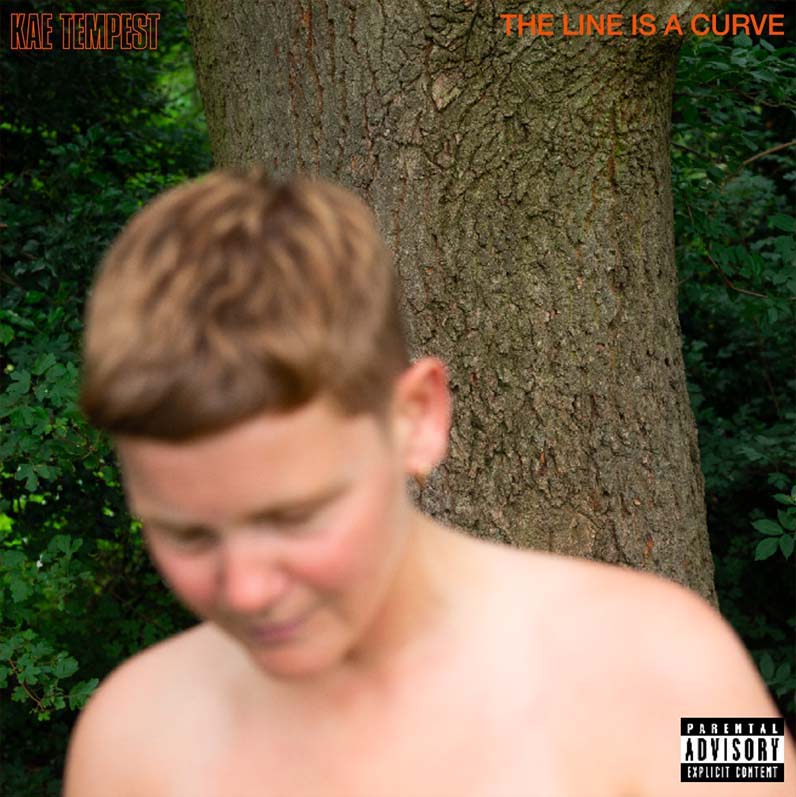 Advertisement