---
Across the country, 25 independent radio stations are jumping into action for Irish Music Month – as they prepare to celebrate the brilliant talent and dazzling diversity of homegrown music throughout the whole month of October. Some of the presenters involved tell us what to expect in the weeks ahead…
Ray Colclough, Head of Music & Presenter on WLR FM:
Crowned IMRO's Local Radio Station of the Year in both 2019 and 2020, WLR pride themselves on their support of local and Irish artists. So, it's no surprise that Ray Colclough, Head of Music at the Waterford station, couldn't wait to get involved in Irish Music Month.
"I think it's a fantastic initiative, especially with all the radio stations taking part," he enthuses. "I ran something similar in March, called Waterford Music Week – which was a week of us playing and promoting local artists. So when I heard we were doing this on a national scale, I thought: 'this is brilliant'."
One of the many highlights of Irish Music Month is a major national competition, with every station finding its own candidate for the A New Local Hero strand.
"For the A New Local Hero talent search, which ends in a bursary for one artist or band, the cash that's being made available for musicians who play on each local station is great – and then the overall award of €5,000, and the record being recorded, is just incredible.
"It's something that should be done all the time," he laughs.
Ray's passion for Irish music is palpable – and as he points out, the scene's most crucial strength right now is its diversity of styles. For proof, look no further than the artists on WLR's current rotation, featuring many names that have recently appeared on hotpress.com...
"We're playing stuff like ANIM, Marty Guilfoyle, Welshy and Shane Codd – as well as the likes of Gavin James, Hozier, Kodaline and Niall Horan," says Ray. "But we're also playing independent artists regularly, which we think would suit our listeners – the likes of Mick Flannery and Susan O'Neill, Stephanie Rainey, Carrie Baxter, TOUCAN, Moncrieff and Reuben Hester. On my own show, I play a big variety of stuff – including 1000 Beasts, Fish Go Deep, Sara Ryan, Tolü Makay, Elaine Mai and Moxie."
Colclough goes on to emphasise one of the central goals of Irish Music Month: it can create a virtuous circle.
"If all the radio stations start playing more of the local acts, they will get recognised more," he explains. "They might not get signed – but they might get more plays from other radio stations. For Irish Music Month, our drivetime show, The Spin Home with Ollie Carroll (3pm – 6pm), is spearheading the campaign for the month of October. On his show, we're going to try and push as many independent artists as we possibly can."
Louise Tighe, Presenter on FM104:
Supporting the music industry from the grassroots upwards has always been the goal for Louise Tighe, presenter of Sunday Night Live (from 10pm) on FM104. For her, Irish Music Month is a fantastic way to say thanks to the incredible artists who soundtracked our lockdown.
"Throughout the whole pandemic, I've been able to continue the show as normal, which has been great," she reflects. "But it's been made even better by the artists releasing new music. Now that things are getting started again, it's time that we give back to those artists."
As Louise notes, the initiative is tapping into a passion that's already there – and growing.
"Radio presenters love Irish music – and they love to have the opportunity to talk about it as much as possible," she says. "Irish Music Month has encouraged that, and given us the opportunity to give extra support to all the Irish artists. I haven't met one presenter who won't talk for hours, once you strike up a conversation about Irish music!
"The whole Irish music scene is incredible. There's great friendship and camaraderie in the industry. You'll always see other artists at Irish musicians' gigs – cheering them on in the corner, or coming on to sing a chorus, or to sing a song. That's always been there, and it's only going to get better."
And some of her current favourites on the Irish scene?
"There are so many artists I'm excited about," she grins. "Fya Fox, Pastiche, Reuben Hester, Fia Moon, St Bishop, Emma Edel, Don't Tell Mum, JC Stewart, Lucy Blue, JyellowL, Jessica Hammond... I could keep going!"
One of Louise's favourite aspects of the A New Local Hero talent search is discovering a whole plethora of new artists.
"I'm hearing from artists that even I hadn't heard of before," she smiles. "It definitely is encouraging artists to reach out. A lot of them wouldn't be doing that, if this initiative hadn't been undertaken."
During Irish Music Month, Louise hopes to see more listeners engaging with their local station – and telling them the Irish artists they want to hear.
"Once you get on the radio, you reach a wider audience," she points out. "There are other options out there, fine, but radio definitely has a big part to play – and artists feel that too."
Elaine Kinsella, Head of Music & Broadcaster on Radio Kerry:
With 30% of their general playlist already dedicated to music by Irish artists, the team at Radio Kerry are pushing their support for homegrown music even further over the month ahead. Elaine Kinsella, who's been Head of Music at the station for the past 12 years, feels the initiative couldn't have come at a better time, following the chaos of the pandemic.
"We're very conscious of what a difficult 18 months it's been for everybody in the entertainment industry," she says. "So we're delighted to get involved in an initiative that supports Irish artists in a really big way."
The Kingdom isn't short of spectacular musicians either..."We've already had quite a bit of interest in Irish Music Month from artists around Kerry – some who are well established, and others who we didn't even know were out there," Elaine tells us. "It's a great way for new artists to get in touch with us.
"We've had some fantastic Kerry acts emerging over the last 12 months or so. Including the likes of Lorraine Nash, who's doing brilliantly at the moment, as well as Pa Sheehy doing his solo stuff, Emma Edel from Cahersiveen, and Conor Byrne."
As Elaine points out, the growing interest in local acts isn't slowing down any time soon.
"There's been a whole movement in Ireland in the last couple of years, to 'support local'," she remarks. "It started with supporting local shops, but that has now extended to supporting the music industry. We find that we're getting a lot more requests from our listeners for music from local artists."
Irish musicians are just as quick to enthuse about local up-and-coming acts – as listeners to Radio Kerry's The Afternoon Show with Brendan Fuller will know.
"During the summer, Brendan came up with this great idea, for a feature called 'Wishful Gigging'," Elaine explains. "He was getting acts on, and asking them, 'When live music gets back up and running, who would you love to see live?' He did it with people like Róisín O, Wallis Bird and Picture This – and they were championing other Irish artists."
While Radio Kerry are already supporting Irish artists across various genres, Elaine points out that "Irish Music Month is a good excuse to up that – and make sure we're playing more Irish music than ever."
Michaela Hayes, Music Director & Presenter on iRadio:
Irish music is also regularly championed on iRadio – home of iLoveIrish, a feature that allows homegrown artists to get the vital on-air exposure they deserve.
"We choose four Irish acts and play them in prime rotation every four hours for the entire month," iRadio's Michaela Hayes says of iLoveIrish. "It's a great way of showcasing a new artist. So when I heard about Irish Music Month, I thought, 'That's going to tie in lovely' – because it's giving every station far more exposure to new artists, and more options of stuff to do with them. The excitement around here is incredible!"
As Michaela notes, the relationship between emerging artists and local radio shouldn't be underestimated.
"A lot of artists get their start on local and regional radio," she explains. "And then they start making waves from there, and flag the attention of other people. Radio is so important."
The A New Local Hero element of Irish Music Month has tapped into this phenomenon – exposing presenters to the hugely impressive talent on offer across the country.
"I look after music in general for iRadio, so I'd always have Irish artists getting in touch, to get their tracks played," says Hayes. "But there are so many people now reaching out for A New Local Hero, who are incredible – who have never sent anything in to us before. It's amazing, because other people are now going to get to hear these artists.
"Irish music has come on in leaps and bounds over the past few years," Michaela adds. "It was always strong, but now it's incredible. The quality is the same as artists who are recording with big production teams in LA. The talent here is phenomenal – and it's so untapped. There are so many people who deserve to be absolutely massive!"
For more information about Irish Music Month, listen to your favourite independent radio station, read Hot Press and stay tuned to hotpress.com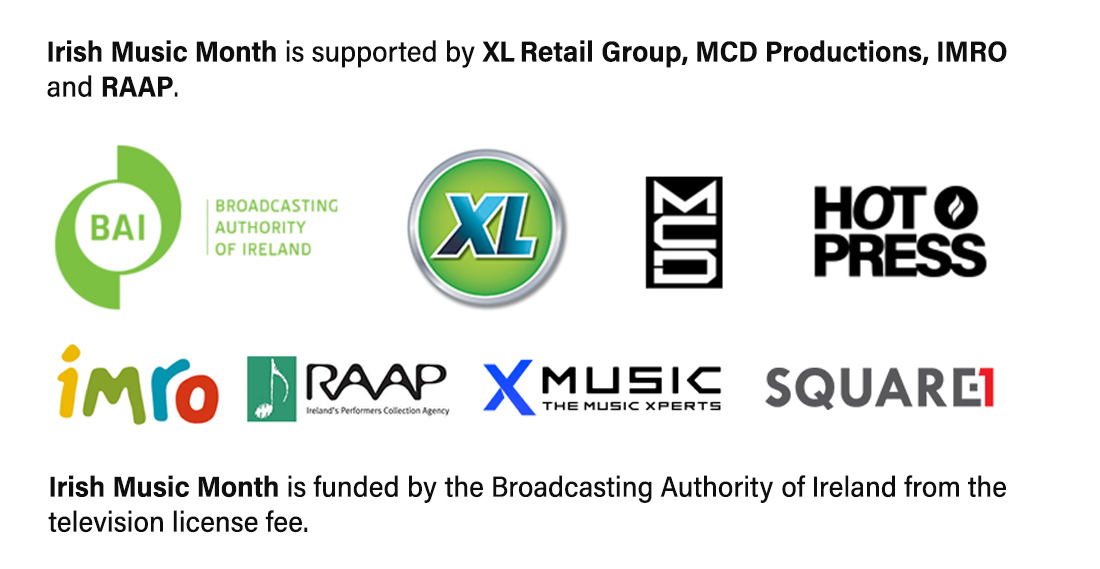 Irish Music Month is supported by XL Retail Group , MCD Productions, IMRO, RAAP, X-Music and Square1
Irish Music Month is funded by the Broadcasting Authority of Ireland from the television license fee