In the new issue: Cover stars Pillow Queens discuss their brilliant upcoming album Leave The Light On
The new flip-cover special issue of Hot Press is out now, featuring: Pillow Queens, The Batman's Colin Farrell & Zoë Kravitz, Foo Fighters' Dave Grohl, Charlene McKenna, Big Thief, Shamir, Slash, Hurray For The Riff Raff, the National Women's Council's Orla O'Connor, Niamh Campbell, Ayanna Lloyd Banwo, Kaina, the Afghan Dreamers, Ocean Tisdall, Sea Power, the Women's National League, Edel Coffey, Lynn Ruane, Neasa Hourigan, Orlando Weeks and more – plus, our Careers Special.
We're celebrating International Women's Day in the new action-packed issue of Hot Press – highlighting some of the phenomenal artists, activists, writers and sportspeople currently making waves and shaking up social norms on these shores and beyond.
With the release of their brilliant upcoming album, Leave The Light On, Pillow Queens are about to cement their reputation as one of the most promising Irish musical exports in recent memory. Ahead of their first American headline tour, we catch up with the band to discuss new adventures, insecurities, country music, Dublin, and breaking out of pigeonholes.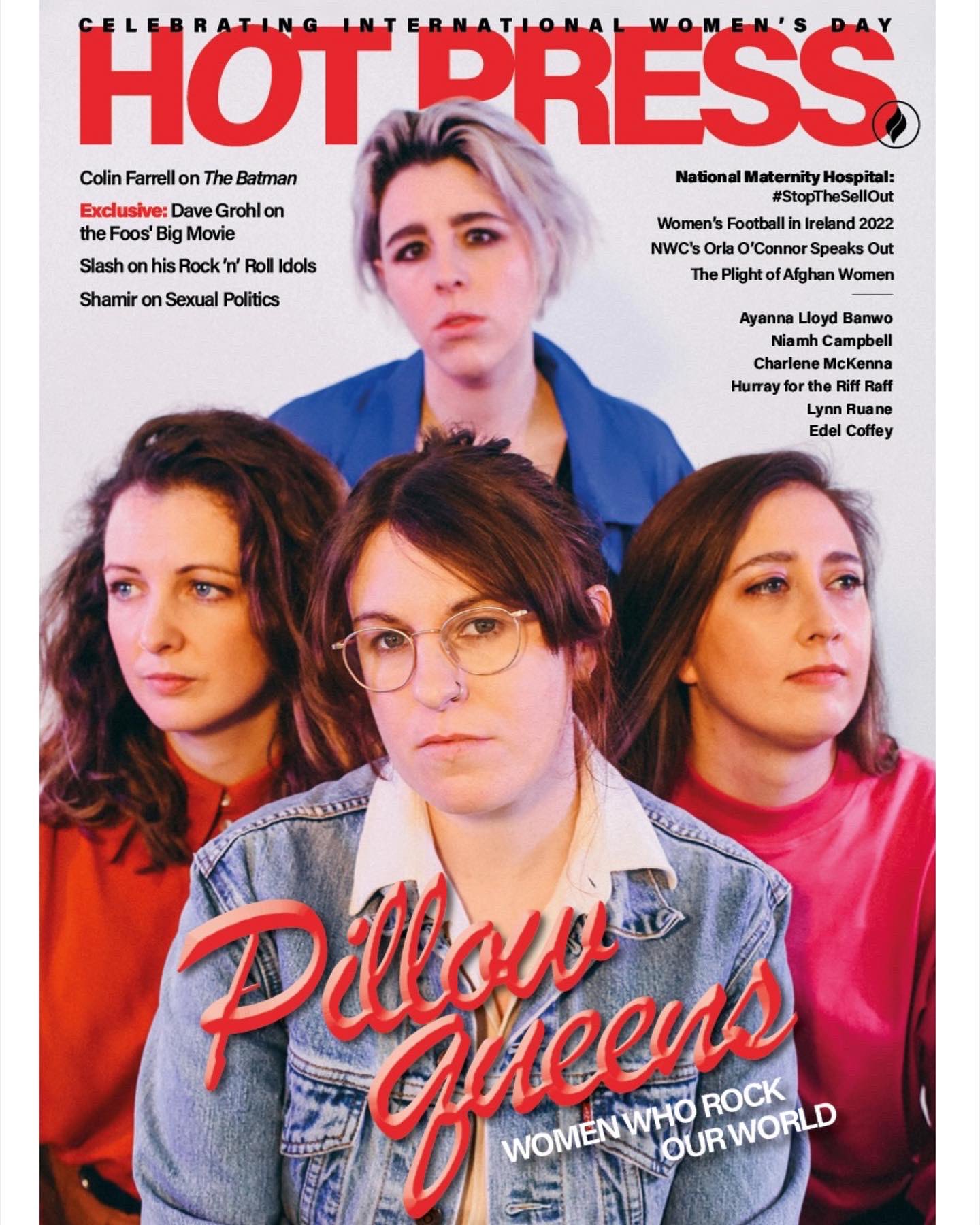 On the flip-cover, meanwhile, Paul Nolan takes a deep dive into the year's most hotly anticipated movie, The Batman. He looks at how the gripping noir story successfully reinvents a pop culture icon, and also examines our enduring fascination with the Dark Knight. Plus, The Batman stars Batman stars Colin Farrell and Zoë Kravitz talk about portraying two of Gotham's most famous characters, The Penguin and Catwoman...
Elsewhere in the issue:
Advertisement
Foo Fighters have returned with a rip-roaring new horror-comedy flick, Studio 666. A fearless Paul Nolan ventures into the band's haunted LA mansion for an audience with Dave Grohl. Also up for discussion: The Exorcist, Slayer, Liam Gallagher, Slash and Lemmy.
As Big Thief return with their expansive new double album, Dragon New Warm Mountain I Believe In You, producer/drummer James Krivchenia discusses making music during a volatile time in the US, and why the band aren't afraid of "being corny..."
"Holding the burden of representation doesn't concern me anymore, because I've already suffered through that," reflects Vegas native Shamir, as they release their ground-breaking eighth album,
Heterosexuality...
Back with the incendiary 4, his latest album with Myles Kennedy and the Conspirators, Guns N' Roses' iconic guitarist Slash talks outlaw spirit, the state of rock, The Rolling Stones, Led Zeppelin and more...
The artistic revolution of Hurray For The Riff Raff – aka Alynda Segarra – continues, with the release of their new album, LIFE ON EARTH. The Bronx-born, New Orleans-based singer-songwriter discusses existential struggles, "nature punk", visiting ICE detention centres, The Roches, Ronnie Spector, and busking in Ireland.
This year finds Monaghan actor Charlene McKenna appearing in not one, not two but three blockbuster TV shows. She talks Graham Norton, James Nesbitt, Paul Mescal, Jim Carrey, Johnny Cash and Peaky Blinders with Stuart Clark...
Orla O'Connor, director of the National Women's Council, discusses the importance of ending violence against women; why Ashling Murphy's murder should be a "wake-up call"; standing up for trans rights; and some of the key issues facing women in Ireland in 2022.
Advertisement
Having fled from the Taliban regime, three members of Afghanistan's first all-girl robotics team are now studying in Ireland. They discuss their ambitions for the future, how their oppressors might be defeated – and an upcoming documentary about them...
Last season's SSE Airtricity Women's National League ended in high drama, with the title being stolen from under the noses of serial winners, Peamount United, by Shelbourne. With standards vastly improving and a new competitive edge, the 2022 follow-up promises to be the most combative in the history of domestic women's senior football. Paul O'Mahony sets the scene, offering a warning: 'Expect fireworks!'...
Plus: Niamh Campbell, Kaina, Ayanna Lloyd Banwo, Ocean Tisdall, Sea Power, Edel Coffey, Lynn Ruane, Neasa Hourigan, Orlando Weeks – and our Careers Special...
And that's just for starters! So don't miss out. Pick up a copy of the new flip-cover special issue of Hot Press in shops now, or order online…