Hurray For The Riff Raff: "I have a long road ahead of me – but I'm an adventurer"
The artistic revolution of Hurray For The Riff Raff – aka Alynda Segarra – continues, with the release of their new album, LIFE ON EARTH. The Bronx-born, New Orleans-based singer-songwriter discusses existential struggles, "nature punk", visiting ICE detention centres, The Roches, Ronnie Spector, and busking in Ireland.
By the time they cracked into the mainstream with 2014's Small Town Heroes, followed by The Navigator in 2017, Hurray For The Riff Raff had already established a reputation as a singer-songwriter who could effectively, and authentically, blur the boundaries between 'artist' and 'activist'. From 'The Body Electric', a protest song about gender-based violence, to 'Pa'lante', a rousing celebration of their Puerto Rican roots, their music spoke directly to marginalised communities, in the US and beyond.
In the midst of Trump's America, however, the musician also known as Alynda Segarra (who uses they/she pronouns) was suddenly questioning the very foundations of their artistry.
"I went through this existential crisis after The Navigator," they tell me over a transatlantic Zoom call – exuding both the free-spirited nature of their adopted home of New Orleans, and a spark of gritty, Bronx-reared energy. "I was like, 'Is any of this enough? Is anything I'm doing even making an impact?' It was really hard for me to feel like anything I did even mattered."
Writing their powerful new album, LIFE ON EARTH, is what ultimately led Alynda out of that headspace, as they came to a humbling realisation.
"Maybe I'll never know if this matters or not – and that's not even the point," they reflect. "The point is to just do your work while you're alive, and try to be a peaceful energy on this planet while you're here."
Advertisement
It's a philosophy that's carried into the project, which finds them embracing their own open-ended genre, "nature punk" – encompassing "any type of rebellious music, informed by the nature around you," Alynda explains.
Of course, with the Dead Kennedys and Bikini Kill serving as early spiritual guides, there's always been an inherent punk ethos at the heart of Hurray For The Riff Raff's approach – even when their sound bore closer surface resemblance to banjo-twanging Americana.
"I've been making records since 2006 or 2007, on my friend's laptop, on my own," Alynda remarks. "And yeah, they were made with a banjo, but it was always very punk to me. It was folk-punk, for lack of a better term.
"But ever since Small Town Heroes, I felt a little bit pigeon-holed," they add. "I was like, 'How do I make this a career? Everyone's saying I'm this genre, so okay, I guess I'll go that route…' With The Navigator I tried to expand and explore things. And with this album, it's a continuation. It's all about freeing myself from any type of restrictions or boundaries. It feels like I'm just being myself, which is a relief."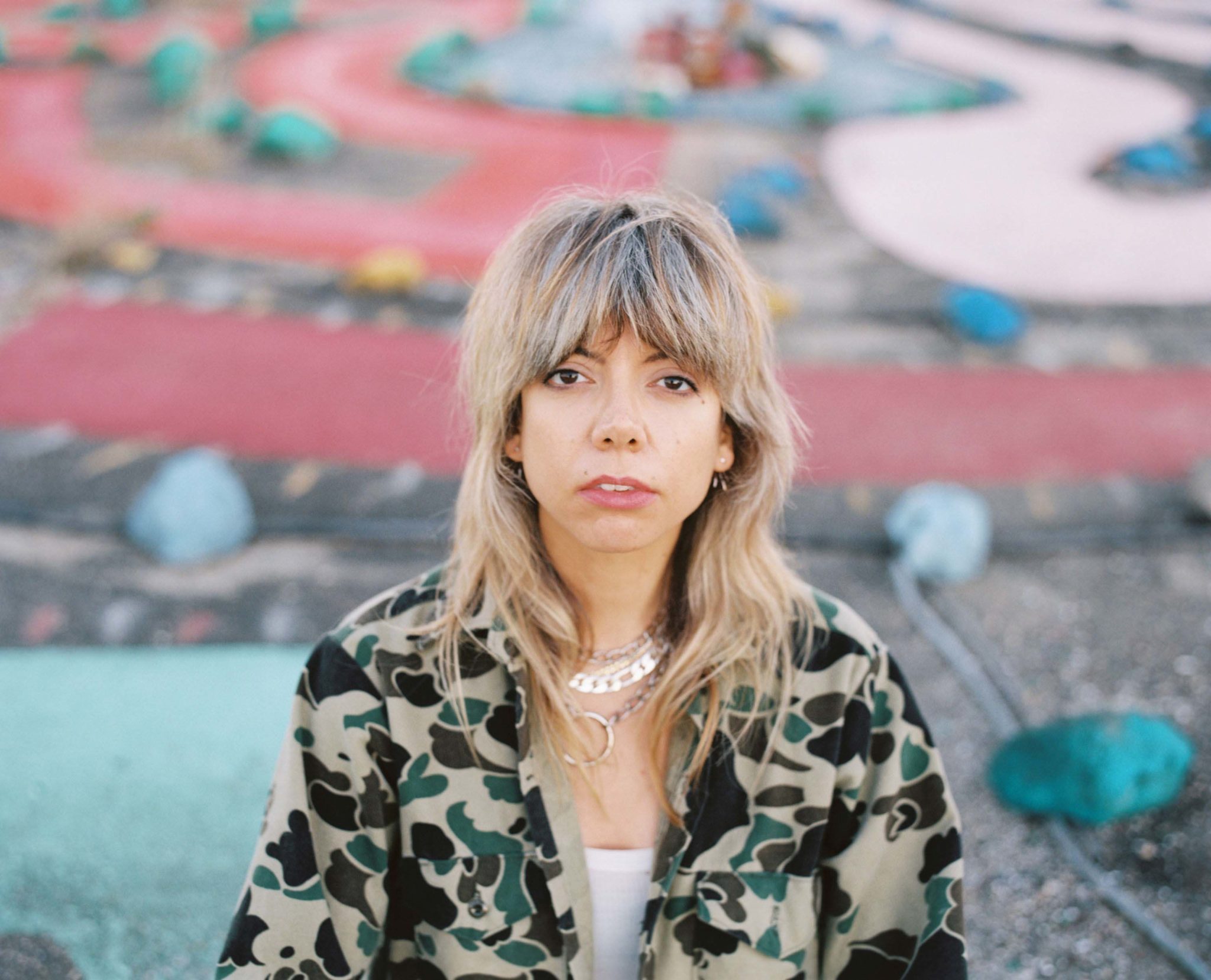 Their new sound was largely influenced by lockdown – during which Alynda, cut off from family and friends, sought solace in the nature surrounding them.
"I started to connect with the beings around me in a different way, and seeing life in places where I didn't see life before," they note. "Here in New Orleans, you can go on a walk and be amongst these gorgeous oak trees that are as old as the city. Or you can go and sit by the Bayou.
Advertisement
"And there's so much extreme nature here," they continue. "We experience very intense hurricanes and we have to pack up and leave, if we can. I definitely learned how to humble myself, and take in moments with these trees and migratory birds. I would walk for hours, and be like, 'I don't think humans have the answer. So do these trees have the answer? Does this jasmine have the answer?' I was trying to respect the life forms around me, in a way that – as a city kid – I didn't really, before."
Did the psychedelic side of plant life provide any inspiration?
"Of course!" Alynda laughs. "I'm very neurotic and I'm very scared of a lot of psychedelic experiences, but I'm also so fascinated by them. I've read a lot of Michael Pollan, and also Plants Of The Gods, which is all about shamans and ancient practices. So I'm really fascinated by it – but I'm also still a neurotic New Yorker at heart!"
Despite offering opportunities to connect to nature, lockdown certainly wasn't all roses for Alynda. The newfound spare time forced them to confront aspects of their past that had been bubbling away under the surface for years – having kicked off a life on the road aged just 17, hitchhiking and hopping freight trains across the US.
"I've experienced a lot, since I've left home, and before that," Alynda tells me. "I experienced a lot that I disassociated from. I just kept myself busy, and convinced myself, 'Oh yeah, I got through that. I talked about that in therapy five years ago – everything's fine!' And then with this slowing down, and this forced staying in place, I felt in my body all these things that I hadn't really experienced in so long. All of a sudden my body was talking to me, and was very hyped up and afraid.
"I was experiencing a lot of depression, and a lot of anxiety," they add. "I was very burnt out from touring for a lot of my adult life. It felt like this was my time to be like, 'How do I ground myself and stay present in this process – and make art that feels very real and true to me, and is also healing?'"
By addressing vulnerabilities on tracks like 'Pierced Arrows' and 'Saga' – inspired by Dr. Christine Blasey Ford's testimony during the Brett Kavanaugh hearing, as well as Alynda's own personal experience – they ultimately found new ways to heal.
Advertisement
"I felt like: 'Okay, my past is always going to be with me, but it doesn't have to define me,'" they reflect. "I have a long road ahead of me – but I'm an adventurer. I think about the younger version of myself, and I see this kid that I believe in so much, who just doesn't know their own worth. To be able to befriend that kid, and protect that kid, while I'm singing, is a very healing and cathartic process."
The album also finds Hurray For The Riff Raff tackling political and social ills – most notably on 'Precious Cargo', which chronicles the experiences of people held at ICE detention centres at America's southern border. Blending elements of hip-hop and spoken word poetry, Alynda recorded a demo of the track late one night, after watching a documentary about fellow politically-charged musician M.I.A.
"I'd been visiting these men in detention before lockdown," they recall. "It was a really life changing experience – going into those detention centres and meeting these beautiful people, who have suffered so much, and who were being exploited in these centres that are very abusive and are for profit. The whole thing felt like such a dystopian nightmare, but it was real, and it is real.
"I thought so much about how writing songs just wasn't enough," they continue. "So I was volunteering, because I wanted to be helpful. But then I just felt this call: 'This is what you do, Alynda. You write. That's how you work out these topics.' So I just had to accept that that's my activism. That's my work."
Hurray For The Riff Raff's work is also steeped in tradition – drawing inspiration from a wide range of musical icons, including David Bowie, The Clash and Beverly Glenn-Copeland. Another of their heroes, Ronnie Spector, died in January. Alynda shows me a framed photo of the iconic singer, which currently has pride of place on her shelf.
Advertisement
"I grew up with parents who were kind of like pre-hippies," Alynda smiles. "My aunt that raised me was born in '42, so I grew up listening to that era at home. I remember seeing videos of The Ronettes for the first time and for me, that was like Elvis. It was a revolution to me.
"It kind of felt the same as when I saw pictures of The Ramones," they add. "Like that, it felt very raw, and punk, in a way. That's why Ronnie, and the music of The Ronettes, has lasted so long. The Beatles would meet her and David Bowie would meet her, and they'd be starstruck. I was lucky enough to be able to meet her, and sing with her. It was an incredible moment. I felt like I was being blessed by a goddess."
The legendary – though criminally underappreciated – Irish-American group The Roches have also served as a source of inspiration.
"Oh my God, I love them," Alynda enthuses. "I just recently discovered them. I mean, 'Hammond Song'? And 'Runs In The Family'? They're a perfect band. They're such – and I say this with the most love – weirdos. True weirdos, making music that could be described in a certain genre, but the lyrics are strange, and the harmonies are strange. It's just art."
And just as The Roches sang on their self-titled 1979 album, Hurray For The Riff Raff will also be "going away to Ireland soon" – kicking off their upcoming tour of Europe and the UK in Whelan's, Dublin.
"I've been thinking so much about how I miss Ireland!" Alynda grins. "I'm obsessed with Irish music. I busked my way through Galway, and I have friends in Leitrim, so I've hung out there. Dublin was pretty big for me when I first went backpacking through there. We went wherever we could busk.
"Whenever I play there, it always has a similar, rowdy energy to New Orleans – so I really appreciate it."
Advertisement
• LIFE ON EARTH is out now. Hurray For The Riff Raff plays Whelan's, Dublin, on August 31.
RELATED