"With his marvellous musicianship, and excellent guitar playing, Mark was essential to everything The Script did and everything they achieved," Niall Stokes states. "The band's contribution to music in Ireland, and indeed internationally, has been immense..."
Tributes to Mark Sheehan continued to pour in over the weekend, following the tragic news on Friday, April 14, that The Script's lead guitarist and founding member had died, aged 46.
In a statement, the band announced that Sheehan passed away on Friday "in hospital after a brief illness."
The President of Ireland, Michael D. Higgins, is among those who have shared their reflections on the death of Sheehan.
"All those who knew Mark Sheehan, and those millions more who enjoyed and appreciated his music, will have been deeply shocked to hear of his too-early death," the President stated. "It was a mark of the originality and excellence that Mark and his bandmates in The Script sought that they saw such success across the world, including six number one albums in the UK and a number three album in the United States – a truly remarkable achievement.
"It was a great honour and a privilege when I had the opportunity of hosting Mark and The Script when they performed at Áras an Uachtaráin in 2013 as part of my initiative Glaoch - The President's Call, which celebrated Irish creativity and its reach and impact across the world.
Advertisement
"Through their music, Mark and The Script have played an outstanding part in continuing and promoting this proud tradition of Irish musical success across the world.
"While Mark will be missed by so many, it is his family who will of course experience the greatest loss. May I extend my deepest sympathies to Mark's wife Rina, to his children Cameron, Avery and Lil, to his bandmates in The Script, and to all his family and friends."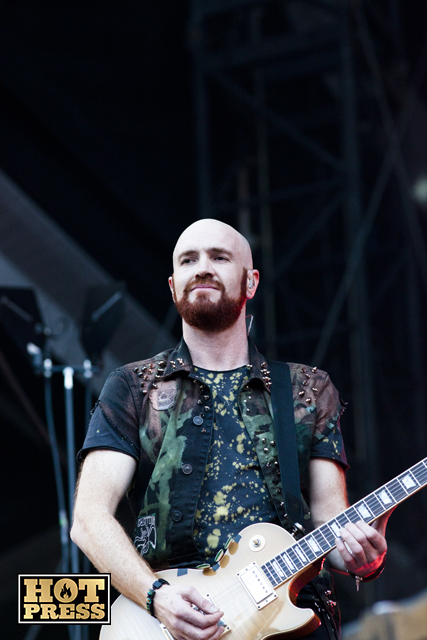 Hot Press editor Niall Stokes has also paid tribute.
"Mark was from the working class area of Mount Brown in Dublin 8, and was really proud of his Dublin roots," he said. "He learned his trade in the world of boy bands but was always aware of the power of music as an art form and alongside his great friend Danny O'Donoghue, and later the drummer with The Script, Glen Power, set about writing big songs with real heart and soul.
"With his marvellous musicianship, and excellent guitar playing, Mark was essential to everything The Script did and everything they achieved. The band's contribution to music in Ireland, and indeed internationally, has been immense and – in all of that – Mark showed a remarkable level of musical invention and commitment.
"I was fortunate enough to spend a bit of time with Mark along the way and he was a really genuine character. Which made the news of his death all the more shocking and heart-breaking. He will be greatly missed, not just by fans of The Script, but by everyone in the music community who knew, and loved, him – and his music. Here in Hot Press, our hearts go out to his family, to members of The Script and to his closest friends, knowing that – in circumstances like these – no words of comfort can make things right. We keep on keeping on – it is all we can do."
Advertisement
Ben Sargeant, who plays bass with The Script, shared his own memories of Sheehan last night.
"This is so difficult to write," he stated. "Struggling to find words that are good enough. What can I say about a man who had a life changing impact on me and all around him. A fiercely loyal and dedicated family man, husband, father, brother, friend. A man who showed me that persistence, belief, dedication and hard graft does pay off in the music industry! A man that always shone a new light on a situation and inspired you to find a new way to approach it.
"A man who could put lyrics together in a way that made you feel he was talking directly to you. An extremely gifted performer who could disarm the most high pressure performance by coming over in the middle of a song and giving a knowing look, or a cheeky smile. Or just take the piss out of you! A man who worked tirelessly and was more driven that anyone else I've known. A man who played as hard as he worked and loved to sit up shooting the breeze and making you roar with laughter, no matter how tired or jet lagged we were. Yeah... what can I say...?
"I can say: I'm honoured to have known you and shared these times with you, thank you for all you did for me," he concluded. "I will miss you terribly and I will never forget you. Love you. See you at the big bar in the sky, brother."
Over the weekend, voices from across the international music industry – including Take That, will.i.am, Aslan, and Boyzone's Mikey Graham – shared their own reactions to the tragic news, following previous tributes on Friday by Imelda May, Kodaline, Joan Armatrading, and Wild Youth's Conor O'Donohoe.
We are deeply saddened to hear the news about the passing of our beautiful friend Mark Sheehan. Sending all our love and prayers to his and @thescript family at this time. Thinking of you all
G, H & M

— Take That (@takethat) April 15, 2023
Advertisement
My heart is broken…

Prayers to Mark's spirit & family…https://t.co/3V3jHPn7cy

— will.i.am (@iamwill) April 16, 2023
Our thoughts are with Marks family and friends, Danny, Glen and all of The Script Family and crew.
Rest in Peace Mark, taken far too soon! ❤️https://t.co/vONTvMJojM

— Aslan (@OfficialAslan) April 14, 2023
MCD have had the pleasure and privilege of working with Mark Sheehan since The Script were formed and are shocked and saddened to hear of his untimely passing.

We wish to extend our heartfelt condolences to his wife, children, family, fellow band members Danny and Glen,… pic.twitter.com/AufuaWDFEw

— MCD Productions (@mcd_productions) April 15, 2023
Today we lost another young legend of music in Mark Sheehan of The Script.I can and do understand the pain Glen & Danny are feeling right now and also their families.All my love and support I offer you at this time. You gave the world your music,It will carry you home Mark. 💚🙏🏻

— Mikey Graham / Boyzone (@MRMIKEYGRAHAM) April 14, 2023
Advertisement
We are deeply saddened by the tragic loss of Mark Sheehan - a hugely talented songwriter, guitarist and founder member of The Script, one of Ireland's greatest bands. Our thoughts are with his family, fellow band members and fans at this time. pic.twitter.com/X0HSNex2sC

— Sony Music | Ireland (@SonyMusicIre) April 14, 2023
A liberties legend and influence always ❤️ https://t.co/GzPwGPX2eZ

— HAWKE THE BAND (@hawketheband) April 15, 2023
The team behind the hugely popular All On The Board – who write creative messages on London Underground's service information boards – also wrote a special note for Sheehan.
Rest in peace Mark Sheehan.
You will be forever loved, always missed and never forgotten.
Thank you so much for the music and for being you.
Sending love to your family, your friends, your brothers in The Script and your fans.#MarkSheehan #TheScript @thescript #allontheboard pic.twitter.com/bvi7RHrQpa

— All On The Board (@allontheboard) April 15, 2023
Advertisement